Gas Cooktops are hugely popular thanks to their effectiveness, their instant heat control and their seamless integration into any kitchen. However, as with all large kitchen appliances, there are lots of factors to consider when choosing a gas cooktop for your home.
You need one that will fit well in your available space, look great with your decor and offer the features you need to cook delicious meals with ease. We've reviewed some of the best gas cooktops in Australia and also included a buyer's guide that will help you identify which features are the most important to your kitchen and cooking experience.
Here are the best gas cooktops in Australia:
---
1. Bosch Series 6 Tempered Glass Gas Cooktop (Top Pick)
Our top pick for gas cooktops is this impressive tempered-glass cooktop from Bosch. It's high-quality, spacious and has 5 burners. This unit includes a large burner suitable for a wok and is ideal for a family kitchen.
The black cooktop is practical, looks smart and will suit any kitchen. The knob controls at the front of the unit allow you to adjust the temperature settings between 9 precise power levels ensuring you can prepare a selection of dishes with ease. The cast iron trivets are stylish, durable and provide a solid support for cooking pans.
The electronic ignition allows you to automatically ignite the desired burner using just one hand and there is flame failure safety is included to ensure the gas supply stops if the flame goes out.
What We Like:
High quality
Looks smart and professional
Includes safety features
What We Don't Like:
Each trivet is individual and they are not seamless which makes it more difficult to move pans around
---
2. Fisher & Paykel Gas Cooktop (Best Value)
Our pick for the best value gas cooktop is this model from Fisher & Paykel with 4 individual burners. This cooktop provides flexibility and convenience in one neat package. The cooktop is brushed stainless steel and has cast iron trivets to protect the surface from damage and hold cooking pans securely.
The cooktop has side knob controls so they are away from the burners and there is no risk of bumping the controls accidentally. It is great for smaller spaces and the lowered section where the burners are located offers a 1.5L spill containment zone so if anything boils over it will remain contained.
For ease of use, this cooktop has one-handed electric ignition and it has a flame failure safety device to ensure the gas does not continue flowing if the flame goes out.
What We Like:
Great value for money
Ease of use
Good quality
What We Don't Like:
LPG Gas conversion not available
---
3. Bosch 60cm Gas Cooktop
The Bosch 60cm Gas Cooktop features 4 burners of varying sizes, including a wok burner, allowing you to cook your food exactly as you want it. This cooktop looks great and is easy to clean with its black tempered glass surface. The cooker has sturdy cast iron trivets for supporting your pans and keeping the cooking surface protected.
The FlameSelect feature offers 9 predetermined adjustment levels so you can get the temperature just right for the dish you are making. This is a modern, stylish and compact option that is well suited to smaller kitchens.
This cooker includes ergonomic one-hand use with its electronic ignition and for safety, the cooker also automatically stops the gas supply if the flame fails. The control knobs are positioned at the front of the cooker for easy access and they clearly indicate the heat level.
What We Like:
FlameSelect adjustment
Electronic ignition
Easy to keep clean
What We Don't Like:
Some users may find the burners are a little bit close together, especially if using multiple large pans
---
4. Miele 62cm Gas Cooktop
This ceramic gas cooktop from Miele is a more simplistic option that has 3 burners including a dual wok burner. This modern cooktop is convenient, simple and safe to use.
The rotary dial controls allow single-handed use and automatic ignition. The control knobs can be manually adjusted to change the power level.
If the flame is extinguished the GasStop safety features ensures the gas supply will stop. One of the best things about this ceramic cooktop is how easy it is to clean. You can simply wipe away mess with a damp cloth, and the enamelled cast iron pot rests can be washed in the dishwasher.
What We Like:
Easy to clean
User friendly
One-handed ignition
What We Don't Like:
Simplistic in design and features
---
5. DeLonghi 90cm Gas Cooktop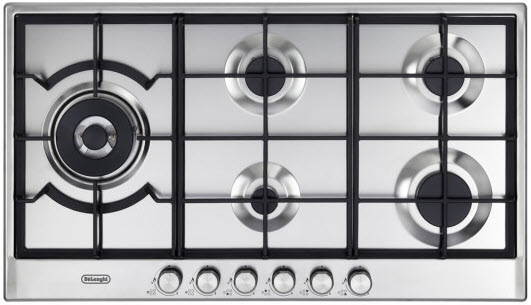 The DeLonghi 90cm Cooktop is perfect for families looking to enjoy professional-style cooking in the comfort of your own home. This cooktop offers a spacious cooking area allowing you to cook multiple dishes at once.
The stainless steel finish looks great, is easy to clean and ensures the cooktop remains durable. There are 5 burners including a larger burner suitable for a wok, this is perfect for stir-fries and for large dishes you want to heat up fast.
For ease of use, the burners have electronic ignition and the control knobs are positioned at the front of the unit. This option is sturdy, secure and has flame failure safety to ensure the gas is stopped in the flame is extinguished.
What We Like:
Spacious
Great for cooking large meals or multiple dishes
High-performance burners
Large burner provides good heat distribution for woks and stir fry cooking
What We Don't Like:
The surface shows marks easily so can take longer to clean
---
6. Devanti 5 Burner Gas Cooktop
This Devanti Cooktop has 5 burners including an auxiliary burner, a wok, a rapid and two semi-rapid burners. The cooktops smooth black tempered glass surface looks smart and is easy to clean and maintain.
For stability and pan support, the cooktop comes with cast iron grates. These grates are sturdy, long-lasting and heat-resistant. For controls, there are smart steel knobs at the front of the cooktop.
This cooker offers a blend of convenience and sophistication. It is also safe to use thanks to the flame failure safety device that automatically shuts down the gas flow if the flame is accidentally extinguished. The factory setting for these cooktops is natural gas but they are also compatible with LPG using the included LPG conversation kit.
What We Like:
Looks smart
Easy to clean and use
Safety features
What We Don't Like:
100cm cable length means cooktop needs to be fitted close to a socket
---
7. Artiston PK640RGH Gas Cooktop
These stylish gas cooktops from Artiston make cooking easy and elegant. There is enough space for multiple pots without it feeling cramped and the different burners each offer a range of cooking power.
The 65cm cooktop has 4 gas burners, each offering one touch ignition and flame failure safety. There is a dual option flame for the larger of the burners for when you are making dishes such as stirfries.
The controls are positioned at the front so there is no need to reach over pots and pans to adjust the temperature. The iron lift up grids are perfect for supporting pots and for easy cleaning.
What We Like:
Spacious arrangement of burners
Dual-flame option on the larger burner
Easy to clean
What We Don't Like:
Plastic, lightweight control knobs
---
Gas Cooktop Buyer's Guide
There are lots of cooktops to choose from, ranging in both appearance, performance, and features. This buyers guide will help you narrow down what is important to you.
Size
When choosing the size of the cooktop consider the worktop space you have available and whether you want a square or rectangular unit. Keep in mind minimum distance requirements away from walls and cupboards when measuring the area too.
You will generally be able to find cooktops between 60 – 90cm in width. These will offer between 3 and 5 burners depending on spacing and layout. It is important to consider the burner layout, your cooking needs and the types of pots and pans you frequently cook with. The best gas cooktops offer enough space for large/ multiple pans and offer a range of burner sizes.
RELATED:
Cooker Type/ Fuel
Gas cooktops are generally the preferred option among professionals and cooking enthusiasts as they provide precise control over temperature and allow you to quickly adjust the heating level. Gas cooktops tend to be more energy efficient than most electric cooktops and they don't take long to cool once turned off. The downside to gas cooktops is that there are usually multiple elements that make cleaning more difficult.
Electric cooktops and induction cooktops are also very common. An electric cooktop tends to be affordable and durable but takes a long time to heat up and the heat levels aren't as precise as gas. An induction cooktop is fast, safe and energy efficient, the downside is they are expensive and they only work with certain cookware. It is important to choose the cooktop type that best suits you.
RELATED:
Ease of Cleaning
On some gas cooktops, the grates are dishwasher safe which makes cleaning easier. The cooktop surface is bound to get messy with food residue and fingerprints so the top of the appliance should be smooth and easy to wipe clean. Some gas stove tops include a spill catchment area to help control spills. Common surface materials include glass (usually black), enamel and stainless steel.
Features
Grates – the grates protect the cooktop and when they are seamless you can easily move heavy pots around without having to lift them.
Power burners – power or wok burners supply a high heat very quickly and are perfectly suited to quickly boiling, searing or stir-frying food.
Simmer burners – these burners provide a gentle, low heat perfect for warming soups.
Control panel – the best controls knobs are a good size and are made from stainless steel as this makes them durable and easy to clean. Plastic is also a relatively common material but this tends to be less attractive. Ideally, the controls should be at the front or side of the cooktop as this makes them easily accessible and you do not need to lean across a hot surface to access them. The controls should not be too close to the burners.
Electronic ignition – an electronic ignition means you don't have to use matches or a lighter to start cooking. It is a safer method of igniting the flame and it also means you can turn the cooker on using just one hand.
Safety Features – Safety is paramount when cooking with gas and flames. In Austalia, all cooktops manufactured from July 2017 onwards must have a flame failure device is so if the cooktop you are considering was manufactured before this time then double-check to ensure there are flame failure devices. Another important safety feature for family homes is a child lock.
---
Gas Cooktop FAQs
Which is better for a gas stove top: glass or stainless steel?
oth materials look great and are durable. Glass tends to be the preferred material thanks to its modern look but stainless steel is far more forgiving when it comes to cleaning and maintenance. If you are looking for style and you're not too worried about needing to frequently clean smudges and fingerprints then go for a glass gas stove top.