Good quality freestanding ovens are spacious, cook food quickly and evenly and are easy to use. There are a few things to consider when choosing a new cooker, as they should last for years so you want one you know you can rely on.
To help you in your search, we've listed 7 of the best products currently on the market in Australia, and also included a buyer's guide so you know what to look out for.
---
1. Bosch 90cm Dual Fuel Range Freestanding Oven (top pick)
The Bosch 90cm Dual Fuel is a large, single fan cooker well suited for family life. The sleek, stylish appearance will fit well in any kitchen and the oven is quick and easy to use thanks to its power and functions.
With plenty of space, 6 gas cooktop burners of varying heat and 8 oven heating modes, you'll find an option to suit every dish. The burners are ignited electronically and there is a built-in flame failure to stop the gas if the flame goes out. The cast iron pans have rubber feet to improve stability.
The front of the oven has a large viewing window so you can see the food from outside. The pyrolytic function makes cleaning easy and the splash-back helps to direct heat and smoke backwards.
What We Like:
Powerful, quick heat up time
Electronic ignition
Multiple cooking options
---
2. Smeg 90cm Freestanding Cooker
The Smeg 90cm Freestanding Cooker is a spacious, stylish oven with a smart stainless finish. One of the best features is that this cooker is fully programmable so you can set the ovens cooking program, temperature and duration and the oven will do this and turn off the heat when ready.
There are 6 functions including a bakers setting and the Thermoseal technology maintains a balanced temperature. The cooktop has 5 rings including an ultra-rapid dual burner for woks and large pans.
This cooker is highly durable and the ever-clean enamel can simply be wiped clean without using harsh cleaning products.
What We Like:
Fully programmable
Thermoseal technologies
Durable and easy to clean
What We Don't Like:
Does not come with instructions (however these are available online)
---
3. ILVE 90cm Dual Fuel Upright Cooker Graphite
This ILVE oven is a high-quality, stylish freestanding cooker with a premium finish.
As this is one of ILVE's freestanding dual fuel cookers, it features 5 various-sized aluminium gas burners, including one in the centre for wok cooking.
This electric oven offers a range of functions, including grilling, pizza cooking, static cooking, defrosting, and multiple fan cooking.
There's also a quick start that brings the oven up to temperature in 8 minutes to decrease waiting time.
This Ilve freestanding oven has a twin cavity cooling system and triple glazed doors, which give it an ultra-cool exterior. ULTRA-Clean black enamel interiors can simply be wiped clean.
It also has adjustable feet to ensure the best built-in fit.
What We Like:
Premium finish
Hand-built
Quick start function,
Adjustable height
---
4. Westinghouse 90cm Pyrolytic Dual Fuel Freestanding Oven
This Westinghouse 90cm Freestanding Oven is a spacious, family-sized unit ideal for busy homes. There's room for making multi-course meals and the twin fan system ensures even heat distribution throughout.
Cleaning is minimal thanks to the pyrolytic cleaning function (uses heat to turn grease into ash). For practicality, there are 5 hobs including a large high power wok burner and 10 oven settings including rapid heat, pizza, fan bake and defrost so you can cook your dishes perfectly every time.
A huge plus is the FamilySafe feature; this ensures the doors are cool to touch on the outside for safety, peace of mind and energy efficiency. There is also a childlock feature and a flame failure safety feature.
What We Like:
Easy to clean
Family size
Safety features

 
What We Don't Like:
Does not have a separate grill
---
5. Westinghouse 54cm Freestanding Oven
This classic white 54cm Westinghouse offers a full solution in a more compact package. This unit has an impressive 80L capacity and a multi-function design including a separate grilling compartment.
Whether you are preparing a meal for yourself or the whole family, this oven is spacious and straightforward to use. It is easy to clean with a removable spill tray and the heat controls are at the back of the unit, keeping them out of children's reach.
There are two shelves and 5 shelf height options in the fan-forced oven and there's 4 powerful ceramic hobs on the cooktop. The double-glazed door helps to keep heat inside.
What We Like:
Double-glazed door for energy efficiency
Multi-task with separate grill
Controls out of children's reach 
What We Don't Like:
No separate indication lights for the hobs (just one light for all of them)
---
6. Falcon Classic Deluxe 90cm Dual Fuel Range Cooker
The Falcon Classic Deluxe is large, stylish and a great addition to country-style kitchens.
There are three cooking areas; an electric oven, a slide out grill and a fan forced electric oven for preparing different types of food at once. There's also 5 hobs, with flame-failure for safety, and a wok cradle and non-stick griddle plate too.
There are 7 features including rapid response that heats up 30% faster than normal conventional ovens. There is a removable handy rack on the inside of the door for extra space. The control panel includes a minute minder and at the back of the unit is a designer splash back board, the venting system is at the back meaning all the steam and smoke is pushed backward rather than into the kitchen. 
What We Like:
3 separate spaces
Stylish
High quality
What We Don't Like:
Less tech features such as a programmable timer
---
7. Belling Freestanding 60cm Electric Double Freestanding Oven with Induction Hob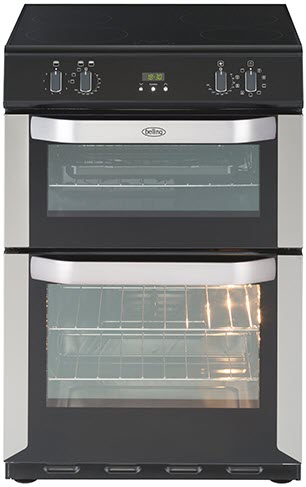 The Belling 60cm is a great fit for most kitchens and the stainless steel finish looks modern. The cooktop uses touch control induction hobs with safety shutdown, pan detection and overheat sensors.
The double oven is feature-rich with the top section offering a grill and a conventional oven and the bottom section offering 9 functions for all your cooking needs including fan oven, conventional oven, fan grill, intensive bake and defrost.
Cleaning is simple with the induction cooktop, the removable inner door glass and the light-only function that makes cleaning inside easier. There are 12 shelf positions and 2 shelves, a fully programmable clock and a child lock to keep you in control.
What We Like:
Affordable
Induction hobs
Multiple safety features
What We Don't Like:
The height of the main oven is very low
---
8. Chef 54cm NG Gas Upright Cooker
The Chef 54cm cooker is a basic entry level option that is compact but still offers impressive capacity for making family meals. This gas oven is modern and practical, with a classic white finish that'll suit all kitchen styles.
With this affordable model you get three cooking areas; a conventional oven, a separate grill and a cooktop. Whether you are entertaining or preparing food for the family, there's enough space.
Cleaning is also quick and convenient; the glass door is removable helping to ensure there is no grease build up.
What We Like:
Practical
Modern
Easy to clean
---
Freestanding Oven Buyers Guide
Freestanding ovens are stylish, convenient and tend to be more cost-effective as they bring together ovens, grills and hobs in one product. Freestanding ovens need to fit between your countertop and cabinets and need to be connected to a fuel supply.
RELATED: Ilve Vs Smeg Vs Bosch Ovens
Fuel Type
Gas cookers: often the cheapest to run. Gas cooktops are easier to control but the ovens tend to be less precise than electric.
Electric cookers: pricier but the ovens tend to heat up quicker and more accurately than gas ovens.
Electric induction hobs: quick and efficient but require iron-based pans to work. The hobs themselves don't get hot which is an advantage.
Dual fuel: offers the best of both worlds with gas hobs and an electric cooker.
Number of Ovens
One or two? Having two ovens gives you the flexibility to cook two different dishes simultaneously but will be less spacious.
RELATED:
Multi-function
Multi-function costs a bit more but gives you options to use varying heat sources for more precise cooking.
Key Features to Look For:
Controls – easy to use, easy to clean, child lock option, timer.
Space – how spacious is it, look at the shelf number and shelf positions.
Automatic ignition – convenient feature.
Self-cleaning – such as pyrolytic cleaning function.
Multi-function – offers different heat type options.
Programmable timer – turns the oven on, times your cooking and turns off when ready.
Safety features – e.g. flame-failure safety, cool doors, child lock.
RELATED:
---
Freestanding Oven FAQs
Is a gas or electric cooker better?
Electric cookers are more consistent, precise and offer flexible heating options but gas hobs tend to be easier to control and faster to heat up than electric.
Is it cheaper to run a gas or electric cooker?
A gas cooker is usually cheaper to run than electric. Electric cookers actually use less energy but as electricity costs more than gas it ends up being more expensive.
What is the advantage of induction cooking?
Induction cooking is safer, quicker, easy to clean and more energy-efficient.