Induction cooktops are very popular thanks to their ease of use, energy efficiency and superior performance.
An induction cooktop combines the best of both worlds; they offer consistent and responsive heat like a gas cooktop and are easier to clean than an electric cooktop.
Induction cooktops are sleek, stylish and modern. The big decision is not whether to go with induction but which make and model do you choose?
The following reviews and buyer's guide will give you everything you need to know so you can find the best induction cooktop for your kitchen.
---
1. Fisher & Paykel 60cm Induction Cooktop (Our Top Pick)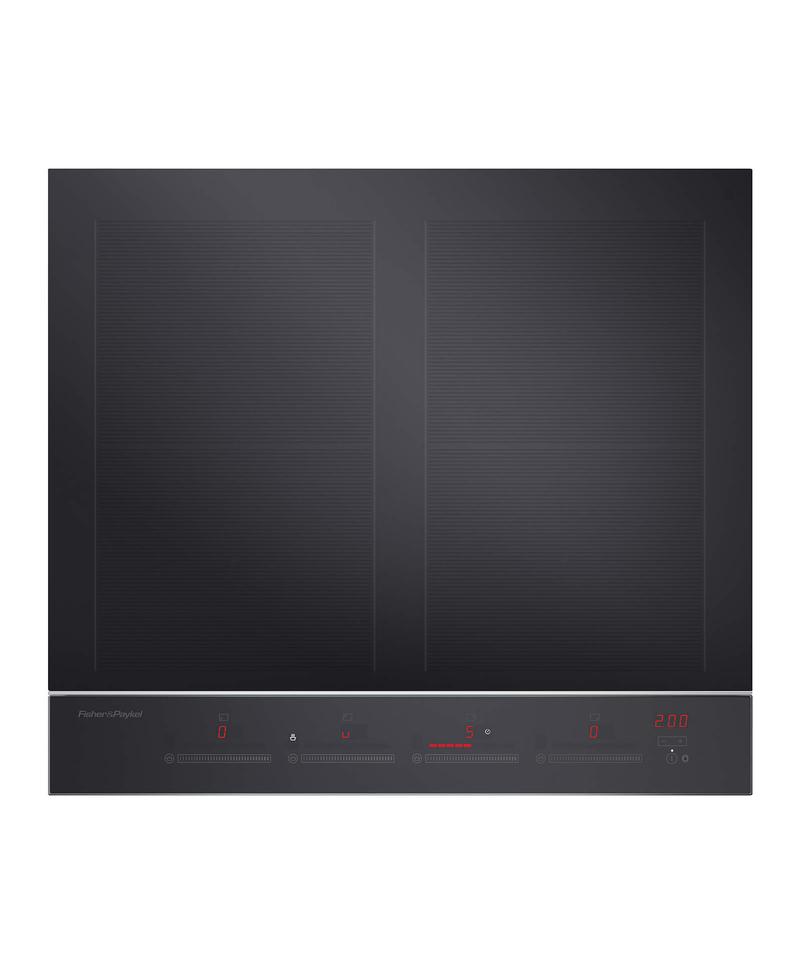 Our top pick for induction cooktops is this 60cm 4 zone cooktop from Fisher & Paykel.
The accurate temperature control, efficiency and user-friendly features make this a great option for family kitchens.
This induction cooktop includes automatic pan recognition and has SmartZone that lets you bridge cooking zones, this gives you the flexibility to make the most of the cooker when using larger pans and trays.
The heating controls are touch&slide so you can quickly and easily change the temperature with minimal effort
. The cooktop surface is easy to clean and comes with automatic switch off and child safety lock features for safety.
What We Like:
Family-friendly
Ability to bridge cooking zones
Touch & slide heat controls 
---
2. Chef 60cm Induction Cooktop (Best Value)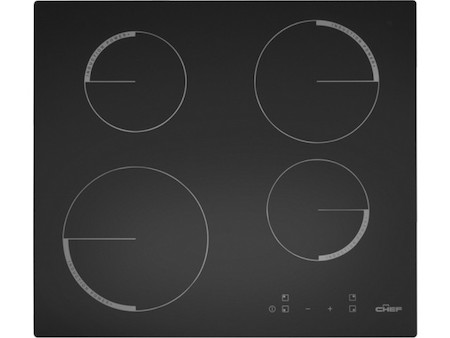 This low-cost, intuitive and easy to use induction cooker from Chef offers great value for money. It has 4 cooking zones, each offering 9 power levels and a power boost for extra quick cooking.
The induction cooktop has automatic pan recognition so will only heat up when a pan is on the cooker. The child safety lock and automatic switch-off feature help to keep little ones in the family safe.
The electronic controls are simple, touch-controlled and there are residual heat indicators to let you know when the heat has recently been used and the plates may still be warm.
What We Like:
Efficient and excellent value
Safety features
User-friendly
What We Don't Like:
Takes time for the plates to cool after use
---
3. Miele 80cm Induction Cooktop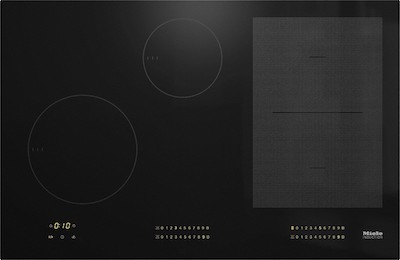 This intuitive, flexible and modern cooktop from Miele is a great option for providing versatility in the kitchen.
The 4 cooking zones are spacious and you can bridge two zones together which is perfect when you are using griddle pans or larger pots. This induction cooktop has permanent pan detection and uses SmartSelect making it easy to set and adjust the heat level. You can connect the cooker to your rangehood which will then automatically respond to the induction cooker.
There is also a handy stop & go function so if you need to step away you can press a button which reduces all of the cooking zones to level 1. When you return you can touch the button again to return the heat power levels. There are also multiple features to ensure your safety when induction cooking.
What We Like:
Bridge cooking zones for large pots and pans
Intuitive design
Stop&Go function for if you need to step away for a moment
---
4. Smeg SAI915B 82cm Induction Cooktop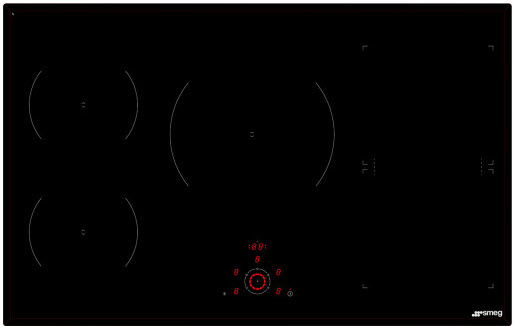 This large, smart and easy to use induction cooktop offers several automatic features and a wide range of safety features making it a great choice for busy family's.
The pan detection helps ensure the cooktop is energy efficient by only heating up the base area of the pan within the cooking zone. You can set this induction cooktop stove to automatic cooking where the stove heats to full power and then automatically reduces to a heat level you have set. The Stop & Go function allows you to pause the cooktop and restart when you return.
Each zone is controlled using a touch circular slide control, this allows you to touch or swipe to change the heat level rather than having to tap until you reach the heat level required. After the cooker has been switched off you can reactivate the previous settings if needed.
What We Like:
Automatic cooking programming
Slide controls
User friendly
What We Don't Like:
Some users may find the glass surface is not as durable as other options
---
5. Bosch – Series 4 60cm Induction Cooktop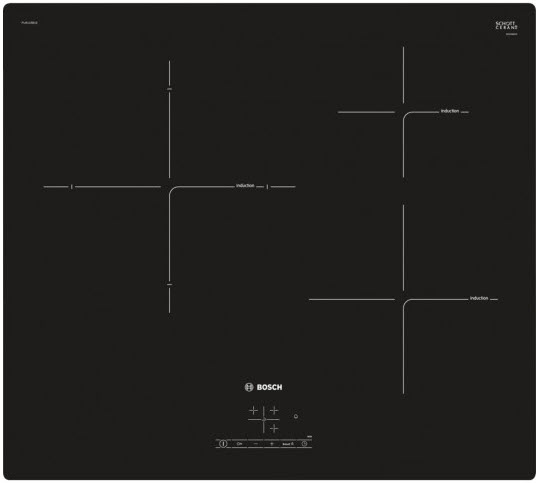 This 60cm cooktop from Bosch makes induction cooking easy. There are 3 burners offering plenty of space for large pots and pans.
You can get cooking in no time at all as this induction cooktop detects the pan when you place it down and automatically displays the cooking zone on the control panel. If you're in a rush there is a Powerboost option that will considerably speed up cooking time.
The control panel is featured at the front of the cooktop and it is easy to adjust the heat level as needed. There is also a WipeProtection setting that locks the control panel while you clean to avoid changing any settings.
What We Like:
Spacious cooking zones
Pan detection
Easy to clean
---
Induction Cooktop Buyer's Guide
Induction stove cooking has been increasing in popularity, which is no surprise given all of the benefits and features induction cooktops offer.
They are impressive kitchen appliances that offer super-efficient and safe cooking.
If you have never owned an induction cooktop before you may not know where to begin your search, this guide tells you everything you need to know so you can find the best induction cooktop for your kitchen.
Size & Cooking Zones
One of the first things to consider when selecting an induction cooktop is the size and how many burners or cooking zones are featured.
The most common induction cooktops are 60cm and 90cm, the best thing to do is measure your countertop space so you know exactly the size you are working with. Always be sure to check the dimensions of the cooktop you are interested in buying.
The number of cooking zones varies between 2 – 5 depending on the size of the cooktop and how much space each cooking zone has.
Generally, 60cm induction cooktops provide enough space for 3 good sized zones, 75cm induction cooktops provide enough space for 4 zones and 90cm induction cooktops can fit 5 cooking zones comfortably.
They can include 1 or 2 more than this guideline suggests but then the zones are generally more crammed together which is not ideal for cooking multiple dishes at once or using larger pans.
Bridge Zones
If you often use larger pans or griddle pans you may benefit from being able to bridge two zones together to make one large zone.
Style
The biggest style choice when it comes to induction cooktops is whether you want one that is framed or one that is edgeless. This is a personal preference, both look great and perform well. A framed cooktop can build up grime more easily but it can help contain spills while an edgeless cooktop is easy to clean but can be less durable.
Controls
Common controls include knobs, press buttons and touch panels that offer tap or slider heat control.
Touch controls tend to cost slightly more but look sleek and are simple to use.
The control panel often displays which zone you are controlling and the temperature/ power setting. It is important the controls are not too close to the heating element.
Having the ability to lock the controls, sometimes called a child lock, is useful to avoid the temperature being changed inadvertently and is worthwhile if you have children or pets. The lock is also useful for when you are wiping the surface clean as it avoids accidentally changing the settings while tidying up.
RELATED:
Pre-Set Cooking Modes
Some induction cooktops use pre-set modes such as boil, keep warm and simmer.
These can be very convenient and can make certain tasks and cooking needs more quickly and easily achievable.
Generally, you can still adjust the temperature manually if needed while in the pre-set modes.
Cleaning
Using an induction cooktop is relatively straightforward but there are a few key rules when it comes to cleaning and these apply to all induction cooktops.
When cleaning an induction cooktop it is important not to use abrasive sponges or steel wool as these can damage the worktop and cause scratches.
Usually, a wet cloth is enough to remove spills and a small amount of ceramic glass cleaner can give the cooktop a shine.
White vinegar can be used to clean those tougher spots without scrubbing or using excessive force and scratching the surface.
Bleach and ammonia products, flammable materials and powder cleaning products should be avoided.
RELATED:
Features to Consider
Automatic pan recognition – some induction cooktops can automatically detect the pan and will only provide heat to the area where the pan is to save energy.
Auto shut-off – this is a safety feature that stops overheating, turns off the heat when a pan has been removed or when a pot has boiled over.
Heat boost – this can provide additional power to speed up cooking time and is particularly useful when boiling water or quickly heating a dish.
Pause – this is great if you need to step away from the cooker for a moment as it allows you to pause the whole cooktop and restart at the same settings when you return.
Timer – a timer can be useful as the heat will turn off once the time is reached which can prevent accidents and save energy.
---
Induction Cooktop FAQs
What are the pros and cons of induction cooktops?
Induction cooktops are versatile, energy-efficient and quick to heat up. They are very responsive to temperature adjustments, are easy to use and offer a range of safety features. However, induction cooktops only work with certain cookware (stainless steel or cast iron) which means you may need to replace your existing pots and pans if they are not suitable. The glass surface of an induction cooking stove can also become scratched so care should be taken to prevent this from happening.
How long do induction cooktops last?
Domestic cooktops are typically designed to last 2500 hours which is the equivalent of having it on for 10 hours a day for a whole year. The main complaint of domestic induction cookers is that some models lose power over time which results in longer cooking times.