Ilve, Smeg and Bosch are three of the most popular oven brands in Australia, thanks to their excellent engineering, high quality, and versatility.
They are all high-performance, European based brands with Ilve and Smeg ovens being made in Italy and Bosch ovens being made in Germany.
Trying to decide between the three? Read on as we break down the key things you should keep in mind when choosing, answer some commonly asked questions, and compare some of the best Ilve, Smeg and Bosch ovens and stovetops currently on the market.
RELATED: The Best Freestanding Ovens
Ilve vs Smeg vs Bosch: Which is Best?
When selecting a new oven from these major brands there are a few things that may impact your choice. Keep in mind that the best oven for you will depend as much on your budget and personal preferences as anything else.
Bosch
Our top pick when it comes to value for money is Bosch. Their ovens are good quality, good value, and reliable.
Bosch has a strong reputation in home appliances and a wide range of ovens to choose from. Their newer Series 8 models are great all-rounders that offer new, innovative features not seen on their previous ranges.
With Bosch, you get what you pay for which isn't always the case with some premium European brands.
ILVE
ILVE has a reputation for being a premium, high-quality brand. They offer a distinctive style and are known for their attention to detail.
With that said, some users have experienced quality-related issues, particularly with the ignition mechanism.
ILVE ovens are slightly more expensive than Bosch and come with the same 2-year warranty.
Smeg
Smeg used to have an excellent reputation as a high-end brand. However, this seems to have shifted over time as users have experienced issues with reliability. This means that some people now consider Smeg to be overpriced for the level of quality and reliability offered.
There are two potential advantages of choosing Smeg; first the premium finish of their ovens, and secondly the huge range of models in their range (which may be helpful if you have very specific requirements).
Recommended Bosch, Ilve, and Smeg Ovens
Size: 60 x 59.5 x 54.8cm
Capacity: 71L
Heating Functions: 13
Made in: Germany
Warranty: 2 year
Pros: Self-cleaning, versatile, automatic programs, sleek design, touch controls
Cons: Central control dial may take a bit of getting used to
The Bosch Pyrolytic oven is a sleek, user-friendly, and high-performing built-in oven.
This 60cm oven offers a 71L capacity and an impressive 13 heating functions, one of the broader function ranges offered by the ovens we have reviewed.
As a Series 8 model, this oven features the newer 4D Hotair for baking food evenly. In addition to this, there is also an "AutoPilot" function that comes with 10 pre-set automatic programs.
One of the first things you'll notice about this oven is how it looks. It is sleek and modern with touch controls and a central dial rather than multiple control knobs. This is a contrast to the earlier Series 6 models that used manual control knobs.
One of the great aspects of these built-in ovens is their versatility. For example, there is a slow cooking function for making casseroles and similar dishes without the need for other kitchen appliances.
A big plus of this oven is the highly effective self-cleaning function. When using this pyrolytic cleaning function, the oven will simply need to be wiped down after it has cooled to remove any remaining residue.
Size: 76 x 70.7 x 59cm
Capacity: 123L
Heating Functions: 5
Made in: Italy
Warranty: 2 year
Pros: Lots of modes, preset recipes, telescopic runners, touch controls
Cons: High price
The Ilve pyrolytic oven is a large, feature-rich option that works with twin fan heating and offers a generous 123L capacity.
Similar to the Bosch Series 8 model, the Ilve oven also uses a touch control display. However, the Ilve display is completely touch-based with no dials and it is also brightness-adjustable so you can set it to suit you.
While this oven has 5 cooking levels, it also offers 17 specialised manual multifunctional modes and there is a Chef-Assist with 35 preset recipes. In addition to the impressive cooking performance, you can also save your favourite/most used settings.
The Ilve model comes with a set of telescopic runners, a pre-programmable timer and a Cool Touch door. The stainless steel finish looks smart and there is a pyrolytic self-cleaning function too.
Size: 60 x 59.5 x 54.8cm
Capacity: 71L
Heating Functions: 12
Made in: Germany
Warranty: 2 year
Pros: Versatile, stable telescopic rails, 4D Hotair, steam cleaning, Bosch Assist
Cons: Steam cleaning isn't as effective as pyrolytic cleaning
The Bosch combination steam oven is the one to choose if you love cooking and reheating with steam. These steam ovens feature Bosch's new 4D Hotair for evenly distributing hot air.
In addition to the steam features, there are a wide range of other cooking functions with everything from a dedicated pizza setting to sous-vide and grilling.
The oven has a 1L water tank and when using the home connect function, you will be alerted on your smartphone when the water is running low.
The combi steam oven also features Bosch Assist that offers a menu of dishes and then sets the mode, temperature and preparation time of the chosen dish.
For easy maintenance, there is a steam clean function – although this is generally not as effective as the pyrolytic oven cleaning function offered on pyrolytic ovens – it does make cleaning the oven easier.
This oven also has a triple glazed soft-close door and we love the telescopic rails that clip into place when fully extended to ensure the tray remains stable when removing hot dishes from the oven.
Size: 90 x 87 x 60cm
Capacity: 96L
Heating Functions: 10
Made in: Italy
Warranty: 2 year
Pros: Premium finish, hand-built, quick start function, adjustable height
Cons: No cleaning function
The ILVE freestanding cooker is high-quality, stylish and has a premium finish. The 90cm oven has a 96L capacity and offers 10 functions.
As this is one of the dual fuel freestanding cookers it also has 5 various-sized aluminium gas burners with a large wok burner in the centre.
This electric oven offers a range of functions including grilling, pizza cooking, static cooking, defrosting, and multiple fan cooking. There is also a quick start that brings the oven temperature up in 8 minutes to decrease waiting time.
The oven has a twin cavity cooling system and the door is triple glazed to ensure the exterior remains cool to touch.
Although there is no dedicated cleaning function, the interior of the oven is ULTRA-Clean black enamel which can simply be wiped clean.
As with most freestanding ovens, this model comes with adjustable legs that can also detach if needed to provide the best built-in fit.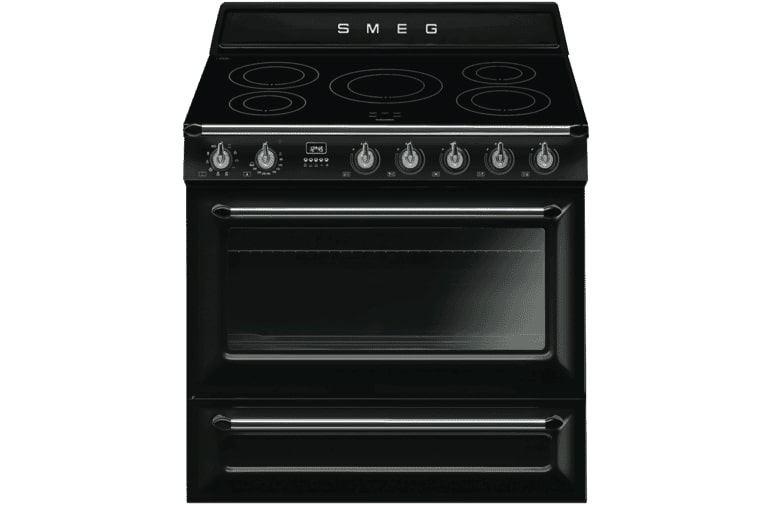 Size: 90 x 70.7 x 59cm
Capacity: 126L
Heating Functions: 10
Made in: Italy
Warranty: 2 year
Pros: Precise, quick to heat up, easy to keep clean, dedicated cleaning cycle
Cons: There can be longer delivery times when ordering online
The Smeg induction cooker is a great choice for powerful and precise cooking. Induction hobs are a popular choice and they are generally cheaper to run thanks to their improved energy efficiency compared to gas cooktops.
With this Smeg induction cooktop, there are 5 burners each offering 9 power levels and there is a boost function that is perfect for quickly bringing water to boil.
The oven offers a large 126L capacity and uses Thermoseal technology to prevent heat from getting out or cold air from getting in while cooking.
Compared to the other ovens listed, the Smeg oven also offers a soft close door and offers easy cleaning with Ever Clean Enamel and a Vapour Clean cycle for getting rid of baked-on food.
The induction cooktops are can also be wiped clean for easy maintenance. We like the partial telescopic guides as these make putting food in and out of the oven easier.
Size: 150 x 90 x 60cm
Capacity: 90L (main oven) 70L (aux oven)
Heating Functions: 16
Made in: Italy
Warranty: 2 year
Pros: Versatile, spacious, 7 burners, 2 ovens, stainless steel finish, pizza stone and setting
Cons: Not as sleek in appearance as other models
This Smeg double oven and gas cooktop is excellent for large cooking needs with a total capacity of 160L and 7 gas burners.
The cooker has a professional stainless steel design and each of the two electric ovens offer 8 cooking modes including eco, fan-assisted, turbo, and pizza.
In addition to the usual baking trays and shelves, this dual fuel oven also comes with a pizza stone.
The gas cooktop is set for natural gas but can be adapted for ULPG if required. Each of the 7 burners has automatic electronic ignitions and cast-iron trivets.
As with the other Smeg ovens, this model has Ever Clean enamel and thermal protection.
RELATED: The Best Oven Cleaner
Bosch vs Ilve vs Smeg Comparison Table
| | | | | | | | |
| --- | --- | --- | --- | --- | --- | --- | --- |
| Oven Brand | Founded | Location | Manufactured In | Oven Types | Oven Models | Price Range | Warranty |
| Ilve | 1952 | Italy | Italy | Built-in & Freestanding | 55 | $1,100 – $17,000+ | 2 year |
| Smeg | 1948 | Italy | Italy | Built-in, Freestanding & Compact | 93 | $1,300 – $15,000+ | 2 year |
| Bosch | 1886 | Germany | Germany | Built-in, Freestanding & Compact | 31 | $800 – $5,400 | 2 year |
Oven FAQ
Is Bosch Worth The Money?
Yes, Bosch products offer excellent value thanks to their high-quality, useful features and longevity.
Is Bosch A Reliable Brand?
Yes, Bosch is a reliable home appliance brand and their products come with good warranty coverage.
Is Smeg A Good Brand For Ovens?
Smeg ovens are high-performing and look great. However, in terms of value for money and reliability, we would opt for Bosch or ILVE.
Are Smeg Ovens Noisy?
Not usually, although the fan on Smeg ovens can be noisy especially as it becomes worn.
How Do You Clean A Pyrolytic Smeg Oven?
Remove all shelves from inside the oven, close the oven door and select the pyrolytic function. Select the program length and then start. After the pyrolytic program is complete and the oven has cooled, the oven door will unlock and you can wipe away any residue left at the bottom of the oven.
Who Is ILVE Made By?
ILVE is a family-run company started by Mr Illotti and Mr Berno. ILVE ranges and cooktops are handmade in their factory near Venice.
Where Are ILVE Ovens Made?
ILVE ovens are made in Italy.