A slow cooker is a brilliant solution for creating delicious, flavour-filled meals on even the busiest days. This highly convenient appliance is more energy-efficient than an oven and can cook hearty dishes for the whole family with minimal effort. The best slow cookers are versatile, simple to use and highly functional. The reviews and buyers guide below can help you find the best slow cooker for you.
Here are the best slow cookers in Australia:
---
1. Breville the Smart Temp Slow Cooker (Top Pick)
The Breville Smart Temp Slow Cooker is simple to use and is perfect for cooking tasty meals that will be ready when you are. The unit automatically keeps the dish warm until served so it won't matter if you're running a bit late, dinner will still be perfect when you are ready to eat.
This cooker has a 6-litre capacity so is ideal for family meals. The digital display lets you know the remaining cook time and there are programmable high, low and medium settings. The versatility of being able to slow cook, warm or simmer food allows you to cook a range of dishes in the Breville Smart Temp Slow Cooker.
The wrap-around heat element ensures a constant, even temperature and the Temperature IQ sensor prevents overheating by automatically controlling the temperature. The stainless steel finish of this cooker looks smart and will brighten up any kitchen worktop.
What We Like:
Automatically prevents overheating
Large capacity perfect for family meals
Easy to use controls
---
2. Sunbeam 5.5L Secretchef Electronic Sear and Slow Cooker
The Sunbeam 5.5L Sear and Slow Cooker can be used as a frypan as well as a slow cooker. It is one of the best options for browning meat before slow cooking as it offers simplified "one-pot" cooking.
This unit heats up fast and offers accurate temperature control, even heat distribution and 4 slow cook temperature settings. There is an automatic keep-warm function which will use a low setting to ensure your food is warm when it's dinner time. For additional ease of use, you can also pre-set the timer and the display shows how much cooking time is left.
The sear option is ideal for browning meat and can be used as a standalone option but can also be used prior to slow cooking as it is very straightforward to switch between settings. This is an efficient, easy to clean option that will reduce your washing up and help you make delicious meals for the family.
What We Like:
Can be used to sear as well as slow cook
Efficient
Accurate temperature control 
What We Don't Like:
Better for slow cooking larger meals
---
3. Russell Hobbs 6L Slow Cooker
This 6L slow cooker from Russell Hobbs can simplify your cooking process and reduce washing up as it offers stove-top searing as well as slow cooking.
There are 3 heat setting to choose from; high or low temperature and warm. The digital controls and display make it easy to set the cooker and timer as needed.
This cooker includes a removable non-stick pot so washing up after use is simple. The cooker looks great and comes with a strong tempered glass lid that lets you see how your food is looking without lifting the lid.
What We Like:
Spacious
Searing feature
3 heat settings
What We Don't Like:
Cannot pre-set to start cooking later
---
4. Breville the Flavour Maker 7L Slow Cooker
The Breville Flavour Maker has a generous 7L capacity which is perfect for cooking large family meals.
The cast aluminium non-stick pan is a stand-alone piece of cookware that is oven and stovetop safe. There are removable silicone handle covers for heat protection and safety. The cooker has low, high and auto heat settings, the auto setting cooks on high for 2 hours and then reduces the heat to low for the remaining duration of cooking.
This multi-use pan allows you to deepen flavours and textures and it makes cleaning up easier as you will only need to wash one pan. The stainless steel lid is dishwasher safe and the power cord is removable for when you are serving at the table.
What We Like:
Three settings
Standalone non-stick plan
Perfect for families
---
5. CrockPot Sear and Slow CHP700 Slow Cooker
This slow cooker from CrockPot is a very convenient cooktop to slow cooker unit that allows you to prepare delicious meals with maximum ease and minimal washing up.
The pot can be used to saute and seal ingredients directly on induction, gas and electric cooktops. This helps to deepen flavours before slow cooking and means you only need to use one pot for preparing the whole meal. The pot itself is DuraCeramic coated which cooks food faster and makes it more scratch-resistant and durable.
The cooker has an LCD screen that displays the remaining cook time and there is a 20-hour digital timer so you can set the cooker to finish at a time that works for you. The keep-warm feature automatically kicks in when the cooking time ends so your meal will be ready whenever you are.
What We Like:
Digital timer
Durable pot can be used on multiple surfaces
Auto keep warm
---
6. Sunbeam 5.5L Slow Cooker
This Slow Cooker from Sunbeam is very straightforward to use and would make a great first slow cooker. This is a simple, effective option that is the perfect size for making family meals with minimal effort.
The crock pot is evenly heated around the sides which means you don't need to stir the food and there is no risk of food getting stuck to the bottom.
When the cooking is finished make sure you switch the cooker to the keep warm setting to prevent overcooking. When it comes to cleaning this unit, both the pan and lid are dishwasher safe.
What We Like:
Simple to use
Evenly heated pot
Dishwasher safe
What We Don't Like:
Keep warm setting is not automatic
---
7. Crock Pot 4.7 Litre Hinged Slow Cooker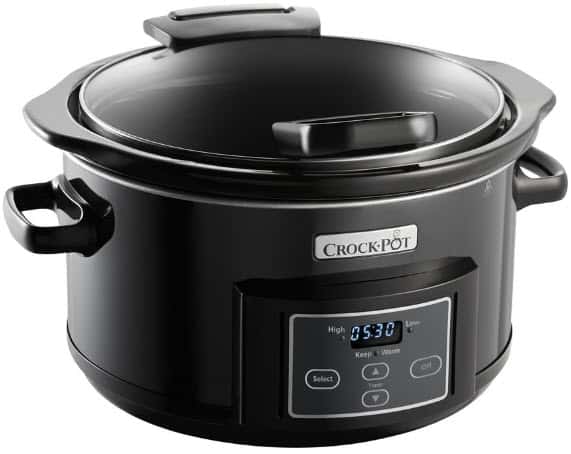 These Hinged Crock Pots are user friendly, compact and perfect for preparing dinner for up to 4 people. The hinged lid makes 1 handed serving easy and also helps to keep your kitchen worktop clean.
The digital display lets you know how much cooking time is left and you can set the flexible 20-hour programmable timer to suit your schedule. After cooking is complete the pot will automatically switch to a low temperature to keep the dish warm.
The CHP550 uses a wrap-around element to ensure the heat is distributed evenly, this also means no stirring is required so you can go about your day while dinner cooks. The crock is conveniently dishwasher safe so cleaning doesn't need to be a hassle either.
What We Like:
User friendly with clear labelling
Digital display
Hinged lid
What We Don't Like:
Slightly pricey but includes convenient features
---
Slow Cooker Buyer's Guide
Slow cookers are game-changers in the kitchen, delicious meals practically cook themselves while you can carry on with other things. They have long been appreciated as the kitchen appliance that can give you meals with maximum flavour and minimal effort. The best slow cooker is lightweight, easy to use and remains cool to touch. As slow cookers vary in their features and abilities, this buyers guide will help you find the model best suited to your needs.
Material
There are a few different materials that are commonly used in slow cookers, the 3 most common materials are:
Aluminium with non-stick coating – these are lightweight and nonstick but the coating may get worn over time. Aluminium is easy to clean but does not hold heat as well as other slow cooker materials.
Stoneware – a stoneware slow cooker is durable but very heavy. The removable crock pot can usually be put into the oven too which might be a useful or desirable feature for some.
Ceramic – a ceramic pot is heavier than aluminium but is easy to clean and is usually oven safe too. Ceramic is the traditional material used for slow cookers, ceramic is slow to heat up and slow to cool but they hold the heat very well. You can serve straight from a ceramic pot but care should be taken as if a ceramic pot is dropped it will likely break.
No matter which material you choose, the pot should be removable for ease of use and quick cleaning. If the pot and the heating unit are fused it will be a lot more frustrating to clean after use.
Note: not all slow cookers have pots that are oven proof so check the specification of the product to check if they can be put into the microwave or oven (this can be a convenient feature for reheating the food or making other dishes).
Heating Method
Some slow cookers have their heating element on the bottom while others have the element wrapped around the sides. Having the element around the sides tends to be the better option as it offers more evenly distributed heat and prevents the food from sticking to the bottom of the pot. We'd recommend choosing a slow cooker that has the heating element around the sides as this is best for providing even heat and removes the need to stir the food while cooking.
RELATED:
Size
The size of the slow cooker you choose will depend on personal preference and what you plan to use it for. There are small sizes available that are ideal for small servings or warming dips and there are very large options that can feed large families (with leftovers too!). For ease of use and best results, it is always best to at least half-fill a slow cooker.
Slow cooker sizes vary from compact models to much larger options. This general guide should help you choose the right size for your requirements:
1-2 litre slow cookers are best for up to 2 people.
3.5 litres is best for up to 4 people.
Up to 6.5 litres is best for entertaining or very large families.
Remember that you should fill a slow cooker at least half but you should not fill it all the way to the top as the mixture needs room to bubble and simmer, many models will have a helpful max fill line marked inside the pot to help with this. With this in mind, you won't be able to fill a 3.5-litre slow cooker all the way to the top which will reduce the actual usable volume. The usable volume of a 3.5-litre slow cooker will be around 2 litres.
When looking at slow cookers, you don't want to buy one that is too big but it's better to compare slow cookers that offer slightly more capacity than you need to ensure the reduced usable volume is not a problem.
Shape
In addition to the slow cooker's size, you may also want to take into account the shape of the crock pot. You will find the cookers come in two basic shapes; round and oval. There are two main reasons the shape of the slow cooker may matter to you:
Limited counter space – if you have limited space in your kitchen it will be better to look at round slow cookers as these have a smaller footprint so will take up less space.
Cooking large/ bulky food pieces – if you will be cooking larger food pieces such as a whole chicken or a rack of ribs then an oval-shaped cooker will be better suited as they offer more room to fit these items. You will find that a round slow cooker is more awkward for bulkier food and you may struggle to take the meat out in one piece once it is cooked too. If you are mostly going to be cooking stews and curries with small meat pieces, beans, potatoes, lentils etc. then the shape won't matter as much as either slow cooker shape will offer ease of use and great results.
Timer
A timer is very important when it comes to slow cookers. The timer is especially handy if you're not around when the cooking is complete as it prevents the food from continuing to cook and becoming overdone. The slow cooker will either switch off or switch to "keep warm" mode when the timer is finished. The keep-warm function is extremely useful as it will keep your food at a low temperature to make sure it remains at a good serving/ eating temperature. If you're not sure how long to leave the slow cooker on for, check out this handy cooking time guide.
The timer is usually easy to set and most slow cookers that have a timer will also have a display that shows how much time the cooker has left. A programmable slow cooker allows you to delay the start of the cooking for a period of time, giving you more flexibility and control over what time the cooking starts and when the dish will be ready.
Controls
There are only a few controls on a slow cooker which makes them very easy to use. The most basic controls are simply low and high heat. High heat is best for cooking meals in just a couple of hours while the low setting is best for all-day cooking. Whether you choose the low/high setting the cooker will get the food up to temperature and maintain this evenly for the duration of cooking.
More advanced options will have a keep-warm function, a programmable timer and may even have a wider selection of temperatures to choose from. The controls will be clearly marked and are normally positioned on the front of the cooker. Some products have a display or a light to indicate when the cooker is on and how much time is remaining.
Sear Function
Several of the models reviewed above also have a sear function that allows you to sear meat or sautee vegetables before slow cooking. This is a useful feature that allows you to cook the whole dish in one pot, preserving flavour. The sear function normally comes with a higher price tag but if you will make use of it, it is worth the extra cost.
There are two key types of sear function;
1) The first type is when the slow cooker has a sear option that allows you to sear directly in the pan, once you have finished searing the food you can turn the cooker to a low setting for slow cooking. This is all done without needing to remove the insert from the slow cooker.
2) The second type is when the slow cooker's pot is safe to be used on stovetops so can be removed, placed onto the stovetop and used to sear the items before being placed back into the slow cooker or crock pot. This means the slow cooker itself doesn't have a sear setting but it still allows you to sear the items in the same pot you will be using in order to preserve flavours and save on washing up separate pots.
Make sure you check which type of sear function is being offered. The sear function is useful and adds value for many people have but if you are happy to sear on the stovetop using a separate pan then there's no need to put focus into finding slow cookers that offer this function.
RELATED: The Best Pie Maker
Slow Cooker Vs. Multi-Purpose
If you are looking for a slow cooker that is also a pressure cooker or rice cooker then you should look at multi-purpose options. Regular slow cookers are not able to be used to pressure cook but a multi-cooker is able to be used in lots of ways as it is a combination of appliances (including a pressure cooker) in one cooker. There is often some confusion between slow cookers and multi cookers as they look similar and can both be used without standing and watching them as they cook but they differ greatly in performance.
To quickly compare the two; slow cookers are low-cost and best for cooking slowly to get the most flavour from the dish in the simplest way while a multi cooker is more expensive and offers versatility to cook food in many different ways.
Other Key Considerations
When looking for the best slow cooker for your family and home, consider these factors:
Lid Material – generally it is better to use a cooker with a quality glass lid as this allows you to safely check on the dish without opening the lid and allowing heat to escape. Removing the lid during cooking will extend the cooking time which is why it's best to go for a lid that you don't need to lift to see how the dish is looking.
Ease of use – look for a slow cooker with a removable pot as this makes it so much easier to clean after use. An indicator light is a good way to see that your slow cooker is on and working, it can also be a key indicator of when the cooking is complete if there is no display.
Hob-proof pots – some slow cookers have a pot that can be used directly on the hob for searing. They can commonly be used on electric and gas hobs and some can also be used on induction hobs. This is a convenient way to sear food when there is no separate sear function within the cooker itself.
Auto setting – the auto function starts cooking on a high temperature and then automatically drops to a lower cooking temperature for the remaining cooking time. This is easy to cook with and means you don't have to worry about altering the settings after a certain period of time.