Bosch is one of the most trusted dishwasher manufacturers in Australia and around the world. Their dishwashers are a favourite amongst Aussie households thanks to their reliability, impressive performance, and affordability when compared to other premium European brands.
One thing that often gets consumers a bit stumped is trying to understand the difference between all the Bosch dishwashers (there are a lot of them!). In particular, it can be handy to know what differentiates the different Series (or Serie) of Bosch dishwashers.
In this article, we break down the key similarities and differences between the Series 4, Series 6, and Series 8 dishwashers to help you make the right choice for your home. We also list some of our recommended models to start you off in your search.
Key Similarities
Installation
All three series of Bosch dishwashers are available as Built-under, Semi-integrated, or Integrated.
The best option for you will depend on your kitchen and personal preferences.
Home Connect Features
Bosch's Remote Monitoring and Control system with Wi-Fi connectivity is available on a range of their dishwashers, including those in Series 4, 6, and 8. Be sure to check the specific model you are looking at if this feature is important to you as it is not available on every model.
Energy Consumption
The Series doesn't appear to have any role in determining energy consumption, with models ranging from 0.62 kWh to 0.65 kWh.
Likewise, the connection rating for all machines is 2,400 W.
Key Differences
Size
Only the Series 6 model is available in a 45cm model. All other Bosch dishwashers are 60cm.
The XXL Series 8 models provide extra space with a height of 86.5cm, while other models are either 84.5cm or 81.5cm in height.
Extra Space 3rd Rack
The Series 8 models come with either a 3rd rack or the VarioDrawer Pro, while Series 4 and 6 models come with either a 3rd rack or the standard Vario Drawer.
The standard VarioDrawer The VarioDrawer is a convenient third drawer that holds cutlery, kitchen utensils and other small items for easy loading and efficient washing and drying.
The VarioDrawer Pro adds another level of loading flexibility to the drawer. The lowerable side components provide space for small items like cups or larger serving utensils like soup ladles.
The 3rd rack basket sits at the top of the dishwasher, making space for large and small utensils, bowls, and other items. It also features a movable knife tray that can be moved to increase the loading capacity of the basket.
RELATED: Asko Vs Bosch Dishwasher
Water consumption
Series 6 and 8 have the best water consumption ratings, ranging from 11 – 12.2 litres.
Series 4 models range from 13.4 – 13.5 litres.
Wash programs
Wash programs vary from model to model, but don't relate strictly to the Series.
Examples of wash cycle differences include:
Auto Delicate is available on some Series 8 and Series 6 models, but none of Series 4.
Night Program is also on some Series 8 and Series 6 models, but none of Series 4.
Aside from the two 88TS02A models, all Series 8 models have the Auto Plus program, while this is not available on Series 4 and 6 models.
Drying Assistant
Only the Series 8 dishwashers (all except the two 88TS02A models) have Drying Assistant.
All Series 4 and 6 models have Extra Dry mode.
Noise Level
One of the biggest priorities for many people is that their dishwasher is quiet.
As you would expect, Bosch's premium Series 8 models are the quietest, coming in at 42 dB(A). Series 6 models are 44 dB(A) and Series 4 are 46 dB(A).
Tub material
The tub on Series 6 and 8 models is made from stainless steel, while on Series 4 models it is made from plastic.
Wash temperatures
The number of wash temperature options decreases as you move down the series. Bosch Series 8 dishwashers have 6 temperature options while Series 4 and 6 have between 4 and 5.
Made in Germany
Many people place a lot of weight on whether Bosch products are made in their home of Germany or in lower cost manufacturing countries (mostly in Asia).
All of the Series 8 dishwashers, some of the Series 6, and none of the Series 4 are made in Germany. Keep an eye out for the "made in Germany" badge on the product page for the model you are looking at.
RELATED: The Smallest Dishwashers
Top Rated Bosch Dishwashers
This impressive Wi-Fi connected dishwasher is made in Germany and is our top pick for Australian homes.
With its Extra Dry option, this Bosch Serie 6 dishwasher ensures that your dishes come out spotless by raising the temperature during the rinse cycle and extending the drying phase.
The Adjustable Top Rack lets you raise or lower the top basket while it's fully loaded, so you can fit in even more dishes. With Rackmatic, each side of the top rack can also be raised or lowered independently, so tall plates in the bottom basket don't interfere with the washing of tall glasses and other items in the top basket.
Bosch's Extra Clean Zone delivers superb washing results without the need for extra rinsing or scrubbing. It's located in the middle of the upper wash basket and its three rotating water nozzles deliver an intensive wash for items placed within the zone.
Finally, if peace and quiet are important to you then Bosch's Silence Plus will deliver, with an impressive 44 dB in volume. It has a 4 Star Energy Rating and a 5 Star WELS Water Rating.
This Bosch Series 4 60cm freestanding dishwasher delivers loading flexibility, spotless dishes, and Wi-Fi connectivity.
This Bosch dishwasher is kind to the environment and your wallet. It uses only 13.5 litres of water per wash on the Eco program with a cold-water connection, and has a 4 star energy rating and a 4 star water rating.
The sensor-controlled Auto Wash program for hands-off, water-saving cleaning, while the Glass wash program is your best bet for delicate glassware or china.
It fits 14-place settings which means plenty of plates, bowls, cups and serving dishes in various sizes. Thanks to its Rackmattic feature, the upper tray can be adjusted to fit various heights, and the VarioFlex touchpoints allow you to easily tell which plate racks can be folded to accommodate them.
RELATED: Miele Vs Bosch Dishwashers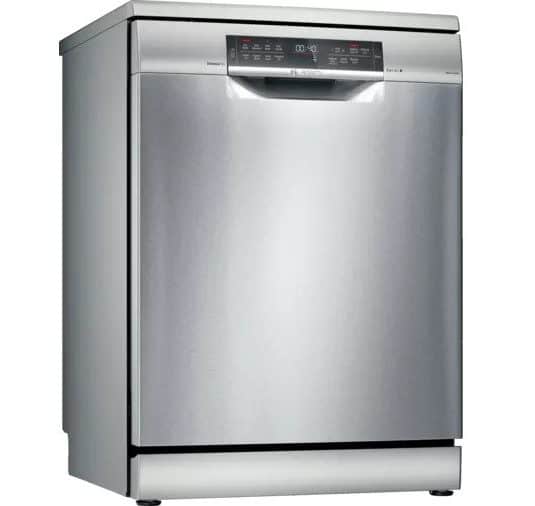 Upgrade your kitchen with the Bosch Series 8 Freestanding Dishwasher. It offers complete stacking flexibility and uses minimal resources to effectively clean and dry large loads.
With many new features like an additional basket rack, this dryer offers extra space for cutlery and oddly shaped items, allowing you to fit more in every load. It also releases the door with its AutoDoor feature at the end of the drying process to efficiently dry your dishes naturally.
If a quiet dishwasher is one of your priorities, then this model is worth a closer look. It comes in at a super quiet 42dbA, the quietest of any Bosch dishwashers.
Finally, this Serie 8 dishwasher allows you to connect to Bosch Home Connect so you can use your mobile device for instant control and to receive notifications on progress.
This German made dishwasher is Bosch's largest model, measuring 86.5cm in height, meaning you have more space to fit in dirty dishes. It utilises this space with an Extra Space 3rd Basket, which makes room for large and small utensils, bowls, measuring cups, and more.
It's also the quietest dishwasher from Bosch, at only 42dbA.
This Series 8 dishwasher also features Rackmatic, which lets you adjust the height of the top basket even when it's loaded. That lets you tailor the rack to your dishes and maximize flexibility, so you can wash tall plates in the bottom basket while also washing tall glasses in the top basket at the same time.
RELATED: Asko Vs Miele Dishwashers
Bosch Dishwasher Comparison Tables
Bosch Series 8 Dishwashers
| | | | | | | |
| --- | --- | --- | --- | --- | --- | --- |
| Model | SMS8EDI01A | XXL SBV8EDX01A | XXL SBI8EDS01A | SMU8EDS01A | SMU88TS02A | SMI88TS02A |
| Type | Freestanding | Underbench | Underbench | Underbench | Underbench | Underbench |
| Installation | Built-under | Integrated | Semi-integrated | Built-under | Built-under | Semi-integrated |
| Size | 60cm | 60cm | 60cm | 60cm | 60cm | 60cm |
| Width | 600 mm | 598 mm | 598 mm | 598 mm | 598 mm | 598 mm |
| Height | 845 mm | 865 mm | 865 mm | 815 mm | 815 mm | 815 mm |
| Water consumption | 11.5 l | 11.5 l | 11.5 l | 11.5 l | 12.0 l | 12.0 l |
| Wash programs | Auto 45-65°C, Auto delicate, Auto plus, Custom program, Eco AU, night program, Quick L, Quick S | Auto 45-65°C, Auto delicate, Auto plus, Custom program, Eco AU, night program, Quick L, Quick S | Auto 45-65°C, Auto delicate, Auto plus, Custom program, Eco AU, night program, Quick L, Quick S | Auto 45-65°C, Auto delicate, Auto plus, Custom program, Eco AU, night program, Quick L, Quick S | Auto 35-45°C, Auto 45-65°C, Auto 65-75°C, Economy, Glass, night program, Quick wash | Auto 35-45°C, Auto 45-65°C, Auto 65-75°C, Economy, Glass, night program, Quick wash |
| Additional options | Drying assist, HygienePlus, Machine Care, Remote Start | Drying assist, HygienePlus, Intensive Zone, Machine Care, Remote Start | Drying assist, HygienePlus, Intensive Zone, Machine Care, Remote Start | Drying assist, HygienePlus, Machine Care, Remote Start | Extra dry, half load, HygienePlus, Intensive Zone, Machine Care, VarioSpeed | Extra dry, half load, HygienePlus, Intensive Zone, Machine Care, VarioSpeed |
| Noise level | 42 dB(A) | 42 dB(A) | 42 dB(A) | 42 dB(A) | 42 dB(A) | 42 dB(A) |
| Extra Space | 3rd Rack | 3rd Rack | 3rd Rack | 3rd Rack | VarioDrawer Pro | VarioDrawer Pro |
| Home Connect | Remote Monitoring and Control | Remote Monitoring and Control | Remote Monitoring and Control | Remote Monitoring and Control | | |
| Type of connectivity | Wi-Fi | Wi-Fi | Wi-Fi | Wi-Fi | Not applicable | Not applicable |
| Color / Material panel | Stainless steel colour, lacqu. | Grey | Stainless steel | Grey | Stainless steel | Stainless steel |
| Height | 845 mm | 865 mm | 865 mm | 815 mm | 815 mm | 815 mm |
| Tub material | Stainless steel | Stainless steel | Stainless steel | Stainless steel | Stainless steel | Stainless steel |
Bosch Series 6 Dishwashers
| | | | | | | | | | | | | | | | | | |
| --- | --- | --- | --- | --- | --- | --- | --- | --- | --- | --- | --- | --- | --- | --- | --- | --- | --- |
| Model | SMS6HCB01A | SMS6HCI01A | SMS6HCW01A | SMS6HAI01A | SMS66MI02A | SMS66MW01A | SMP66MX05A | SMV6HCX01A | SMU6HCS01A | SMP66MX04A | SMP66MX01A | SMI6HCS01A | SMU6HAS01A | SMU66MS02A | SMV66JX01A | SMU66JS01A | SMI66JS01A |
| Type | Freestanding | Freestanding | Freestanding | Freestanding | Freestanding | Freestanding | Underbench | Underbench | Underbench | Underbench | Underbench | Underbench | Underbench | Underbench | Underbench | Underbench | Underbench |
| Installation | Built-under | Built-under | Built-under | Built-under | Built-under | Built-under | Built-under | Integrated | Built-under | Built-under | Built-under | Semi-integrated | Built-under | Built-under | Integrated | Built-under | Semi-integrated |
| Size | 60cm | 60cm | 60cm | 60cm | 60cm | 60cm | 60cm | 60cm | 60cm | 60cm | 60cm | 60cm | 60cm | 60cm | 60cm | 60cm | 60cm |
| Width | 600 mm | 600 mm | 600 mm | 600 mm | 600 mm | 600 mm | 598 mm | 598 mm | 598 mm | 598 mm | 598 mm | 598 mm | 598 mm | 598 mm | 598 mm | 598 mm | 598 mm |
| Height | 845 mm | 845 mm | 845 mm | 845 mm | 845 mm | 845 mm | 815 mm | 815 mm | 815 mm | 815 mm | 815 mm | 815 mm | 815 mm | 815 mm | 815 mm | 815 mm | 815 mm |
| Water consumption | 11.0 l | 11.0 l | 11.0 l | 11.4 l | 12.0 l | 12.0 l | 12.2 l | 11.0 l | 11.0 l | 12.2 l | 12.0 l | 11.0 l | 11.4 l | 12.0 l | 11.0 l | 11.0 l | 11.0 l |
| Wash programs | Auto 45-65°C, Auto delicate, Custom program, Eco AU, night program, Pots and Pans, Quick L, Quick S | Auto 45-65°C, Auto delicate, Custom program, Eco AU, night program, Pots and Pans, Quick L, Quick S | Auto 45-65°C, Auto delicate, Custom program, Eco AU, night program, Pots and Pans, Quick L, Quick S | Auto 45-65°C, Auto delicate, Custom program, Eco AU, Pots and Pans, Quick L | Auto 45-65°C, Auto 65-75°C, Economy, Quick wash, Super | Auto 45-65°C, Auto 65-75°C, Economy, Quick wash, Super | Auto 45-65°C, Auto 65-75°C, Economy, Glass, Quick wash | Auto 45-65°C, Auto delicate, Custom program, Eco AU, night program, Pots and Pans, Quick L, Quick S | Auto 45-65°C, Auto delicate, Custom program, Eco AU, night program, Pots and Pans, Quick L, Quick S | Auto 45-65°C, Auto 65-75°C, Economy, Glass, Quick wash | Auto 45-65°C, Auto 65-75°C, Economy, Glass, Quick wash | Auto 45-65°C, Auto delicate, Custom program, Eco AU, night program, Pots and Pans, Quick L, Quick S | Auto 45-65°C, Auto delicate, Custom program, Eco AU, night program, Pots and Pans, Quick L, Quick S | Auto 45-65°C, Auto 65-75°C, Economy, Glass, Quick wash | Auto 45-65°C, Auto 65-75°C, Economy, Quick wash, Super | Auto 45-65°C, Auto 65-75°C, Economy, Quick wash, Super | Auto 45-65°C, Auto 65-75°C, Economy, Quick wash, Super |
| Additional options | Extra dry, HygienePlus, Machine Care, Remote Start | Extra dry, HygienePlus, Machine Care, Remote Start | Extra dry, HygienePlus, Machine Care, Remote Start | Extra dry, HygienePlus, Machine Care, Remote Start | Extra dry, half load, Machine Care, VarioSpeed | Extra dry, half load, Machine Care, VarioSpeed | Extra dry, half load, Machine Care, VarioSpeed | Extra dry, HygienePlus, Machine Care, Remote Start | Extra dry, HygienePlus, Machine Care, Remote Start | Extra dry, half load, Machine Care, VarioSpeed | Extra dry, half load, Machine Care, VarioSpeed | Extra dry, HygienePlus, Machine Care, Remote Start | Extra dry, HygienePlus, Machine Care, Remote Start | Extra dry, half load, Machine Care, VarioSpeed | Extra dry, half load, Machine Care, VarioSpeed | Extra dry, half load, Machine Care, VarioSpeed | Extra dry, half load, Machine Care, VarioSpeed |
| Noise level | 44 dB(A) | 44 dB(A) | 44 dB(A) | 44 dB(A) | 44 dB(A) | 44 dB(A) | 44 dB(A) | 44 dB(A) | 44 dB(A) | 44 dB(A) | 44 dB(A) | 44 dB(A) | 44 dB(A) | 44 dB(A) | 44 dB(A) | 44 dB(A) | 44 dB(A) |
| Extra Space | Vario drawer | Vario drawer | Vario drawer | 3rd Rack | Vario drawer | Vario drawer | Vario drawer | Vario drawer | Vario drawer | Vario drawer | Vario drawer | Vario drawer | 3rd Rack | Vario drawer | 3rd Rack | 3rd Rack | 3rd Rack |
| Home Connect | Remote Monitoring and Control | Remote Monitoring and Control | Remote Monitoring and Control | Remote Monitoring and Control | | | | Remote Monitoring and Control | Remote Monitoring and Control | | | Remote Monitoring and Control | Remote Monitoring and Control | | | | |
| Type of connectivity | Wi-Fi | Wi-Fi | Wi-Fi | Wi-Fi | Not applicable | Not applicable | Not applicable | Wi-Fi | Wi-Fi | Not applicable | Not applicable | Wi-Fi | Wi-Fi | Not applicable | Not applicable | Not applicable | Not applicable |
| Color / Material panel | Cast iron | Stainless steel colour, lacqu. | White | Stainless steel colour, lacqu. | Stainless steel colour, lacqu. | White | Black | Grey | Grey | Black | Black | Grey | Grey | Grey | Stainless steel | Grey | Grey |
| Height | 845 mm | 845 mm | 845 mm | 845 mm | 845 mm | 845 mm | 815 mm | 815 mm | 815 mm | 815 mm | 815 mm | 815 mm | 815 mm | 815 mm | 815 mm | 815 mm | 815 mm |
| Tub material | Stainless steel | Stainless steel | Stainless steel | Stainless steel | Stainless steel | Stainless steel | Stainless steel | Stainless steel | Stainless steel | Stainless steel | Stainless steel | Stainless steel | Stainless steel | Stainless steel | Stainless steel | Stainless steel | Stainless steel |
Bosch Series 4 Dishwashers
| | | | | | | | | | | | | | | | | | |
| --- | --- | --- | --- | --- | --- | --- | --- | --- | --- | --- | --- | --- | --- | --- | --- | --- | --- |
| Model | SMS4HVI01A | SMS46KI02A | SMS46KI01A | SMS4HTI01A | SMS46GI02A | SMS46GI01A | SMS46GW01A | SMU4HVS01A | SMU46KS01A | SMV4HTX01A | SMU4HTS01A | SMV4HTX01A | SMU4HTS01A | SMI4HTS01A | SMV46GX01A | SMU46GS01A | SMI46GS01A |
| Type | Freestanding | Freestanding | Freestanding | Freestanding | Freestanding | Freestanding | Freestanding | Underbench | Underbench | Underbench | Underbench | Underbench | Underbench | Underbench | Underbench | Underbench | Underbench |
| Installation | Built-under | Built-under | Built-under | Built-under | Built-under | Built-under | Built-under | Built-under | Built-under | Integrated | Built-under | Integrated | Built-under | Semi-integrated | Integrated | Built-under | Semi-integrated |
| Size | 60cm | 60cm | 60cm | 60cm | 60cm | 60cm | 60cm | 60cm | 60cm | 60cm | 60cm | 60cm | 60cm | 60cm | 60cm | 60cm | 60cm |
| Width | 600 mm | 600 mm | 600 mm | 600 mm | 600 mm | 600 mm | 600 mm | 598 mm | 598 mm | 598 mm | 598 mm | 598 mm | 598 mm | 598 mm | 598 mm | 598 mm | 598 mm |
| Height | 845 mm | 845 mm | 845 mm | 845 mm | 845 mm | 845 mm | 845 mm | 815 mm | 815 mm | 815 mm | 815 mm | 815 mm | 815 mm | 815 mm | 815 mm | 815 mm | 815 mm |
| Water consumption | 13.5 l | 13.4 l | 13.4 l | 13.5 l | 13.4 l | 13.4 l | 13.4 l | 13.5 l | 13.4 l | 13.5 l | 13.5 l | 13.5 l | 13.5 l | 13.5 l | 13.4 l | 13.4 l | 13.4 l |
| Wash programs | Auto 45-65°C, Custom program, Delicate, Eco AU, Pots and Pans, Quick L | Auto 45-65°C, Economy, Glass, pots and pans, Pre-Rinse, Quick wash | Auto 45-65°C, Economy, pots and pans, Pre-Rinse, Quick wash, Super | Auto 45-65°C, Custom program, Delicate, Eco AU, Pots and Pans, Quick L | Auto 45-65°C, Economy, Glass, pots and pans, Pre-Rinse, Quick wash | Auto 45-65°C, Economy, pots and pans, Pre-Rinse, Quick wash, Super | Auto 45-65°C, Economy, pots and pans, Pre-Rinse, Quick wash, Super | Auto 45-65°C, Custom program, Delicate, Eco AU, Pots and Pans, Quick L | Auto 45-65°C, Economy, Glass, pots and pans, Pre-Rinse, Quick wash | Auto 45-65°C, Custom program, Delicate, Eco AU, Pots and Pans, Quick L | Auto 45-65°C, Custom program, Delicate, Eco AU, Pots and Pans, Quick L | Auto 45-65°C, Custom program, Delicate, Eco AU, Pots and Pans, Quick L | Auto 45-65°C, Custom program, Delicate, Eco AU, Pots and Pans, Quick L | Auto 45-65°C, Custom program, Delicate, Eco AU, Pots and Pans, Quick L | Auto 45-65°C, Economy, pots and pans, Pre-Rinse, Quick wash, Super | Auto 45-65°C, Economy, pots and pans, Pre-Rinse, Quick wash, Super | Auto 45-65°C, Economy, pots and pans, Pre-Rinse, Quick wash, Super |
| Additional options | Extra dry, HygienePlus, Machine Care, Remote Start | Extra dry, half load, Machine Care, VarioSpeed | Extra dry, half load, Machine Care, VarioSpeed | Extra dry, HygienePlus, Machine Care, Remote Start | Extra dry, half load, Machine Care, VarioSpeed | Extra dry, half load, Machine Care, VarioSpeed | Extra dry, half load, Machine Care, VarioSpeed | Extra dry, HygienePlus, Machine Care, Remote Start | Extra dry, half load, Machine Care, VarioSpeed | Extra dry, HygienePlus, Machine Care, Remote Start | Extra dry, HygienePlus, Machine Care, Remote Start | Extra dry, HygienePlus, Machine Care, Remote Start | Extra dry, HygienePlus, Machine Care, Remote Start | Extra dry, HygienePlus, Machine Care, Remote Start | Extra dry, half load, Machine Care, VarioSpeed | Extra dry, half load, Machine Care, VarioSpeed | Extra dry, half load, Machine Care, VarioSpeed |
| Noise level | 46 dB(A) | 46 dB(A) | 46 dB(A) | 46 dB(A) | 46 dB(A) | 46 dB(A) | 46 dB(A) | 46 dB(A) | 46 dB(A) | 46 dB(A) | 46 dB(A) | 46 dB(A) | 46 dB(A) | 46 dB(A) | 46 dB(A) | 46 dB(A) | 46 dB(A) |
| Extra Space | Vario drawer | Vario drawer | Vario drawer | 3rd Rack | 3rd Rack | 3rd Rack | 3rd Rack | Vario drawer | Vario drawer | 3rd Rack | 3rd Rack | 3rd Rack | 3rd Rack | 3rd Rack | 3rd Rack | 3rd Rack | 3rd Rack |
| Home Connect | Remote Monitoring and Control | | | Remote Monitoring and Control | | | | Remote Monitoring and Control | | Remote Monitoring and Control | Remote Monitoring and Control | Remote Monitoring and Control | Remote Monitoring and Control | Remote Monitoring and Control | | | |
| Type of connectivity | Wi-Fi | Not applicable | Not applicable | Wi-Fi | Not applicable | Not applicable | Not applicable | Wi-Fi | Not applicable | Wi-Fi | Wi-Fi | Wi-Fi | Wi-Fi | Wi-Fi | Not applicable | Not applicable | Not applicable |
| Color / Material panel | Stainless steel colour, lacqu. | Stainless steel colour, lacqu. | Stainless steel colour, lacqu. | Stainless steel colour, lacqu. | Stainless steel colour, lacqu. | Stainless steel colour, lacqu. | White | Black | Grey | Black | Grey | Black | Grey | Grey | Black | Grey | Grey |
| Height | 845 mm | 845 mm | 845 mm | 845 mm | 845 mm | 845 mm | 845 mm | 815 mm | 815 mm | 815 mm | 815 mm | 815 mm | 815 mm | 815 mm | 815 mm | 815 mm | 815 mm |
| Tub material | Plastic | Plastic | Plastic | Plastic | Plastic | Plastic | Plastic | Plastic | Plastic | Plastic | Plastic | Plastic | Plastic | Plastic | Plastic | Plastic | Plastic |