Walk into any appliance store and you'll see a range of dishwashers that look more or less the same. It can be confusing to find the right one, especially when you don't know what to look for.
In the reviews below, we list our picks for the best dishwasher models in Australia. If you're still unsure what dishwasher is best for your home, take a look at the buying guide that is located after the reviews.
---
1. Bosch Serie 6 Dishwasher – Best for Most People
This impressive Wi-Fi connected, German-made dishwasher is our top pick for Australian homes.
The Adjustable Top Rack lets you raise or lower the top basket while it's fully loaded, so you can fit in even more dishes. With Rackmatic, each side of the top rack can also be raised or lowered independently, so tall plates in the bottom basket don't interfere with the washing of tall glasses and other items in the top basket.
Bosch's Extra Clean Zone delivers superb washing results without the need for extra rinsing or scrubbing. It's located in the middle of the upper wash basket and its three rotating water nozzles deliver an intensive wash for items placed within the zone.
With its Extra Dry option, this Bosch dishwasher ensures that your dishes come out spotless by raising the temperature during the rinse cycle and extending the drying phase.
Finally, if peace and quiet are important to you then Bosch's Silence Plus will deliver, with an impressive 44 dB in volume. It has a 4 Star Energy Rating and a 5 Star WELS Water Rating.
What We Like:
Great washing and drying performance
Quiet operation
Good interior space 
Made in Germany
What We Don't Like:
More expensive than other options
---
2. Bosch Series 4 60cm Freestanding Dishwasher – Best Value
Looking for Australia's best value dishwasher? We recommend this Bosch Series 4 model.
It has a flexible loading system, a streamlined design, and Wi-Fi connectivity.
This dishwasher is kind to the environment and your wallet. It uses only 13.5 litres of water per wash on the Eco program with a cold-water connection, and has a 4 star energy rating and a 4 star water rating.
The sensor-controlled Auto Wash program for hands-off, water-saving cleaning, while the Glass wash program is your best bet for delicate glassware or china.
This Bosch dishwasher fits 14 place settings so plenty of plates, bowls, cups and serving dishes in various sizes can be washed at the same time.
Thanks to its Rackmattic feature, where the top rack can be adjusted to fit various heights, users can wash their dishes more flexibly. The VarioFlex touchpoints allow you to easily tell which dish racks can be folded down to accommodate them.
What We Like:
Great value
4 star energy and water rating
Sensor-controlled Auto Wash program
---
3. Dishlex Freestanding Steel Dishwasher – Best Budget Option
This 60cm freestanding dishwasher from Dishlex has a capacity of 13 place settings and offers a range of simple yet effective features. It's a relatively cheap dishwasher that's great for cleaning up after meal times and looks great too.
There are 5 cleaning programs to choose from including quick, eco, intensive, normal and glass. There is also a half-load option that helps you save water while cleaning smaller loads and an extra dry option for when you want the items to be dry at the end of the cycle.
Loading this machine is made easy thanks to the height adjustable top basket and the cutlery basket. It has a 4.5 star WELS water rating and a 3 star energy rating so you can keep your energy bills down and your kitchenware clean. The Dishlex freestanding dishwashers have a child lock and an anti-flood device for added safety.
What We Like:
Half load function
Height adjustable top basket
Efficient
---
4. Bosch Series 8 Freestanding Dishwasher – Upgrade Pick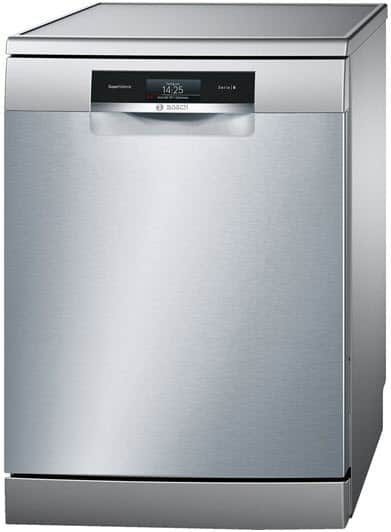 The Bosch Serie 8 has everything you could need in a freestanding dishwasher. It cleans exceptionally well, even if you don't take the time to rinse your plates. It's also impressively quiet, and does a great job of drying the dishes once the wash cycle is complete.
The interior is very well-designed with adjustable and foldable racks and compartments for all your kitchenware and silverware no matter what size they are. It's actually quite impressive how many large items can fit inside this, and there is still room for glasses and silverware. Everything gets washed evenly no matter what you put inside. 
This Bosch dishwasher also has a load of options for different wash-cycles and settings. Overall, this is one of the best dishwashers on the market. 
What We Like:
Great cleaning performance
Quiet
Well-designed interior 
---
5. Fisher & Paykel Stainless Steel Dishwasher
This 60cm freestanding dishwasher from Fisher & Paykel offers enough space for 14 place settings. This means you can wash large amounts of kitchenware with ease. The cup racks, utensil tray, wine glass supports and adjustable top basket make sure a variety of items can be washed as needed.
This dishwasher has 6 cleaning cycles to choose from including auto, eco, fast and rinse. The auto wash cycle detects the capacity and adjusts the settings automatically to give the best results.
This Fisher & Paykel model features a child lock for added safety and peace of mind. It also boasts a 3.5 star energy rating and a 5-star water rating meaning its energy and water consumption is low. It also has a low decibel rating making it ideal for those living in smaller spaces. The end of cycle alert can be turned off too if you need the dishwasher to be quiet.
What We Like:
Quiet operation
Easy to load
Looks smart
What We Don't Like:
Doesn't offer enough space for large dinner plates to stand upright
---
6. LG QuadWash TrueSteam Dishwasher
The LG Quadwash is a reliable and quiet dishwasher, best suited to busy families. The matte black finish looks very chic in the kitchen, and the easy-to-roll-out racks make it a pleasure to use. 
The interior is well-designed with appropriate rack space for all your cutlery and dishes, and the upper rack is fully adjustable so you can load up large items too. 
One of the best features is the dual wash zones. You can have a heavy wash going at the bottom for greasy pans, and a light wash going at the top for wine glasses and china. 
This unit also has smart technology so you can download new wash cycles and diagnose problems over the internet. You can also use your phone to get updates and monitor your washing. 
This machine has a high price tag, but it's a great investment if you want one of the best dishwashers with all the bells and whistles. 
What We Like:
Great cleaning
Quiet
Smart technology 
---
7. Asko 60cm Built-in Dishwasher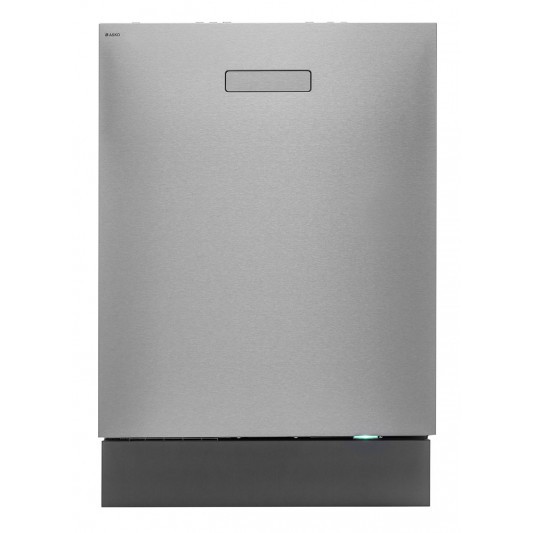 If you need a dishwasher that seamlessly slots into your kitchen, a built-in option like this Asko 60cm model would be perfect. The dishwasher looks smart, has advanced capabilities and gives you easy access to the controls without impacting the aesthetic of the kitchen.
This dishwasher is made from steel making it extremely durable and long lasting. There is a range of functions and features available on this dishwasher including a pre-rinse function, a quick pro-wash program, turbo drying program and a self-cleaning option.
The Flexi Tray is a top cutlery tray that is height adjustable and has space for 16 place settings of cutlery and utensils. There is a silent mode for reducing the sound level and a hygiene program that is best for cleaning baby bottles and similar items. This is an efficient model with a 5 star water rating and a 3.5 star energy rating.
What We Like:
Lots of features
Seamlessly slots into any kitchen
Hygiene program for washing baby bottles
---
8. Miele G 4203 SCi Active Integrated Dishwasher
The Miele G 4203 is a reliable option and a great choice if you're looking for an integrated dishwasher. It has an auto-sensor to adjust the water and wash time, so you can clean dirty dishes easily without having to rinse them first. 
It has minimal controls, which is actually quite refreshing; there are five wash settings to choose from, and then you just let it do its thing. It is also whisper-quiet, so you can forget that it's even on. 
The interior is spacious and the racking is well-designed with compartments for all your utensils, and the upper rack is height-adjustable so you can fit large pots and trays in the bottom. 
Overall, this Miele integrated dishwasher is a very good option with minimal settings.
What We Like:
Great cleaning
Quiet
Minimalist controls 
---
9. Fisher & Paykel 60cm Double DishDrawer Dishwasher
This double dishwasher drawer from Fisher & Paykel is perfect for smaller households. The drawers offer a capacity of 14 place settings while keeping quiet and tucked out of the way.
The drawers have baskets and racks to deal with a range of crockery and cookware and there are 6 wash programs to choose from. This includes a half load option for when you need to clean items but the washer is only half full. The two drawers can also be used independently of each other so you have the option of putting them onto different programs or just using one drawer when you have fewer dishes.
These Fisher & Paykel dishdrawers are simple to use, they open and close like normal kitchen drawers and are made at bench height to minimise bending when loading the kitchenware. This is a quiet model that has a 4.5 star water rating and a 3.5 star energy rating.
What We Like:
The drawers can be used independently or put onto different cycles
User friendly
Sleek and quiet
What We Don't Like:
Has different plumbing requirements to other dishwashers so may take longer to install
---
10. Westinghouse WSF6606XA Dishwasher
This 60cm Westinghouse dishwasher has a capacity of 15 place settings making it perfect for a family home. As it is freestanding it can be positioned anywhere in the kitchen whether you need it under a workbench or stand-alone. The stainless steel finish looks smart and fits in well with contemporary kitchens.
This dishwasher has flexible racking so you can adjust the set up to suit different sized kitchenware. For added convenience, the upper rack can be height adjusted. It has 6 cycles to choose from including fast 30, heavy, eco, timesave, pre-wash and delicate.
This freestanding dishwasher includes a range of safety features such as a child lock, overfill protection and anti-flood protection. As efficiency is one of the most important aspects of a dishwasher, users will be pleased to hear this one has a 4.5 star WELS water rating and a 3 star energy rating.
---
Dishwasher Buyers Guide
When it comes to cleaning up the kitchen after a family dinner a dishwasher can help reduce your water consumption while also saving time and energy.
Dishwashers are hygienic, efficient and easy to use so it's no surprise the majority of people have one tucked away in their kitchen. This buying guide will help you find the best dishwasher for you so you don't have to wash up by hand anymore.
Dishwasher Size
Below we compare the 3 main sizes of dishwasher available:
Full Size – a full-sized freestanding dishwasher is the most popular type. This is the best dishwasher for handling everyday needs. A full-size dishwasher is 60cm wide and can fit 12+ place settings. Some of the larger models can offer space for up to 15 place settings.
Slimline – a freestanding slimline dishwasher is best suited to smaller, urban kitchens. At 45cm wide, they are more compact than full-size dishwashers making them best suited to smaller spaces such as one-bedroom apartments or small family homes where space is limited. Slimline dishwashers can still fit a good amount of crockery and cutlery in (the equivalent to 8-9 place settings).
Compact – a compact dishwasher is 55cm wide and are best if you don't use many dishes or have limited space. They have a small capacity of between 6-8 place settings but are not great for washing larger items. Compact dishwashers can also be quite expensive. This type is not as popular as they tend to be less energy efficient than full size and slimline dishwashers.
RELATED: Asko Vs Bosch Dishwashers
Types of Dishwasher
Freestanding Dishwasher
A freestanding dishwasher has the exterior and the control panel exposed, it is designed so the front panel will remain fully visible. Freestanding dishwashers are the most popular option, they are easy to move around for maintenance, cleaning or if you are moving house and because they are so common you are more likely to find them being offered at low prices, in sales or with special deals.
Fully Integrated
A fully integrated dishwasher is designed to be installed under the countertop and will have a door to match the cupboard doors. On fully integrated dishwashers the control panel is on the upper lip of the door so is not visible unless the dishwasher is open.
The width of a fully integrated model is the same as a freestanding dishwasher but the positioning within the kitchen will be different. These dishwashers are designed to completely blend into your kitchen but they are often more expensive and as the control panel is inside the door, you are not able to see how long is left of the cleaning cycle.
There are also semi-integrated dishwashers that are built-in and can fit a panel to blend the dishwasher seamlessly into the kitchen. The controls of the dishwasher remain visible on a semi-integrated model.
Dishwasher Drawers
When looking at integrated dishwashers you will come across dishwasher drawers. These are the best option for smaller homes as they are built into a drawer in the kitchen. They are typically microwave sized and take up a lot less space.
There are double dish drawers available too, these are versatile and give you the option of running just one drawer or both at once (you can sometimes run the two drawers at the same time but on different cycles).
Benchtop Dishwashers
When comparing dishwasher types you may also see benchtop dishwashers. These sit directly on top of the kitchen worktop. They are about the size of a large microwave and installation is easy as you don't need to modify your kitchen to fit the dishwasher in.
Benchtop models are one of the best options if you're renting a place and don't want to make modifications to the existing kitchen but still want the convenience of a dishwasher.
Place Settings
You will notice that manufacturers will usually list the dishwasher place settings as a way of letting you know how big it is. While this can be a useful comparison tool it is best to take the actual number with a pinch of salt.
A standard full-sized dishwasher is 60cm wide and this usually offers between 12 and 15 place settings.
A slimline dishwasher is around 45cm wide and usually has enough space for 9 place settings.
Compact dishwashers are smaller and can usually accommodate 6 place settings.
Don't rely solely on the place setting number when you are making your decision. It is best to look for options with adjustable racks so you can modify the space to suit the items that need cleaning.
RELATED: The Best Small Dishwasher
Top-Mounted Vs Front Control Panel
Unless you choose a fully integrated dishwasher you may have the option of where the control panel is located. Some are on the front of the unit while others are at the top of the door and hidden from view. Both work in exactly the same way so it really comes down to personal preference.
If you have children in the house or you want the new dishwasher to look seamless in the kitchen then the top mounted control panel is probably the best option. However, there is a level of convenience to having the control panel on the front of the dishwasher, namely that you can see the amount of time remaining in the cycle at a glance.
Energy Efficiency
One of the best things about using dishwashers is how energy and water efficient they are.
Dishwashers all have an energy rating that lets you know how efficient they are. The rating system makes it easy to see how the dishwasher model you are considering compares to others in the same category. Choosing a more efficient dishwasher will help you to save on water and energy bills.
The energy and water rating is ranked in stars and the more stars the energy rating has, the more energy-efficient the dishwasher is.
When choosing a new dishwasher, keep in mind you can only directly compare the star efficiency ratings of dishwashers that are the same capacity as the number of place settings is used to help determine how efficient the dishwasher is. For example, if you are looking at a 15 place dishwasher you can only compare the energy star rating with other 15 place dishwashers.
RELATED: Bosch vs Miele Dishwasher
Cleaning Power 
The best dishwasher effectively and efficiently cleans your crockery and kitchenware. Most dishwashers are competent at cleaning regardless of price. If you scrape your plates and remove any obvious stuck-on food, then almost any dishwasher will clean effectively.
If you go for more high end models, it just means you will have less work when loading the dishwasher. Some dishwashers offer some kind of heavy-duty or intensive cycle that is designed to handle those tough cleaning tasks such as baked-on food.
If you only clean a few dishes at a time, then a cheap dishwasher may be adequate. If you are loading dishes from the whole family, it may be worth getting a more powerful model to ensure the dishes always come out sparkling clean. 
RELATED: The Best Convection Microwave
Noise Level 
The noise a dishwasher makes seems to directly correlate with price. A cheaper model is going to be much louder than a premium model, so if you want one of the best whisper-quiet dishwashers, expect to pay big bucks. 
A quiet dishwasher tends to use brushless motors to produce less noise. If the dishwasher has been designed to operate quietly it will be advertised as such and this can generally be relied on but if you're not sure, a quick check of customer reviews is an easy way to make sure others are happy with the noise level.
If your dishwasher is close to your lounge and dining area, then it is worth paying more for a quiet machine. If your dishwasher is located in a separate kitchen area, then you may not need a quiet washer. 
Racks And Interior 
The interior configuration of the washer plays an important role. Will there be enough room for your largest dishes? Look for adjustable racks that are easy to manoeuvre and can accommodate a variety of sizes and shapes. 
Also, look at the silverware basket and other features of the racks. Some dishwashers offer a cutlery tray rather than a basket, a cutlery tray can be good for leaving more space for pots and pans but some people find the tray takes longer to load and unload so it depends on your personal preference. You may also need holders for stemware or compartments for delicate items.
Some top racks can be moved up or down to accommodate the items that need to be washed (moving the rack higher makes space beneath for pots and moving it lower is best for accommodating wine glasses). Make sure the dishwasher's racks accommodate the type of dishes you use commonly. 
RELATED: The Best Wine Fridge
Soil Sensor And Features 
Many dishwashers come with a soil sensor that can detect how dirty the items in the dishwasher are and adjust the time and water usage accordingly. This can make your dishwasher much more water and energy-efficient (be sure to check the energy rating). 
Also, look for cleaning cycles that accommodate your needs. Many units have three cycle options as standard: Auto, normal and express. You can also find units with cycles for heavy items, fine china, rinse only, and other settings. Eco is also a common setting that can be found on most dishwashers, this cycle takes longer but uses less energy.
A half load or load sensor setting can be a useful feature too. This setting is best for saving energy and water when the dishwasher isn't fully loaded.
Dishwasher Installation
You can often install a freestanding dishwasher yourself as the installation is relatively straightforward. However, if you don't have experience with working with appliances or you have selected a semi integrated or fully integrated dishwasher you may need to have it professionally installed. The installation may also be made more difficult if your original dishwasher was not properly installed.
Sometimes it's best to get the new dishwasher professionally installed as this way you know everything is connected properly and level. It is also important to check the warranty terms as many manufacturers require the dishwasher is professionally installed for the purposes of the warranty.
Other Features
Child safety – a child safety lock is a common feature on dishwashers and one to keep in mind if you have children. The safety lock stops the settings from being accidentally changed. All dishwashers should stop working if the door is pulled open but a child lock is best for family homes.
Anti-flood protection – a dishwasher with anti-flood protection has float switches that detect water in the bottom of the machine and stops it from filling further if something is not working as it should be.
Smart features – some high-end dishwashers even have built-in wifi that connects the dishwasher to an app so you can control and monitor the machine using your smartphone.
Delay timer – the dishwasher may offer a delay timer, this allows you to set the dishwasher so it starts a cycle in a set amount of time. This feature can be good if you want to machine to operate at certain times of the day to make use of lower electricity costs or you simply want to ensure the cycle finishes just before dinner time etc.
Drying cycle – some dishwasher models have a drying cycle that uses condensation to dry the crockery. The cycle works using hot water that reacts to the cool stainless steel interior of the dishwasher to create drops of water that simply drain from the plates etc. Drying programs are convenient, hygienic and make unloading the dishwasher a quick task.
Display – a display that shows how much time is remaining can be very useful. An integrated dishwasher won't have this option but a freestanding dishwasher might.