Nobo and Noirot are two of the most popular panel heater brands in Australia, thanks to their quality, sleek designs, and lifetime warranties.
They are both European-based brands with a focus on producing innovative, energy-efficient, and user-friendly heaters.
Trying to decide between the two? Read on as we break down the key things you should keep in mind when choosing, answer some commonly asked questions, and compare some of the best Nobo and Noirot panel heaters currently on the market.
Nobo vs Noirot: Which is best?
Nobo and Noirot are two of the best manufacturers of panel heaters and there is very little that separates the two. They both offer excellent quality products at around the same price point.
When choosing between the two it really comes down to two things; style and the need for a timer.
When it comes to user experience, Noirot panel heaters seem to take the lead with consumers generally praising their reliability.
The Noirot heaters also offer more setting options on their integrated timer so if the timer is something that you will rely heavily on then this is an important consideration.
Although they don't offer the same level of timer settings as Noirot, something that may appeal to some is the minimalist, slimline style of the Nobo heaters.
Nobo heaters are lightweight, Scandanavian designed, and have the heating vents hidden. This gives them a clean look that blends into any room.
The hidden vents also mean there is more flexibility in regards to positioning the Nobo heaters as they can be placed near furniture without this disrupting the heat flow. The sleek style and ease of positioning are particularly beneficial in a small house where a larger heater will get in the way and look cluttered.
Both of these highly-rated brands offer lifetime warranties so customers can buy with confidence.
Both brands manufacture their electric heaters in Europe; the Nobo models are made in Norway and the Noirot panel heaters are made in France.
Recommended Nobo and Noirot Heaters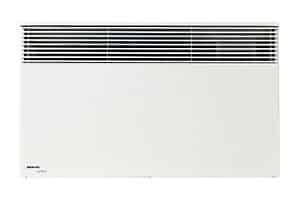 Size: 90 x 8 x 44cm
Wattage: 2400W
Warranty: Lifetime
Pros: Compact, built-in timer, finned grill, efficient for use in a large room
Cons: Timer is not as intuitive as it could be
This 2400W panel heater is powerful yet compact and is suitable for use in rooms of around 24m2. However, it does have slightly more depth (2.5cm) than the Nobo slimline heaters with the same maximum heating power of 2400W.
As this is a convection heater it doesn't use a fan which means it is not only silent but it is also suitable for allergy and asthma sufferers (the Spot Plus series is Sensitive Choice approved by The National Asthma Council Australia).
This electric heater has a precision thermostat that allows you to set the temperature within 0.1°C and the thermostat reads the room temperature every 30 seconds to ensure the heater is efficient and economical to use.
One of the key features of this heater is the finned grill that is designed to distribute heat evenly and efficiently. It also uses a patented element that makes this a great electric heater for use in open plan living areas.
The Spot Plus timer is a fantastic feature but it can take a bit of getting used to. The timer isn't as intuitive as some other electric heaters but Noirot does have helpful videos on how to set it. The timer has lots of programming options allowing you to set up to 3 timers a day and either program each day individually or all days together.
There are also several safety features on this heater including a child safety lock and a thermal safety cut-off ensuring this can be used safely in family homes.
Size: 74.5 x 8 x 44cm
Wattage: 2000W
Warranty: Lifetime
Pros: Great for large rooms, efficient, good heat output, safety features
Cons: Timer is not as intuitive as it could be
The slightly less powerful 2000W Noirot panel heater is another great option to warm large bedrooms and living rooms of up to 20m2.
This heater uses a patented Monobloc element that ensures the heat circulates efficiently. This can help you reduce your electricity bill as although this is an electric heater, it is very effective at using convective heat to warm the room.
As with the other Noirot panel heaters, this model has a built-in precision thermostat that works within 0.1 °C. This model also has a built-in timer, lockable childproof settings, a thermal safety cut-off for safety and peace of mind.
The heater looks great and can be wall-mounted or used on castor wheels to move from room to room as required.
Size: 112.5 x 5.5 x 40cm
Wattage: 2000W
Warranty: Lifetime
Pros: Compact, concealed heat vents, slim design, efficient
Cons: No timer
The Nobo 2000W Slimline Panel Heater has a clean and timeless look.
The biggest difference between this model and the Noirot panel heaters is the Nobo model has concealed the heat vents. This, combined with its slim 5.5cm profile, makes it much easier for the heater to blend with the wall.
The concealed design of this sleek unit also means it can be positioned wherever, including behind furniture if needed. This is something that is not possible with many other electric panel heaters as the furniture may obstruct the heat vents and the heater won't work efficiently.
The element used in this heater is made from aluminium making it long-lasting and durable. The Nobo electric heaters also come with lifetime warranties.
This heater is completely silent, and to make it safe for use in family homes it has a low surface temperature, no exposed heating outlets, and child-lock safety.
For maximum energy efficiency, the 2000W model can be used in rooms of around 20m2.
Similar to the Noirot convection heaters, the electronic thermostat used on the Nobo model also works to within 0.1 degree C.
The Nobo model lets you control the heat settings with a slider that goes between 7 – 30 degrees. The heater has a IP24 rating meaning it is protected from touching and from water spray.
The one downside to this panel heater is that it does not have a timer.
Size: 58.5 x 8 x 44cm
Wattage: 1500W
Warranty: Lifetime
Pros: Compact, economical, easy to use
Cons: No timer
If you have a smaller space to heat, the Noirot 1500W Spot Plus Panel Heater is a great choice. It's best for use in rooms up to 15m2 and is ideal for use in a small room, office, or bedroom.
This heater can be used as a wall-mounted unit or a portable unit; it comes with the wall bracket pre-attached and with a pair of castors if required.
This is an economical option that allows you to heat only the room you're in, helping with cutting down energy bills.
The heater uses the Monobloc elements for gentle and efficient heating performance. As with all the electric panel heaters we've looked at, this is completely silent as it uses convection heating power rather than being a fan heater.
This model doesn't have a timer so keep this in mind. The adjustable thermostat works within 0.1 degrees C and there is a thermal cut-out safety feature.
For safer use in family homes, this heater has lockable childproof settings.
Nobo vs Noirot Comparison Table
| | | |
| --- | --- | --- |
| Brand | Nobo | Noirot |
| Founded In | Norway | France |
| Manufactured In | Norway | France |
| Main Products | Panel Heaters | Panel Heaters |
| Silent Heaters | Yes | Yes |
| Heat Method | Convection & Radiant | Convection & Radiant |
| Design | Concealed vents | Visible Vents |
| Timer | 7 Day & Adaptive Start | Daily (up to 3 settings a day) & Weekly |
| Other | Slimline Models Available | Spot Plus Range Sensitive Choice Approved |
| Warranty | Lifetime | Lifetime |
FAQ
How Do Noirot Heaters Work?
Noirot heaters work by using convection to draw cold air over the hot heating element, the hot air then leaves the heater to warm the room as more cold air is pulled in to heat. This process does not need fans so the heater works silently.
Do Noirot Heaters Use A Lot Of Electricity?
As long as you choose the right size Noirot heater for the room you are heating, they are quite efficient and tend to be effective without high running costs.
Are Nobo Panel Heaters Energy Efficient?
Yes, Nobo panel heaters use a combination of radiant heat and convection heat and are some of the most energy-efficient heaters on the market.
Where Are Nobo Heaters Made?
Nobo heaters are made in Norway.
Where Are Noirot Heaters Made?
Noirot heaters are made in France.