A portable electric heater can be an energy efficient, cost effective solution to dealing with colder weather.
There are many heater types on the market so whether you are looking for additional electric heating for your home, office or workshop there'll be a selection of options to choose from.
Consider the space you'd like to heat and delve into our reviews and buying guide below to find the best electric heaters for you.
Here are the best electric heaters in Australia:
---
1. Best Panel Heater: Noirot 1500W Spot Plus Panel Heater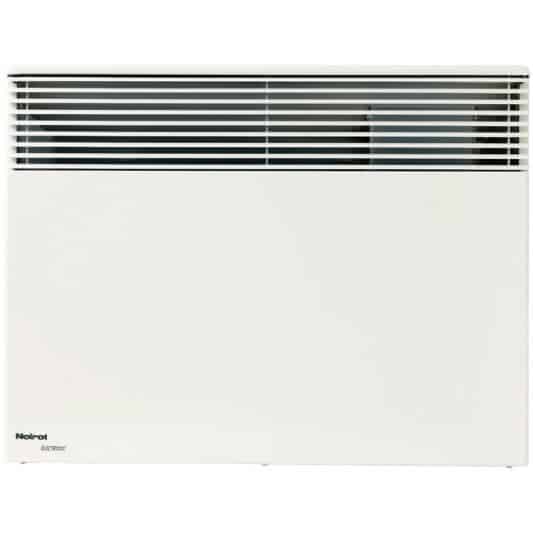 The best panel heater is the Noirot 1500W spot plus as it combines style with technology to provide a user-friendly, efficient and sleek unit.
This is a great option for family homes thanks to the included safety features and is ideal for asthma and allergy sufferers as there is no fan to move air around.
These panel heaters have a built-in timer and thermostat and the control panel has a back lit display so it is easy to set and use.
There's a heat on indicator that lets you know when the unit is working and there's also frost protection so you don't need to worry during those colder spells.
There are no moving parts to break and the unit can be wall mounted or free standing. This heater uses convection to make heating efficient and operation silent.
For additional safety and peace of mind, it has a child lock.
RELATED: Nobo vs Noirot
What We Like:
Family friendly
Silent operation
Ideal option for allergy sufferers
What We Don't Like:
Working the timer takes a bit of practice
---
2. Best Fan Heater: Dyson AM09 HotCool Fan Heater

The best fan heater is the Dyson AM09. Quiet, reliable and economical, this heater and cooler is ideal for use in the family home. The bladeless design is sleek and safe with no visible heating elements giving the user peace of mind, particularly if there are children in the house.
The portable design makes this unit easy to move to where it is needed and the design ensures fast, even and energy efficient room heating and cooling. You can control the heater with a remote control and there is a 9 hour sleep timer so you can set the heater to work exactly as you would like it.
There is jet focus control with two modes; personal mode for long range powerful airflow and diffused mode for wide projection that mixes surrounding air for whole room use. There is a thermostat for precise temperature control and this model also features intelligent climate control as well as automatic cut out.
What We Like:
Energy efficient
Sleek and safe design
Hot and cold air
What We Don't Like:
Some users may find it is not as effective in larger spaces
---
3. Best Column Oil Heater: DeLonghi DL2401TF Oil Filled Radiator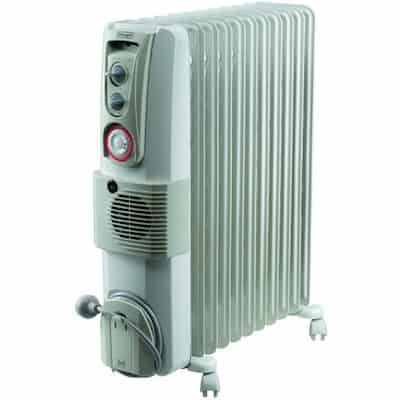 The best column oil heater is the DeLonghi DL2401TF, this portable heater uses thermal slots to increase heat distribution and lower the surface temperature for safety.
There's no assembly required and the unit is on pre-mounted castors so it is easy to move around. The 500W additional fan heater helps to increase heat and effectively distribute warm air. There's a thermostat so the radiator will automatically regulate and keep the room the chosen temperature.
While there is not a remote control to operate this column heater, there is an easily programmable 24 hour timer. There are 3 heat settings, a safety tip over switch and an anti-frost function. When not in use, there is cord storage so you can neatly wrap the cord out of the way.
What We Like:
Heats up quickly
Safe
Convenient
What We Don't Like:
Some users have found the heater gives off a plastic-type smell during the first couple of uses
---
4. Best Convector Heater: DeLonghi HCM2030 Portable Convection Heater
The DeLonghi HCM2030 is a portable convector heater with three heating powers; 700, 1300 and 2000 watts. This type of heater is ideal for spot heating as it provides instant warmth.
There is an adjustable thermostat that allows for the desired temperature to be maintained and there's a range of built-in safety features including an overheating safety cut off, anti-frost, automatic tilt switch and double insulation.
You can mount this unit to a wall or use it as a traditional free standing heater. There are cool touch carry handles for easy moving too.
What We Like:
Safety features
Compact and portable
Wall mountable
---
5. Best Space Heater: DeLonghi Steel Elite Portable Fan Heater
This portable space heater from DeLonghi is a perfect personal heater that works best for spot heating. It is lightweight and easy to move around so you can move it to exactly where it is needed.
The operation is quiet and water drip protection means it can even be used in the bathroom. The steel front cover looks smart and is great for added safety and durability.
There are 3 heat settings; 2400, 1400 and 800 watts and an adjustable room thermostat.
There's also a range of important safety features including; automatic shut off if the unit tips over, automatic turn off if overheating, a cool touch handle and double insulation to make sure the heater is always safe to touch.
There is also an anti-frost feature that automatically operates when the temperature drops below 5 degrees.
What We Like:
Lightweight and portable
Ideal for personal use
Can be safely used in the bathroom
---
6. Best Ceramic Heater: Kambrook 1800W Grey Ceramic Heater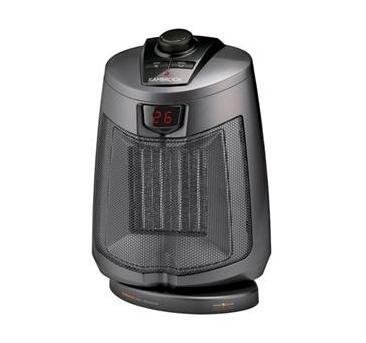 The Kambrook 1800W is a great electric personal heater that helps conserve energy by only heating the space you are using. It is portable with a helpful carry handle and quickly heats up small areas making it ideal for personal use.
There are 2 settings to choose from and you can set the temperature you want to maintain using the thermostat. If you are looking to conserve energy, this is a great way to heat your home or office and warm confined areas quickly and efficiently.
With quiet function and a 90 degree oscillating function this electric heater quickly heats up the room. There are a couple of important safety features too including thermal cut off and tip over protection.
What We Like:
Low price
Small in size, great for solo use
Easy to operate
What We Don't Like:
Motor hums when in use which some users may find distracting
---
Electric Heater Buyers Guide
Electric heaters are ideal for heating one room or area within your home. These heaters are often lightweight and portable so are easy to move around and all they need to work is to be plugged into a power point. As there are many different types of heater available, below is a summary of the available options including their pros, cons and ideal uses.
Electric fan
Light and portable
Warm up quickly and heat up areas fast
Easy to set up
Tend to be quite noisy
Best for: smaller rooms that you want to hit up quickly
Convector
Usually tall but thin and light
Heat up quickly and near silent
Often wall mountable
Wall mounting requires drilling holes into the wall
Best for: providing an even heat throughout a room quietly
Oil-filled heater
Cheap to run but more pricey to buy
Some models have in-built fan heaters to distribute heat more effectively
Often slow to heat up initially
Heavy and difficult to move unless on wheels
Best for: rooms you'd like to provide a constant background warmth to, they heat up slower but hold heat better than other options.
Panel Heaters
Combines convected heat and radiant heat
Provide comfortable warmth with a uniform distribution
Flat and slimline design
Lightweight and portable
Best for: areas you want to heat up on an irregular basis such as spare bedrooms or workshops.
---
Heaters for large rooms
Convection heaters are effective at heating and circulating warm air in a room quickly so if you are looking to warm a large room up quickly they are a good option. Alternatively an oil heater with a built-in fan would also be a good choice for larger spaces.
Heaters for bedrooms
If you are looking for a heater that stays on all night then an oil heater would be your best choice. If you want to warm up a small bedroom quickly an electric fan or convector are both good choices. Consider also radiant heaters, but only if the individuals in the room are likely to remain in proximity to the front of the heater.
Heaters for baby rooms
Oil-filled heaters are the best choice for baby rooms because they do not get too hot to touch and help keep areas warm for a longer period, even after they are switched off. The other option would be a convector heater or the Dyson AM09 fan heater that is bladeless and safe to use around children.
Special features to consider:
Remote control
Adjustable thermostat
Programmable timer
Safety features such as child lock, tip over protection and over heat protection.
---
Electric Heater FAQs
What type of electric heater is cheapest to run?
The cost of running an electric heater relates directly to the wattage. The heaters with the lowest wattage are typically going to be small personal heaters. However, this doesn't necessarily mean this is going to be the most efficient heater for your requirements. It is important to choose a heater that is suitable for the space you want to heat up. Also, consider using a thermostat or timer to ensure your heater is only operating when you need it.