Bosch and Miele are two of the most popular whiteware brands in Australia thanks to their reputation for being high quality and reliable. They are both based in Germany, although their cheaper products are often manufactured elsewhere.
Trying to decide between the two? Read on as we break down the key things you should keep in mind when choosing, answer some commonly asked questions, and compare some of the best Bosch and Miele washing machines currently on the market.
RELATED: The Best Front Load Washing Machines in Australia
Bosch vs Miele: Which is Best?
When choosing between these two brands, the short answer is that you get what you pay for.
Miele is generally recognised as the market leader in terms of quality, reliability, and longevity. Many of their washers are still made in Germany, while others are made in the Czech Republic.
The Bosch line-up of appliances can be a bit trickier to navigate, with their more premium machines, such as the Series 8 (view at The Good Guys), still being manufactured in Germany, while most of the cheaper washers are manufactured in Asia.
Also, many consumers do recognise that the Bosch products of today are not quite of the same quality as the Bosch products of the past.
However, Bosch machines are still considered some of the best value-for-money options on the market in Australia and while the German-made products are solid competition to Miele, the cheaper Asia-made products represent great budget options.
Recommended Bosch and Miele Washing Machines
Capacity: 9kg
Dosing: Auto
Cycles: 14
Energy Rating: 4.5 Star
Pros: Powerful, Quiet, User-Friendly, Auto Dosing, Energy-Efficient
Cons: No allergy cycle
This front load washer is our top pick as it offers an impressive balance between features and price. Although it doesn't have internet connectivity like our premium pick, there is a lot this machine does do to help make it more user-friendly and reliable.
One of the stand out features is the i-DOS auto dosing system. This means you don't need to manually put detergent in each time you use it, instead, there is a bulk detergent dispenser and the machine will only use the amount of detergent needed based on the fabric type, load size, and soil level.
Another automatic feature that is particularly helpful when it comes to increasing energy savings is ActiveWater Plus. This makes sure the washer uses only the amount of water needed for the load size and is great for small loads.
This Bosch washer has 14 cycles including delicates, quilts, sportswear, and wool. There is also a drum clean cycle to help keep the washer sanitary and avoid bacteria and mildew build-up.
This washing machine is quiet (even mid-cycle) thanks to the build quality, the anti-vibration side panels, and the energy-efficient EcoSilence Drive.
RELATED: Bosch Series 6 Vs 8 Front Load Washing Machine
Capacity: 9kg
Dosing: Manual
Cycles: 13
Energy Rating: 4.5 Star
Pros: Lower Price, 13 Wash Cycles, AllergyPlus Option
Cons: Manual dosing only
This Bosch washer is a good option for those looking for an affordable 9kg capacity front loader that provides all the essentials without too many extras.
The main differences between the WAW28440AU and the other listed models include the manual detergent dosing and the fewer cycle options.
With that said, there are 13 cycles to choose from, so there is still plenty of choice including specialist options such as AllergyPlus, Kidswear, and Sportswear.
This washer is the same size as the WAW28620AU above and offers the same 1400rpm maximum spin speed and 4.5 energy efficiency rating. As long as you don't mind the manual detergent dosing, this model offers excellent value for money.
Capacity: 9kg
Dosing: Auto
Cycles: 28
Energy Rating: 5 Star
Pros: Wi-Fi Enabled, 28 Programs, Low Energy Consumption
Cons: Expensive
This high-end washer is packed with features and represents a modern appliance that is equipped with tech features such as WIFI connectivity.
This Miele washer offers the fastest spin speed of those on our list at 1600rpm and is one of the most energy-efficient with a 5-star energy rating.
One of the unique features of the Miele WWV980WPS is the WI-FI connectivity. This smart connectivity means you can control your washing machine remotely and keep an eye on its status wherever you are.
This washing machine also offers the most programs with 28 cycles including specialist programs for down-filled items, pillows, trainers, silk, denim, and much more.
Other premium features offered by this front loader include a stains sensor, automatic load control, and allergy wash. There is also a CapDosing system, similar to the i-DOS system used by Bosch, so the right amount of detergent is always used for the wash cycle.
Key features found on the premium Miele appliances include the honeycomb drum which helps treat clothes gently and the ProfiEco brushless motor which is energy-saving, quiet, and maintenance-free.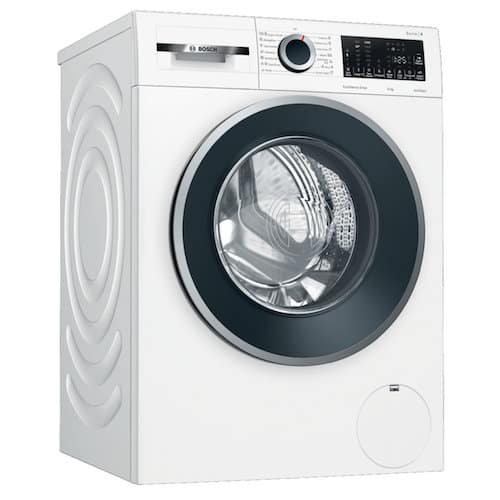 Capacity: 9kg
Dosing: Manual
Cycles: 14
Energy Rating: 5 Star
Pros: Low price, Energy-Efficient, AllergyPlus Program, Fast Spin Speed
Cons: Manual Dosing, No Smart Features
This Bosch model is the most affordable washer on our list. With a 9kg capacity, 14 wash cycles to choose from, and a max spin speed of 1400rpm there are a lot of similarities between this and our "Best for Most People" pick.
The wash cycles include Allergy Plus, Kidswear and Sports as well as a cleaning cycle so there are programs to suit most textiles and situations. This front load washer also boasts a 5 star energy rating so it is one of the more energy efficient models.
However, this washer does not offer the convenience of automatic detergent dosing and it has been made in Asia rather than Germany. While some people are put off by European appliances made outside of Europe, the manufacturing location is a key factor in the cost of this machine as the manufacturing costs are much lower in Asia. This means you can still enjoy a Bosch washing machine but at a lower price.
As this is one of the lower cost models it does mean it comes with less user options and it does not have any smart features. Despite being cheaper, this Bosch machine still comes with a 2 year warranty which is the same as all of the washers listed. This is an excellent choice for those on a budget.
Bosch vs Miele Comparison Table
| | | | | | | | | | | | |
| --- | --- | --- | --- | --- | --- | --- | --- | --- | --- | --- | --- |
| Washing Machine | Our Verdict | Type | Size | Capacity | Dosing | Cycles | Max Spin Speed | Energy Rating | Smart Features | Connectivity | Warranty |
| Bosch WAW28620AU | Best for Most People | Front Load | 59.8 x 84.8 x 59cm | 9kg | Auto | 14 | 1400rpm | 4.5 Star | No | N/A | 2 years |
| Bosch WAW28440AU | Best Value | Front Load | 59.8 x 84.8 x 59cm | 9kg | Manual | 13 | 1400rpm | 4.5 Star | No | N/A | 2 years |
| Miele WWV980WPS | Premium Option | Front Load | 59.6 x 85 x 64.3cm | 9kg | Auto | 28 | 1600rpm | 5 Star | Yes | WiFi | 2 years |
| Bosch WGA244U0AU | Budget Option | Front Load | 59.8 x 84.8 x 59cm | 9kg | Manual | 14 | 1400rpm | 5 Star | No | N/A | 2 years |
Things to keep in mind when choosing your washing machine
Washer Type
The best washing machine will depend on the space available and the layout of your laundry room. The two options are:
Front Loading
Front-loaders are great for smaller rooms as you can stack a washer and dryer to help save space. Front-loaders are also more energy-efficient compared to top-loading washers and they can handle larger items well.
One downside to front loaders is the potential for mould growth around the door seal and drum. However, leaving the door slightly open after use will help it dry. Some washers have a cleaning cycle that helps to remove bacteria too.
Top Loading
A top loader machine is less likely to develop mould issues but does use more water than a front loader. The top loading design means a washer dryer stack is not an option so you will need more space if you plan to have a washer dryer set up for your laundry.
Drum Capacity
The capacity will be particularly important if you often need to wash larger items or you regularly have big loads needing larger washers to handle them. There are also compact washers available for when space is limited and smaller loads are more common. The 9kg washers tend to be the ideal size for families of 4+ people.
Cycle Options
When choosing a washing machine, consider which cycle options you will benefit from. Some of the more specialist cycles include towels, bedding, allergen, activewear, and heavy-duty for tough stains. As with many household appliances, the more expensive machines tend to have more cycles and more customisation options too.
Detergent Dispenser
Some washers automatically dispense the amount of detergent needed to suit the load and cycle. This means the machine has a bulk detergent dispenser rather than you needing to add laundry powder with each individual load. This is a convenient feature but one that does increase the price of the machine too.
Smart Features
Some newer washer and dryer models have smart features that mean you can control the laundry from your phone, check when the cycle is going to finish, and even receive notifications about your machine, for example, when the laundry detergent is running low.
FAQ
Is Miele More Expensive Than Bosch?
Yes, Miele is more expensive than Bosch but both brands offer home appliances at a range of price points.
Are Miele And Bosch The Same?
No, Miele and Bosch are two separate German-based companies. Bosch focuses more on budget and premium appliances while Miele focuses more on high-end appliances.
Who Is Bosch Owned By?
Bosch is 94% owned by Robert Bosch Stiftung.
How Long Do Miele Washers Last?
Miele washers have a life span of approximately 20 years.
Are All Miele Washing Machines Made In Germany?
Most of the Miele washing machines are made in Germany but some are made in the Czech Republic.