Sprinkler systems and irrigation control devices help gardeners and homeowners distribute water to their lawns and gardens more efficiently.
These devices can connect to a range of lawn and garden systems, often using Wi-Fi.
They can be controlled remotely or manually to improve water consumption and distribution. Many controllers even implement real-time information and read weather alerts.
Essentially, devices of this kind let you custom adjust the amount of water your sprinkler system distributes, making watering your foliage an easier task.
As such, you can save you money on your water bill and greatly simplify the management of your yard.
Below, we've listed some of the best sprinkler controllers in Australia so you can select the perfect solution for your needs.
---
1. Rain Bird 6 Station Outdoor Irrigation Controller (Top Pick)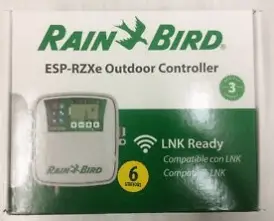 This Wi-Fi controller comes available in adjustable station numbers and works for both residential and commercial applications.
It's a fixed station irrigation control system that's perfect for light-duty professional or standard residential use. It comes with six customizable smart timers and offers flexible watering based on daily zones.
This allows you to easily meet your local water restrictions. It features a large LCD display, weather sensor, custom programming, and a durable outdoor mountable housing.
This Rain Bird controller works for 4, 6, and 8 stations. For the price and competence, this is a great system to consider.
It's ideal for medium and large residential vegetation areas or small commercial operations. It's also compatible with Con LNK, Wi-Fi, and has 6 programmable user settings.
The Rain Bird Outdoor Irrigation Control system is great for anyone who wants to save money on a reliable and capable irrigation system. It has a range of impressive user-friendly settings and comes at a good overall value.
While we wish the LCD display system was a little larger, it's still a steady and trustworthy option for most small commercial operations or residential lawns.
What We Like:
6 Programmable user settings
Flexible day watering operation zones
Contractor-grade fixed station controller
Useful rapid programming features
---
2. Rachio 3 Smart Sprinkler Controller
This useful smart controller for sprinklers lets you easily save money with its customized features and user-friendly setup.
It has a range of exclusive settings like weather intelligence plus, wind skip, freeze skip, and rain skip.
You can control it from anywhere using your smartphone and custom set your schedules easily.
It also can easily be installed to replace most sprinkler controllers easily. Its smartphone application and smart scheduling features make it an impressive option to consider.
The Rachio 3 Smart Sprinkler Controller offers dual-band Wi-Fi connectivity and hyperlocal Weather Data Intelligence.
With Flow Meter compatibility and automatic watering schedules, it's one of the most user-friendly options.
You can manage your sprinkler system with the top smart home platforms such as Alexa, Google Assistant, and Nest.
It connects with both 14 and 18 gauge wires, has a magnetic cover, operates in most temperatures, and comes in 8 and 16 zone station variants.
This is a great smart irrigation control system for residential use. It blends right in with your preexisting smart home systems and its mobile application makes it a user-friendly choice.
The initial installation and setup are also easier than with certain other irrigation and sprinkler controllers. While this is a pricier option, it's still a great value.
What We Like:
Smart home system compatible
Comes in 8 and 16 zone variants
Innovative remote watering with the smartphone app
Easily replaces pre-existing controllers
---
3. Orbit B-Hyve 6 Station WiFi Irrigation Controller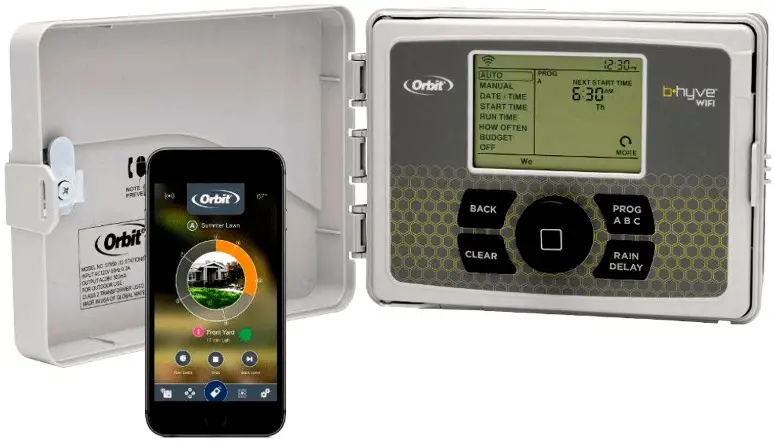 The Orbit B-Hyve Wi-Fi sprinkler timing system lets you easily water your lawn or garden and make decisions about scheduling based on your unique local needs. It's best for home applications and is very easy to programme and control.
This system combines some of the best programming technology with Wi-Fi for user-friendly watering control from anywhere. It can be managed with Android or iOS smartphones or from a computer.
The Orbit B-Hyve features include three pre-set programmes with four start times, 1-240 minute run times, selective watering schedules, seasonal adjustments, rain delay settings, a smartphone application, smart watering settings, and functions with or without Wi-Fi.
You can programme smart watering based on the local weather forecast with standard controller station programming and implement Smart Watering Setting by your local station for irrigation that suits the needs of your environment and plant types.
This is the perfect smart sprinkler controller for those who want smart home compatibility without breaking the bank.
The B-Hyve 6 Station Wi-Fi sprinkler controller comes at a comparatively lower cost than many similar systems, and its smartphone application makes it easy to use remotely.
While the initial setup could be faster, it's still a good option for those who want lots of custom features at a lower cost.
What We Like:
Smart remote watering control at a good value
Works with mobile application
Keeps running with or without Wi-Fi
Local weather data readings
---
4. Hunter X-CORE 6 Station Outdoor Controller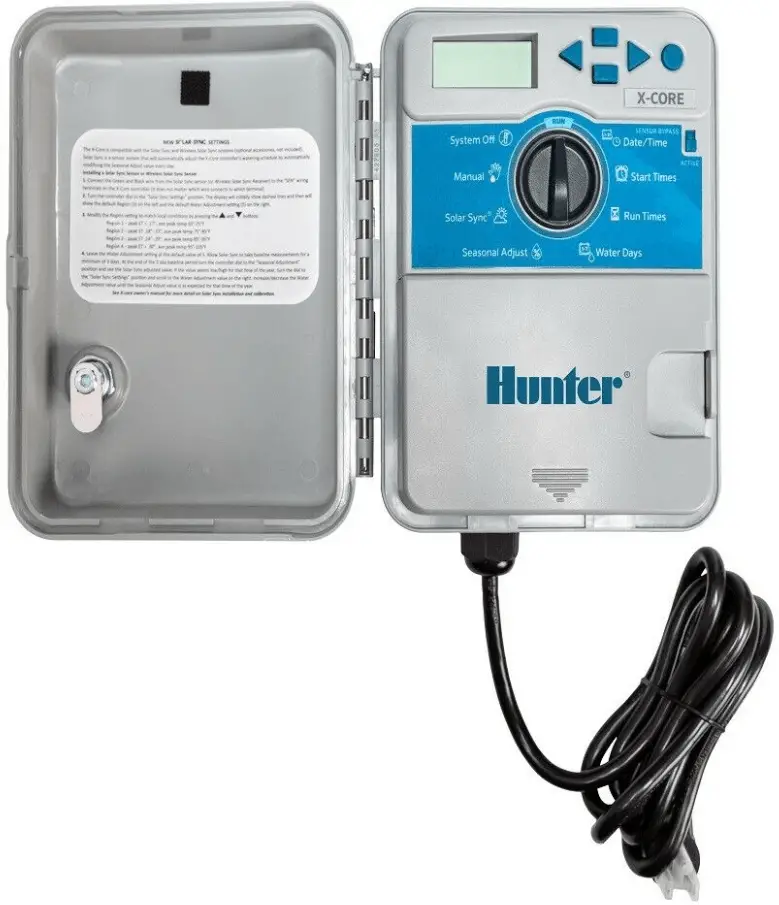 The Hunter X-Core 6 Station Outdoor Controller is an entry-level residential controller that offers you simple management features as well as smart Solar Sync compatibility.
It's easy to configure and set up and lets you control 8 stations easily. It has three programs with four start times each and an innovative Solar Sync ET sensor.
This sensor regulates irrigation based on times which are locally measured and take weather conditions into account.
This system is also compatible with Hunter brand remotes, meaning that you can get fast wireless irrigation activation. It has a simple installation system and is easy to maintain and control.
This is an extremely efficient and effective option for anyone who wants to improve their irrigation efficiency.
The Hunter X-Core also features rain delay, smart programme settings, and a maximum station run time of four hours.
All in all, this is the best option for those who prefer Hunter brand products and want to upgrade to the latest affordable outdoor irrigation control system.
What We Like:
Hunter brand certified
Smart irrigation control
Locally measured Solar Sync ET sensor readings
Easy install
What We Don't Like:
Requires Hunter remote for wireless operation
---
5. Hoselink Automatic Tap Timer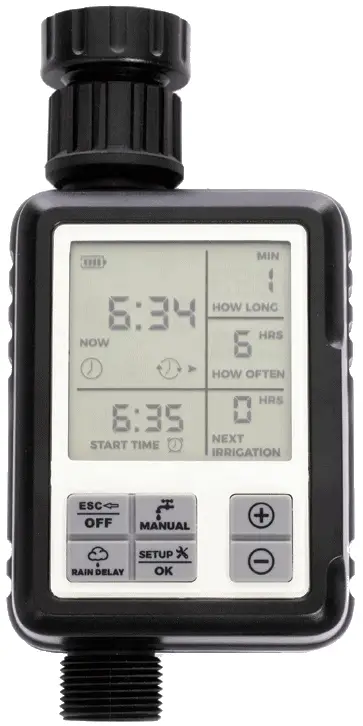 If you want to save money and control your water usage at the same time, this Hoselink Automatic Tap Timer might be just what you're looking for. It's a great accessory for any irrigation sprinkler system in the front or backyard.
It features a timer that lets you easily conserve water and control your tap. This automatic timer is easy to use, takes minutes to set up, and comes with a range of interval programming settings.
The Hoselink Automatic Tap Timer features a large LED display screen, a manual watering feature, a manual rain delay function, automatic LED screen shutoff, and watering session times of one second to 300 minutes. You can set it to run within the hour or for as long as 15 days.
If you want to simplify the way that you water your yard, this is a great accessory to have on-hand.
However, it's battery operated and can take some time to learn how to use. We recommend thoroughly reading the user manual.
All in all, if you want a smart and simple way to water more efficiently, this automatic tap timer is a great option.
What We Like:
Comes at a great price
Perfect for backyards and front yards
Simple and effective
Range of interval programming settings
What We Don't Like:
No smart weather data readings
---
6. Netro Smart Sprinkler Irrigation Controller
If you've been looking for an innovative irrigation control system that is extremely easy to use and install, the Netro Smart Sprinkler may be a great option to look into.
It has been designed for easy and user-friendly setup and management and lets you reduce water waste right away. It's the best smart sprinkler for those who don't want to mess with complex digital programme settings.
What's impressive about this controller is that it automatically configures its settings.
It completely creates its own schedules so all you have to do is set it up. It works with all sprinkler systems, is fully compatible with Google Home voice assistant, and is a great option for anyone who wants an easy set-up process.
This Netro device features fully automatic operation, dynamic water schedules, eco-friendly watering settings, water restriction alerts, remote access through Wi-Fi, iOS and Android compatible mobile applications, and fast setup times.
While this device is extremely useful, note that the panel housing system must be installed indoors only and can not be mounted on the exterior of your home.
It also doesn't have a display interface, you must install a smartphone application to use it.
What We Like:
Pre-programmed watering recommendations for plant and soil type
Fully automatic watering control
Easy to install, setup, and manage 
Works with Google Home and a mobile app
---
7. Orbit 6 Station Indoor Irrigation Controller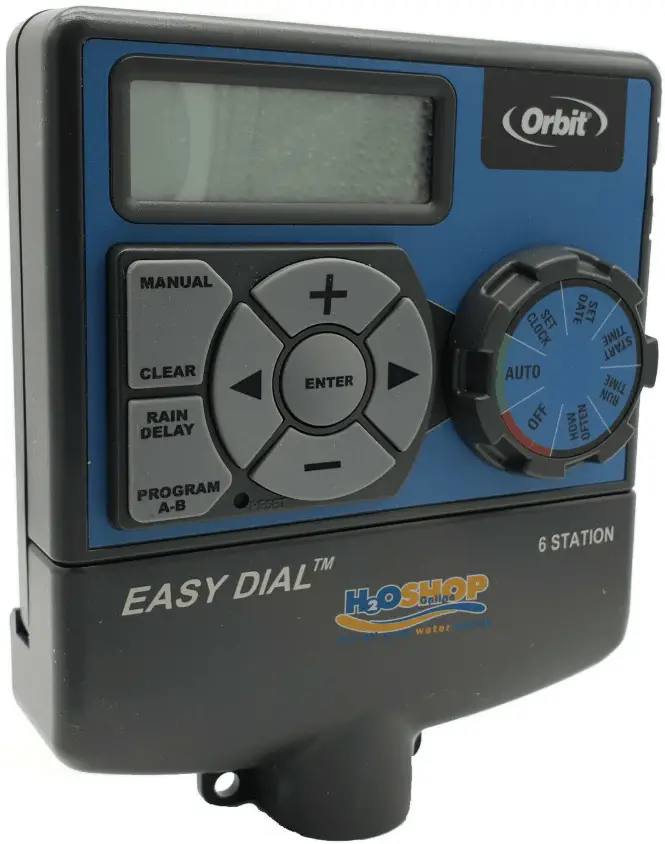 The Orbit 6 Station Indoor Irrigation Control system is a smart sprinkler controller that is straightforward and does a great job of combining simplicity and efficiency.
It has a user-friendly design and is very flexible with an array of features and settings for home watering systems.
This is one of the best smart sprinkler controllers for those who don't feel like installing mobile applications or smart watering systems that run off of Wi-Fi.
It has a large dial that lets you control water output settings from the device itself.
With a simple and effective design and a range of customizable features, this is a great option for anyone who wants effective and simplistic home watering and irrigation system control.
The Orbit 6 Station Indoor system comes with a large dial, a simplistic user interface, an LCD display screen, three independent program settings with four start times per program, failsafe backup settings, seven-day water distribution scheduling, seasonal water adjustment, non-volatile memory, and works with most residential standard 24 vac sprinkler systems.
What We Like:
Straightforward and easy to install
Lare LCD screen and programming dial
Seven-day sprinkler schedules
Great price
What We Don't Like:
Indoor use only
No real-time weather data
---
Irrigation Control System Buyer's Guide
Irrigation controllers come in a range of styles with various smart irrigation controls and sprinkler settings.
As you browse through sprinkler controllers/irrigation controllers, it's a good idea to understand what they do, why they're beneficial, which irrigation systems they will work best for, and what features will best suit your individual needs.
Benefits of Using a Smart Irrigation Sprinkler Controller
Millions of people every year spend more time and money than they need to on watering their lawns, gardens, and backyards.
As utility costs rise in Australia, using a sprinkler controller can be a great way to improve energy efficiency and save money. Here are the main benefits of using an irrigation sprinkler controller.
Reduce Water Waste
Depending on the smart irrigation system you choose, you will be able to adjust your watering to match daily weather conditions, plant and soil types, and the slope of your lawn.
Some smart systems even come with site-specific weather adaptability that custom matches the specific micro-climate of your yard. This will help you avoid overwatering and reduce waste throughout the year.
Controllers with mobile applications let you take waste reduction up a notch by giving you real-time updates on leaks, water restriction alerts, and inclement weather conditions.
You can turn your system on or off remotely, so even when you're away, your home keeps running as efficiently as possible.
Improve Lawn Health and Landscaping Aesthetic 
If you're concerned that switching to a smart irrigation system will have a negative impact on the health and beauty of your yard, not to worry.
Your plants will not only get more than enough moisture, but they'll likely also get better watering than they ever have.
In fact, the leading cause of grass and plant death comes from overwatering, not lack of moisture. Many smart irrigation systems will take your soil type and regional foliage into account.
Some controllers also include soak cycles and timing pre-sets. These settings work to ensure that your lawn and garden are getting not only enough moisture but moisture at the best possible time of day. This helps to improve plant health and watering efficiency at the same time.
Additionally, since pretty much every smart controller lets you adjust for rain, you can prevent overwatering when the weather changes. All in all, you're more likely to get healthier and more attractive landscaping results with a sprinkler controller.
Reduce Hardscape Loss 
Hardscapes are the parts of your landscape like rocks, bricks, and patios. When you water in the exact location of your vegetation, you can reduce erosion.
Since smart sprinklers are set to water only where plant growth occurs, you can preserve your hardscape more effectively.
Avoid Fines 
Sprinkler controller systems with smart alerts can help you avoid fees and fines in areas where water restrictions are in place. With some smart sprinkler controllers, you'll even get real-time water restrictions alerts.
Smart irrigation controllers let you easily adjust how much you're watering your landscape. This allows you to always be compliant with Homeowner Association and Government water restrictions.
Features of Irrigation Controllers
There are a lot of impressive irrigation system controllers out there and they all have their own unique watering features.
Smart sprinkler controllers often offer the most user-friendly features while manual irrigation and sprinkler controller systems let you customize your watering schedules to meet an array of exact specifications.
Smart sprinkler controllers are amazing for those who want an intuitive watering controller option.
Many smart sprinkler controllers can be set up using a mobile application that will even sync with your other smart home systems.
Smart sprinkler controllers are ideal for hassle-free remote watering.
Smart Controller Features
Remote Mobile Application and Computer Control
User-Friendly Interface 
Smart Home Compatible
Real-Time Weather Data-Based Watering