A sprinkler system is a convenient way to care for your lawn and garden while also saving time, energy and water. Sprinklers can help make sure your plants are carefully watered even when you're busy or out of town.
There are lots of garden and lawn sprinklers to choose from depending on your needs, and making sense of the options can be confusing. Check out the reviews and buyers guide below to help you find the best sprinkler for your garden.
Here are the best garden sprinklers in Australia:
---
The Hoselink 9-Pattern Sprinkler is durable, versatile and ideal for average-sized and odd-shaped gardens. It's easy to set up and allows you to water just the areas of the garden that need it.
The spray pattern selection gives you maximum control with minimum fuss. The settings include soaker, square, rounded square, gentle jets, classic round, half-moon, arc, narrow band and wide band. It is very easy to choose the setting you want as you just turn the dial on top of the unit.
With good water pressure, this spray can cover up to 6m depending on the setting you choose. The solid metal base makes sure the sprinkler is stable and doesn't tip over when in use.
---
The Gardena Sprinkler Comfort Aquazoom is an ideal option for watering small, rectangular areas. It offers a reliable, puddle-free irrigation system and has an adjustable area coverage of between 25m² – 250m².
A highlight of this lawn sprinkler is the ability to adjust the range and the spray width. The range can be set between 7m-18m and the maximum width of the spray is 14m allowing you to set the sprinkler exactly as you'd like it.
The base ensures the sprinkler is easily movable and stable on all surfaces. This sprinkler can also be combined with the Gardena Tripod for when you want to water plants from above.
---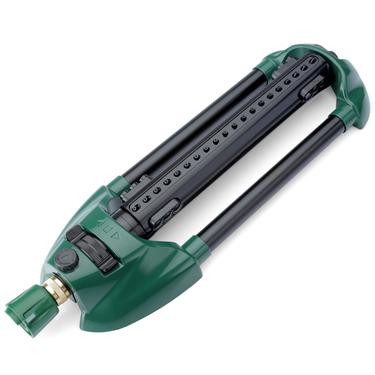 The Hoselink Oscillating Sprinkler is one of the best lawn sprinkler options as it can easily cover large rectangular sections of your garden. The oscillating motion is adjustable so you can set it exactly as you need it for watering your lawn. It also comes pre-fitted with an accessory connector for quick and easy setup.
You can turn a dial to adjust water flow and you can also reduce the spray width by using the push-in buttons. The solid metal construction ensures the sprinkler is sturdy and reliable.
The sprinkler performs well even with low water pressure and the built-in cleaning pin makes maintenance of the sprinkler heads easy.
---
This Melnor oscillator is adjustable so you can water just the flower bed or the whole lawn. It is ideal if you have different watering needs for different parts of your garden.
There are simple controls so you can adjust the width and range of the watering pattern and there is also a zoom option which adjusts the overall watering area. These adjustments allow you to water just the necessary area and prevents water from being wasted.
There are 20 precision nozzles to provide even coverage and it is easy to connect and disconnect the lawn sprinkler thanks to the quick connect system.
---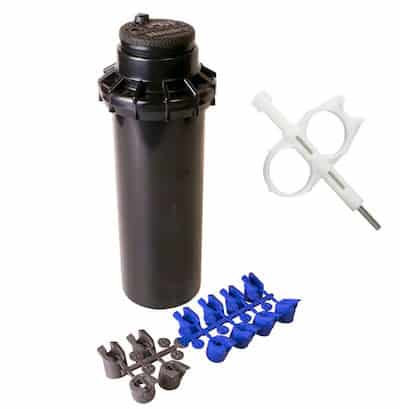 This pop-up sprinkler from Hunter is ideal when you want your watering system to be hidden and out of the way when not in use. It rotates silently when switched on then disappears down when the watering is complete.
The rotation is whisper-quiet and can be adjusted to work as a full circle or part circle. It waters areas evenly and the precise control means you can stop it from splashing onto walkways or buildings.
The vandal-proof and non-strippable drive mechanism prevent damage if turned the wrong way and mean the turret will return to its original position if it has been turned or tampered with.
---
The automatic 360-degree rotating irrigation system is powered purely by the water pressure supply. It is a great budget option and is ideal for watering your lawn or for your children to play in during the warmer weather.
The sprinkler has 4 nozzles on each of the 3 rotating arms and you can angle the sprinkler direction as needed. It has a spray distance of 26-32.8ft and is designed to save water by allowing you to adjust the water density, size and scope.
The consistent rotation ensures your garden is watered evenly. These garden sprinklers also come with a quick connect adaptor so it is easy to install and set up.
---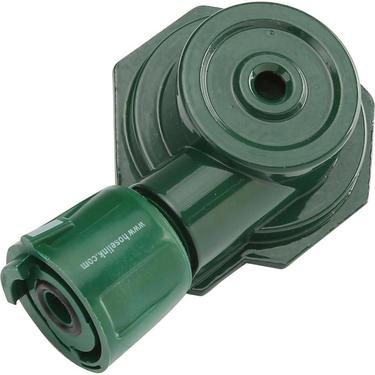 The Hoselink Classic Round Sprinkler is a great option for use in small to medium gardens. It is a reliable irrigation system that requires very little effort or input from you.
It comes with the Hoselink accessory connector so you can easily attach the sprinkler to your hose. Once it is securely attached it's ready to use. The sprinkler sprays water 360-degrees and up to 6m.
Although small in size, the centred weight of this sprinkler ensures it does not tip over.
---
Sprinkler Buyer's Guide
Each sprinkler model is intended for a particular use so the best option will depend entirely on your needs and garden size. Below are key features to consider when choosing a sprinkler:
Sprinkler Type
Fixed – best suited for small gardens. Fixed sprinklers are the simplest and cheapest option as they stay in one place. They are often used for watering small lawn areas.
Rotating – best suited for watering small plants. Rotating sprinklers water your garden as it rotates, it is a gentle option and can cover large areas if needed.
Oscillating – one of the best lawn sprinkler options, oscillating sprinklers are commonly used in parks and for larger lawn areas. They consist of a tube with multiple holes along its length, the tube moves back and forth while spraying water. Oscillating sprinklers can be adjusted to cover small or large areas.
Pulsating – best suited to larger gardens and lawn spaces. Pulsating sprinklers are also called impact sprinklers as they move water when a weighted lever hits the anvil. A strong stream is produced which gives the sprinkler a large reach.
RELATED:
Key Features
Coverage area – arguably the most important feature of a sprinkler as you need an option that waters the entire area you need to be watered. Coverage or range is normally displayed in meters or square feet and if the sprinkler is adjustable the product description will include minimum and maximum coverage area.
Range and setting adjustments – it's very convenient to get a sprinkler that offers the ability to adjust the settings and range. Being able to adjust settings allows you to get the most out of the sprinkler without wasting water.
Durability – plastic sprinklers cost less but are also less durable whereas metal options are more reliable and long-lasting.
Nozzle number – as a general rule, the more nozzles a sprinkler has the more even coverage it can provide.
RELATED:
---
Sprinkler FAQs
What is the best type of water sprinkler?
The best type of sprinkler depends on your garden size and watering requirements. If you are looking for something to suit many situations e.g. lawn and various flower beds an adjustable oscillating or rotating could be a good choice.
How long should you water your grass?
As a general rule of thumb, grass should be watered for around 20 minutes 3 times a week. It is better to water lawns in the morning – good lawn sprinkler systems can be adjusted and set on a timer.
How do you connect a hose to a sprinkler system?
You will need a tap connector, hose end connector and sprinkler connector to connect your hose to the sprinkler system. Many sprinklers use standard connectors and the majority come with the necessary connectors.
---
Related Posts: