A good hedge trimmer makes tidying up the yard a pleasure, but with all the models available it can be difficult to find the right one for your specific needs. In this article we've outlined the five best models on the market in Australia, followed by a brief buyer's guide to help you decide.
---
1. STIHL HSE 61 500W Electric Hedge Trimmer (Top Pick)
The Stihl HSE 61 is an electric hedge trimmer with a cord that goes for the same price as a cordless. What makes it great is the power and ease of use.  
The blades are laser-cut and diamond-ground so they slice through a hedge like butter, and the low vibration design makes it a pleasure to use and reduces any fatigue you might encounter. You can trim a hedge in record time with this machine.
It has a rotary handle with five settings so you can set the angle you want to cut at, and it's reasonably light-weight with no battery to hold up.  
Overall, this is probably the best hedge trimmer around, if you don't mind the cord. This will make yard-work a breeze.
What We Like:
Powerful 
Easy to use
Low-vibration
---
2. Bosch AHS 50-20 Cordless Hedge Trimmer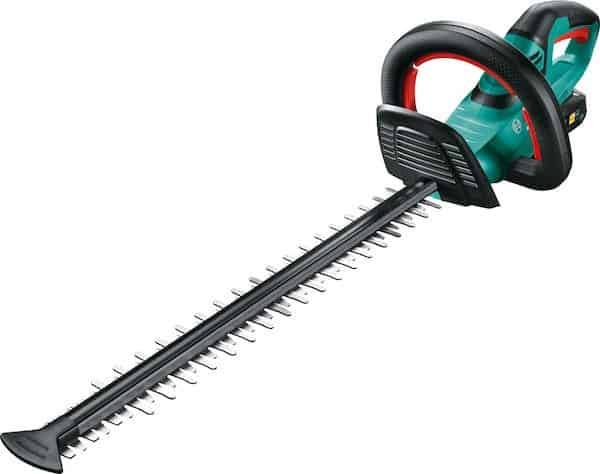 This hedge trimmer from Bosch is well-balanced and relatively light. It is very easy to use and runs efficiently.  
The battery charge is good too, you will be able to trim most hedges from a single charge with no problem, and it uses Bosch's universal battery so you can interchange with other Bosch appliances.  
One nice feature it has is some special teeth at the front of the blade for cutting thick branches. These can cut branches up to 25mm, which is very good for a hedge trimmer.  
Overall, this is an excellent hedge trimmer from Bosch. The price is reasonable, it's comfortable to use, and it will last a long time.  
What We Like:
Easy to use
Cuts thick branches
Well-balanced 
Cordless
What We Don't Like:
Cutting angle not adjustable
---
3. Black + Decker Lithium-Ion Hedge Trimmer
This hedge trimmer from Black and Decker has powerful cutting action and is easy to use with a dual safety switch. The unit is a little heavy and the blade is on the shorter side, but for the price, this is an excellent buy. 
The battery lasts for a good amount of time, You can cut most hedges from one charge, and the blade is sharp and fairly robust so it can take a beating. This is a no-nonsense hedge trimmer that is just made to work.  
It handles well and is quite comfortable to use, although you may feel some vibration. Overall, this is a very sturdy and reliable hedge trimmer that can get the job done.    
What We Like:
Powerful
Durable blade
Comfortable to use
---
4. Makita DUH523Z 18V Cordless Hedge Trimmer
This is a good budget cordless model hedge trimmer from Makita. It's reliable with a durable blade and decent cutting power.  
It may get a little heavy, depending on the type of battery you attach to it, but it handles well and is fairly comfortable to use.  
The cutting diameter of branches is limited to 15mm, which is less than most electric hedge trimmers, so this one is for regular use and cutting new growth. If you have a smaller yard, then you can save some money and purchase this unit over one designed for thicker branches.  
Overall, this is a bargain for the price, but keep it for lighter work and smaller yards and gardens. 
What We Don't Like:
Limited to cutting branches 15mm in diameter
---
5. Ozito HTER-600 Hedge Trimmer
The Ozito HTER-600 is an excellent corded electric hedge trimmer for under a hundred dollars. It has reasonably good cutting power, it's lightweight, and it's easy to handle. 
The rear handle rotates, so you can adjust for the best cutting angle, and it has a dual handed safety switch with blade brake so it won't start accidentally. 
This unit basically does everything it's supposed to. The cutting is clean and it's easy to start and handle. There is nothing that stands out, but the unit performs very well so overall, it's a great bargain.  
What We Like:
Good power and performance
Easy to handle 
---
Hedge Trimmer Buyers Guide
Cutting capacity 
Typical hedge trimmers can cut branches that are 3/4 of an inch thick, or about 2 centimetres. Some models can go higher than this but they tend to be more expensive. If you have a hedge with smaller branches, then you can save some money by going for a hedge trimmer with lower cutting capacity.  
RELATED: The Best Chainsaw
Motor 
The more powerful the motor, the thicker the hedge you can cut. The power of the motor is measured in strokes per minute, so if you need a powerful trimmer, go for one that has the highest stroke count. If you only plan on doing light trimming, then you can get one with a lower stroke count.  
Weight 
Weight is important as you will have to hold up the hedge trimmer while using it. If it starts to feel too heavy, it can make it difficult to finish your work. Choose a model that you can comfortably handle for an extended period. Keep in mind that a lot of the weight comes from the lithium battery, so you may want to get two smaller ones that you can change out, rather than one big one. 
RELATED:
Vibration 
Trimming a hedge can be a precise task so it's best to get one with minimal vibration. You should be able to cut precisely without feeling strain in your hands from holding the unit steady. Electric trimmers will generally have less vibration than petrol hedge trimmers.
---
Hedge Trimmer FAQs
How thick of a branch can a hedge trimmer cut?
Most hedge trimmers can cut branches up to 3/4 of an inch, or about 2cm. Some hedge trimmers have special teeth that enable them to cut thicker branches.
What time of year is best to trim hedges?
For deciduous hedges, the best time to trim a new hedge is in the winter. This should be done for the first two years, and after that, trimming should be done in the summer.  
For evergreen hedges, they should be trimmed in the spring for the first two years, then trimmed in the summer after that.