Whipper Snippers can be the best way to tidy up a messy yard, especially those areas that are hard to reach with a lawnmower.
However, with so many options on the market, it can be hard to find the product that is right for you.
In this article we break down everything from cutting power to ease of use, to help you find the whipper snipper that best meets your specific needs.
---
1. Bosch UniversalGrassCut 18 Cordless Line Trimmer (Top Pick)
Our top-rated whipper snipper is the impressive and reliable UniversalGrassCut 18 from Bosch. It has the power to easily handle all your garden tasks while being a pleasure to operate.
Being cordless, this trimmer is very maneuverable, while its 18v of power makes it efficient across a range of jobs.
The cutting diameter of 26cm means you can cover medium to large areas at a reasonable pace, while an extended softgrip handle provides enhanced comfort and control.
The adjustable handle allows for a range of positions, meaning you can alter it depending on your task.
At only 2.3kg, the UniversalGrassCut 18 is very lightweight for its power. It is also very well balanced, which helps with reducing fatigue and strain on your arms and upper body.
What We Like:
Lightweight and balanced
Cordless
18V of power
What We Don't Like:
Bigger jobs would benefit from a more heavy duty line trimmer
Battery sold separately
---
2. Baumr-AG 20V Electric Cordless Whipper Snipper (Best Value)
This lightweight and versatile whipper snipper is perfect for yard work. It is electric, so there are no fumes, spills, or refuelling to worry about.
The lightweight and ergonomic design makes it easy to use and reduces strain and fatigue when used for long periods.
Advantages over the Bosch line trimmer above include the following:
More power
Battery included
Cheaper
A bump feed head with a 6.5m spool means you can keep working uninterrupted, while a swivel trimmer head allows for 4 different angle settings, meaning you can customise your trimmer to suit the task at hand.
What We Like:
Bump feed head
Cordless
20V Lithium-ion battery included
What We Don't Like:
May be too lightweight for big jobs
---
3. Ryobi One+ 18V 305mm Cut Cordless Line Trimmer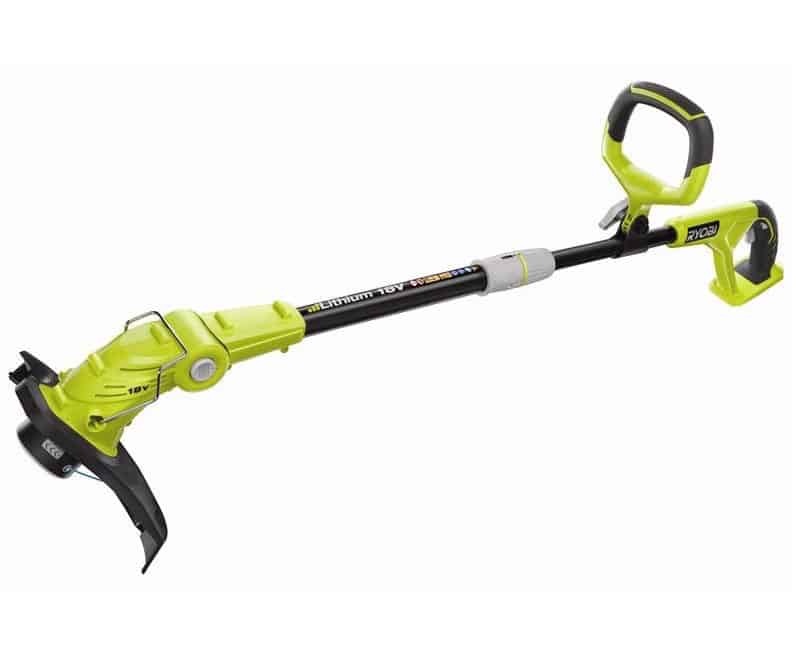 This is a good unit for most backyards as it is lightweight and easy to use. It has a long batt
ery life for an electric string trimmer which means you'll never have to worry about the battery dying on you while you are using it.
It doesn't have the power of a brush cutter, but it works great on fence-lines and shrubs. It has plenty of power for light duties.
One downside to the Ryobi One+ is that some people may find the line feed tricky to use. Some users also find the line can break easily, even when steering clear of rocks and concrete.
Aside from this, it is a great unit and well worth the price.
What We Like:
Lightweight
Long battery life
What We Don't Like:
Poor line feed
Line may break easily
---
4. WORX WG163E 2-in-1 Trimmer/Edger
The WORX 2-in-1 Trimmer/Edger has a good amount of power for home use. The trimmer head and handle are fully adjustable, so it's convenient for trimming in awkward positions.
It also comes with wheels, so you can trim the edges of your lawn perfectly. 
It uses two 20V batteries. The charge time is around four hours, which is a little on the slow end.
At full power, you will get about 20 minutes out of them. So if you want to use the trimmer for big jobs, you will need to have spare batteries. 
Overall, this is a nice, reliable unit. It is a good choice if you want your yard to have that manicured look.
What We Like:
Fully adjustable head
Good for edging
Lightweight
---
5. Honda Brushcutter UMK425
The UMK425 is a solid machine that gets the job done. It breezes through thick grass and is excellent for domestic work.
It may be the best line trimmer, but if you use it for commercial purposes, you may want to install a blade for heavy-duty use. 
It's a 4 stroke, gas string trimmer, so you don't need to waste time premixing fuel. You may find it a little on the heavy side, especially with a full tank. But it is well-balanced so the weight is not very noticeable.
This model is fairly quiet for a whipper snipper. Ear protection is still recommended, but your neighbours shouldn't be bothered by it. 
It's a bit on the pricey side, but it is a reliable whipper snipper that you'll have for a long time.
What We Like:
Well balanced
Quiet
Reliable
---
6. Bosch Line Trimmer ART 30 SL
This is a small unit that is great if you just need it for trimming. This will be perfect for most domestic work.
It cuts through standard lawn effortlessly. It's useful to trim the nature strip and similar areas. It can handle thick grass, but it will take a bit longer to get through it. That's not what it was intended for.  Keep it for light tasks and medium sized yards.
The ART 30 SL is a great machine for the price. It is good quality, commercial line trimmer, as you would expect from Bosch. It is electric and very convenient for light duties.
What We Like:
Electric
Convenient
Inexpensive
What We Don't Like:
Will struggle with thick vegetation
---
7. Ego Powerload Line Trimmer ST1521ES
This unit is quite powerful for an electric trimmer. It is almost as powerful as a petrol-driven line trimmer, making it the perfect weed eater. 
It may start to lag on thick shrubbery and bracken, but it's just right for most backyards. 
The unit is light and the balance is quite comfortable. The battery life is good too, so you will be able to use the Ego line trimmer for large jobs. 
This has all the convenience of electric and plenty of power and comfort. If you were thinking of trading in your petrol driven trimmer, then this is a good choice to go for.
What We Like:
Lightweight
Powerful
Long battery life 
---
Whipper Snipper Buyer's Guide
A lawnmower can keep your lawn tidy, but it can't get at tricky spots like your fence line or around tree stumps. For that, you need a line trimmer (whipper snipper) or a brush cutter.
Brush Cutter vs Line Trimmer
The difference between these two is a bit of a grey area. In theory, a brush cutter is more powerful and uses metal blades. A line trimmer uses a nylon line spun at high speed and is suited to light duties. 
But, there are brush cutters that use nylon cord and there are line trimmers that can be fitted with blades. As a general rule of thumb, brush cutters are more powerful than line trimmers.
RELATED:
Shaft
The shaft can be bent or straight. Units with bent shafts are usually for lighter duties around the backyard. Units with straight shafts usually have more power. They also give you more reach for getting at tricky spots.
Brush cutters usually have straight shafts, while line trimmers could have either. 
Power
Trimmers can be powered by petrol or electricity. Of the units that use electricity, they can be battery-powered or use a cord. Electric units are much quieter than petrol-powered units.
Most brush cutters use petrol as it tends to give more power. Most line trimmers are cordless and use batteries. The type with cords are not very convenient and are generally only suited for small jobs.
Features
A good feature to look for is a bump feed. This feeds out more line when you tap the ground with the trimmer head. You can also get an automatic feed system that sends out line whenever it gets too short. A manual feed system requires you to turn off the trimmer and feed the line out by hand. 
Look for a line-length limiting blade on the safety guard. This cuts of the line trimmer cord at the right length so you don't have a long line overloading your motor. 
Try to get a unit that has a harness, or at least a place to attach a harness. Not all units can take one, and trimming can get tiring if you do it for a while.