A kettle is a must-have appliance for any kitchen. Choosing the wrong one could leave you dealing with excessive noise, waiting longer and wasting energy.
The process of boiling water within an enclosed compartment can generate a lot of noise, which can be an unwanted disturbance in the home. Fortunately, many new innovative models of kettles utilise design and technology to reduce noise levels so you can prepare your cuppa in peace. Use our buyer's guide below to help find the best one for your home.
Here are the quietest kettles in Australia:
---
1. Russell Hobbs Brooklyn Kettle (Top Pick)
The modern, sleek and on-trend Brooklyn Kettle has earned its place as our top pick. This impressively quiet kettle comes in a stylish and contemporary matte black housing that will look great in any kitchen.
The Brooklyn has a 1.7L capacity (enough to make tea for the family), an easy push open button lid and a water level window. The blue interior light helps you see how much water is left and the spout design prevents drips when pouring.
The Brooklyn model is the best quiet kettle available as it uses innovative quiet boil technology to make sure you can continue conversations without interruption. On top of this, the boiling is efficient, the appliance is easy to clean and there's a removable washable filter too.
What We Like:
Very quiet
Stylish
Fast boiling time
---
2. Morphy Richards Accents Traditional Pyramid Kettle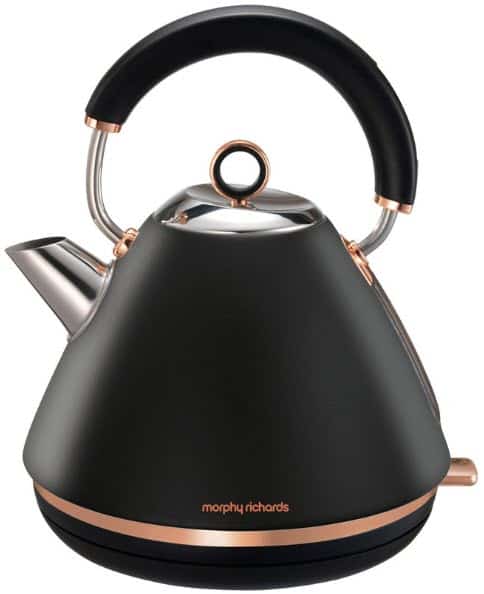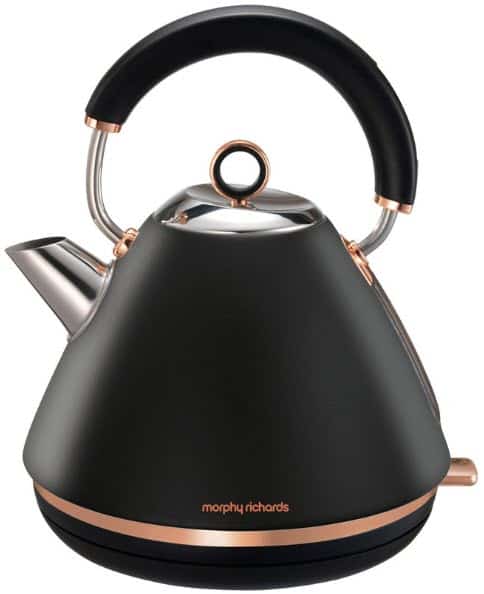 This traditional pyramid kettle has an elegant design, is easy to fill and fast to boil. It boils quietly but also has an optional whistle function.
This cordless appliance can hold 1.5L and has a 3kw concealed element for rapid boiling. The removable limescale filter helps to keep water clean and the ring pull lid is safety locking.
The 360 degree swivel base and the curved handle make it easy to move and fill. The window allows you to clearly see the water level and the LED indicates when the water is being boiled.
What We Like:
Efficient
Whisper quiet with optional whistle function
Pours smoothly 
What We Don't Like:
Some users may find this to not be as durable as other options
---
3. Russell Hobbs Addison Kettle
This smart kettle is highly functional, one of the key features is the temperature settings ranging from 70 degrees to 100 degrees. This is so you can heat water to the perfect temperature for your tea and coffee. The temperature is chosen using the labeled LED illuminated buttons and there's a handy keep warm function too.
This stainless steel kettle is lightweight, boils relatively quietly and beeps to let you know when the water is ready.
The capacity is 1.7L and there's a removable and washable anti-scale filter. A key safety feature is the automatic shuts off that happens once the water is boiling, there is also boil dry protection.
What We Like:
Highly functional
Variabel temperature
Lightweight 
What We Don't Like:
Keep warm function isn't available when you boil to 100 degrees
---
4. Breville Compact Kettle
This compact 1L glass kettle has been designed and engineered in Australia and is a fantastic option for when you just want 1 or 2 cups of hot water. The glass design looks smart and allows you to easily see the water boiling.
The glass is thermal shock resistant and the power automatically shuts off when the water is boiled. The lid opens softly at the push of a button to reduce splashes.
As this electric kettle holds a smaller volume of water it doesn't take long to boil and is ideal for saving power. The noise is minimal when in use but take care as the glass does get hot.
What We Like:
Fast boil
Ideal for individuals or couples
Looks great
What We Don't Like:
Outside of the glass gets hot
---
5. Russell Hobbs Inspire Kettle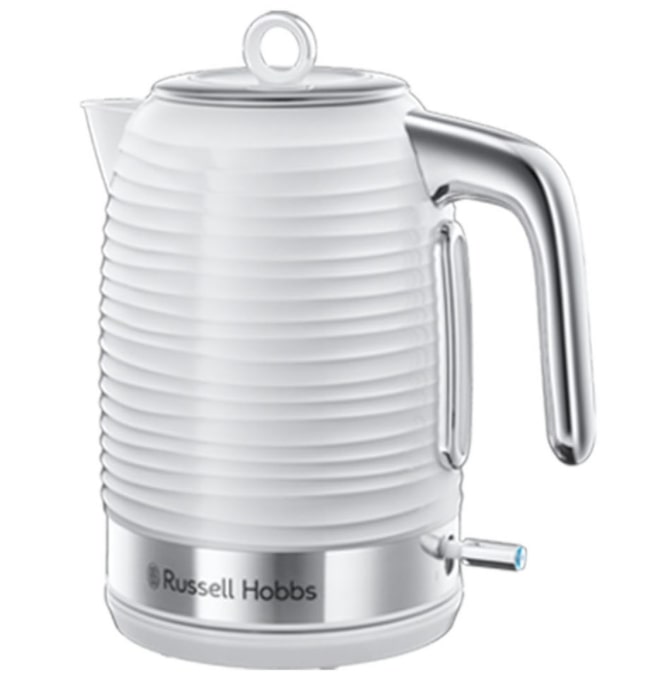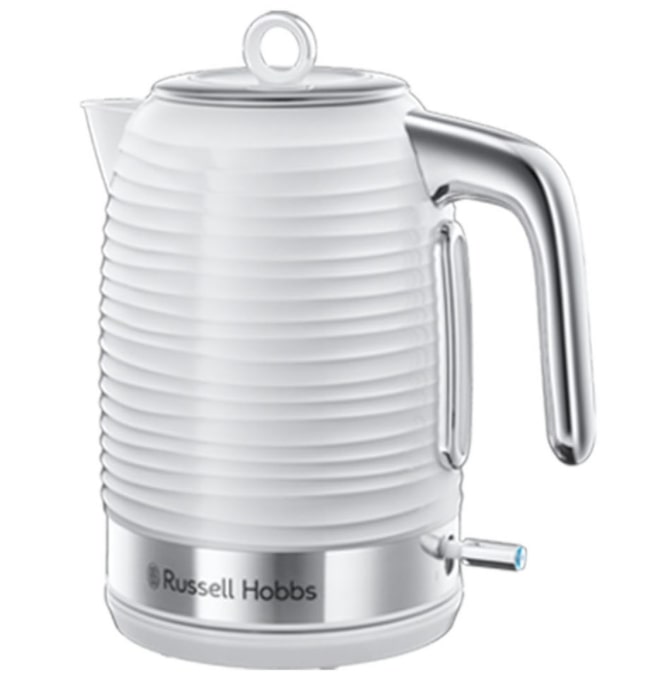 This unique white Inspire Kettle is on-trend and will look great in any kitchen. The textured plastic and stainless steel accents give a style and design not often seen.
The capacity is a generous 1.7L and the clear window makes sure you heat only what you need. This quiet kettle boils rapidly and is lightweight with a comfortable handle.
The anti-scale filter is easy to remove and clean and the lid is manually lifted off using the ring pull. There is also boil dry protection so it will automatically switch off is this happens.
What We Like:
Unique, modern appearance
Generous capacity
Rapid boil
What We Don't Like:
Water gauge is positioned behind the handle making it a bit difficult to see when filling
---
Quiet Kettles – What you need to know
Investing in an electric kettle can save you time and energy but, as we all know, some make a lot of noise when they are boiling. Finding an option that boils with minimum noise allows us to enjoy a relaxing cup of tea and continue our conversations undisturbed.
Why Choose a Quiet Kettle?
There's many reasons you may want a quiet kettle, maybe you don't want to disturb the rest of the house when you wake up early or maybe you're fed up of the noisy kettle overruling the kitchen as it boils. If you used to have a whistle kettle you may be looking for an option that does not scream for immediate attention when the water is ready.
RELATED: The Best Toaster In Australia
Key Features to Look Out For
Minimum fill – Can you boil water for just one cup? Boiling just the amount you need can save time and energy.
Noises such as whistling or beeping – If the kettle does have these features make sure they can at least be turned on and off.
Water level indicator – an easy to read indicator will allow you to see how much water is left at a glance.
Size and weight – electric kettles should be compact and lightweight. Find a model offering a suitable capacity for your needs.
Efficiency – Find an option that is efficient and lets you boil only the water you are going to use (even if its just the one cup). Inefficient models will cost you in the long run.
Boil dry protection – the unit will automatically switch off if there isn't enough water.
BPA Free – Most food-grade plastics these days are BPA free but it's still worth checking to ensure you don't end up with any nasty chemicals in your boiled water.
---
FAQs
How does a quiet boil kettle work?
Quiet kettles use a range of techniques such as improving insulation, designing the base to reduce bubble size, and using a slower heating element to reduce sound.
How can I make my kettle quieter?
Try removing the limescale as a build-up of limescale can cause the appliance to boil loudly. Another option is placing padding beneath the kettle.
Why do teapots whistle?
A teapot whistles because there is a build up of steam that is trying to escape from a small opening in the teapot. As the steam escapes the vibrations cause the whistling noise, as the water boils more vigorously there is more steam making the whistle louder.