If you're looking to create crispy, delicious fried food in your own home, then purchasing a high-quality deep fryer is a great idea.
To help you choose from the many amazing deep fryers available in Australia, we've got a handy rundown of the 5 products we consider to be the best. Check out these 5 fryers to get your shopping search started.
---
1. Breville The Smart Deep Fryer (Top Pick)
This attractive brushed stainless steel deep fryer from Breville has an LCD digital screen, a large 1.2kg food capacity, and holds 4 litres of oil. Its large size means you can easily make portions big enough for the whole family.
Do you like your kitchen gadgets to offer extra convenience? You'll love the fresh and frozen settings and 6 preset functions on the fryer enabling you to easily make twice-fried chips, fries, fish, wings, calamari and donuts. There's even a seventh custom preset option for you to set yourself for ultimate convenience for your favourite fried dish. 
What We Like:
Heats up quickly
Easy to use
7 preset options
Easy cleaning
What We Don't Like:
Heavy when full
May be larger than smaller households require
---
2. Cuisinart CDF-200 Deep Fryer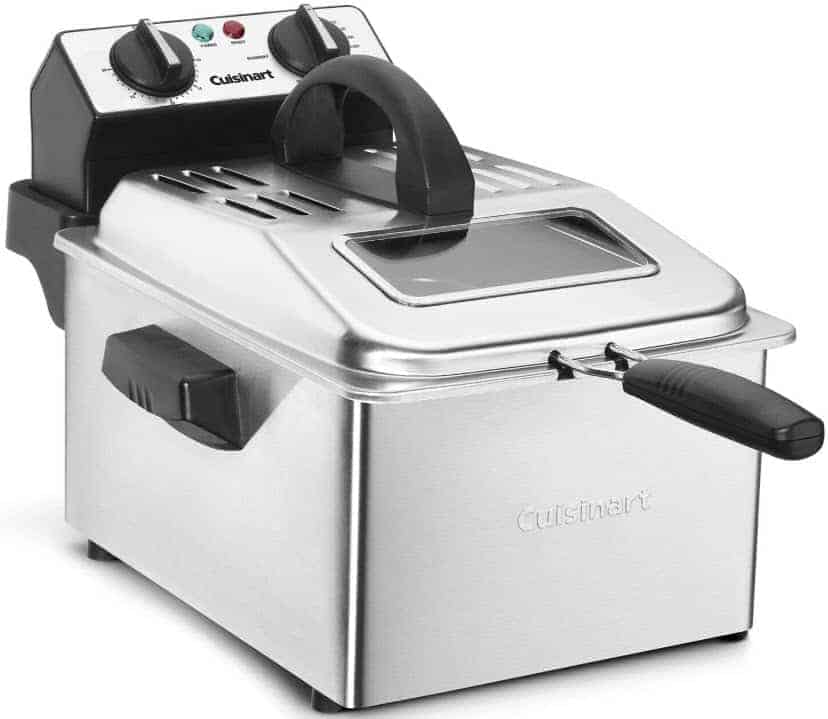 The Cuisinart CDF 200 is ideal for families who want to be able to easily create a large capacity of fried food with ease. The stainless steel deep fryer quickly heats up with a 1800 watt immersion system, and even has a cool-touch handle for safe removal of the food basket when it's fully cooked.
Customers will appreciate the easy-clean features of the deep fryer including a pouring spout, dishwasher safe frying basket and removable enamel-coated oil container.
What We Like:
Easy to clean
Doesn't take up a large amount of counter space
Quick to heat up
Cool-touch handle
What We Don't Like:
Does not have preset options
Industrial design may not suit all kitchen styles
---
3. Tefal Oleoclean Pro Deep Fryer
Are you looking for a powerful deep fryer? Then the Tefal Oleoclean may just be the right choice for you. Using a 3,000 watt heating element and adjustable electric thermostat, you can fry food quickly and precisely with ease. You can even check on your food as it cooks with the handy window for viewing.
Customers who love gadget innovation will appreciate the automatic oil filtration and handy digital timer. Even better, the product entirely dismantles for easy and convenient cleaning.   
What We Like:
Food window for viewing
Powerful heating element
Various cooking controls
Oil filtration system
What We Don't Like:
Large
Dirty oil box can spill on worktop when past maximum capacity
---
4. DeLonghi 1kg Easy Clean Rotofry Deep Fryer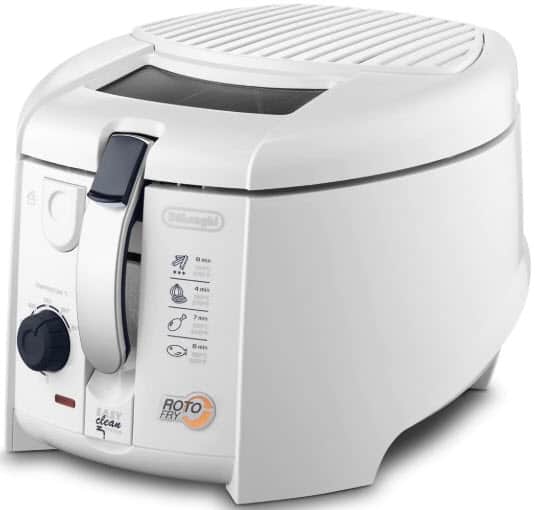 The sleek design of the DeLonghi Rotofry will look great on any modern kitchen worktop. However, aesthetics aren't the only draw of this deep fryer as it also has some great cooking features families will love. The digital controls, viewing window and electric thermostat all enable you to create tasty fried food like french fries, calamari and chicken wings with ease.
Customers who appreciate economical design will like that the Rotofry uses a special angled basket which enables you to use a massive 50% less oil when cooking. There's also a great anti-odour filter in the lid to minimise the smell of frying spreading throughout the home.  
What We Like:
Easy to sanitise
Fast at cooking with rotating basket feature
Uses 50% less oil than traditional fryers
Various handy cooking features
What We Don't Like:
Food is moved around several times during cooking
No built-in timer
---
5. Kambrook 4L Family Size Deep Fryer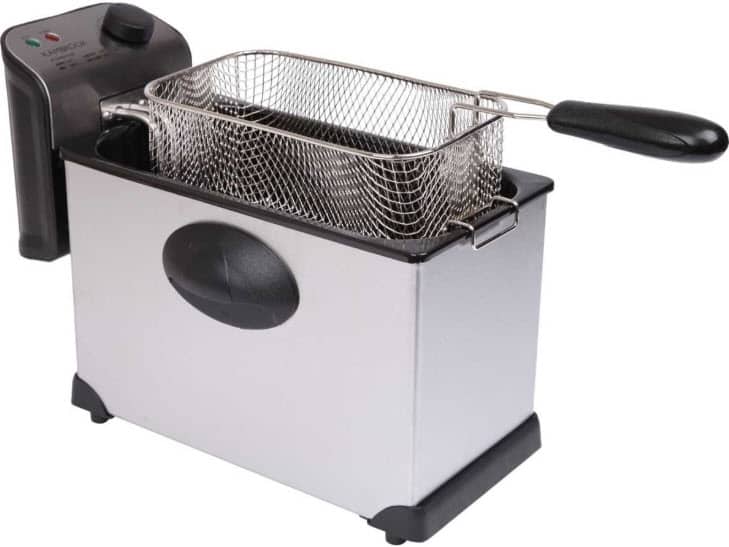 The Kambrook Deep Fryer has a large 4L capacity to ensure the appliance can feed the whole family. The large capacity doesn't mean you need longer for cleaning though, as the electric deep fryer has an easy to sanitise non-stick removable bowl.
Customers wanting to fry food regularly will appreciate this deep fryer's safe cool-touch handles, large viewing windows and anti-odour filter. The product also has an attractive stainless steel aesthetic to suit most modern kitchen decors.
What We Like:
Large 4L capacity
Easy cleaning
Viewing window
Cool-touch basket handle
What We Don't Like:
No preset options
Minimal cooking controls
---
Deep Fryer Buyers Guide
If you are considering which deep fryers to buy, it can be difficult to know which appliance is best for you. How hot do they need to get? How much cooking oil should they take? Are they to leave on display or to store away in a cupboard?
To simplify your purchase process and to help you get the perfect deep fryer for your needs, take a look at these handy tips and tricks:
How Often Will You Use It?
If you plan to use the deep fryer often then you'll want the build to be robust. You should also look for easy clean features, and a good looking appliance if you plan to have it displayed on the worktop.
How Much Help With Your Cooking Process Would You Like?
If you don't mind watching your food and checking it to see if it is cooked every now and again then basic deep fryers will work fine for your needs. If you would like a little more help, additional features like fresh or frozen controls, preset options and timers will be really handy.
If You Plan To Experiment, Look For Versatility
If you plan to experiment with making the perfect calamari, or the best triple cooked french fries then you might want some fryer features that offer versatile cooking. An adjustable temperature feature is extremely handy when it comes to trying out how hot you need the oil and experimenting with different fried food cooking.
Understanding Lower Oil Features
Any deep fat fryer is not designed for health although some products may have features that use less hot oil. Those features are more economical than healthy and when you are shopping for deep fryers it makes sense to see less oil use in that way, rather than expecting the food produced to be healthier in general.
Related: The Best Air Fryer
When it comes to deep fryers, it can be easy to be seduced by a great rating, large capacity and various cooking features. Realistically, some level of control and ease over cooking is handy, as is being able to clean the product with ease.
However, if you don't plan to use it for anything fancy, or you don't mind a single temperature basic fryer, then you don't need to pay more for bells and whistles.
Keep your basic fryer needs in mind and look for the most robust, high-quality product that does what you need it to do, and that does it well. Soon enough you'll be enjoying delicious, crisp fried food with your family all cooked in your own kitchen at home.
---
Deep Fryer FAQs
What size deep fryer do I need?
For one or two people, any fryer under 4 litres will be ample. For full family cooking, or regular large fried meals, a 4 litre fryer capacity or more is ideal.
What oil is best for deep frying?
The best deep fryer oil is thought to be peanut or canola as they remain the most stable during the process of cooking.