Having a great beach towel on hand can make your entire oceanside experience better.
Most people don't give a lot of thought to the beach towels they buy. However, as soon as you see your friends plush, absorbent, and stylish beach towel, you might wish you'd given your own towel some more thought.
Beach towels aren't like bath towels; they're bigger, softer, more durable, and come in a wide range of colours and patterns.
If you're on the hunt for a new beach towel, check out our comprehensive guide below. We've listed some of the best beach towels on the market to give you inspiration.
That way, you can stay comfortable, dry, and relaxed on your next holiday or day at the beach.
---
1. Bambury Turmeric Waffle Beach Towel
This trendy cotton beach towel is large, soft, and perfect for beachgoers who want to make a statement.
It has a throwback design with knotted tasselled edges, giving it a chic and modern look with just a touch of classical elegance. If you want to show off your fashion sense while staying comfortable all day long, this towel is a top choice.
Its size is just right for drying off or laying on the sand. With its waffle-textured cotton, it's like a hybrid beach towel and blanket.
All in all, for drying off, lying comfortably on the sand, or spending time outside in the summer, this trendy towel is something anyone will love.
---
2. NewLyfe Sand Free Microfiber Beach Towel
What if there was a beach towel that was crafted of microfiber, resistant to sand, would stay soft forever, and looked cool? There is, and it's right here.
This NewLyfe Sand Free Microfiber Beach Towel is adorable, versatile, lightweight, fast-drying, super handy, and the last word in beachgoing technology.
Plus, it's large, stylish, and unquestionably convenient. It's right at the top of our list because it may just be the best sand-free beach towel out there.
It really is a convenient option. Not only will it dry quickly throughout your day, but it's also very warm.
So, when you come out of the water and you're freezing cold, this towel will get you warm and dry right away.
Since this towel even repels sand when wet, it's a good option for sandy beach surfaces.
---
3. Home Republic Feeling Peachy Velour Beach Towel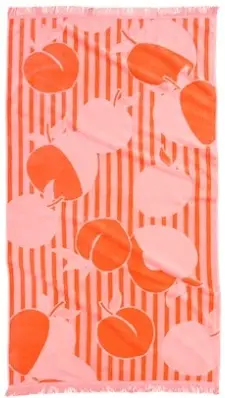 Woven of premium combed cotton, this plush velour towel is stylish, large, and ideal for beach chairs. It comes in 18 different designs, so there's something for everyone to love.
Whether you want palm trees, bright stripes, or printed pastels, there are plenty of options to choose from.
Velour beach towels from Home Republic are also durable and lightweight. With fashion prints and soft textures, they can make any beach trip more fun and pleasurable.
Since you get so many style choices with this towel, it's easy to find something to match your beach look.
Plus, it features a 500GSM construction and is the right size for lounging by the water.
---
4. Country Road Beau Beach Towel
If you want a premium quality wide cabana stripe beach towel that has a masculine feeling to it, this may just be your best bet.
This is a heavy-duty beach towel that's of superior material composition and design. Not only that, but it's thick, made of 100% cotton, and very absorbent.
With a light fringe on its edges, it gives off a relaxed vibe that's attractive and subtle without being overbearing or fussy.
Apart from its cabana stripe design, this towel sports the Country Road logo along its side.
Finally, this is one of the best towels for those who want to keep comfortable all day. It has a plush feel to it that cushions you as you kick back and unwind.
In summary, this is one of the best large cotton towels available. It's ideal for those looking to buy a trendy, long-lasting towel.
---
5. Bedding House Sunny Lime Yellow Beach Towel
Made of 100% cotton, this thick towel is very soft, wide, and perfect for any dock, bay, boat excursion, or sandy shore. It's ideal for your next summer outing or pool day.
Plus, it's well made and long enough to stretch out on. This is a great towel that will keep you comfortable and dry all summer long.
With a vintage-looking style, this towel features vertical stripes in various colour tones. So, if you need something trendy, you may just love this towel.
Finally, its large size and soft texture make it ideal for those who need something to lounge around on.
This is also one of the best towels for people who like gender-neutral designs. In summary, it's a versatile and quality option for all beach lovers.
RELATED: Best Picnic Rugs
---
6. Morrissey Sand-Free Microfibre Beach Towel
With an adorable flamingo design to fit floral fun aesthetics, this beach towel is playful, fashion-friendly, and cute.
Plus, this microfiber towel dries quickly, absorbs everything (except sand), and is extremely lightweight. Sand-Free towels are known for their ability to repel and quickly shake off sand.
So, if you need something that will dry off right away and keep the sand at bay, this is a quick and easy option.
Plus, with its lightweight design, it doesn't weigh down your beach bags. It folds down to a small size and then spreads out so that you can lounge in comfort.
All in all, this is one of the most impressive and beach-friendly towels you can buy!
---
7. Hiccups Kids' Sheldon Shark Hooded Cotton Beach Towel
An adorable hooded towel, this is a great option for summer outings with the kids. Since this towel is made of cotton, it absorbs water easily and will keep kids warm and dry after they exit the water.
Also, it has a fun shark hood that gives it a cute and whimsical feeling.
This is easily one of the best options for kids. It's also a great towel for bath time!
Children will love the hood, and parents will love how this towel stays in place as kids move about.
---
8. Home Republic Bryon Bay Quick Dry Beach Towel
This Quick Dry Beach Towel offers you a range of fun prints to choose from.
This towel is the perfect travel companion and works well for the beach, dock, bay, pool, and features high-quality materials.
With a flat woven front and terry reverse, it dries easily. This towel also has fringe detailing.
With its terry cloth composition and cute exterior pattern, this towel comes ready for all types of travel.
Plus, its modern design is fun, colourful, and perfectly suited to summer fun in the sun.
---
9. Kahuna Large Beach Blanket
Possibly the best beach blanket for anyone who wants something oversized absorbent, this is the perfect option for having fun with the whole family.
Camp out with the gang or use it as a picnic blanket. Whatever you decide to do, this big beach blanket is versatile, comfortable, and great for travel.
All in all, if you've been looking for the best beach blanket to buy that will provide enough room for everyone, this huge beach blanket can accommodate the entire family with room to spare.
This makes it one of the top beach blankets in its category.
---
10. Cotton House Atami Beach Towel
Made of 100% cotton, this soft towel soaks up water easily, making it the perfect for the pool or beach.
It's easily one of the best beach towels for those who want to look cool while lounging in the sunshine. It's extremely absorbent, machine washable, and stylish.
---
11. Sunkissed Round Premium 100% Cotton Beach Towel
Whether you want to hang out at the water park, have a picnic, or spend all day by the ocean, this round towel is a great option.
It boasts a modern design and has elegant tassels along its edge. This is a great option for beachgoers of all ages. 
Not only that but since it's a round towel, you can lay it down anywhere without worrying which direction to face.
If you've been looking to buy a multi-directional sunbathing towel, this is a top option to consider.
Finally, this round and colourful towel is wide enough to spread out on. So, it's the perfect beach companion for sunbathers to buy.
RELATED: The Best Pool Toys
---
12. Bambury Daisy Floral Cotton Reversible Towel
Have you been looking for a vintage style towel with chic fashion design? If so, this might just be the best beach towel for you!
Since it comes in an attractive neutral tone, it may earn the award for the savviest beach towel.
It adds an air of stylish charm to any ensemble, so you can use it pretty much anywhere.
Also, its playful knotted tassel edges add fashion-friendly fun to any beachy look. This is a soft and durable cotton towel.
You'll love the plush feel and the way that it can be reversed for multi-functional versatility.
All in all, if you have been looking to buy the best fashion towel for summer adventures, this is a fantastic option to consider.
---
beach towel FAQs
Now that you've gathered some beach towel inspiration, we'll go over some of the most frequently asked questions about these towels.
That way, you'll be fully informed and can choose the ideal beach towels for your unique needs!
Does sand stick to microfiber?
No, sand does not easily stick to a microfiber towel. This is one of the reasons that they're great for the beach. Plus, microfiber towels absorb water very quickly, dry fast, and are warm and lightweight. This makes them very easy to carry in a beach bag. Regardless of the texture, beach sand generally does not stick to microfiber materials.
There's actually a science behind this. Microfiber is a unique material that absorbs water ridiculously fast, dries quickly, and is resistant to mildew. In fact, even if the microfiber is soaking wet, beach sand will not stick to it! Simply shake your towel off, and stick it back in your bag.
Are Turkish towels good for the beach?
Since Turkish towels are made from premium Turkish Cotton, they're some of the highest-quality options around. Turkish cotton is one of the best materials for those who prize durability and longevity as well. This material can feel amazing on the skin and is great for home use, travel, and more. As such, these towels are very versatile and will work well for the beach, pool, or even as a bath towel. 
Plus, Turkish towels often come in a range of attractive muted tones that match anything. While they're somewhat more expensive than other towels, their durable and capable material is soft, plush, and long-lasting. So, if you'd like to use a premium towel on your next beach trip, we highly recommend kicking back and relaxing with Turkish Cotton.
Do sand-free beach towels work?
Yes, sand-free beach towels do work. This is especially true when they are made from microfiber. Microfiber has a unique material design that quickly absorbs water but repels almost everything else. It's made of small micro materials that are hard for debris to stick to, so it's one of the best material options for the beach. Even when wet, these towels will usually be resistant to dirt, sand, and other gritty materials.
As such, sand-free towels are great for travel, can be used as picnic blankets, and more. They make summer adventures a lot more fun! In conclusion, if you prefer to keep the sand off of your hands, out of your bags, and on the beach where it belongs, these beach towels are one of the best options to buy.