Pool toys come in an array of styles for both kids and adults. You can choose from a multitude of pool floats, pool noodles, inflatable pool toys, heavy-duty pool toys, beer pong, and even floating sports equipment!
Fun pool games can enhance any poolside party while swimming accessories will keep kids busy and entertained all summer.
With so many pool toy options to sift through, you're probably wondering what will work best for you.
To ensure that you'll have the most fun in the sun and love the products you choose, we've listed some of the best pool toys currently on the market in Australia.
---
1. Splash Time Jumbo Pineapple Pool Float
Nothing says summer holidays like a super-sized pineapple! The Splash Time Jumbo Pineapple Pool Float is a fantastic choice for those who want a fun way to stay cool in the pool.
Made of durable PVC materials, this inflatable float is shaped like a giant yellow pineapple.
With its relaxing and whimsical design, long-lasting materials, and wide surface, you can bask in the sun and float around in cool comfort all day long.
This float is great for the pool, beach, lake, and more. It measures 199cm, so an adult can easily lie on it to soak in the sunrays.
Therefore, it works well for both kids and adults. This is a cute and versatile option for all sorts of swimming pool fun.
---
2. Wahu Pool Basketball
From the Wahu Pool Party collection, this inflatable basketball hoop is great for keeping kids active in the summer months.
The basketball hoop is easy to set up and inflates quickly. Then, with its collapsible design, it's equally as easy to take down and store.
Additionally, the Wahu Pool Basketball outdoor set is durable, water-resistant, and comes at a low price.
Since it floats easily on the surface of the water, kids will have fun swimming and slam-dunking the ball into the net. It's easily one of the best floating sports games to provide fun for kids and the whole family.
---
3. Splash Time Kids Car Seat
Parents trying to buy the perfect inflatable baby pool seat will love this blow-up car.
Shaped like a little car, it also has a steering wheel so your toddler or baby can pretend that they're driving as you ferry them across the surface of the water.
This is one of the most adorable and versatile solutions to use for a baby, toddler, or young child under 23kg.
---
4. Intex Pool Volleyball Game
Volleyball is a game that everyone can play for hours of summer fun. Volleyball in the pool? Even better!
The Intex Pool Volleyball Game comes at a low price and is one of the best cost-saving products for maximum summer fun.
Then, when you're done playing, everything deflates for easy storage. This is a great choice for your next pool party or simply for all-day backyard family fun.
This particular pool volleyball game comes with everything you need to play right out of the box.
With the Intex pool volleyball toy set, you'll get an inflatable ball, pole bases, and a floating net. Since the net floats on top of the water with anchored pouches to hold it down, it won't blow away in the wind.
---
5. AquaFun Floating Sea Saw Pool Toy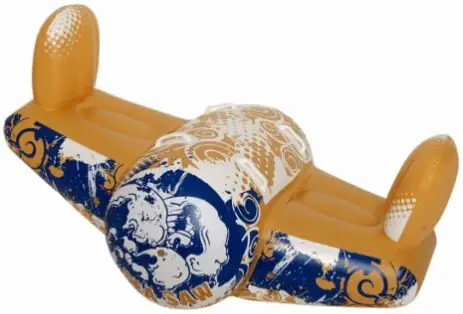 If you have multiple kids to entertain, this inflatable pool toy might just be one of the best solutions.
Two kids can use it to rock on the water at once! Measuring 137cm L x 81cm W x 51cm H, this is a fully functioning inflatable sea saw that's just the right size for kids.
Made using durable heavy-gauge vinyl and PVC, this top-quality pool float won't pop easily as your kids play.
Plus, it has built-in handles to give both kids a good grip as they rock back and forth. This is definitely one of the most creative outdoor water accessories for home swimming pools.
---
6. Wahu Tube Wars Water Toy
Another great option from Wahu, this toy set of battle paddles and riding tubes lets kids pretend that they're gladiators at war in the pool.
It comes with two inflatable paddles and two inflatable tube seats.
Kids will have limitless fun using the soft and durable paddles to knock each other off of their tubes and into the water!
This Tube Wars set is a perfect pool toy to get any summer-themed party started.
Each inflatable riding tube measures 1.25 L and each paddle is 1.4 L.  This fun water fighting set is best suited for ages 6 and older.
---
7. Trunki Dive Sticks (Pack of 3)
For kids who love underwater diving games, this Trunki Dive Stick 3 Pack is perfect.
Plus, you can use these diving sticks to instill confidence in children just learning how to dive and swim underwater.
With ultra-safe construction, these soft and flexible dive sticks lat flat at the bottom of the pool. 
Kids can make a game of swimming down to get them.
This clown-fish themed diving stick set makes one of the best toys for kids who already know how to swim underwater or are learning with adult assistance.
---
8. Splash Time Light as a Feather Inflatable Swim Ring
Transparent and filled with fluffy feathers, this fascinating and unique inflatable swim ring is the type of pool toy to make a splash anywhere you go!
Its colourful feathers drift and swirl circularly around the air-filled interior of the inflatable ring. This creates a cool mesmerising effect that will entertain adults or kids.
Made of durable PVC, this swim ring has numerous uses. It's perfect to buy for your next pool party, lake trip, beach day, and more. With a see-through exterior, you can choose from lilac, blue, pink, or white feather colours.
---
9. Giant Inflatable Sausage Dog Pool Toy
Have you been looking to buy pool floats for adults? If so, you may want to consider this adorable inflatable floating Sausage Dog Pool Toy.
With its durable construction, cup holders, and extra-large size, it's one of the best choices for adults who are still young at heart.
Kick back and relax with a drink while you soak up the summer sun. No matter how tall you are, this lengthy inflatable dog can accommodate your needs.
It measures 198cm x 80cm x 45cm and inflates in minutes with an electric pump or hairdryer.
Keep in mind that this is a very large inflatable toy, so you'll need to have a way to blow it up. Even though it has a design optimized for quick inflation, it doesn't come with a pump included.
---
10. Wahu Glo Pool Noodle
Like nothing you've ever seen before, this Wahu Glo Pool Noodle provides stunning illumination underwater and across the surface of a pool.
It's perfect for nighttime swims, pool parties, and after-dark fun.
This noodle also glows brightly since it's illuminated by large multi-coloured LED lights. So, you'll have a colourful view of the water around you at night.
The Wahu Glo Pool Noodle features LEDs that are mounted inside of the noodle so they stay safe and dry.
This pool noodle is fully inflatable and measures 180cm long. When the sun goes down, this noodle will beautifully light up the night in backyard pools, at the beach, or on the river.
---
11. Intex Cruiser Motorbike Ride-On Pool Float
The Intex Cruiser Ride-On Pool Float provides endless family fun.
Parents will love its unique and detailed design while kids will enjoy riding it in their backyard pool all day.
With a smooth and comfortable vinyl design, this is among the most durable and versatile pool toys available in Australia.
This Intex Ride-On Motorbike has four air chambers and measures 180 x 94 x 71 when inflated. So, it's just the right size for a home backyard swimming pool.
---
Tips for Choosing Pool Toys
Knowing what your options are as you shop for outdoor pool toys is the best way to figure out exactly what products you need for maximum summer fun.
Here are some tips to help you shop for your pool accessories more easily!
Factor in Safety and Material Quality
As you look for toys for your kids, it's important to factor in their ages and swimming abilities.
Water balls, swimming rings, and pool noodles can offer safe summer entertainment for kids of all ages.
Not to mention, many great inflatables and cool themed floats are available. Be sure to carefully read age appropriation recommendations as you shop. 
The best products will also be as durable as they are interactive.  For longevity and quality, PVC and vinyl are two of the most durable material options available. 
Remember, no matter how safe a toy looks, very young children or those who can't swim well should never be left unattended in the water. Always provide adequate adult supervision.
RELATED:
Choose Age-Appropriate Products
Age is also an important factor to consider as you shop for pool toys to buy for your family. After all, a 17-year-old doesn't want to play with a mermaid toy any more than a 4-year-old wants to learn ping pong. 
Shop for products that leave room for imagination as well, since creative play is critical to healthy childhood development.
If your children are ages 7-14 years old, outdoor ball game toys and diving rings are best.
Look for toys that strike the best balance between safety and entertainment.
For ages 15 and up, we recommend stylish floating toys that allow for relaxation.
Look for Fun Pool Toy Options to Keep Kids Active
Fun pool toys give you an open opportunity to provide your children with a fun way to stay active.
Ball games that inflate are ideal for giving kids exercise, especially if you have a backyard swimming pool and want to keep your children entertained at home.
While catch game variants with balls and nets are best for competitive kids, for less competitive children, consider getting a pack of diving rings, a beach ball, or a water optimized ping pong game. 
To make sure that your children will be excited about playing with the outdoor toys you buy, it's smart to find out what activities interest them most before you shop.
With this information, you can get toys that will effortlessly accommodate their favourite hobbies.