Nothing quite compares to sprawling out on a picnic rug or blanket for a relaxing day of outdoor fun! A top-notch picnic blanket or outdoor rug can enhance your beach day, park excursion, or camping trip!
The best outdoor blankets and picnic rugs will be comfortable, portable, stylish, and big enough to meet your needs. To give you some inspiration, here are some of the best picnic blankets available in Australia!
---
1. Meteor Large Foldable Waterproof Fleece Picnic Blanket
Large, soft, and durable, this insulating fleece picnic blanket has a sewn-on handle that makes it easy to carry. It measures 200 x180 cm and has been made using premium waterproof materials.
Sunbathe, snack, or read a book while basking in the great outdoors. No matter how you use this foldable fleece picnic blanket, you'll appreciate its versatile design!
With thin insulating waterproof aluminium on the bottom layer, this outdoor picnic blanket comes ready for whatever adventures you have planned.
Finally, this stylish blanket comes in an array of attractive patterns and is so big that it can easily fit the whole family.
---
2. Good Vibes Printed Maize Picnic Rug
The waterproof backing and cushioned craftsmanship of this Good Vibes Printed Maize Picnic Rug make it a top pick for anyone to love! It's easy to carry, easy to wipe down, and easy to fold up.
With high-quality PVC plastic materials, this picnic rug is compact, soft, and durable.
It's the perfect solution for relaxing summer days at the beach, outdoor concerts, and picnics at the park. It showcases a colourful Maize-style print pattern too.
This waterproof outdoor rug allows you to relax and unwind essentially anywhere! It measures 150 x 200cm and has an extra-lightweight and portable design.
---
3. Sunnylife Picnic Blanket – Kasbah
Without a doubt, this is one of the best picnic blanket options around! With a trendy Moroccan-inspired print and durable construction, this Sunnylife Picnic Blanket features a handy little pocket that lets you store personal items.
Don't stress about damp sand or grass either, its water repellent backing makes it a great choice for any terrain.
This useful picnic blanket measures 175 x 140 cm and conveniently folds up to a compact 33 x 46 cm size.
Spread this picnic blanket out on the ground at the park or on the beach.
When you're done, it folds up easily and can be stored in an included stylish travel bag.
---
4. Gorman Colour Drop Picnic Rug
This cute compact picnic rug is made of 100% polyester. It also has a lightweight feel that makes it a good choice for backpacking or hiking. So, if you want to bring some chic style as you adventure into the unknown, this is one of the best options.
Effortlessly roll up and store this picnic rug in its included velcro carrying case. The Gorman Colour Drop Picnic Rug measures 145cm x 145cm and showcases an exclusive print design. It's an ideal solution for camping and outdoor festivals!
---
5. Simpeak Large Waterproof Picnic Rug
If you're bringing along the whole gang, you'll need an extra-large place to spread out. This waterproof picnic blanket is perfect for the entire family. It will keep your bottom dry and provides a spacious lounge area with its extra-large 200 x 150 cm size.
Quality Orlon materials make the Simpeak Waterproof Picnic Rug a soft and accommodating waterproof choice. It implements soft, lightweight materials that make it easy to carry as well. Plus, you'll like its gingham-style pattern that comes in both black and red colour options. The big Simpeak outdoor picnic rug can fit 4-6 people and is very easy to clean. Use it for hiking, camping, sporting events, and more!
---
6. Life! Retro Jodie Picnic Blanket
Measuring 150 x 135 cm and showcasing a stylish vintage striped pattern, this multi-colour picnic blanket is perfect for a multitude of outdoor activities.
It implements a water-resistant backing and includes privacy pockets that let you safely store your belongings.
Ideal for family picnics, stadiums, or outdoor concerts, you can sit comfortably and feel protected from sand, dirt, wet grass or dirty bleachers.
Whether you use it as a beach blanket, camping blanket, or stylish throw blanket, it is the perfect picnic mat for anyone to love.
It also folds down for compact lightweight storage!
---
7. Country Road Maca Picnic Blanket
For summer getaways, this machine-washable Country Road Maca Picnic Blanket is an impressive and accommodating solution for a range of activities.
It's super easy to fold or roll up and has a removable cotton strap that keeps it secure and compact as you travel.
This premium polyester blanket also has a waterproof coating on the reverse side and a soft upper side so you can relax while staying clean and comfortable.
Measuring 150 x 175 cm, this stylish high-quality outdoor blanket displays a name-brand Country Road leather patch on the front.
It also has light stripes that impart a chic, stylish, and relaxed vibe.
For those who want something simple, effective, machine washable, and durable, this is hands-down one of the best outdoor picnic blankets to consider!
---
8. Home Republic Native Floral Greens Large Picnic Rug
Since a durable picnic rug is a must-have for outdoor excursions, why not choose something with loads of style?
This attractive picnic run has a gorgeous floral green pattern that lets you accessorize as you relax on the beach or at the park.
Water-resistant and easy to clean, this picnic rug quickly rolls up for compact and convenient carrying. It also has a strong handle sewn on!
On the front, this picnic rug is made of soft polyester while on the back, it utilizes water-resistant Polyurethane.
Inside, it implements Polypropylene foam to give you a cushioned and comfortable place to sit.
Since all of these materials inherently repel sand and dirt, this is one of the best options for fun days at the beach!
---
9. Morgan & Finch Panama Picnic Blanket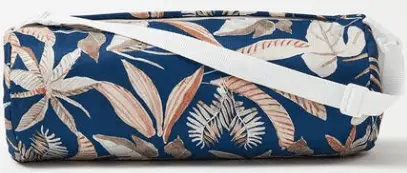 We love this Panama Kindu Beach Picnic Blanket because it wonderfully balances utility, style, and affordability.
This durable polyester picnic blanket has a lovely tropical leaf pattern that's UV-fade resistant. It's also sand and water-resistant, so you can stay comfortable as you lounge outside or watch the waves at the beach.
Generously sized and lightweight in design, you can easily fold and store this picnic blanket when you're ready to head home.
It even includes a trendy matching storage bag to make transportation easy!
This picnic blanket would also be a great gift for the beach lover in your life, and its low price and adorable look make it one of the best options around!
---
10. Large Waterproof Quilted Fleece Picnic Rug
Cold weather is no match for this warm, soft, and comfortable fleece picnic blanket! Weatherproof with a cushioned quilted design, this is one of the absolute best large picnic blanket options for any season.
Plus, fleece is lighter and easier to clean than wool.
Wrap up and watch sporting events in snuggly warmth or enjoy the outdoors any time of year.
Either way, this large picnic rug has you covered, literally. It even comes with a carrying case and storage pocket!
Constructed using polyester, fleece, and other quality materials, you'll be comfortably insulated and dry all day or night.
This is an amazing all-purpose solution that's wind, stain, and water-resistant as well!
Measuring a massive 208.28 x 139.7, this is easily one of the best picnic blankets available in Australia.
---
11. Foxtrot Washable Blue Picnic Blanket
Versatile and well-made, this washable picnic blanket is extremely easy to keep clean.
You'll love the fact that this high-quality blanket is sand resistant, waterproof, and comfortable!
In seconds, it rolls up into a helpful little pack with an included carry handle. Lightweight and portable, the attached handle makes it ideal for a range of activities.
Plus, this extra-large picnic blanket measures 140 x 200 cm, meaning that it's big enough for 5-6 adults sitting or 3-4 adults laying.
The waterproof backing prevents ground moisture from bothering you.
So, you'll never have to worry about getting a wet backside from the grass ever again.
---
12. Collective Sol Round Cotton Picnic Rug Blanket
With its round shape, gorgeous neutral colours, and breathable cotton material, this picnic blanket is a chic and stylish solution.
Its 150cm x 150cm size makes it large enough to wrap around two people comfortably.
Easily one of the most stylish blankets out there, it can be used outdoors or inside the home as an attractive accessory. This is a versatile and charming choice that those with a taste for high-style will absolutely love!
Made of 100% cotton, this picnic blanket is also reversible and easy to care for.
Those who lead busy lives will like the fact that it's machine washable as well.
Use this premium cotton picnic blanket at festivals or indoors as a throw blanket. Either way, it's a stunning and versatile choice. 
---
13. Country Road Tibi Picnic Blanket
An essential accessory for summer days or adventurous travellers, this Country Road Tibi Picnic Blanket features a stylish design that you'll really like the look of.
With a leather brand patch on the front and 100% polyester waterproof coating on the back, you'll also love the way it keeps moisture at bay as you sprawl out on the grass.
Since this stylish Country Road product is machine washable and measures 150 x 175 cm, it can be used as either a picnic mat or as an outdoor blanket. Either way, it's attractive, comfortable, and soft.
An included removable strap lets you keep the blanket securely rolled-up as well, so portability isn't an issue.
---
Picnic Rug FAQs
For days at the beach, music festivals, camping in nature, or simply heading to the park for a family picnic, a top-notch picnic rug, mat, or blanket is a must.
Use our FAQ section to help you find the best picnic blanket for your needs!
What is a good size for a picnic blanket?
When you're looking for the perfect picnic blanket, you'll want to make sure you choose one that's the perfect size. That way, you can snuggle up with a loved one, make room for the kids to play, and spread out in total comfort. So what size is best?
Generally, you'll want something that's between 140 and 200 cm in length on each side. Square designs that give everyone plenty of room to sprawl out are great. Round outdoor blankets can be awesome too, provided that they're large enough to accommodate everybody.
Are picnic blankets washable?
Many picnic blankets are machine washable, but not all of them. As such, it's best to pick something that you'll be able to care for easily. After all, if you'll be snacking and lounging on your picnic rug, you'll want to be sure that it can be cleaned easily when you're finished.
Pretty much every picnic rug can be washed in some way. If your picnic blanket can't be put in the washing machine, you'll likely still be able to spot clean it with a damp cloth or wash it by hand in cool water.
What features should I look for in a picnic rug?
The best picnic blanket or rug should be comfortable to sit on and large enough to accommodate your needs. For all-weather blankets, look for something warm. A waterproof picnic blanket will be ideal for all-weather applications. Wool, fleece, cotton, and polyester make warm and cozy material options. However, remember that materials like wool can be heavy.
Also, opt for a water-resistant backing of some kind. PVC plastic is a great lightweight materials that keep moisture at bay. Finally, an easy to carry travel bag or included leather straps will make hiking and walking easier. Many outdoor blankets also have sewn-on straps that make storage fast and simple.