A balance bike is a fantastic way to introduce toddlers to cycling. Balance bikes are simple, lightweight and durable, they teach little ones how to balance in a fun way and eliminate the need for training wheels. The best balance bike can provide years of fun and will build children's confidence and skill before they naturally transition onto pedal bikes. There's one thing that is certain when it comes to these bikes – kids love them!
Let's take a look at the best balance bikes available and the key factors to consider when choosing which one is best suited to your child.
---
1. Cruzee Balance Bike
The Cruzee Balance Bike can be easily adjusted so it grows with your child meaning it is suited for children from 18 months – 5 years old. The handlebar and seat adjustments require no tools so you can effortlessly adjust the size to suit riders from 60cm – 125cm tall.
This bike is incredibly light at only 1.9kg, this makes it one of the lightest balance bikes available and is perfect for little ones. Being so light makes it easy to manoeuvre and easy to carry if your kids get tired. The frame is made from aluminium and has an anodised finish so it is a sturdy option that is built to last.
This no-pedal balance bike is fun, comfortable and convenient. It is easy for children to enjoy and has integrated footrests for when they are practising balancing and coasting.
What We Like:
Lightweight (1.9kg)
Easily adjusted
Grows with your child (can be used from 18 months- 5 years)
---
2. Kinderfeets Kids Makii Wooden Balance Bike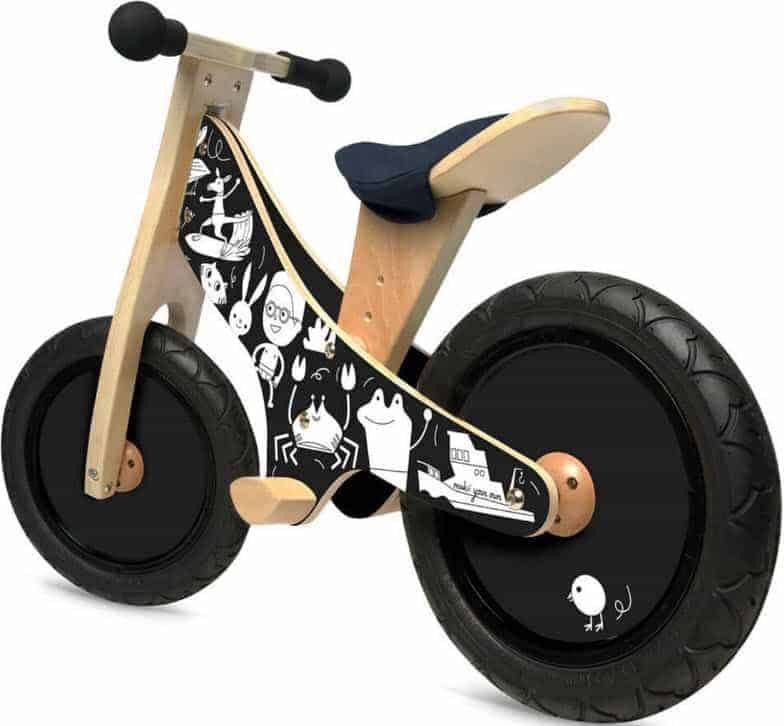 This wooden balance bike from Kinderfeet is ideal for children 2 years and older. The footpegs are in a natural position to encourage centre of balance and to make the transition to a pedal bike easier.
The bike is made from birch wood and the tyres are airless to ensure they are durable and long-lasting. This bike panel is also a chalkboard so your children can creatively customise the bike however they like.
The cushioned seat is ergonomic, adjustable and washable. The handlebars are positioned to encourage a good, comfortable posture during play.
What We Like:
Durable, airless tyres
Chalkboard panels for fun, creative customisation
Adjustable cushioned saddle
What We Don't Like:
Handlebars are not adjustable
---
3. Outdoor Kids Dash Vespa Balance Bike
This beautiful balance bike would make a perfect gift for the special little one in your life. Inspired by Vespa, the retro design will be sure to turn heads at the local playground.
It features a solid timber construction with soft rubber hand grips and a padded seat cover. The bike has a max weight of 30kg and is suitable for children aged 3-5.
What We Like:
Unique design
Comfortable seat and hand grips
Timber frame
---
4. CyclingDeal Kids Push Balance Bike
This bike from Cycling Deal is a smart, functional and well-priced option suitable for children from 2-6 years. The adjustable seat and handlebars allow your child to comfortably use this bike for many years. The soft plastic saddle is comfortable and does not have an odour like some bike saddles do.
This balance bike comes partially assembled, the seat and the handlebars need to be fitted to the desired height and the bike is ready to use. The footrest on this balance bike is naturally positioned to help children find their centre of gravity and prepare them for pedal bikes.
The tyres are resilient, shock-absorbent and resistant to skidding. They are suited for all surfaces from lawns to sand and road.
What We Like:
Comfortable
Easily adjustable
Suited for all surface types
---
5. Zippizap Balance Bike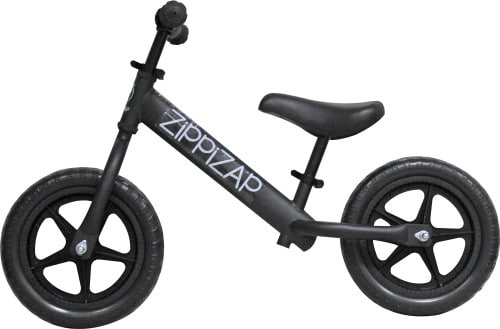 The Zippizap balance bike is a lightweight, easily adjustable balance bike that is suitable for children from 18 months up.
The aluminium frame material and the puncture-free composite tyres ensure this is a sturdy, safe bike for your little one to enjoy. The seat is comfortable and has a waterproof, synthetic leather covering.
The Zippizap bikes even look fun as they are available in 6 bright colours and they are anodised rather than painted to ensure they don't rust or chip.
What We Like:
Foam-filled plastic tyres that can't puncture
Available in bright colours
Easily adjustable
What We Don't Like:
The anodised frame can become easily scratched
---
6. Mocka Urban Balance Bike
The Mocka Urban is a wooden balance bike that is sturdy, fun and practical. This bike looks great with its wooden frame, big tyres and patterned wheel discs.
The seat has 3 setting adjustments from 34-39cm and is recommended for children 2 years of age upwards.
The tyres of this balance bike have large tread and solid tubes making them resistant to punctures. The padded seat ensures your child is comfortable.
What We Like:
Wooden construction
Puncture-resistant tyres
Sturdy
---
7. Kids Push Balance Bicycle
This balance bike from CyclingDeal is suitable for children from 2-6 years. This is a colourful blue, white and orange bike that can help kids gain confidence as they learn to balance on two wheels.
The frame and handlebar are made from anodised steel and the seat and stem are height adjustable so you can raise them as your child grows.
This bike comes with a lifetime warranty on the frame and 2-year warranty on the other parts so you can be sure it will last a long time.
What We Like:
Sturdy anodised steel
Adjustable seat and handlebar stem
Comes with a warranty
What We Don't Like:
A little bit bulky for younger children
---
8. Kinderfeets Tiny TOT 2-in-1 Trike Balance Bike
This popular 2-in-1 bike and trike is a beautiful design made from lacquered bamboo wood. This bike is recommended for children from 12-24 months.
1-year-olds can use this as a trike and can learn how to use their feet to move the bike and then the bike can be easily converted into a 2-wheel balance bike when the child is ready to upgrade.
The low frame makes it easy for little ones to get on and off the bike and helps children feel safe as they remain close to the ground. The nontoxic hand grips are easy and comfortable to hold on to and the wide base and large tyres ensure this trike/ bike is easy to balance.
What We Like:
2-in-1 Trike/Bike

Wooden construction

Comfortable hand grips
What We Don't Like:
Children will grow out of this faster than other options
---
9. Little Nation Balance Bike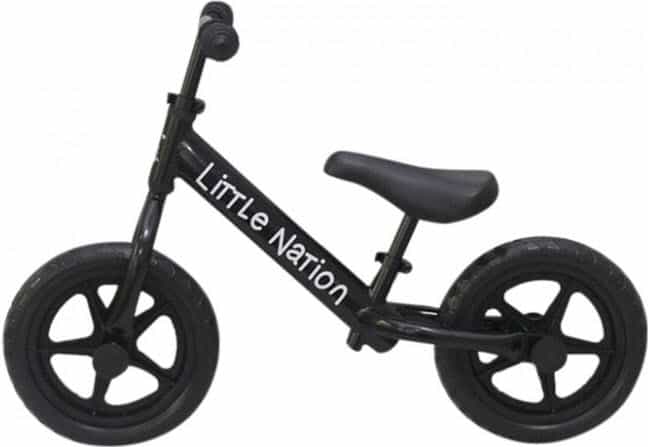 The Little Nation Balance Bike is a smart, tough bike that requires no maintenance after assembled. This bike is completely adjustable so can suit your child from 18 months up to 5 years old.
The handlebar grips are soft and durable so kids can feel safe and comfortable when using this bike. The wheels are super light and have puncture-free EVA polymer tyres.
The saddle is cushioned so is soft to sit on and the seat and handlebars can be raised or lowered as needed. This bike weighs just under 3kg so is light enough to manoeuvre and carry if needed.
What We Like:
No maintenance needed
Puncture-free tyres
Soft, cushioned saddle
---
10. Mocka Rocket Balance Bike
The Mocka Rocket Balance Bike is a cool-looking, sturdy option that suits children from 2-4 years old.
This bike features solid, big tread tyres that are resistant to punctures and help toddlers keep their balance even on more challenging terrain. This bike is a good transition option when you want your child to learn how to balance and manoeuvre on a bike before trying a pedal bike.
This bike is made from steel so it is built to last and will be able to withstand the day to day use of a toddler.
What We Like:
Looks smart
Tough design and construction
Adjustable seat
---
Balance Bike Buyer's Guide
A balance bike is a wonderful way to introduce your little one to their first bike. Finding the best balance bike is important to help your child feel comfortable on two wheels. Learning to ride a bike can be a scary experience but balance bikes help to build your child's confidence and skill without the need for training wheels. When choosing between balance bikes, keep the following features in mind:
Size
The first factor you'll want to think about is the size of the bike. The best balance bikes are the ones that allow your child to rest their feet flat on the floor when the seat is in the lowest setting. It may be necessary to measure your child's inside leg to help you find the right size bike that offers the best seat height options.
A lot of bikes claim to be "one size fits all" but using measurements is the best way to ensure there's no frustration or disappointment. This guide can help you figure out the best size for your little one.
Weight
The lighter the bike is, the easier it will be for your child to manoeuvre. When comparing balance bikes try to go for the lighter options as this will generally be more manageable for your child.
Material
The most common materials for balance bikes are steel, aluminium and wood. Steel is incredibly sturdy and durable, aluminium has the benefit of being lightweight and wood looks great and is environmentally friendly. Each material has its advantages and disadvantages so it comes down to personal preference when choosing the best balance bikes for your kids.
Wheels
The wheel size on a balance bike for toddlers is usually 12″ but you will also find balance bikes that offer 14″ or 16″ wheels which are better suited to older kids. There are generally two tyre material options you will see:
Pneumatic – these are air-filled tyres that have tubes in them like adult bikes. These tyres tend to provide better traction and allow kids to ride on various terrain more easily. The downside to these tyres is that they can get punctured and they can go flat.
Solid: foam/ plastic – a foam or plastic tyre will never go flat so it is far less maintenance and is very sturdy. However, they often have less grip and traction than pneumatic tyres.
Saddle
The seat height should be adjustable and it is important to pay attention to the highest and lowest settings. Your little one will need to be able to sit on the seat and comfortably reach the floor. A bike that is too big, meaning they cannot touch the floor easily when the seat height is on the lowest setting, will be frustrating and discouraging for a child trying to learn.
Your child should be able to sit comfortably at the lowest setting and this will leave room to grow into the higher settings. The saddle should also be padded for comfort.
Brakes
Most of the bikes for babies and toddlers do not have a hand brake which is no problem as they will not be moving fast and can use their feet to stop. However, as your child gets older the need for a hand brake increases. Balance bikes for 3+ year olds should have a hand brake to make sure your child can stop safely when they feel they are going too fast. A brake can also help you save the soles of their shoes when they are enjoying regular play sessions on the balance bike.
RELATED:
Footrests
Footrests are sometimes seen on balance bikes but they are not necessarily needed as children will hold their feet up when they want to coast anyway.
If you choose a bike with a footrest then make sure the footrest is far enough back that it is out of the way of your child's legs when they are pushing themselves along. The footrests can help your child get used to how it would feel to coast on a bike with pedals.
Other Considerations
Sealed bearings – you may see some specifications say sealed bearings. This is good as sealed bearings prevent dust and dirt from entering which results in a smoother experience for your child. Sealed bearings are not usually offered on budget balance bikes as this is more of a premium feature rather than an essential feature.
Grips – the handlebar grips should be ergonomic and the edge of the grips should have a protective bumper to protect your child's hands if they scrape against a wall or tree while they are practising.
Turning limiters – a turning limiter basically stops the handlebars from turning too far preventing sharp turns and jack-knifing. The turning limiter is a minor addition that has a small impact on the overall product so while it is worth being aware of, it should not be a determining factor in your choice.
RELATED: