As a woman, shaving encompasses a lot of different areas on the body that tend to require hair removal every few days at least, depending on your routine. Each area also tends to have a different hair thickness and hair surface. All of these different requirements mean the perfect product has to be reliable, durable and versatile – that's a big ask for one product isn't it?
Luckily, we've narrowed down products that we think encompass the qualities you need in a great shaver, to save you time sifting through the rubbish to get to the best of the bunch. Here's our up-to-date rundown of the best women's manual and electric shavers currently available to buy:
---
1. Braun Battery Lady Shaver (Top Pick)
The Braun Lady Shaver is a battery operated electric shaver that has several features that guarantee you smooth results. A gentle gliding cap travels across the skin whilst round trimmer tips carefully remove hair. There is also an exfoliation head for skin conditioning, and a bikini area cap for a precise bikini line shave ready for those trips to the beach.
If you're looking for the best trimmer that is also portable, you will love that the product is not only cordless, but the battery lasts 40 minutes and recharges in just 60 minutes. Even better, the electric razor is washable when you're done. 
What We Like:
Three different cap types
Cordless razor
Battery recharges in just 60 minutes
Easy to wash
What We Don't Like:
Not the best size for use on smaller areas of hair
Noisy
---
2. Gillette Venus Embrace Razor
The Venus Embrace from grooming giant Gillette is an attractive razor that features five blades for a precise and effective shaving experience. There's gentle mobility in the shaving head and the handle is sleek and has a soft grip, so it is easy to move it around the contours of the body.
If you have sensitive skin or dry skin you will love that the product has a dry band of moisturising gel that activates when wet, to moisturise the skin as you shave.
What We Like:
Five blades
Moves around contours
Moisture band on razor
You can replace the razor head
What We Don't Like:
Not particularly eco-friendly
You're committed to one brand for replacement heads
---
3. Philips Everyday Lady Shave
The Philips Everyday razor is a reliable single foil electric razor designed for use all over the body. The shaving head is fairly compact so the shaver is suitable for larger areas like the legs but still shaves smaller areas like the armpits easily. You can also use it wet or dry depending on your needs.
Customers who like portability in grooming products will appreciate that the razor is cordless and takes 2 x AA batteries. The razor also comes with a travel pouch, cap, cleaning brush and trimming cap.   
What We Like:
Compact head
Comfortable grip
Comes with travel accessories
Wet & dry
What We Don't Like:
Takes disposable batteries
May not be the best for an extremely close shave
---
4. Schick Hydro Silk Trimstyle
The Schick Hydro razor is designed to be doubly useful with 5 blades for shaving on one end, and a waterproof bikini trimmer on the other end. The handle is soft grip and comfortable to use, enabling you to remove hair with ease.
If you like to condition your skin or you suffer from dry skin or sensitive skin you will love that the razor end of the product which uses a special serum enriched with shea butter to moisturise the skin long after you shave it.
What We Like:
Razor and bikini trimmer in one
Shea butter moisturiser/ razor combi
Comfortable grip
Waterproof
What We Don't Like:
Moisturising gel element does not last many shaves
Not particularly eco-friendly
---
5. Finishing Touch Flawless Legs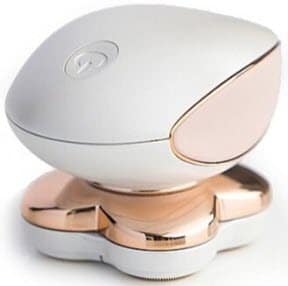 Without even using the Finishing Touch razor, you're likely to be impressed by its gorgeous design. Unlike most common razors on the market, the electric shaver is shaped a bit like a computer mouse, with 'floating head' blades on the bottom that provide 4 times more coverage than one razor head. The German-engineered product has been made to provide an innovative solution to hair removal, gently removing even the smallest of hairs from any area you want to groom with ease.
If you hate missing hairs when you shave you will love the LED lights built into the portable product to highlight shaving areas and any hairs you may have missed.
What We Like:
4 times more coverage than standard disposable razor
Comfortable to hold and use
Built-In LED lights to highlight shaving areas
Rechargeable battery
What We Don't Like:
May not provide extremely close shave
May not be ideal for use in bikini areas
---
Women's Shaver Buying Guide
Buying a women's shaver is an important purchase that can so easily go wrong. Buy the wrong razor and you can end up with stubbly and sore legs or even nicks and cuts if you're not careful. Shaving is annoying enough as it is without the product you're using making it more difficult.
To help you get the most effective shaver for your needs so you can make sure your shave is safe and smooth every time, we've got some valuable tips for you to take a look at:
Moisturising Extras: Do They Matter?
A lot of disposable razors have a head that contains a moisturising extra. This is usually a dry band that when wet, releases a moisturising lather or gel to the area you are shaving. Whilst this is beneficial for the skin, these extras don't tend to last very long and shouldn't be the main selling point of the product. A great shaver can be used with your own moisturising products, but a bad shaver with a moisture band will only leave you with soft, but stubbly and sore skin.
RELATED: The Best Eyelash Curler
Disposable Or Electric?
There are razors that are entirely disposable, razors with replacement heads, and then electric razors. All have their pros and cons depending on what it is you want out of the product.
In general an electric razor that can be used wet or dry is an excellent portable option, especially to take on holiday. Electric razors are also more environmentally friendly than disposables because they are built to last. However, disposable razors do tend to have a closer shave overall and once the blades are blunt you can easily replace the head, or the whole item without spending too much at all.
Size & Ergonomics Matter
When it comes to shavers, size really does matter. You need to reach that electric shaver or disposable shaver around your whole body, including your bikini area, so it can't be too bulky or hard to use. Look for a compact head and comfortable grip if you want to use the product across all shaving areas.
RELATED: The Best Hair Brush
Blade Count & Head Movement
If you choose a disposable razor for women look for a head with mobility along with several blades. This ensures a close shave as the product glides across the contours of the body. If the product is electric, you're looking for great coverage with the cutting section which could come with one long foil, or several cutting heads depending on the design.
Remember that larger coverage may make the product unsuitable for the bikini area unless there is a separate head for that purpose.
---
Women's Shavers FAQs
Is it better to shave or epilate?
Epilating is thought to remove hair and cause the regrowth to be thinner and weaker compared to shaving, which is thought to cause hair regrowth to be stronger and thicker. However, epilating is generally more uncomfortable than shaving and many women find the process quite painful.