Student laptops need to be quality, durable and ready for any challenge. A quality laptop does not need to break the bank, whatever your budget you'll be able to find a laptop that is durable, powerful enough to handle a student's workload and light enough to carry around as needed. The reviews and buyer's guide below will help you find the best student laptop for your needs so you can concentrate on your studies.
---
1. Dell XPS 13 i5 10th Gen Student Laptop (Top Pick)
The Dell XPS 13 laptop expertly combines portability with high performance. It is perfect for students looking for a quality laptop that won't weigh them down.
When viewing and working on content this laptop offers incredible load speeds, fast memory and plenty of storage so you can multi-task as needed. The InfinityEdge display looks great, the visuals are bright, rich and detailed, and the screen can be viewed from any angle without harsh reflective glare.
The laptop has a HD webcam at the top of the display and the power button has an integrated fingerprint reader so you can keep your laptop protected and log on with a simple touch. Something else students will appreciate is the durability, as this laptop is cut from a single block of aluminium it is very sturdy and can handle the wear and tear of daily use. This all comes together to make the Dell XPS 13 one of the best student laptops on the market.
What We Like:
Lightweight and durable
Powerful operating system
8 GB solid state drive
Large memory
What We Don't Like:
Only offers USB-C, Thunderbolt and Micro SD ports
More expensive than other options
---
2. Lenovo Yoga C740 14″ 2-in-1 Laptop
The Lenovo Yoga C740 is a 2-in-1 laptop that can be used as a laptop and a tablet. It's a sleek, affordable option that offers a lot of great features.
The laptop comes with the Windows 10 operating system. It has a large memory which offers improved performance and the 14-inch screen boasts 1080 resolution offering detailed text and graphics.
This laptop has a built-in camera and has a 13.8-hour battery life which is perfect for working, studying and watching movies when on the go. For easy connectivity, the laptop has 2 USB-C and a USB 3.1 port.
What We Like:
Can be used as a laptop or tablet
Long battery life
Affordable 
---
3. Huawei MateBook 13 Student Laptop
This attractive laptop is sleek, lightweight and portable. This is one of the best laptops for students as it is robust and powerful.
The Fullview touch display offers 2K quality and is user-friendly with an eye-comfort mode that filters out up to 30% of the blue light. This laptop can be unlocked via fingerprint recognition offering quicker access and quality security. The Intel Core i7 system offers integrated graphics and powerful performance which is perfect for photo editing and gaming.
The laptop comes with a pocket charger that offers a quick charge option to give you 2.5 hours of use from a 15-minute charge. The Huawei MateBook 13 has an innovative cooling design that increases airflow to keep the laptop cool while you work. The ports on this model include USB-A, USB-C, HDMI and VGA.
What We Like:
Fingerprint recognition
Powerful system
Touchscreen
What We Don't Like:
The battery life is shorter than many competitors
---
4. Lenovo L340 Ideapad Student Laptop
The Lenovo Ideapad L Series are affordable laptops for everyday use. The L340 is marketed as suitable for gaming, so you can be sure it's got the performance to handle all your study needs, and will also be up to the task of streaming videos or gaming if you want to use it for these purposes.
It looks clean and sharp, is durable, and can handle daily office and school tasks with ease. It doesn't just offer power, it also offers security with professional-level encryption that helps keep your data safe.
This student laptop is reliable and will boost productivity with its large memory and 9th Gen Intel Core i7 processing. The screen is FHD (Full High Definition) and is anti-glare to reduce eye-strain.
The touchpad is responsive and the full-sized keyboard is both comfortable to use and spill-resistant. The Lenovo Ideapad offers a selection of connections and ports including HDMI 2.0, USB 3.1 ports, RJ45 and an audio combo jack/mic.
What We Like:
Professional level security
Spill-resistant keyboard
Large memory
---
5. HP Notebook 14 Laptop for Students
The HP Notebook 14 is designed to be easily portable and reliable. The Notebook runs with Windows 10 and offers fast speeds and enough strength to work with multiple applications without slowing down.
The HD micro-edge display gives you lots of screen in a smaller frame so you can get more out of the laptop. The AMD processor, graphics and response touchpad come together to give you the power to work, stream and surf as you want to. This laptop also has a built-in camera allowing you to enjoy video calls and online meetings.
You can easily connect USB devices with the USB 3.0 connector and there is a USB-C port for powering devices or connecting another screen. This is one of the best laptops for students as it is efficient, user-friendly and can be relied on.
What We Like:
Slim and ultra-portable
HD screen
Great performance
What We Don't Like:
The webcam is not as good as it could be
---
6. Apple 13.3″ MacBook Air 2020 Laptop
The Macbook Air 2020 is lightweight, fast and powerful. It is a quality, portable option that can handle a heavy-duty workload.
The resolution of this laptop is 2560 x 1600 offering incredible detail, clarity and realism. The colours are vibrant and True Tone technology adjusts white balance to give a more natural viewing experience. The Macbook Air laptops use a Touch ID sensor so you can use your fingerprint to unlock the Mac and to access locked documents and settings. Security is also high with this model as all your data is automatically and fully encrypted with the Apple T2 Security Chip.
The Intel Core i5 processor is ideal for college students as it delivers high-speed CPU and graphics performance allowing you to power through work and use multiple apps at once. The speakers produce high-quality audio and the FaceTime camera is great for video calls. This laptop has two Thunderbolt 3 ports, a Force Touch trackpad and a backlit keyboard.
What We Like:
Incredibly thin and light
Touch ID security
Impressive performance
---
7. Dell Inspiron 5000 14″ 2-in-1 Laptop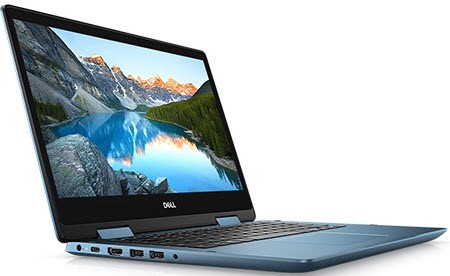 This 2-in-1 laptop from Dell is a flexible, versatile option that can be used as a laptop or tablet. The touchscreen is responsive and the visuals are vibrant with lifelike colours making it perfect for streaming and editing photos and videos.
Intel's 10th Generation processor enhances load speed and processing time so you won't have to wait around when working. The slim design makes the Inspiron 5000 easily portable and you can connect your iOS or Android smartphone with your computer so you don't have to divide your attention between devices.
The innovative hinge design that makes it easy to switch between the tablet and laptop modes. For convenience, this Dell laptop has an SD card reader as well as USB-A, USB 3.1, USB-C and HDMI ports.
What We Like:
Multiple ports
Sleek Design
Laptop and tablet in one 
What We Don't Like:
The display could be brighter
---
8. ASUS F712FAC Notebook for Students
This sleek and sophisticated notebook from ASUS is great for students thanks to its high performance, large screen and ease of use.
The system uses Intel Core processors and dual-band Wi-Fi so you can always enjoy high speed no matter what you're working on. The ErgoLift hinge also helps improve productivity as you can tilt the keyboard so it is always in a comfortable typing position.
The large screen of this Notebook gives an immersive experience that is perfect for work and play. The VivoBook 17 has a USB-C port, USB 3.1, USB 2.0, HMDI and MicroSD ports allowing you to easily connect devices as needed. The Integrated ASUS Battery Health Charging technology protects the laptop battery from overcharging to reduce the chance of damage and prolong the computer's lifespan.
What We Like:
Large screen
Lots of connection ports
Comfortable to use 
What We Don't Like:
The audio and webcam quality is not the best
---
Student Laptop Buyer's Guide
The laptop you choose and the features it needs will vary depending on the kind of work you will be carrying out. The best laptop for students really depends on what you are studying and how you intend to use and transport the device. This buyer's guide will help you make sense of laptop specifications so you can find the best option for your needs.
Student Laptop Types
Entry-Level – an entry-level laptop will be able to handle all basic needs such as word processing and browsing. They are low-cost but usually can't handle heavy-duty use.
Mainstream – these laptops cost slightly more than entry-level models but they generally boast better hardware and improved battery life. The best student laptops will usually fall into this category.
2-in-1 – a convertible model gives the convenience and portability of a tablet with the versatility of a keyboard. These are a flexible option but they can be heavy and may cost more than standalone laptops of the same performance level.
Tailored e.g. gaming or photo editing – while not necessarily a type in itself, if you are studying something specific and you know you will need a system that can handle professional photo or video editing software etc, keep this in mind when choosing the best laptop for you.
RELATED:
Choose an Operating System
The majority of laptops will work with either Windows, Mac OS or Chrome OS. The system you choose comes down to personal preference and many people like to stick with whichever system they have previously used.
Windows – Windows 10 is a flexible operating system that runs on more laptops than the other options. This is a diverse option that is frequently updated and offers more software options. Windows devices commonly come with touch screens which is something Mac laptops do not offer.
MacOS – The latest MacOS is MacOS Catalina, the functionality is similar to Windows but with a different style interface. The Mac system is very user friendly and intuitive. Mac users can enjoy seamless integration with their existing Apple products; they can use Siri, pay using ApplePay, unlock the laptop with an Apple Watch and take calls and messages from their phone. Apple tends to be very popular for creative tasks such as graphics and publishing.
Chrome OS – This system looks similar to Windows but it is more limited. The Chrome system is primarily web-driven and is great for browsing, handling emails, online shopping etc. Although it is a less capable platform, if it performs in the areas you need it to it can be a good option.
Key Features
Battery Life
The battery life of laptops varies from model to model, if you need to use your laptop all day without charging look for a model that offers 8+ hours of battery life.
Screen Size
The most popular laptop size is between 15-16″ but if you are looking for something lightweight go for 13-14″ which offers a great balance between usability and portability.
Ergonomics
Make sure the keyboard, touchpad and touchscreen (if offered) work for you. The keyboard should be comfortable to type on and should offer good spacing and solid tactile feedback. The touchpad should be smooth and accurate and the touchscreen should be responsive.
Ports
While it isn't a dealbreaker for a laptop not to have the ports that you will be using built-in it can certainly help. Many laptops will offer a USB 3.0 and a HDMI port and some will offer USB-C, SD or MicroSD readers and an Ethernet port too.
Understanding Performance
Memory (RAM) – For students, RAM of 16GB upwards of recommended. 16GB is great for handling professional software, demanding workloads and games. 32GB+ is well suited to professionals who want the best and is often the choice of gaming enthusiasts too. RAM of 8GB is good for simple processes but may not be enough for the requirements of a student.
Storage Space – This is how much space your laptop has to store all of your work, documents and software. Most laptops use a Hard Disc Drive (HDD) which can provide between 500GB – 3TB of space. If you need to save lots of media then look for a laptop with at least 1TB of hard drive space. The other common storage option is a Solid State Drive (SDD) which is good for high-performance needs but will cost more for a lower capacity.
RELATED:
Processor
The processor is the brain of the laptop, it plays an essential role in every task carried out. There are a few different processor types:
Everyday processor – this is good for basic at-home use such as word processing, web surfing and watching videos. They offer great value for money.
Premium processor – this is suitable for when you need a laptop that has more power. Intel Core i5 is a good example of a premium processor. They are fast, responsible and great for everyday tasks as well as basic graphic work or gaming.
Powerhouse processor – if you are getting into graphic designing, photo or video editing, high-end gaming or similar then you should look for a laptop with a high-end processor. Intel Core i7 and i9 are good examples of this type of processor and are best for creative professional projects.
RELATED: The Best Computer Monitor
Graphics
Integrated – Integrated graphics are built-in so share a computers RAM and processing power. This is ideal for daily use but isn't well suited to tasks that are graphically intensive.
Dedicated – a dedicated graphics card has its own memory and works considerably faster than integrated graphics. If your student laptop is needed for graphics, editing or design work look for one with a dedicated graphics chip.