A split system air conditioner is just what you need in the middle of summer when the weather sweltering. They are the most efficient way to cool down both small and large internal spaces thanks to their unique ability to transfer heat from inside to outside.
You'll also appreciate the way reverse cycle split system air conditioners can quickly warm your home in winter.
If you're making the investment but aren't sure where to start your search, then keep reading. Below we list the top air conditioner models in Australia and discuss their pros and cons. After that, we've included a buyer's guide so you know what to look out for.
Here are the best split system air conditioners in Australia:
---
Panasonic Reverse Cycle Split System & Air Purifier (Top Pick)
This wall-mounted air purifier is suitable for rooms up to 60 square metres, slightly larger than the Fujitsu model of the same capacity. It's a powerful unit with 7.1kW cooling capacity and 8.0kW heating capacity.
It uses a 24-hour air purifier that is approved by the National Asthma Council of Australia, which removes dust, allergens, and bacteria from the entire house.
In operation, this Panasonic air con is whisper-quiet so you won't even notice it running, and it reduces power consumption by minimising temperature fluctuation. You can also control it from your smartphone, which is extra convenient.
Overall, this is an excellent air conditioning system for keeping the air in your home cool and easy to breathe.
What We Like:
Powerful capacity
Built-in air purifier
Smartphone connectivity
What We Don't Like:
May be too powerful for the average home
---
Fujitsu Reverse Cycle Split System (Best For Larger Rooms)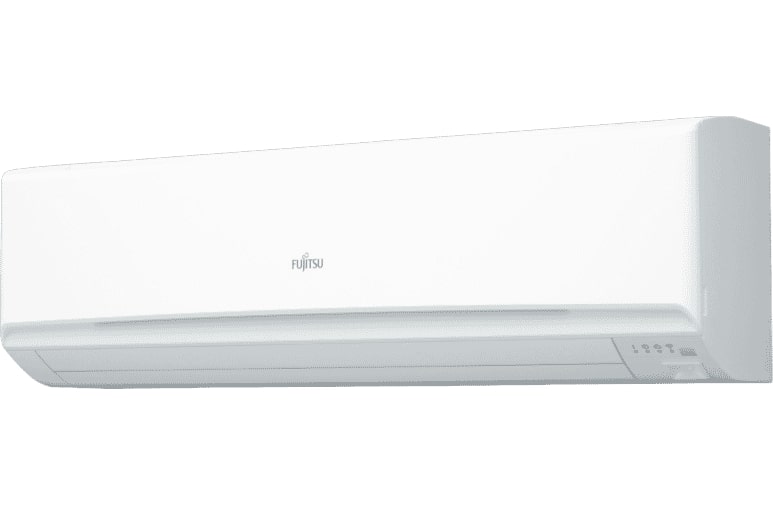 This Fujitsu air conditioner is effective at cooling and heating larger rooms. It has an increased capacity, making it suitable for rooms between 51-70sqm.
This included eco mode is gentle on the environment and a super quiet mode gives you complete peace of mind. The inverter also helps to keep temperature fluctuations at a minimum.
Fujitsu's AC unit has more timer options than competitors, including sleep mode, weekly, and program. It also includes a deodorisation filter to help get rid of odours, in addition to the standard air filter.
This unit also has been upgraded with an extra star rating for its heating mode and now has a slimmer design.
What We Like:
High output
Economy mode,
Good warranty coverage
---
Fujitsu ASTG12KUCA Inverter Air Conditioner (Best Value)
This Fujitsu inverter air conditioner represents great value for money. It has a 3.5kW cooling capacity and a 4.3kW inverter for heating, so it's perfect for an apartment or a large bedroom.
The inverter air conditoner is energy efficient and has a range of smart features that make it more convenient than a standard air conditioner. It has a seven-day timer so you can program when it turns on and off, it also has an auto-changeover function so it can change between heating and cooling based on the ambient temperature of the room.
This Fujitsu inverter air conditioner has multiple built-in filters to keep the air in the room fresh and clear of allergens, and it also has a human sensor where, if it doesn't detect movement for twenty minutes, it switches to power-saving mode.
RELATED: Panasonic Vs Fujitsu Split Systems
What We Like:
Great smart features
Energy efficient
Excellent filters
What We Don't Like:
Some people may be overwhelmed by the features
---
Kelvinator Split System Reverse Cycle
This reverse cycle split system from Kelvinator offers 3. 2kW heating and 2. 5kW cooling power. It is perfect for cooling and heating smaller rooms in your home. This air conditioner includes dust, HEPA and ion filters to purify and sterilise the air.
The Kelvinator reverse cycle split system boasts a number of smart features including a human sensor that directs airflow in your direction when you select the "follow me" mode. This means you are kept comfortable wherever you are within the room with minimal energy usage.
You can also control the air conditioner through the Kelvinator Home Comfort App or you can connect it to your Amazon Alexa or the Google Assistant for convenient voice control. The Kelvinator split system is a great option for a bedroom.
What We Like:
5 star heating and cooling
Includes HEPA filter 
"Follow me" command
---
Mitsubishi Heavy Industries C3.5kW H3.7kW Reverse Cycle Split System
This is another great air conditioner from Mitsubishi Heavy Industries (not to be confused with Mitsubishi Electric). It is 3.5kW in capacity and has a 4-star energy rating so it's very efficient. For heating, it has a 4.5-star energy rating, so it's efficient in all weather.
The filtration system is quite good, capturing airborne dust and allergens, and there is a deodorising filter so the air in your room will stay fresh and easy to breathe.
Maintenance is simple, as this air conditioner has a self-cleaning function that prevents mould from growing in the indoor unit. Overall, this is a long-lasting, durable and high quality air conditioner from Mitsubishi Heavy Industries.
What We Like:
Very efficient energy consumption
Self-cleaning
Good filtration
What We Don't Like:
Not cheap for a lower power unit
---
Panasonic C2.5kW H3.2kW Reverse Cycle Split System & Air Purifier
This Panasonic reverse cycle split system air conditioner has a 2. 5kW capacity so it's best for a bedroom or small living room. It can heat or cool a room quickly so you can get fast relief on very hot or cold days, and once the ideal temperature is reached, it switches to shower cooling (see video below) to maintain it.
The air conditioner can be controlled from your smartphone, which is very convenient, and it has smart technology to control the temperature and minimise fluctuations to make the unit run more efficiently.
Overall, this Panasonic is a very good air conditioner unit if you need something for a smaller room.
What We Like:
Fast heating and cooling
Smartphone connectivity
Energy efficient
What We Don't Like:
Only good for a small room
---
Daikin US7 Split System Air Conditioner
This split system air conditioner from Daikin boasts a range of advanced features that help make your home comfortable. This is a great option for people with allergies or asthma thanks to the 2 stage filtration system.
This Daikin air conditioner has advanced humidification and dehumidification features so you can adjust the room moisture exactly as needed. It also has an infrared human presence sensor that prevents cold draughts and saves energy when the room is left unoccupied for 20 minutes.
This split system air conditioner is super efficient with an incredible 7 star rating in Australia. The Daikin US7 also uses an R32 refrigerant which offers increased energy efficiency and is ideal for environmentally conscious buyers.
What We Like:
7 star efficiency
2 stage filtration
Humidification capabilities 
---
Mitsubishi Heavy Industries C7.1kw Split System
A favourite amongst Australian households, the Mitsubishi Heavy Industries Air Conditioner has a 7.1kW cooling capacity so it will keep your room comfortably cool even on the hottest summer days. 
It has a three-star energy efficiency rating for both cooling and heating and runs very quietly. Because of the large capacity, this unit is ideal for open areas where it's difficult to keep a uniform temperature. 
The filters are very effective at catching dust and allergens, and the self-clean feature makes this unit very easy to maintain. 
This is one of the best split system air conditioners around and will make any home much more comfortable.
What We Like:
Powerful capacity
Energy efficient
Excellent filters 
What We Don't Like:
May be too powerful for smaller homes
---
Split System Air Conditioner Buyer's Guide
As you can see, there are lots of air conditioning units available from a range of brands. Fujitsu, Kelvinator, Mitsubishi Heavy Industries and Panasonic are just a few of the top brands you will come across during your search in Australia. Use this guide as you compare these split systems so you can find the right air con for your home.
How it works 
Split system air conditioning is the most common type of air conditioner available. These wall mounted air conditioner units are the best option for cooling (and heating, if you choose a reverse cycle split system) individual rooms in your home. They are compact, economical and easy to use.
A split system air conditioner has an indoor unit and an outdoor unit connected by pipes. The indoor unit extracts heat from a room and passes it to the outdoor unit. Heat is released outside while the air cooled by a refrigerant returns to the indoor unit creating a continuous cycle. 
Reverse Cycle Split System Or Cooling Only Split System
Reverse cycle split system air conditioners can heat as well as cool. These models can be a great solution if you experience both hot summers and cold winters. If you only want to cool down in summer, then you can save money by looking at cooling-only split system. 
A reverse cycle split system, or inverter air conditioner, simply reverses the cooling process so that heat is gathered from the outdoor unit and passed along to the indoor unit. Even on the coldest winter day, there is some heat in the environment that the outdoor unit can gather. When choosing a reverse cycle split system air conditioner you will notice it has two kW values, one of these is for cooling capabilities and the other is for heating.
Another option you may come across is an inverter air conditioner. An inverter air conditioner is able to deliver constant airflow for better temperature regulation. An inverter air conditioner is cheaper to run and is also quieter than a standard air conditioner.
RELATED:
Room Size 
Generally speaking, split system air conditioners are good for areas up to 60 square metres. Below is a rough size guide to help you figure out the capacity of the air conditioning system you require.
For an area of 40 to 60 square metres choose a system that is 4 kW to 6kW
For an area of 20 to 40 square metres choose a system that is 2. 5kW to 5kW
For an area of 20 square metres or less, choose a system that is 2 kW to 2. 5kW
It's best to choose split systems that are slightly more powerful than you need. A little extra power in extreme weather is always nice, so if you think you need a 4kW model, go for a 4. 5kW model.
With that said, don't go for a model that is too much above the required capacity as this can result in an inefficient system that is using more power and producing higher running costs than necessary. Equally, choosing a split system air conditioner that is too small for the room isn't a good idea either as it will need to run at maximum capacity in order to maintain the set temperature. This can cause excessive wear and can cause the air to be drier than usual.
Other Factors 
When looking at the room size to determine which air conditioners are right for you, you should consider several factors. Measure the room by length, width, and height to get an estimate. Then look at the purpose of the room; an open-plan living room will need a stronger system than a bedroom. 
Next, consider the orientation or the windows; large windows that face north or west are going to let in a lot of heat. Consider also any curtains or shading you have in place, as well as insulation in the walls, floors and ceiling. Finally, consider what the local climate is like. All of these things will help you determine which system is best for you.
Style & Positioning
There are lots of brands offering air conditioner models of all styles and sizes. While the air conditioner will be wall mounted you don't want it to look bulky or out of place so take into account the size, style and where in the room you will position the unit. It is easier than ever to find sleek and modern systems that will blend in with your living area.
Generally, split systems need to be wall mounted and positioned in a central location in the room. Installing the air conditioner up high can help cool the room more evenly. A wall mounted air conditioning system should not be positioned in a way that furniture will block the flow of air.
The outdoor unit needs to be placed somewhere where it does not get a lot of direct sunlight. This is because if the system is often in direct sunlight it will have to work even harder to cool meaning more electricity will be used and the more money you'll pay in energy bills.
Air Quality
You can expect air conditioners to have filters that remove germs and smoke but some systems have air ionisers and HEPA filters to purify the air. This is particularly important if someone in the home suffers from allergies or asthma. You will pay a higher price for these advanced systems but your home air quality will be significantly better.
Many air conditioning systems, such as those from Daikin, offer advanced air purifying features to ensure dust particles, bacteria and odours are removed so the air is fresh and clean. When you compare models take a look at the filters they use. Some brands such as Panasonic even offer air conditioners that are approved by the National Asthma Council of Australia. These are the best air conditoner units for people with allergies and asthma.
Energy Efficiency
Regardless of whether you choose a reverse cycle split system, a cooling only split system or an inverter air conditioner you will want to take a look at the energy efficiency rating. The energy efficiency is shown using a star rating system making it easy to understand and compare the ratings.
The more energy efficient the system is the lower the running costs will be. The Daikin US7 offers an incredibly energy efficiency rating of 7 stars. A higher energy efficiency rating may cost more to buy but it still presents better value for money as you will be able to save in the long run.
Ease Of Cleaning
Filtering the air and ensuring it is clean is a key feature on most air conditioners. Many brands include a self-cleaning function that helps keep the inside of the split system air conditioner clean and free from dust or mould. Having a self cleaning function keeps the air conditioner running efficiently. Not all home air cons have a self cleaning feature but it's worth getting.
Controls
Remote Control – there are often many modes and adjustments to choose from on an air conditioner so the remote needs to be well labelled, user-friendly and include an easy to read LCD screen. If you have a reverse cycle split system air conditioner it should be easy to switch between heating and cooling using the remote control.
Modes – different air conditioners come with different settings and modes. Some are able to cool, heat, dehumidfy and more while others may only let you adjust the heat/ cooling function and the fan speed. Whatever model you choose make sure it is easy to switch between the modes.
Fan Speeds – look at air conditioners that offer multiple fan speeds as this lets you control how quickly the room is cooled or heated and how much draught is experienced.
Smart Features
You may find smart features on a modern split system air conditioner. These can include:
Human presence sensor
This is a sensor that detects whether there is someone in the room, some of the best air conditioners can also detect where in the room a person is so the air can be directed towards them. If no one is detected the unit may switch off or go into an economy mode to help reduce power consumption and running costs.
This sensor is named different things depending on the air conditioner brand and model. This function is known as Intelligent Eye on Daikin products, Eco Operation on Mitsubishi Heavy Industries products, Absence Detection on Mitsubishi Electric products and ECONAVI on Panosonic products.
Wi-Fi Connectivity
Being able to connect the split system air conditioner to wi-fi is becoming increasingly common. This lets you connect to the air conditioner and control it through an app or your smartphone. This is convenient and is great for changing the settings when you're not at home or when you can't find the remote.
Voice Control
In addition to having wi-fi connectivity, some models now work with Alexa and Google Assistant so you can turn them on and off through voice commands. This is a great addition for those with smart home systems and is often seen at the higher price range.
Warranty
Air conditioners can be expensive so it is recommended you choose models that come with a warranty. A comprehensive warranty will make it easy to get the system repaired if needed and will help you keep the air con running as it should. The best air conditioners come with a warranty of 5+ years but it depends on the brand and the price.
Functions & Features
Noise Level – most split system air conditioners are quiet enough for use at home but the noise level does vary from model to model. Indoor units can range from around 20dB – 50dB while outdoor units are louder and range from 40dB – 70dB. A noisy unit can impact your conversations or sleep quality so it is best to choose a system that is quieter.
Adjustable Thermostat – this gives you control over the room temperature so you can set the best temperature for the room and the air conditioner will work to maintain this.
Timer – if the split system air conditioner has a programmable timer this can help you save energy and only use the system when it is needed. The timer is particularly good if you tend to forget to switch it off before you go to bed or leave your home.
Adjustable Louvres – this lets you adjust the direction of the airflow to suit your needs. If the air conditioner has adjustable louvres you should be able to control them via the remote or app.
Sleep Mode – most models offer a sleep mode. This will reduce noise levels while still maintaining a comfortable temperature so you can get a good night's rest.
Split System Air Conditioner Installation
It is important the air conditioner is installed by a licensed installer as a split system and reverse cycle split system air conditoner use refrigerant gas. Make sure the installer is accredited by the Australian Refrigeration Council (ARC). Don't forget to factor in the installation cost in your budget.
A note about refrigerant gas – R32 is quickly becoming the best option when it comes to refrigerant gas, it offers improved efficiency and lower global warming potential meaning it is better for the environment. There are still many split systems that use ozone depleting refrigent gas, namely Hydrofluorocarbon (HFC). This is slowly being phased out but it is worth being aware of the refrigent gas being used in the air conditioner you choose.
---
Split System Air Con FAQs
What size room will a 2.5 kW air conditioner cool?
A 2.5kW split system air conditioning system is suitable for a room of about 20 square metres. In areas with extremely hot weather, however, you may want to opt for a more powerful unit.