The best sewing machine is one that is easy to use, versatile and meets your creative needs.
Finding a sewing machine that suits your style, experience level and requirements is essential to having a good experience.
With hundreds to choose from it can be overwhelming, so use our reviews and buying guide below to help streamline your search.
---
1. Janome DC2150 Computerised Sewing Machine (Our Top Pick)
The best sewing machine for beginners is the Janome DC2150; it is versatile, affordable and easy to learn on.
The modern computerised design is user friendly and offers a host of impressive features to make sewing as straightforward as possible.
There are 50 built-in stitches and 3 button hole styles that can be easily selected using the LCD display and you have complete control over the sewing speed.
There is also a built-in light so you can see what you are doing and an automatic needle threader to take away one of the more tedious tasks in sewing.
The DC2150 is lightweight so if you plan on taking it to classes or on the road it's a great option.
What We Like:
Small and powerful
Great for beginners
Packed full of features
---
2. Brother A80 Computerised Sewing Machine
The Brother A80 is an incredibly versatile sewing machine that is ideal for hobbyists.
It offers a 3 speed control slider, a reverse option and a needle up/down button.
This is a fashion, sewing and quilting machine that can handle all fabric types and sewing projects.
There are 80 sewing stitches and 8 one-step buttonholes, the built-in jog dial and LCD screen make it easy to choose which of the stitch patterns or buttonhole styles you'd like.
The automatic needle threader ensures ease of use and the computerized sewing machine also offers automatic reinforcement at the beginning and end of seams and a lock stitch button for securing your thread in place.
The A80 computerized sewing machine comes with a hard carry case making it ideal for taking it to and from sewing classes.
This Brother sewing machine works at a speed of 850 stitches per minute so can make light work of heavy-duty jobs.
This is a sturdy sewing machine that offers a range of stitching options and plenty of features, it is one of the best sewing machines for both beginners and experts.
What We Like:
Fashion, sewing and quilting machine
Suitable for beginners as well as more experienced users
Packed with features
What We Don't Like:
Quite a heavy model weighing 9.8KG
---
3. Brother XT37 Sewing Machine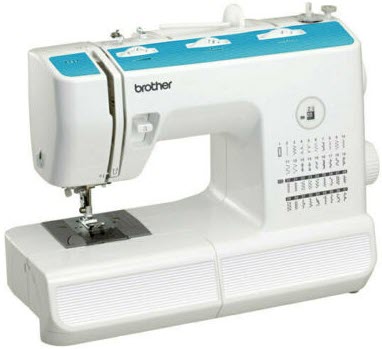 The Brother XT37 is a retro style machine with modern features. It has a quirky look, is very easy to use and is easy to maintain.
There are 37 built-in stitches and 1 button hole and there is LED lighting to make sure you can see what you are doing without using a large amount of power.
The top loading quick set bobbin is easier to thread than front loading machines and there is an automatic needle thread feature too.
This model includes an extension table to give you additional workspace and comes with a hard cover carry case to protect the machine during any travels.
What We Like:
Good stitch selection
LED lit and extendable work area
Automatic needle thread feature
Hard cover carry case
What We Don't Like:
Plastic frame is maybe not as durable as other options
---
4. Elna 664 Sewing Machine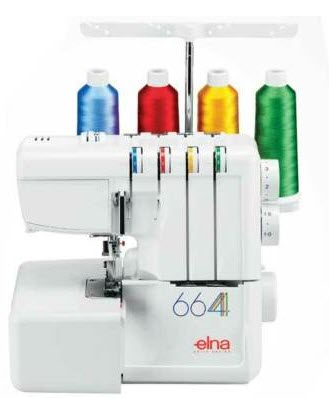 The Elna 664 is a compact machine that is great for both beginners and more experienced users.
This model is a basic overlocker so while it is perfect for those just starting out, it is also very versatile and packed full of features.
It is often difficult to thread an overlocker but the automatic lower looper function on the Elna 664 makes it considerably easier.
There are 12 stitch options and a colour-coded threading guide to reduce frustrations too.
The sturdy construction of this machine reduces noise and vibrations even when operated at a high speed.
These sewing machines come with an accessory box with lots of extra attachments and tools too.
What We Like:
Sturdy
Great for beginners and more experienced users
Quiet operation
---
5. Janome DC2050 Computerised Sewing Machine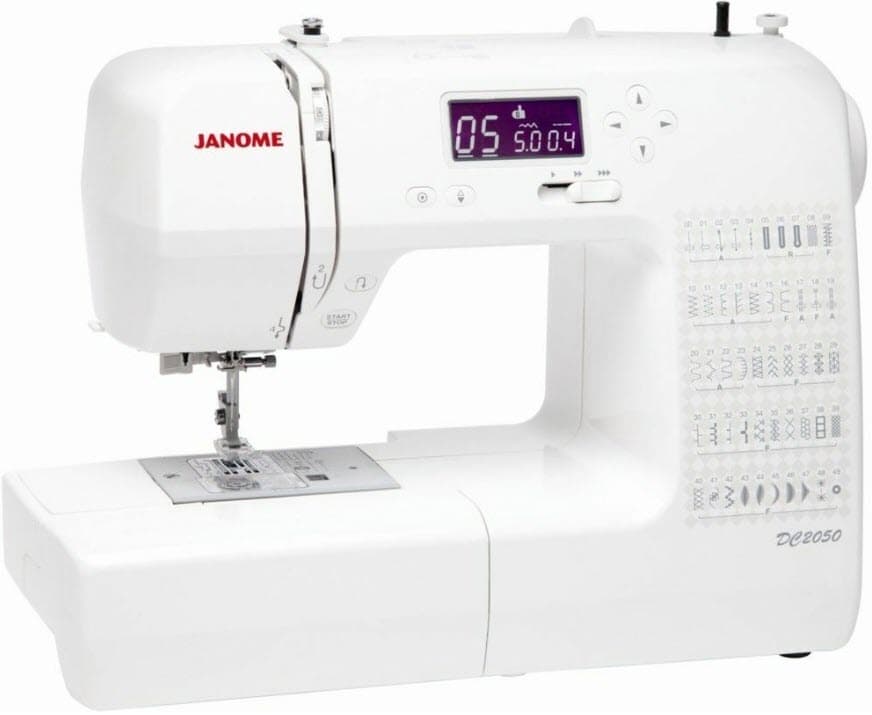 The Janome DC2050 is a fantastic computerised sewing machine for beginners. It has an easy-to-operate LCD touch panel and features 50 built-in stitches and 3 button hole styles.
The Superior Feed System (SFS) of 7-piece feed dogs ensures smooth feeding of material plus the ability to use hand-free techniques such as stippling with the ease drop feed dog lever.
There are many user-friendly features including a built-in needle threader, LED lamp and a reverse button.
This is an entry level sewing machine so is great for when you're just starting out with sewing.
What We Like:
Perfect for beginners
Ease of use, includes hand-free techniques
Quiet operation
---
6. Brother JA1400 Sewing Machine
The Brother JA1400 are user-friendly beginner sewing machines that are compact, durable and low maintenance.
There are 14 built-in stitch types and 1 button hole style and you can set the stitch length and width.
You won't need much worktop space for this machine and it is quiet during use too. While this is a traditional flatbed machine you can convert it to free arm for when you need to sew cuffs and sleeves.
This is an incredibly easy-to-use machine that is highly efficient and reliable for simple sewing tasks. If you're new to sewing this is one of the most affordable options.
What We Like:
Ideal first machine
Affordable
Comes with helpful DVD
What We Don't Like:
Only offers 14 built-in stitch types
Too basic for advanced sewing
---
7. Singer 2250 Sewing Machine
If you are looking for an affordable first machine that keeps things simple and traditional the Singer 2250 could be a good choice. This is a basic machine that can handle sewing and quilting and is best suited to smaller jobs.
This Singer sewing machine has 10 built-in stitches including 6 basic stitches, 3 decorative stitches and a 4-step automatic buttonhole setting.
The stitch length can be adjusted and there is a reverse operation feature that is simple to select and use.
If you are working on cuffs, collars and hems, you can convert the 2250 into free-arm mode. This Singer machine has built-in accessory storage so you can have everything you need on hand.
The bobbin is side-loaded which is a bit more fiddly to work and is sometimes considered old-fashioned compared to top-loading machines.
Once the machine is set up it offers a selection of user-friendly features including automatic bobbin winding, variable stitch length and simple stitch selection.
The Singer 2250 may be a basic machine but it is a good low-cost option for beginners and anyone looking for a more traditional option.
What We Like:
Low-cost option for beginners
Can be converted into free-arm
Built-in storage
What We Don't Like:
Side-loaded bobbin is not easily accessible
---
8. MIC Portable Sewing Machine
This is the best sewing machine for portability, it is small in size and weighs only 2.5kg making it ideal for travel and use on the go.
This mini sewing machine has 12 built-in stitches to meet your home fashion and sewing needs.
The MIC Portable sewing machine offers two-speed control (high and slow) and the double-thread design makes the stitches firmer.
To help extend your work area and make it better-suited for large projects the machine has an expansion table. It also has built-in lights and cutters so you can clearly see the finer details of your sewing.
These MIC portable sewing machines offer a reverse sewing function to help strengthen the sewing end and prevent loose ends from appearing.
The built-in accessory tray lets you keep all of your supplies on hand so you can conveniently carry everything in this one compact package.
This is one of the best sewing machine options for beginners and people with limited sewing space.
What We Like:
Compact and lightweight
12 built-in stitches 
Expansion table
What We Don't Like:
Not as durable as other options
---
Sewing Machine Buyer's Guide
A sewing machine is the perfect way to bring your creativity to life.
The right sewing machine for you will depend on skill level, functional needs and budget.
When looking for a sewing machine in Australia you will notice there are many types on the market, so this guide will help you find the best sewing machines for your needs:
Type
Mechanical – Older, basic sewing machines that are operated by hand and are best for occasional use.
Electronic – Electric powered machine that uses a foot pedal to control the motor, leaving your hands free while you sew.
Computerized – Modern, powerful machines that use technology to offer multiple stitches and numerous features. Computerized sewing machines have LCD control panels and tend to be more expensive.
Features beginners should look for:
Simple stitch selector and preset stitch length and stitch width
Built-in needle threader
Top-loading drop-in bobbin – this bobbin system is much more user-friendly than others
Free arm capability – for sewing cuffs and sleeves
Automatic buttonholer
Other things to look for:
Speed control
Tension adjustment
User-friendly controls
Lightweight and portable
Foot pedal
Thread cutter
Noise level
Durability
When choosing between models think about your sewing project:
Heavy Duty – if you are planning to use a machine each day for an extended period of time then it is best to take a look at heavy duty machines. A heavy duty sewing machine is best for a high level of use and for sewing and quilting thicker materials.
Quilting Projects – another key consideration is the fabrics you will be using and what you will be working on. A sewing machine for quilting can offer more work space, can handle thicker material and tend to have more add-ons making them best for quilts, thicker materials and larger projects.
---
Sewing Machine FAQs
Is Janome better than Brother?
The best option depends what you are looking for. Janome offers a minimalistic approach offering clean, sleek designs while Brother offers more built-in options and variety. Janome tends to cost more but are also very durable thanks to having metal parts incorporated into them. Both brands offer excellent quality sewing machines.
Is a computerized sewing machine better?
A computerized sewing machine can make sewing an enjoyable experience; they have lots of built-in features and are much smoother when compared to mechanical machines. If you are planning to do a lot of sewing and would like a smooth, versatile machine that grows with you, computerized are the best sewing machines to choose.
How long does a sewing machine last?
A well cared for sewing machine tends to last around 5 years. High quality machines that have been built for longevity can last a lot longer (25 years!).