If you never want to miss your favourite shows again, a PVR is what you need. This smart device gives you the ability to store hundreds of hours of high-quality recordings that can be accessed at any time (and sometimes even from anywhere!). One of the great things about a PVR is that your recordings will never expire or become unavailable like they will on on-demand services.
With a PVR you can watch live TV (as well as streaming services), pause and rewind shows and record programs and series with ease. Expanding your entertainment set-up with a PVR is easy when you know what features you want. The following reviews and buyers guide will help you find the best option for you.
Here are the best PVRs in Australia:
---
1. Panasonic 1TB Twin Tuner Smart PVR (Top Pick)
The Panasonic 1TB Twin Tuner is a smart-looking black-cased appliance that will easily match with your current TV set up. There is a range of brilliant features and functions on this Smart PVR including the ability to record shows while you watch Netflix.
The 1TB of available space is enough for up to 584 HD hours and you can also record to an external HDD too. For ease of use, you can use the built-in WiFi or there is an Ethernet port for a wired connection.
It is easy to navigate through TV programs and content to select what you want and you can set the device to record one episode or a full series. You can also record two programs simultaneously so you will never miss your favourite shows. Through the smart network, you can view a range of internet apps including Netflix, TuneIn Radio, Quikflix and Youtube. The 4K networking means image-processing is precise and offers incredible detail and depth.
What We Like:
User-friendly interface
High-quality recording
Generous hard drive space
What We Don't Like:
Some controls seem to have a couple of seconds delay in response time
---
2. Fetch Mighty PVR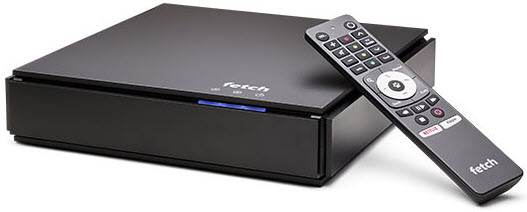 Fetch offers a seamless combination of all Freeview channels, app services such as Netflix and Stan and there is also a reasonable pay-TV subscription option if you want to view certain channels.
Fetch Mighty PVR lets you catch up on recent shows, record up to 585 hours of TV and automatically record whole series with the click of a button.
For added convenience, there is a Fetch Apple/ Android app which allows you to control and view the recordings from anywhere. The remote control and menu screen are both intuitive and easy to use. There's also no lag when you change channel which makes for a more pleasant user experience.
What We Like:
Versatile
Combines Freeview and Internet channels seamlessly

 

Value for money
---
3. Laser STB-6000 HD Set Top Box PVR
With the Laser STB-6000 you can record your favourite shows directly onto a USB or hard drive while you view another channel on your TV. The PVR works with old and new TVs and has RCA, USB and HDMI connections.
There is a 7 day electronic TV guide and you can set the PVR recorder to record one program at a time. There are parental controls that can be used to password protect programs and you can rewind or fast forward recorded tv shows.
This set top box is compact and comes with a small remote control. The media player is perfect for music, photos and videos. For added personalisation, you can favourite, move, rename, lock and delete channels to suit your preferences.
What We Like:
Compact size
Parental controls
Easy to use
What We Don't Like:
Not suitable for satellite connections
---
4. Panasonic 3D Blu-ray DVD Recorder HDD PVR

This Panasonic PVR does it all, whether you want 4K video playback, the ability to simultaneously record 3 programs or you want to use internet apps such as Youtube. With this device, you get Blu-ray, DVD and CD playback as well as Blu-ray and DVD recording.
You never need to worry about missing your favourite TV or movie again (even if they happen to overlap) as this recorder has 3 HD tuners so can record up to 3 shows at any one time. As well as this, you can set it to record full series automatically meaning you don't have to go back to the guide and search for the show each week.
The DIGA application allows you to view live or recorded programs from your smartphone or tablet any time. This Panasonic recorder is packed full of smart features so if you are looking to get one of the best, feature-rich experiences this product may be worth a closer look. The connection options include Ethernet, SD memory slot, 2 USB ports and a HDMI port.
What We Like:
Loads of features
Record up to 3 programs at once
High-quality 4K ability
What We Don't Like:
The "Guide" button on the remote will immediately take you out of whatever you are doing meaning you will lose your place in a movie, have to reload Netflix etc.
---
5. Panasonic 3D Blu-Ray Disc Recorder HDD PVR

This Panasonic 3D Blu-Ray Disc Recorder can record two different programs at the same time, offers remote viewing and can enhance Blu-Ray picture quality to 4K.
This TV recorder features a 500GB built-in hard drive and with HBB TV you can catch up on shows you missed without having to record them. You can also watch TV from your phone or tablet, you just need to be connected to a network.
For easy programme selection, you can use the series recording function or the keyword recording function to make sure you never miss out on shows you enjoy. With this PVR system, you can also access online content including movies, games and music.
What We Like:
DVD and Blu-ray player and recorder
4K upscaling
Easy to use TV catch up
What We Don't Like:
Less internal space than some other recorders
---
PVR Buyer's Guide
PVRs are an easy way to make sure we never miss our favourite content again. PVR stands for Personal Video Recorder and in its simplest form it allows you to record TV shows so you can watch them later with the ability to pause, rewind, fast-forward and stop the recording as you please.
A PVR is a highly functional appliance that can add some sophistication to your home-entertainment set-up. Different PVRs offer different features, below are the top factors worth keeping in mind when you are buying a PVR.
Hard Drive Size
The PVR will have a built-in hard drive to save the shows too.
The size of the inbuilt memory varies between personal video recorders but on good models you can expect at least 500GB of space which should be able to store around 70 hours of high definition recordings.
Storage size options are usually 500GB, 1TB or 2TB.
Ability to Pause and Rewind Live TV
The ability to put your TV on pause and even rewind if you missed something is a common feature on PVRs. This is great as it gives you the freedom to pause your show if needed (ideal for if the phone rings or if dinner is ready) and then come back to the program when you're ready.
RELATED:
Transferring Data
Your PVR may contain shows or films that you want to view later on or watch on another device, or maybe your PVR is running out of space, these are a good example of when you should look for a PVR that allows you to transfer data to other drives.
This is the ability to move your recording onto external hard drives or USBs, it can be a beneficial function to have. Some models may also let you burn content onto DVD discs if they have an included DVD reader.
Electronic Program Guide (EPG)
The Electronic Program Guide provides you with the program schedule from your TV, e.g. Freeview, this allows you to check what shows are on when and set reminders and recordings with ease.
The majority of PVRs have a 7-day EPG but some do offer more days for planning further ahead (this is great if you are going away on holiday and don't want to miss your shows!).
RELATED:
Recording More Than 1 Show At Once
It is common for PVRs to offer the ability to record at least two shows at the same time on different channels. Some devices offer more than this so if you know there are going to be multiple programs that air simultaneously take a look at getting a PVR that features more than one tuner. In many cases, you are also able to watch a show while two or more recordings are taking place.
Internet Access
The final important factor to take into account is internet access, connecting to the internet will give you full access to all of the available features. Many PVRs are compatible with internet apps such as Youtube and Netflix as long as you have an internet connection. Some products have Wi-Fi while others have an Ethernet port or wired internet connection. Connecting to the internet will improve the PVRs functionality so make sure the device you choose and your internet setup are going to be compatible.
RELATED: Roku Australia
---
PVR FAQs
What is the difference between a PVR and a DVR?
A Personal Video Recorder (PVR) and a Digital Video Recorder (DVR) are more or less the same thing just with different names. The biggest difference that may be seen between the two is that a PVR often stores the files on a large hard drive so is able to store more content and keeps it saved for as long as you want. A DVR stores shows for a temporary period of time on a smaller drive so if you want to keep them for longer you will need to burn them onto an external disc.