Mattress toppers are a great way to add comfort and protection to a mattress, not to mention extending it's useful life. However with so many products on the market it can be difficult to know where to start. 
To assist you on your search for the best mattress topper we've created this in-depth buyers guide covering everything you need to know.
types of mattress toppers
Mattress toppers come in a range of materials, shapes and sizes, each catering to different requirements and budgets.
Below we look at the most popular materials for mattress toppers and the pros and cons of each.
Downia Gold Collection White Goose Down and Feather
Mattress Toppers vs Mattress Pads vs Mattress Protectors
It's important to distinguish between mattress toppers, pads, and protectors.
Mattress toppers and pads are similar and have the shared purpose of making a mattress softer or more comfortable. Toppers generally being a bit thicker than pads and therefore providing superior cushioning. 
Mattress protectors are a lot thinner and have the primary purpose of protecting the mattress from fluids and allergens.
While there is a lot of crossover in terms of these products and their benefits, in this article we will generally focus on mattress toppers.  
Mattress Topper Reviews Australia:
#1 MiniJumbuk Sleep Therapy Mattress Topper review
The Sleep Therapy Mattress Topper is a high-end offering from Australia's favourite wool bedding company, MiniJumbuk.
Because of the springy, more dense properties of wool, it is generally more supportive than down or feathers, while still offering the benefits of breathability and durability of a natural fibre.
This particular topper features multiple layers of cushioning with the purpose of reducing body pressure points and assisting with back, shoulder, neck or hip pain. 
Further, the topper can be flipped over in warmer months so the cotton layer is closest to the body, providing a cooler sleeping surface.
MiniJumbuk claim this mattress topper is suitable for allergy and asthma sufferers and offer a 5 year guarantee.
While it's not cheap, you do pay for what you get, and this high quality wool topper is sure to last you for many years to come.
#2 Downia Gold Collection White Goose Down and Feather Mattress Topper review
From one of Australia's favourite down bedding manufacturers, this medium weight topper combines 30% goose down with 70% goose feather for a luxurious nights sleep.
A fitted skirt allows for easy bed making, while a down proof casing ensures no filling escapes. 
This topper from Downia is machine washable and comes with a 1 year guarantee.
#3 Downtime Luxury High Loft Fitted Mattress Topper review
A great high quality, super comfortable option for those not wanting to break the bank, the Luxury High Loft Topper from Downtime utilises a fine polyester filling to achieve down-like softness and comfort.
This topper is designed to provide that luxurious hotel bed style comfort while also helping you keep warm in winter months.
Great for allergy sufferers, it is treated with with Downtime's 'Ultra fresh' for hygienic protection, and can also be machine washed.
Overall, a great mid-range option that gets rave reviews from all who try it.
#4 Herington Latex Mattress Topper review
A natural latex topper, this product has been tested and verified by the Eco-Institut so you can rest easy knowing it contains none of the toxic materials found is some of today's bedding products.
A great natural alternative to memory foam, latex mattress toppers can help provide a better nights sleep by relieving pain on pressure points and providing support where your body needs it.
Both antibacterial and hypoallergenic, it is also a great option for allergy sufferers. This topper also comes with a removable washable cover for improved durability and easy care.
#5 Bambi Gel Infused Memory Foam Mattress review
An affordable, super comfortable mattress topper from Bambi, this product is made from memory foam which is known for providing both comfort and support.
Gel cooling crystal are infused in the foam of this mattress topper to regulate body temperature and prevent overheating. This is a great option for those wanting to add a soft top layer to mattresses that are slightly too firm.
Note that this topper is on the thinner side of those included in this article so is unlikely to provide that soft, luxurious feeling offered by the thicker, high-loft options.
Also included is a washable cotton cover for added durability, and a 12 month guarantee.
#6 Bambi Polyester Fibre Ball Mattress Topper review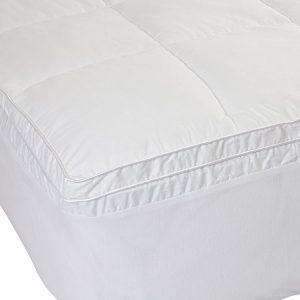 This topper from Bambi presents a good quality, very affordable option for those looking to add a layer of comfort to a tired or too-firm mattress.
Filled with soft fibre balls for comfort, and encased in a pure cotton cover for durability and breathability, this topper will be a welcome addition to any bed.
Machine washable and tumble dry friendly, this is also an easy-care option. It also comes with a 5 year guarantee.
#7 Bambillo Mattress Topper Review
Bambillo mattress toppers are fairly well known due to their frequent TV advertising.
Similar to the Bambi Gel Infused Topper, these products are also manufactured with a type of memory foam designed to provide comfort and support while also regulating body temperature.
The Bambillo topper comes with a removable machine-washable case and anti-slip pads to stop it moving around on your mattress.
As with all memory foam mattress toppers at the cheaper end of the market, you should be wary of both the materials used in construction, as well as durability.
Bambillo mattress topper price
Unfortunately, Bambillo don't publish the price of their mattress topper on their website. Previous customers state they paid between $300 – $900 for their topper, depending on the size, however the company does sometime offer 2-for-1 deals.
If we had to pick just one mattress topper from this list we'd go with the Sleep Therapy Mattress Topper from MiniJumbuk. 
Crafted with care by machine and hand in South Australia, and offering the unique combination of comfort, support, warmth and heat regulation, offered by the natural fibre of wool, this really is an incredible product.