Mattress toppers are a great way to add comfort and protection to a tired, uncomfortable or old mattress without needing to replace it. This helps you save money and will extend the life of the mattress.
However, with so many mattress toppers in Australia it can be difficult to know where to start. 
To assist you on your search we've reviewed some of the best mattress toppers available. Following on from these top picks is an in-depth buyers guide covering everything you need to know when selecting a mattress topper.
---
1. MiniJumbuk Sleep Therapy Mattress Topper (Top Pick)
The Sleep Therapy Mattress Topper is a high-end offering from Australia's favourite wool bedding company, MiniJumbuk.
Because of the springy, more dense properties of wool, it is generally more supportive than down or feathers, while still offering the benefits of breathability and durability of a natural fibre.
This particular mattress topper features multiple layers of cushioning with the purpose of reducing body pressure points and assisting with back, shoulder, neck or hip pain. 
Further, the topper can be flipped over in warmer months so the cotton layer is closest to the body, providing a cooler sleeping surface. This is perfect for handling the changing seasons in Australia.
MiniJumbuk claim this mattress topper is suitable for allergy and asthma sufferers and they also offer a 5 year guarantee.
While it's not cheap, you do pay for what you get and this is one of the best mattress toppers. This high quality wool topper is sure to last you for many years to come.
---
2. Downtime Luxury High Loft Fitted Mattress Topper
This is one of the best options for those not wanting to break the bank. This Luxury High Loft Topper from Downtime is a high quality, super comfortable option that utilises a fine polyester filling to achieve down-like softness and comfort.
This topper is designed to provide that luxurious hotel bed style comfort while also helping you keep warm in winter months.
This is also one of the best mattress toppers for allergy sufferers, it is treated with Downtime's 'Ultra fresh' for hygienic protection, and can also be machine washed.
Overall, this mattress topper offers a great mid-range option that gets rave reviews from all who try it.
---
3. Peacelily Mattress Topper
This mattress topper from Peacelily is made from 100% natural latex rubber with a 100% organic cotton cover. There are two firmness options; a luxury plush comfort feel perfect for if you want a softer option to provide extra pressure relief or a firm comfort feel which provides additional support and stability.
This is one of the best mattress toppers on the market for anyone looking for an eco-friendly. option. This mattress topper is eco-INSTITUT and Oeko-Tex Class 1 Certified meaning it is made from non-toxic, environmentally friendly and sustainable sources. There are no synthetic materials used and this mattress topper is completely free from harmful chemicals.
A new mattress topper from Peacelily comes with a 10 year warranty as well as a 100 night trial. This latex mattress topper is luxurious, hand-made and will help improve your comfort and sleep quality.
---
4. Ecosa Mattress Topper
This gel memory foam mattress topper from Australia brand Ecosa is packed with great features to transform your old or uncomfortable mattress. This is an eco-friendly option that is CertiPUR-US certified and uses OEKO-Tex Standard fabrics.
The 3D gel structure allows air flow to help keep you cool and it has charcoal infusions to keep it resistant from odour and bacteria. The topper has a removable cover so you can easily wash it when needed.
The memory foam layer moulds to the shape of your body to provide support and comfort. It also helps reduce partner disturbance so you can both enjoy uninterrupted sleep. This fully fitted mattress topper has elasticated straps as well as a grippy backing material to make sure it stays in place.
---
5. Dreamaker Bamboo Mattress Topper
If you're looking for an affordable mattress topper, this one from Dreamaker is one of the best options. It is made with a bamboo-blender cover and a polyester ball filling that will help soften your bed.
The stitched grid design makes sure the fill covers your bed evenly to give you the most comfortable experience.
This bamboo mattress topper is available in single, king single, double, queen, king and super king sizes. Each has an elasticated skirt to fit all mattresses. This is not as thick as other options but it is soft, warm and feels luxurious.
---
6. Cloudland Microfibre Mattress Topper
This 750GSM mattress topper provides a soft cushion to support you so you can enjoy a great night's sleep. This topper has a microfiber cover and a polyester ball fibre fill.
The fibre fill is hypo-allergenic and memory resistant so it will shape to your body for ultimate comfort. It also has a square quilted design to keep the filling evenly distributed.
To make it easier to secure to your mattress, the topper has a polyester and cotton skirt which can fit mattresses up to 45cm deep. This Cloudland topper can also be machine washed on a gentle cycle to make it easy to clean and maintain.
---
7. Ovela Bamboo Memory Foam Mattress Topper
The Ovela bamboo memory foam mattress topper presents great value for money in a product that is comfortable, supportive, and durable.
This memory foam topper moulds to your body, providing relief for key pressure areas and assisting with correct spinal alignment. When you get up, the topper springs back into shape.
The cover of the topper is made from bamboo. This natural fibre is becoming one of the most popular materials used in bedding thanks to it being light, breathable, and moisture wicking.
These properties help you get a good nights sleep, especially during the Australia summers.
The bamboo mattress topper is also naturally hypoallergenic, meaning it resists bacteria, dust mites and mould, perfect for those who suffer from asthma or allergies.
Overall, the Ovela bamboo memory foam mattress topper is a great value option that is perfect for adding an extra layer of support and comfort to an old mattress.
---
8. Downia Gold Collection Goose Down And Feather Mattress Topper
From one of Australia's favourite down bedding manufacturers, this medium weight topper combines 30% goose down with 70% goose feather for a luxurious nights sleep.
Goose down and feather is one of the best mattress topper materials for adding luxury and for keeping you a good temperature while you sleep. The sewn-through casette makes sure the filling is evenly filled to avoid cold spots.
A fitted skirt allows for easy bed making, while a down proof casing ensures no filling escapes. You can get a new mattress topper from Downia in queen or king size. This topper is also machine washable and comes with a 1 year guarantee.
---
9. MicroCloud Mattress Topper
MicroCloud mattress toppers are marketed as offering a hotel-style level of comfort and luxury. They are very popular thanks to their ability to offer exceptional comfort without sacrificing on support.
These toppers are constructed with a synthetic fibre filling which is light enough to allow airflow and breathability but dense enough to provide the support required to relieve pressure and add an extra level of comfort to your mattress.
The MicroCloud mattress topper is also hypoallergenic, anti-microbial and dust mite resistant. This is one of the best mattress toppers if you want to enjoy luxury 5 star hotel comfort at home. You can buy a microcloud mattress topper in all mattress sizes including single, double, queen, king, super king, king single and long single.
---
10. Herington Latex Mattress Topper Review
A natural latex topper, this product has been tested and verified by the Eco-Institut so you can rest easy knowing it contains none of the toxic materials found in some of today's bedding products.
One of the best memory foam alternatives, natural latex mattress toppers can help provide a better nights sleep by relieving pain on pressure points and providing support where your body needs it. It's a great option for back and side sleepers and will keep you comfortable throughout the night.
Both antibacterial and hypoallergenic, this bed topper is also a great option for allergy sufferers. Latex is also naturally dust mite resistant which is a big plus. This topper also comes with a removable washable cover for improved durability and easy care.
---
11. Bambi Gel Infused Memory Foam Mattress Topper
An affordable, super comfortable mattress topper from Bambi, this product is made from memory foam which is known for providing both comfort and support.
This gel infused memory foam uses gel cooling crystals to help regulate body temperature and prevent overheating. Some people think the best memory foam topper to have is gel memory foam as a standard memory foam mattress topper can get a bit warm. This is a great option for those wanting to add a soft top layer to mattresses that are slightly too firm.
Note that this topper is on the thinner side of those included in this article so is unlikely to provide that soft, luxurious feeling offered by the thicker, high-loft options.
Also included is a washable cotton cover for added durability, and a 12 month guarantee.
---
12. Bambi Polyester Fibre Ball Mattress Topper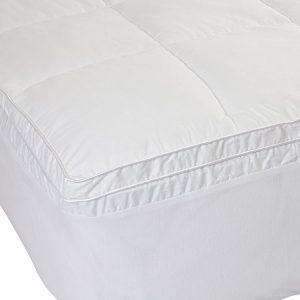 This topper from Bambi presents a good quality, very affordable bed topper best suited for those looking to add a layer of comfort to a tired or too-firm mattress.
Filled with soft fibre balls for comfort, and encased in a pure cotton cover for durability and breathability, this topper will be a welcome addition to any bed.
Machine washable and tumble dry friendly, this is also an easy-care option. It also comes with a 5 year guarantee.
---
13. Bambillo Mattress Topper Review
Bambillo mattress toppers are fairly well known due to their frequent TV advertising.
Similar to the Bambi Gel Memory Foam Topper, these products are also manufactured with a type of memory foam designed to provide comfort and support while also regulating body temperature.
The Bambillo topper comes with a removable machine-washable case and anti-slip pads so it won't move around your mattress.
As with all memory foam mattress toppers at the cheaper end of the market, you should be wary of both the materials used in construction, as well as durability.
---
Bambillo Mattress Topper Price
Unfortunately, Bambillo don't publish the price of their mattress topper on their website. Previous customers state they paid between $300 – $900 for their topper, depending on the size, however the company does sometime offer 2-for-1 deals.
---
Verdict
While all products on this list are great, our top pick is the Sleep Therapy Mattress Topper from MiniJumbuk. 
Crafted with care by machine and hand in South Australia, and offering the unique combination of comfort, support, warmth and heat regulation, offered by the natural fibre of wool, this really is an incredible product.
---
Mattress Topper buyer's Guide
Mattress toppers come in all sizes, materials and firmness levels and it can be difficult to choose between them. The best mattress toppers Australia has to offer will transform your comfort level and sleep experience. Use this guide to find the best mattress topper in Australia for your needs.
Mattress Toppers Vs Mattress Pads Vs Mattress Protectors
First off, it's important to distinguish between mattress toppers, pads, and protectors.
Mattress toppers and mattress pads are similar and have the shared purpose of making a mattress softer or more comfortable. A mattress topper is generally being a bit thicker than pads and therefore providing superior cushioning. 
Mattress protectors are a lot thinner and have the primary purpose of protecting the mattress from fluids and allergens.
RELATED:
Types Of Mattress Toppers
Mattress toppers come in a variety of materials and styles. Here are the most common types of mattress toppers on the market in Australia:
Wool – breathable and durable, wool is a great all-season option. Wool is also comfortable and supportive, retaining its shape even after extended use. It is one of the best mattress toppers for both hot and cold sleepers as it regulates body heat throughout the night and will wick moisture if you sweat. The material is naturally hypoallergenic however extreme allergy sufferers may still wish to opt for a synthetic option. Wool toppers also often come in on the expensive side.
Bamboo – this material is becoming more and more popular in bedding products and with good reason. A bamboo cover is comfortable and durable and is also naturally hypoallergenic, unlike other some other natural fibres. Further, bamboo is usually sustainably sourced, making it one of the best eco-friendly options. In terms of care, bamboo mattress toppers may require a bit more care than synthetic options.
Feather and down – Seeking that luxurious 5 star hotel comfort? A goose down and feather topper may be worth checking out. Perfect for adding a soft layer to a too-hard mattress, feather toppers are also great for people who sleep hot as they absorb minimal body heat meaning a good night' s sleep without overheating. While this may all sound appealing, keep in mind that feathers offer much less support than most alternatives and are one of the worst options for allergy sufferers. Other downsides include ethical concerns and a high price tag.
Latex – popular in modern mattresses and pillows, latex mattress toppers are also very common. This material provides comfort and support, making it a good option for back pain and body aches. It is also naturally resistant to dust mites. While often touted as an eco-friendly option, take care in choosing the type of latex used in construction. While natural latex comes from the sap a rubber tree, synthetic latex is petroleum-based. It pays to research the manufacturer and ensure they aren't fuelling deforestation for plantation of trees for latex production.
Memory Foam – another popular material found in the best mattresses toppers is memory foam. It is famed for moulding to the contours of your body, relieving pains and pressure points, making it popular with those who suffer from joint and back pain. This synthetic material is made from polyurethane and is also favoured thanks to minimal partner disturbance. Downsides include a high price tag and poorer temperature regulation vs natural fibres. It can also give off unpleasant odours when new.
Cooling gel – cooling gel is often layered into memory foam toppers to help solve the common problem of heat retention. Gel-infused memory foam is designed to draw heat away from the sleeper while also introducing some airflow into the foam topper. While some users report good cooling effects from their gel mattress, opinions vary widely, so it's worth doing your research. Further, if you're someone who does struggle with sleeping hot (e.g. night sweats), you may wish to look at a different material altogether.
Synthetic fibres – designed to replicate the luxurious feeling of down or feathers, synthetic toppers are rapidly improving in quality and popularity. While this down alternative generally won't offer the support of foam, or durability of wool, the best microfiber toppers are very easy-care (usually machine washable), hypoallergenic, and are also the most affordable option.
Guide To Firmness Level
The best mattress topper for your bed depends on whether you want to add support or add comfort. Think about whether you want to make your existing mattress softer or firmer. Do you want your bed to be cloud like or supportive? The best mattress toppers can also help you regulate temperature better when sleeping too. There are 3 firmness levels to choose from:
Firm
A firm mattress topper will support your body and add structure to a soft mattress. These are the best mattress toppers if you experience a lot of aches and pains, as they can improve your sleeping position and reduce the discomfort experienced.
Medium
Choosing a medium firm mattress topper is great for adding support and comfort but without making the bed too soft or too firm. This is a perfect middle ground and can be the best option for couples who have different preferences.
Soft
A soft mattress topper is best for adding a cosy layer on top of a firm bed. This will add comfort and is often described as "cloud-like" as the materials adapt to your body. The only downside to a soft mattress topper, particularly in Australia, is that it's not the best cooling option if you are often hot at night. If you do get hot at night look for a cotton or bamboo cover that is more breathable.
Other things to keep in mind:
Warranty period
Find a mattress topper that comes with a warranty period. A 2 year warranty seems to be the standard in Australia but there are options that offer massive 10 year warranties. This will depend on the company you decide to buy your new mattress topper from.
Size
Obviously, you will need a mattress topper that is the same size as your bed. Many manufacturers offer toppers in each of the common sizes and the best mattress toppers also have a skirt around the edge that makes sure it will fit onto the bed with ease.
Thickness
The thickness will depend on a couple of factors including the type of filling used. Most mattress toppers are between 1-5 inches thick. When choosing the best thickness for you, take into account whether you need a little bit of extra comfort and support or a lot. If you're not sure 3 inch options are a great in-between option that provides a good level of support. When selecting the thickness also keep in mind if you will still be able to fit a fitted sheet over the top of your mattress and topper too.
GSM
You will probably see GSM (Grams per Square Metre) mentioned a lot on specifications for mattress toppers. The GSM tells you the weight of the filling and the higher the number the denser the topper filling is going to be. Generally, this results in a thicker and fluffier feeling.
Any harmful chemicals used in construction
Look for mattress toppers that contain 100% natural materials. The best mattress topper will not use any harmful chemicals during the manufacturing process but many of the lower quality options do so be careful of this.
Durability and lifespan
Most mattress toppers are fairly durable and will last for several years but it depends on the model and the material you choose.
Care
The best mattress toppers can be machine washed. Always check the care instructions as some cannot be washed or dried in machines.
Customer rating
Looking at mattress topper reviews from customers gives you a clear indication of the quality of the different toppers on the market and how real customers experiences have been. Topper reviews are the best and quickest way to see what's good and what's not so good.
Price point
The material you choose plays a large role in the price. A fibre or latex mattress topper tends to be more affordable than a wool or memory foam mattress topper.
Trial Period
Many of the best mattress toppers in Australia come with a trial period that gives you the chance to try it out and see if it works well for you. Trial periods tend to last between 30-100+ days and some brands don't offer a trial period at all.
Your sleeping style
The best mattress topper is different for side sleepers, back sleepers and stomach sleepers. Soft to medium firmness is usually best for side sleepers. Back sleepers tend to find high depth toppers of medium to high firmness are the best option as this supports the spine. Stomach sleepers will also benefit from a firmer mattress topper with a lower density as this will help prevent sinkage around the stomach area.
Motion Isolation
If you would like a bed topper that absorbs motions and isolates it to certain parts of the mattress (something that is very useful if you share a bed with someone) look for a latex or memory foam topper. Fibre, wool and feather toppers are not as effective for motion isolation.
Stretch skirt or straps to hold in place
To help hold your mattress topper in place most come with a stretch skirt or elasticated straps. Both options are effective in holding the topper in position.