Dogs love to play and the toys they have can make a big difference in how they spend their time. Dog toys are fantastic for your dogs mental and physical health as they provide stimulation, fun and exercise.
There are lots of toys to choose from so to help you find the safest and most exciting options we've reviewed the best dog toys available. If you're still not sure which dogs toys your pup will love, check out the buyers guide below too.
Here are the best dog toys in Australia:
---
1. Best overall: KONG Classic Medium Red Rubber Toy (Top Pick)
The KONG Classic dog toy is a multifunctional toy that both dogs and dog owners love.
This toy can withstand chewing, can be used for games of fetch or can be stuffed with treats to create a food puzzle that provides excellent enrichment for your dog. This is a well-known toy that is designed to meet a variety of your dog's needs.
The unusual shape of the Kong gives it an unpredictable bounce which encourages a dog's instincts to give chase. This is not only a great toy, but it can also help solve a range of issues from crate training to separation anxiety.
You can fill the Kong with tasty treats such as peanut butter and it will help to keep your pup distracted while you are busy.
One of the things the Kong is best known for is being so tough that it is nearly indestructible. The kong is made from natural rubber which is incredibly durable so will last a long time.
What We Like:
Durable
Offers mental stimulation and enrichment
Can be filled with food to create a food puzzle
What We Don't Like:
It can be difficult to clean the inside of the kong
---
2. Best dog ball: Chuckit! Ultra Ball
The Chuckit! Ultra Ball is a great option for dogs that love to play fetch. The bright colours help make the ball visible and the tough rubber makes it far more durable than standard tennis balls.
This ball is designed to be lightweight and bounce high while remaining tough enough to withstand even the most intense games of fetch.
If your dog loves water, the Chuckit! Ultra Ball is ideal as it can float and doesn't soak up any water. The extra-thick rubber core is sturdy and can be chewed by your dog without being damaged.
There are 5 sizes to choose from and these balls are compatible with the Chuckit! Launchers which are perfect for pet owners who want to throw the ball far without getting their hands wet or muddy.
What We Like:
Sturdy and long-lasting
Can be used in water
Bright colours and high bounce
What We Don't Like:
These balls may have a strong rubber smell at first
---
3. Best dog ball launcher: Chuckit! Sport Launcher
The Chuckit! Sport Launcher is a great way to throw balls for your dog without wearing yourself out too. The arm of the launcher helps you to pick up the ball and send it on its way with ease and speed.
The ball launcher is made from lightweight plastic and has an ergonomic rubber handle for comfort and control. This option has a shorter arm making it easier to carry around and great for use in gardens for throwing the ball shorter distances.
The ball grip is designed to pick up the ball directly from the ground so you don't need to bend down or get your hands wet or muddy. The launcher comes with one Chuckit! ball included.
What We Like:
Great for energetic dogs who love to play fetch
Comfortable to use and carry
Throws balls further and will accuracy
What We Don't Like:
Not a good choice for indoor games of fetch
---
4. Best dog chew toy: Nylabone Dura Chew
The Nylabone Dura Chew is designed to clean your dog's teeth and promote dental health. The tiny bristles on this chew help to prevent tartar build-up.
The Dura Chew is made from nylon and has an appealing flavour that dogs seem to love. The dog bone is safe to chew but it should not be ingested.
As this toy is designed to withstand even the most aggressive chewers without breaking it is a long-lasting option that should last several months.
It is also a very good choice for dogs who are on a diet as there's no food or calories involved.
This bone promotes healthy chewing and can keep your dog occupied which often results in reducing destructive behaviour. There are 4 Nylabone sizes available to suit the size of your dog.
What We Like:
Extremely durable
Cleans dogs teeth
Satisfies the urge to chew
---
5. Best dog frisbee: Rogz RFO Flying Frisbee Disc For Dogs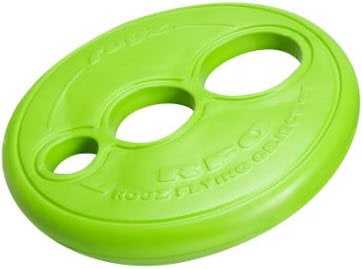 This soft foam frisbee is designed to be easy for your dog to pick up and carry and is comfortable for them to catch in mid-air too. These frisbee toys are brightly coloured so can always be seen and they float so are great for playing water games.
This frisbee is aerodynamic and has a steady flight path when thrown, the three holes in the toy make picking it up a lot easier for your dog.
As this frisbee is made from tough, non-toxic SST foam it does not damage your dog's teeth or gums. It is odour resistant, UV resistant and antimicrobial so should last a lot of games (as long as your dog doesn't get a chance to chew it).
What We Like:
Soft enough for dogs to catch in mid-air
Easy to pick up and carry
Lightweight and durable
What We Don't Like:
Does not withstand chewing
---
6. Best puppy toy: KONG Dog Toy Puppy Toy
This puppy-friendly version of the Kong Classic is made to be gentle for puppies sensitive teeth. This Kong toy is made from a teething rubber formula so is perfect for puppies who love to chew.
The Kong puppy toys are durable, bouncy and the perfect choice for games of fetch or simply for satisfying instinctive chewing behaviours. The unpredictable bounce of this t can be great fun and helps to promote physical and mental stimulation.
The Puppy Kong can be filled with treats to keep your puppy occupied for longer and it can be used to help with crate training too. The toy comes in 3 different sizes so you can choose the best option for the size and age of your puppy.
What We Like:
Gentle on puppies teeth and gums
Great for chewing
Perfect for keeping your puppy occupied for longer
What We Don't Like:
Cannot choose colour as they are randomly dispatched
---
7. Best squeaky dog toy: KONG DuraMax Dumbbell Squeak Toy
The Kong DuraMax Dumbbell is a squeaky toy that is perfect for interactive play with your dog. This toy is strong yet lightweight and is great for games of fetch and chase.
The toy is made from tough K-100 material and has a bumpy exterior that will keep your dog interested. The shape is ideal for gripping and the bumps will also help to keep your dog's teeth clean while they are playing.
The toy makes a loud squeak thanks to the squeaker hidden inside. The dumbbell can be thrown around and has an unpredictable bounce to keep the game enticing. It is also lightweight so can be carried comfortably by your dog.
What We Like:
Durable
Lightweight
Loud squeaker hidden inside
What We Don't Like:
Games with this toy should be interactive
---
8. Best water toy: KONG Wet Water Wubba Water Toy
The Wet Water Wubba is a fun toy that can be used in water or on land. It features two balls on top of one another and 4 fun tails that are great for games of tug of war.
These toys float in water and are brightly coloured so are easy to see. The design is both fun and functional with multiple points for grabbing, shaking and keeping your dogs interest. The Wet Wubba's are easy for you to throw too and the tails flow behind the toy making it fun to try to catch.
These water toys are covered in neoprene which is the same material that is used in wetsuits and they have a fast drying time when playtime is over.
What We Like:
Float in water
Fast drying
Great for tug of war and fetch
---
9. Best tug of war dog toy: West Paw Bumi Dog Toy
This S-shaped dog toy from West Paw is ideal for games of tug of war. This versatile toy flexes to twice its length during pulling games and is designed to fly far when thrown.
Bumi is lightweight but tough so can be thrown, flung and pulled. It is also buoyant so will float if thrown into water.
This tug of war toy is non-toxic, dishwasher safe and is even fully recyclable so if you're looking for toys that are environmentally friendly this is a great option. There is also a lifetime guarantee if the Bumi dog toys break.
What We Like:
Flexes to twice its length
Durable and safe
Fully recyclable
What We Don't Like:
Quite heavy which can make it difficult for smaller dogs to keep hold of during games
---
Dog Toy Buyer's Guide
There's a huge selection of dog toys available, as there are so many options and each one is better suited to a certain game or situation this guide will help you figure out which toy is best for your dog.
What kind of games does your dog like to play?
Chewing – most dogs love to chew, a chew toy helps to direct this instinctive behaviour towards something they are actually allowed to bite. Chew toys tend to be long-lasting, flavoured and great for your dog's dental health.
Tug-of-war – a tug toy is a great option for both human – dog games and dog – dog tug of war. They are often made from rubber or rope, they can vary in length and size but are always designed with durability in mind.
Fetch – whether your dog prefers a ball or a frisbee, fetch is a firm favourite for many. Dogs love to chase and many will want you to throw the toy again and again. Look for a durable toy that is lightweight and consider looking at ball launchers to save your arm if you will be throwing balls.
Food puzzles – if you are looking for a way to keep your dog distracted and busy food puzzle toys are great. Kongs are a great example of this as you can fill them with dog food or treats and leave your dog to get the snacks out of the toy. Your dog can be left to play with a food puzzle toy on their own so you can do other things while your dog is kept occupied.
RELATED:
Toys for dogs should be:
Durable
Made with safe materials
Right size for your dog – make sure the toy is not a choking hazard but can still be comfortably picked up and carried by your dog.