Cats are naturally very playful and cat toys can help to keep their lives enriched and keep boredom at bay. It is unsurprising that there are countless cat toy products available but it is important to keep in mind that not all toys are made with the same level of care and quality. The reviews and buyers guide below will help you find the best cat toys available.
Here are the best cat toys in Australia:
---
1. KONG Naturals Incline Scratcher With Catnip Toy For Cats
This incline scratcher is great for cats who are scratching furniture and curtains when they shouldn't be. Thanks to the included catnip the scratcher will be too tempting for your cat to ignore.
Made from corrugated fibre board slices with catnip sprinkled through the honeycomb pad, this is perfect for cat scratching. The inclined pad is at a good angle to encourage your cat and the product also includes a hidden toy for added fun and interest.
For environmentally-conscious pet owners, this scratcher is made with recyclable, renewable resources and the pad is reversible so your cat can enjoy it for even longer.
What We Like:
Best for scratching
Recyclable material
Includes catnip
What We Don't Like:
Cats can shred the material
---
2. Catit 2.0 Senses Cat Food Digger Cat Toy
This Catit Senses Cat Food Digger is one of the best options for getting your cat to work harder for their food and will prevent quick binge eating.
The food digger is sturdy and has multiple holes that your cat can put their paw into to pull out the kibble. This keeps your cat mentally stimulated while also encouraging natural hunting instincts.
This is a great choice if your cat is home alone and is perfect if your cat enjoys dinner time a little too much. This feeder is easy to clean and just requires warm, soapy water.
What We Like:
Slows your cat down at dinner time
Fun, interactive food game
Encourages natural hunting behaviours
What We Don't Like:
Larger than regular feeding bowls
---
3. KONG Enchanted Buzzy Unicorn Catnip Plush Cat Toy
If you're looking for a toy that is as enchanting as your cat, this mythical unicorn might do the trick. This interactive toy buzzes and spins when its tail is pulled which your cat will find irresistible.
The movement of this unicorn will encourage your cat to chase after it and pounce onto it. The range of features will keep your their interest and the catnip will awaken their senses.
This is a fun, stimulating toy that is perfect for hunting and chasing. It is lightweight so great for throwing around and carrying and the crackly features will spark your cat's interest. Of course, after all the playing this unicorn is a soft and snuggly toy perfect for those quieter moments too.
What We Like:
Versatile
Buzzes and spins
Stimulates your cat's senses
---
4. FYNIGO Interactive Laser Light Toy for Cats
The FYNIGO laser light is one of the best interactive toys for encouraging your cat to run around. Cats cannot resist chasing a laser dot darting around the floor and playing with this is a great way to get indoor cats to be more active.
This light is powered by 1 AA battery and has a slide power button so you don't need to hold the on switch during the games. These laser pointers also have an LED flashlight feature so it is a multifunctional tool that is handy to have close by.
The light has a stainless steel shell so is durable and should last a long time. You get 2 laser lights in a pack so it is great value for money and will provide endless interactive entertainment for your cat.
What We Like:
Laser light and LED light
Durable stainless steel shell
Easy to use
---
5. Catit 2.0 Senses Food Tree Cat Toy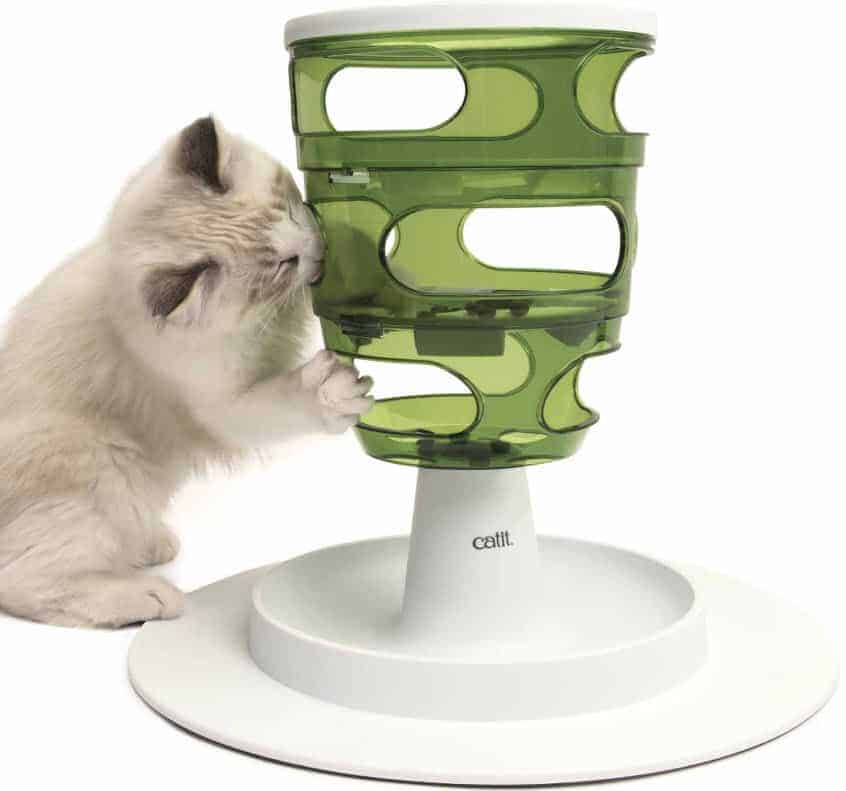 If you're looking for a way to both entertain your cat and slow down how fast they eat their food, this Cat Food Tree from Catit is a perfect solution. Your cat will have to push the food or treats down each of the 3 tiers by using their paws in the multiple opening until the kibble falls to the bottom and can be eaten.
You can adjust the difficulty of the game to suit your cat. The large base helps to keep the tree stable and prevent it from being pushed over. The top opening is thin so your pet cannot cheat the game by eating from the top of the tree.
This Catit Senses Food Tree is best for stimulating hunting and entertaining your cat. It is also convenient for cat owners too as it is easy to take apart and clean after use.
What We Like:
3 difficulty settings
Slows down how quickly food is eaten
Easy to maintain
What We Don't Like:
Not ideal for multi-pet households
---
6. 21 Assorted Kitten and Cat Toys
If your cat has just joined the family or you're celebrating a special occasion and you simply want to spoil them, this assorted pack of 21 toys for cats and kittens is brilliant. This pack of cats toys is perfect for when you can't decide what to get for your cat.
The set will transform playtime, it includes some of cats favourite interactive toys such as a red light laser pointer and a feather toy as well as lots of other toys including a cat tunnel, small fluffy mice, crinkle balls, cats spring and more.
This set will entertain your cat for a long time to come. It's a great selection for indoor cats as there are lots of different toys and play styles for them to enjoy. The set is environmentally friendly and safe for your cat.
What We Like:
21 different toys including a laser and a cat tunnel
Varied gift set
High-quality materials
What We Don't Like:
Most of the toys are quite small in size
---
7. PetStages Catnip Chew Mice Cat Toy
These Catnip Mice are the best option for cats that love to chew. They are designed to be appealing to cats and highly durable.
Chewing on these toy mice will help to improve your cat's dental health, the rough textures and stitching help to remove tartar from their teeth.
To keep your cat's interest, these toys are filled with catnip. They are a small size and lightweight so your cat can pounce of them, chew them and throw them around with ease.
What We Like:
Great for dental health
Lightweight
Durable and able to withstand chewing
What We Don't Like:
Catnip will lose its potency over time
---
8. Bergan Turbo Cat Scratcher Toy with Catnip
The Bergan Turbo is a cat scratcher with a difference. This simple design will keep your cat busy and entertained for hours. The scratcher will encourage them to scratch their claws without damaging furniture.
When swatted by your cat a small ball moves around the track that surrounds the scratching pad, this is a great way to keep them entertained and encourage their hunting instinct. The ball is also removable if necessary.
The set comes with catnip which will help encourage your cat to the area. This is a great interactive cats toy that offers plenty of entertainment. It's also good to know that there are replacement pads available so when this gets worn you don't need to replace the whole unit, just the pads.
What We Like:
2-in-1 scratcher and toy
Replaceable pad
Simple to use
What We Don't Like:
Scratch pad is not very robust
---
9. Chomper Kylie's Single Mouse Cat Toy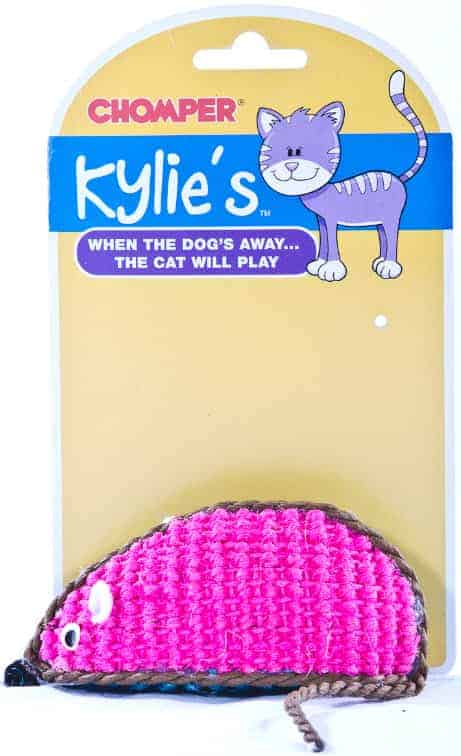 The Chomper Kylie's Mouse toy is an ideal choice for scratching and chasing fun. The toy is made from raffia rope which is strong and provides varied textures to satisfy your cat's natural scratching instincts. Using this toy for scratching will also help to promote healthy claws and will help prevent your cat from destroying your furniture.
These mouse toys are made with bright colours and are very cute with a rope tail, felt ears and a soft pom-pom nose. They are great for your cat to chase, scratch, pounce, wrestle and play with.
This little mouse will help to keep your cat active and mentally stimulated, it is long-lasting and has a rattle inside to add to the fun and excitement. They are a good option to satisfy the hunting instincts of indoor cats.
What We Like:
Perfect for chasing and scratching
Durable
Has a rattle inside
---
Cat Toy Buyer's Guide
Toys are a great way to encourage your cat to be physically active and mentally stimulated and help to replicate instinctive behaviours. Interactive cat toys can play an important role in building a bond between you and your cat. Although cats are often known for turning their noses up at new toys and instead opting for the cardboard box the toy came in, this guide will help you choose something they will love.
What Does Your Cat Enjoy?
Some cats will play with simple mouse toys for hours while others prefer puzzle toys or interactive games such as chasing feathers or a laser pointer. See what behaviours your cat seems to exhibit more frequently in order to help you choose the best cat toys for them, e.g. if they are often scratching the furniture they will benefit from having a scratching post. Another important consideration is whether they like to play alone or would prefer interactive cat toys.
Keep in mind your cat's age and size when choosing toys too as kittens will love faster-paced, more complex games while older cats will likely appreciate a slower and more simple toy.
RELATED:
Key Factors
Encourage instinctive behaviours – toys that replicate prey in some way are generally popular as they encourage the feline instinctive predatory behaviour.
Sturdy – the toy should be durable and be able to withstand intense games. The toy should not fray or have parts than can come loose or detached.
Safety – the toy needs to be made from pet-friendly material and should be free from small parts as these can be a choking hazard.
Solo or interactive – there are many different toys available, some are designed for your cat to play alone while others are designed to be played with interactively.
---
Cat Toy FAQs
What toys do cats like the most?
Play sessions are important for cats, so the toys they tend to enjoy the most offer rapid, unpredictable movement, different textures and even a reflective surface. You can encourage your cat to play with toys by using catnip and they tend to remain interested in toys if you swap the toys around frequently.