Our phones go everywhere we go. They're a big part of how we navigate our lives and our automobiles.
Finding the best car phone holder is important in terms of safety, convenience, and obeying the law. But phone holders for cars are everywhere you look, and they all claim to be the very best.
To help you separate high-quality from hype, we've examined the top eight car mounts available today.
We'll go over the best models currently on the market, what to look for before you by, and all the benefits of owning a holder that positions your phone in a safe way.
---
1. UGREEN Car Air Vent Phone Holder (Top Pick)
This is an air vent phone holder and cradle that's compatible with a wide variety of smartphones. No tools are needed for the installation of this device.
It simply clips to your air vent and cradles your phone, auto-locking by gravity.
The arms of this mount form a sturdy triangle structure that cradles your phone securely.
This holder only supports vertical mode, not horizontal or landscape mode. Durable materials include aluminum alloy arms and silicone pads.
The reserved charging port design means you can insert your charging cable without it being blocked by the holder.
What We Like:
Durable materials
Compatible with a wide variety of phones
24 month guarantee
Tool-free, easy installation
What We Don't Like:
Does not support landscape mode
---
2. Scosche MagicMount Dash Car Phone Holder
This magnetic mount is popular thanks to its compact design and versatility. You can arrange it at any angle for your convenience.
Magnet car mounts are some of the most durable and sturdy, and this model is no exception. It's strong enough to secure even the most cumbersome phones.
One added bonus is the sleek, stylish design of this car phone holder. It fits nicely with the interior of any car.
With this kind of holder, you don't have to worry about messy adhesive or tricky clips.
Installation is quick and easy. Once in place, all you have to do is hover your phone near the magnet.
It will automatically lock firmly into place and remain secure for the duration of your ride, no matter how bumpy.
What We Like:
Strong enough to support bulky phones
Sleek and stylish
Compact and space-saving
Quick installation
---
3. WIKDJ Dashboard Car Phone Mount/Holder
This mount works on your windshield or your dashboard, depending on which you prefer.
This product uses a nano-silica gel pad with extra sticky adhesive to attach firmly to the window or dash. For extra sturdiness, there's a two-step security lock on the base of the car mount.
The telescopic arm extends and pivots to create the best viewing possible. On the backrest of the cradle, there are sponge-cushioned side arms and textured anti-slide material.
This device comes with a full refund or free replacement option, so you can purchase with confidence.
What We Like:
Simple to install
Extendable arm
No-slip grip
Works on windshield or dashboard
What We Don't Like:
Can be difficult to remove your phone
---
4. iOttie Easy One Touch 4 Air Vent Car Mount Phone Holder
This phone mount comes with an easy one-touch design that allows you to quickly open or close the arms. The spring-loaded air vent mount attaches to the vent blade and has a handy one-click lock and release feature.
For versatility, you can rotate the cradle 360-degrees. You can easily insert or remove your phone with one hand because the cradle trigger senses your phone and automatically clamps around it. For the best experience possible, this vent mount offers both a vertical and horizontal view.
This brand has its own GPS app called the iOttie DriveSmarter app. In addition to navigation, it helps you find the location where you parked your car!
What We Like:
360-degree rotation
One-touch placement and removal
Vent-clamp car mount
Easy to install
What We Don't Like:
The suction pad has been known to melt in extreme heat
---
5. Cygnett DashView Universal Smartphone Car Mount
This windshield mount supports 360 degree rotation and one touch installation and removal. The locking ball socket enables convenient rotation and tilting.
This slim, compact device is truly out of the way and non-obtrusive. Its locking suction cup provides sturdy support making it one of the best options if you need a durable phone holder for a car.
You can enjoy portrait or landscape mode with this product, and you'll appreciate the easy install and use. For safe grip, gentle silicone pads keep your phone securely in place while you drive.
What We Like:
Truly out of the way
360-degree rotation
Sturdy suction grip
Easy to install and use
What We Don't Like:
Not the most heavy-duty spring recoil
---
6. VAVA Magnetic Phone Holder for Car Dashboard
You'll appreciate the impressively strong magnet that comes in these phone holders.
They support even bulky phones reliably and effectively. In addition to the heavy-duty magnet, this magnetic device is supported by 3M adhesive for a durable hold.
To help you keep your eyes on the road, you can open and close this device with a one-handed single click.
Unlike other devices, the durable adhesive is easy to clean should you choose to remove the mount.
Full 360 rotation allows you to position your phone in whatever way you need it. It even works with larger phones like the iPhone XS and XS Max.
What We Like:
Strong magnet
3M adhesive for a strong-hold
One-hand operation
360 rotation
---
7. Belkin Smartphone Car Vent Mount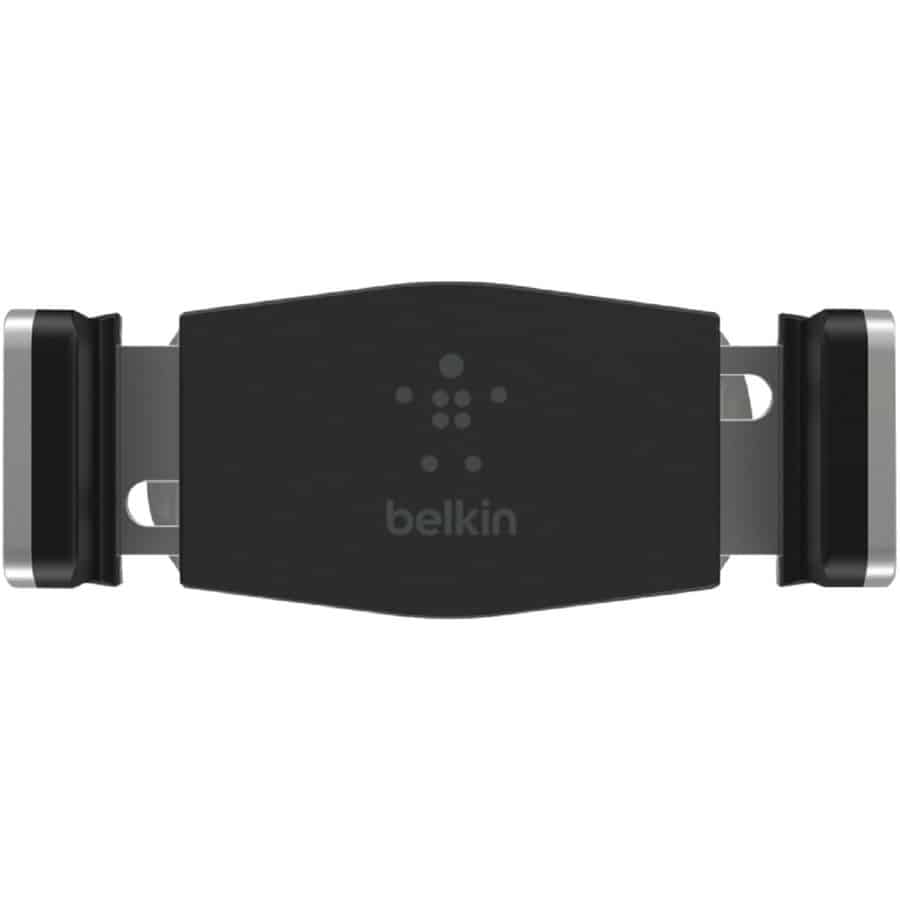 If you're looking for a compact, no-nonsense mount, this might be right up your alley. It takes up very little space in your car, is non-obtrusive, and attaches conveniently to your vent.
With 180-degree rotation, you can experience both landscape and portrait views.
This device holds and supports smart phones, but it's also sturdy enough to support thick cases. Unlike many other phone holders, no suction cup or adhesive is required with this product.
The silver metallic paint is stylish and compliments any auto interior. This is one of the most low-profile, minimalist car phone holders on our list.
Nevertheless, it still delivers in terms of support and durability.
What We Like:
Securely mounts to the air vent
Rotates 180 degrees
Low profile mount
Adjustable brackets fit most phones
What We Don't Like:
Does not offer full 360 degree rotation
---
8. Scosche MagicMount XL Dash/Window
While most car phone holders support a wide variety of smartphones, this is the only mount on our list that's heavy-duty enough to hold iPads and tablets.
Impressively, you can affix this device to a wide variety of surfaces: dashboard, windshield, sunroof, countertop, or desktop.
With this mount, you can aim your tablet in the back seat for movie-viewing or use it up-front for greater navigation-visibility. The rare earth magnets used in this product are secure, strong, and safe.
Magnetic mounts are some of the most long-lasting and reliable, and this XL version is no exception.
If you've been on the hunt for a magnetic mount that supports both phones and tablets, this is probably the best option.
What We Like:
Designed to suit large phones and iPads
Can be used multiple places in the vehicle or at home
Rare earth magnets
Can be attached to a variety of surfaces
---
9. Universal Car Air Vent Mount Holder
This is a straightforward, no-nonsense vent mount that's compatible with most cars and most phones.
It's one of your best options when it comes to affordability and ease of use. While some car phone holders can be tricky to install, this one is exceptionally easy.
You can mount this item quickly by attaching it to your air vent. While it's not the best choice if you have an oversized phone, standard smartphones will perfectly fit this product.
Free 30-day returns are accepted with this item, so you can purchase with confidence.
What We Like:
Sturdy air vent car mount
Easy to install
Responsive customer care
Affordable
What We Don't Like:
Not ideal for iPhone Plus or larger phones
---
Car Phone Holder Buyer's Guide
Now that you're familiar with some of the best phone holders in cars, let's go over some features to consider before you buy. These are the items to consider that will allow you to separate the junk from the just-right.
Mount Type
There are three primary mount types: suction cup, adhesive gel, and clip.
Windscreen suction cups are considered to be durable, sturdy, and strong enough for heavy phones.
Adhesive is also powerful, but keep in mind the sticky substance can be challenging to clean if you remove your mount.
Clips often fasten to your air vent (or cd slot), and this is where a lot of variation comes in. Not all clips will work with all air vents, so try to find recommendations that go along with your car's exact make and model.
Holder Type
The four common holder types are sticky pad, clamp, magnetic, and spring-load grip. You'll also want to consider your car's interior when choosing which mount and holder type are ideal for you.
Your Phone
Don't trust a holder that says it works with all phones. Many of us have discovered the hard way that this simply isn't true. The first thing you want to look at is whether a holder is compatible with your exact phone make and model.
Please also keep in mind that certain holders don't do well with bulky, oversized phones, even if they say they do. For example, cradle-types are not ideal for more massive phones. A suction or magnetic holder is sturdier and more suited to big phones.
And if you have a tablet, the magnetic MagicMount XL is a superb choice. Like most magnetic mounts, it can be counted on to support bulkier, heavier devices with ease.
RELATED:
Intended Use
The viewing angle of your phone is one more thing to consider. Do you want it in portrait or landscape position? Some holders can accommodate both. If you're not sure, choosing a car mount that works both ways is probably a good bet.
Benefits Of A Car Phone Holder
The benefits of a car phone mount might seem obvious, but let's do a quick run-down of how these devices can make your life, and your ride, a little easier:
Keeps your phone from landing somewhere unsafe – like near your pedals
Helps you navigate and follow directions safely
Allows you to take hands-free calls with ease
Protects your phone from damage
Lets you carefully manage your music while in motion
Some models allow for wireless charging