Older vehicles can be frustratingly restrictive with their radio and CD player setup but an FM transmitter offers a low-cost solution that can transform road trips. Whether you are heading on a long drive or you simply want to liven up your daily commute, an FM transmitter is a perfect partner for car journeys.
By using one of these clever devices you can enjoy your favourite music even if your car is slightly older and doesn't have a built-in Bluetooth system or ports that let you plug in your phone. The reviews and buyer's guide below will help you find the best FM transmitter so you can finally enjoy your music or podcasts when driving.
---
1. Nulaxy KM18 Bluetooth Car FM Transmitter (Top Pick)
The KM18 Bluetooth Car FM Transmitter from Nulaxy offers excellent quality and reliability. It is one of the most compatible options that makes playing your favourite music in your car easy.
You can connect to this transmitter via Bluetooth, aux or TF card. No matter how you choose to connect your device, the advanced noise reduction technology ensures the sound is crystal clear and high quality.
The KM18 has an LCD display so you can see the car battery voltage, music and phone calls. You can also charge your device via the USB port. For safety, the voltmeter shows you the condition of your car battery.
What We Like:
Connects to most devices
Large display
Hands-free calls
What We Don't Like:
The display does not show the song name
---
2. FirstE Bluetooth Car FM Transmitter
This compact FM transmitter from FirstE lets you listen to music and take calls through your car's FM stereo system.
This transmitter offers 3 play modes including USB, Bluetooth and TF card. The sound is clear and good quality. There is also a microphone built into the transmitter for hands-free calls and it has a hang-up/ off button for simple, fuss-free control so you can focus on driving.
The unit can detect your car battery voltage to let you know if the voltage is low, normal or high. A convenient feature is the two USB car charging ports that allow you to charge your devices while you enjoy your favourite music.
What We Like:
Small size
Good value for money
Built-in microphone for calls
What We Don't Like:
Some users experience occasional signal interference
---
3. LDesign Bluetooth Wireless in-Car FM Transmitter
The LDesign Bluetooth in-Car Transmitter is a minimalist option that focusses on delivering high-quality audio. This is a durable FM transmitter that makes it easy to enjoy lossless music as you drive.
You can play music from four different sources; Aux cable, Bluetooth, U disk and TF card. This range of source options ensures compatibility with your devices so you can easily enjoy your music and podcasts.
This transmitter features amazing sound quality thanks to the advanced V5.0 Bluetooth technology which provides a more stable transmission and the CVC technology that reduces noise and wind interference. The included microphone supports hands-free calls. For safety, the screen displays the car voltage.
What We Like:
Advanced V5.0 Bluetooth technology
Can link with devices in 4 ways
Excellent sound quality
What We Don't Like:
The display can be difficult to see
---
4. Sumind Wireless Bluetooth FM Transmitter
This transmitter from Sumind is a stylish unit that features a large display and a flexible hose so you can adjust the viewing angle to suit you.
This model has been designed to be intuitive to use with its large control keys and clear display. The transmitter offers intelligent and fast charging with 2 USB ports.
With advanced interference and noise cancellation technology, the sound quality and call quality are both great. You can connect your device using Bluetooth and TF/ Micro SD card. The Bluetooth 4 2 offers a stable connection and consumes less energy than previous versions.
What We Like:
Looks great
Intuitive design
Good audio and call quality
---
5. Nulaxy KM29 Bluetooth Car Kit FM Transmitter
The KM29 model features a landscape screen making the display wider, easier to read and suitable for showing more information. The flexible gooseneck allows you to adjust the viewing angle to suit you.
This is a multi-functional device that can support hands-free calling and allows you to fast-forward, fast-backwards and adjust between the EQ play modes. You can connect music from 4 input sources including Aux, Bluetooth, USB and TF card.
The sound produced is clear and good quality with minimal interference. The included CVC technology creates full duplex sound and suppresses wind and noise. Another highlight of this model is the safety features including over-current, over-voltage, short circuit protection and intelligent temperature control.
What We Like:
Large display that shows lots of information
Good sound quality
Built-in safety features
What We Don't Like:
Some users have found the quality of hands-free calling is inconsistent
---
6. MPOW Handsfree Wireless Bluetooth Car Kit FM Transmitter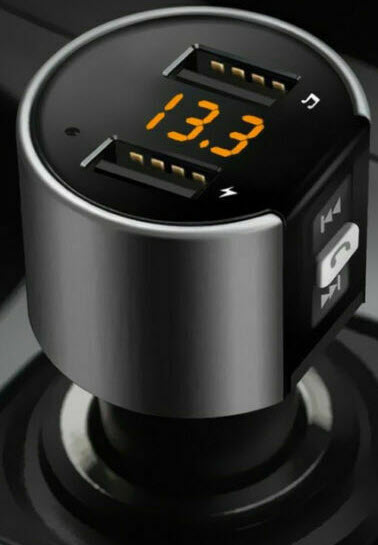 The MPOW Transmitter is a compact option that works with any Bluetooth device. This is a low-cost FM Bluetooth transmitter that will take up next to no room in your car.
You can connect your phone to the transmitter via Bluetooth or you can plug in a USB disk and play music through that. There are 2 USB ports that can be used for charging your devices when on the go.
With this model, you can answer calls by pressing one button and you can also dial the last phone number that called you by pressing the same button twice. This convenient operation makes it easier to control calls when in the car and the built-in microphone helps to ensure the call audio quality is clear. For safety, the display shows the car battery voltage and an alarm will warn you if the voltage is under 12V.
What We Like:
Compact size
User-friendly
Charging port for USB devices
What We Don't Like:
Bluetooth or USB port connection only
---
7. VicTsing Wireless Bluetooth V5.0 Car FM Transmitter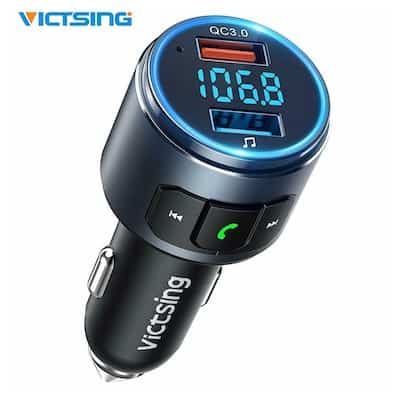 This Bluetooth FM Transmitter from VicTsing is a compact, attractive and easy to use option. It is one of the best Bluetooth to FM transmitter models thanks to its advanced tech and high quality.
With Bluetooth V5.0 the signal is strong with minimal interference. The LED ring light remains on once the Bluetooth devices have been successfully paired. You can play music through Bluetooth or USB drive and the stereo sound produced is clear and lossless.
Something that we haven't seen in other options is the ability to use Siri voice assistant. This feature makes it a lot easier and safer to get things done while driving, you can ask Siri questions and answer phone calls simply by talking. There are 2 USB ports and a QC 3.0 port for quick charging.
What We Like:
Good call quality
Quick charging port
Siri enabled
What We Don't Like:
Some users may find there is occasional static or interference
---
FM Transmitter Buyer's Guide
Driving is a lot more enjoyable when you can listen to your favourite songs. Older cars can be restrictive in their audio capabilities, it can mean you are limited to listening to the same few radio stations and that's it. A Bluetooth FM transmitter is a low-cost way to play your music and podcasts without needing to invest in a whole new music system for your car.
All a car needs for FM transmitters to work is a cigarette lighter and a radio, that's it. You plug the transmitter into the cigarette lighter, connect your device, match the transmitter and car radio's FM station and it's as simple as that.
Functionality
The functionality varies between FM transmitters, some simply allow you to connect your phone via Bluetooth or an aux cable and listen to music while others offer a range of features that include an LCD screen, compatibility with different sources, adjustable controls and taking hands-free phone calls. When choosing an FM transmitter, consider which of the following features are important to you so you can find the best option to suit your needs.
RELATED:
Key Features
Automatic scanning – the transmitter should be able to automatically scan through the channels to find a suitable frequency for you to use, rather than you having to search through manually. Auto scanning is a big help and saves time when you are on the go.
Preset stations – this allows you to save stations so you don't need to search for new stations every time you use the transmitter.
Audio sources – some FM transmitters give you the option of playing music from a range of sources including Bluetooth, aux cable and USB drive. As well as this, the transmitter should be compatible with a range of file formats including MP3, WMA and WAV.
Power button – to avoid the FM transmitters using power when they are not in use, they should have an on/off button. This way you can easily see when the battery is draining.
USB ports – you will see that some FM transmitters have one or two USB ports that allow you to charge your devices while you drive and listen to music. This is very convenient and is a great feature for many users.
Battery monitor – if the transmitter has a screen it may display your cars battery voltage so you can keep an eye on the battery health. This is important for safety and can be incredibly helpful.
Ease of use – most car FM transmitters are simply plug and play. For safety and convenience, the device should be easy to operate with a clear screen and simple buttons. Check the size of the screen and buttons before you buy to ensure easy one-handed operation.
Built-in microphone – some FM transmitters include a built-in microphone to ensure hands-free phone calls are clear and high quality. This feature means you can answer calls and have conversations safely while concentrating on driving.