Finding a recliner that suits your style and home has never been so easy. Bulky recliners are a thing of the past, now you can kick back and relax in a recliner that matches your decor and space. Below we take a look at the best recliner chairs available in Australia. At the end of the article we've included a buyers guide to help you narrow down the selection to find the perfect option for you. It's time to put your feet up and relax.
---
1. Nordic House Millio Recliner Armchair (Top Pick)
This popular recliner chair features ultra plush cushion with linen upholstery and a solid wood frame construction. It's comfortable, durable, and a perfect addition for most living areas. The Millio recliner has generous arm rests as well as an adjustable leg rest and reclining back support.
Some minor assembly is required, however this can be completed without any tools and most people find it's a simple task. For the quality it's also extremely affordable and comes with a 1 year warranty.
Note the Millio recliner is also available in Brown Faux Leather (View at Temple & Webster).
What We Like:
Great quality for the price
Very comfortable
Attractive linen upholsetry
---
2. Fantastic Furniture Jones Recliner
This reclining armchair from Fantastic Furniture is a smart, cosy and comfortable chair perfect for relaxing. The microsuede fabric is soft to touch and the padding is firm and supportive.
The Jones Recliner is spacious without looking bulky and the dark grey colour is not only practical but also complements any living space.
The dark colour is a practical choice in family settings as they don't show up marks and stains. The chair has a simple side lever that you pull to recline.
What We Like:
High-quality
Soft material
Spacious
What We Don't Like:
The leg rest needs to be pushed back down firmly which elderly people may find difficult
---
3. Artiss Electric Lounge Leather Recliner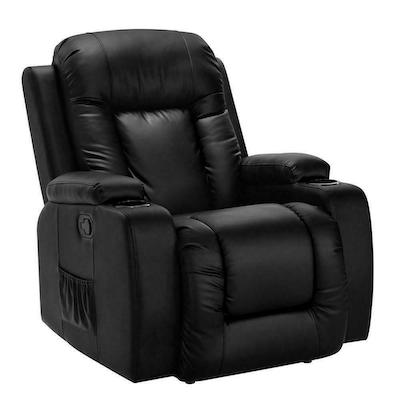 This leather recliner from Artiss is an 8-point heated massage chair perfect for sitting back and relaxing. This chair is versatile, well-padded and offers multi-angle reclining.
For ease of use, this recliner comes with a remote that lets you set and control the massage. You can select the position, mode, heat and intensity at the push of a button. The backrest and footrest are both adjustable so you can find the position that is most comfortable for you. You can also rock the chair if you find this relaxing.
The chair is upholstered in PU black leather and it can rotate so you can face whichever way you want with minimal effort. The backrest provides good support and the armrests are wide so you're never short on space. The chair also has double cup holders and two side pockets so you don't need to get up to reach your coffee, your favourite book or the TV remote.
What We Like:
Massage function
Convenient cup holders and side pockets
Thick padding
What We Don't Like:
Recline feature is manual
---
4. Mocka Asta Recliner Chair
If you are looking for a more simplistic recline chair that looks sleek and stylish without overpowering the room the Mocka Asta is a beautiful option.
This is a comfortable, modern recliner chair that has a strong metal frame to provide support. You can rock and recline in this chair and the padded seat provides hip and back support.
The blonde Birchwood frame will look great with any decor and is a perfect option for an office, nursery, living room or bedroom.
What We Like:
Simplistic design
Stylish and modern
Padded seat
What We Don't Like:
Positioned quite low to the ground
---
5. Tate Recliner Chair with Foot Stool
The Tate Recliner and co-ordinated foot stool is a padded, contemporary set that offers comfort without being bulky or taking up too much space.
The recliner has a swivel function and allows you to recline effortlessly. You can adjust the reclining resistance using the control knob under the seat to enjoy the best position for your relaxation.
The chair is designed to be anti-stress, it has thick padded armrests and plenty of back support to soothe sore muscles. The polyurethane upholstery looks and feels great and the dark colour will work well alongside any existing room furnishings.
What We Like:
Stylish
Swivel function
Customisable recline
---
6. Fantastic Furniture Larson Recliner Chair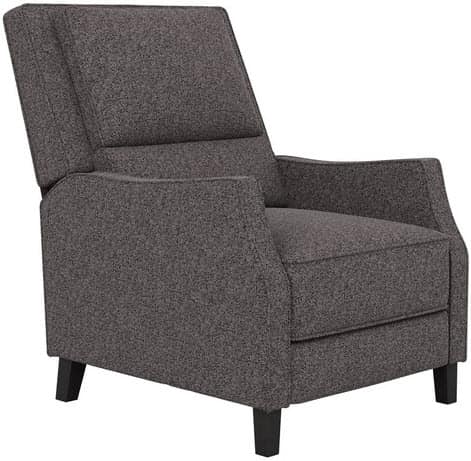 The Larson Recliner is a compact, contemporary chair that doesn't look like a recliner at first glance. This has the sleek appearance of a trendy chair and has the added comfort of being able to fully recline.
This is a perfect chair for a lounge, the seat is wide and padded so you will be comfortable sitting or laying on this recliner. This is a manual recliner which reclines simply from you pushing back against it, there's no levers or buttons.
The Larson is available in grey or black and is the best for putting your feet up after a busy day. If you are looking for a recliner that is not bulky and will look great in your living room, this is a modern option that will easily match with your current furniture.
What We Like:
Contemporary style
Well-padded seat
Sturdy
What We Don't Like:
Does not have a lever to activate the recline function
---
7. Artiss Electric Leather Recliner Chair
This Electric Leather Recliner from Artiss is perfect for those aches and pains. The 8-point heated massage can help you get rid of sore muscles and back pain.
The backrest and footrest are adjustable so you can recline to the most comfortable position and relax. The chair has thick high-resilience sponge padding, front and side pockets and also has cup holders.
The seat is spacious and it has a lifting mechanism so getting up out of the chair won't be a problem. This is a classic electric recliner that is convenient, comfortable and easy to control. The leather is also easy to clean as spills and mess can simply be wiped away.
What We Like:
Lots of functionality
Heated massage
Comfortable sponge padding
---
8. La-Z-Boy Canyon Rocker Recliner
The Canyon Rocker Recliner boasts a beautiful design that offers customisable comfort. This is a well-padded chair with stitching details and an easy to operate side recliner lever.
The back reclines independently meaning you can recline with or without the footrest. There are 16 natural reclining positions so you can lay back exactly as you feel comfortable while still receiving full body lumbar support from the recliner.
For safety and support, the frame is solid and the footrest can be locked in 3 varying height positions. This recliner is available in 3 sizes and the back is removable to make transport easier.
What We Like:
Stylish
Provides lumbar support
Recliner lever is easy to use
What We Don't Like:
The lighter colour may require more maintenance
---
9. Garland Recliner Armchair
The Garland Recliner is a luxurious armchair that will look great in any living room. The grey colour will complement existing decor and the modern design ensures this reclining chair won't look bulky or out of place.
This recliner is filled with thick, high-resilience foam and is upholstered in soft-to-touch fabric so you can sit back and relax. The chair has wide armrests and a high back to provide support.
The precise recline adjustments let you find the best position for your comfort. This is a sleek armchair that is low maintenance and perfect for relaxing.
What We Like:
Sleek, modern design
Soft to touch
Precise recline adjustments
What We Don't Like:
Manual recliner (no lever)
---
10. Harvey Norman Recliner Chair
This leather recliner is a timeless style that combines functionality and design.
The timber frame is sturdy and the foam filling makes sure you'll be able to sit back and relax in comfort. The rolled arms give you plenty of space to lean and rest. The leather upholstery looks smart and is easy to keep clean.
To recline this chair there is a convenient long lever on the side that is easy to reach and smooth to pull. The back can be reclined independently of the footrest and the design ensures the chair provides full lumbar support in all positions.
What We Like:
Functional
Classic style
Comfortable foam cushioning
---
Recliner Buyer's Guide
A recliner is a comfortable, functional and stylish piece of furniture that is a firm favourite in many households. While you may think of recliners as being awkward and bulky they have advanced alongside trends and you can now get sleek recliners that look great and don't take up more space than they need. Use this buyers guide to find the best recliner chair for your home.
Size
When it comes to size there are two key considerations:
The size of the room and chair – the best thing to do is measure the available space in the room and then compare this with the chair measurements. When you are reviewing the measurements be sure to check the fully recline measurements too so you can make full use of the recliner. The weight of the chair may also be important if you plan to move the chair around at all.
The size of the person using the chair – you want the recliner to be long enough for you to sit in it comfortably. When you are sitting in the chair your feet should touch the floor and your head should be at the height of the headrest. Check your measurements with the dimensions of the chair you are considering to ensure it is the right size for you.
RELATED:
Ease of Use
Reclining chairs come with many different control functions including manual reclining, handle or lever-operated reclining and motor-operated reclining. Whichever option you choose, it should be user-friendly and effortless.
Easy to Clean
Chairs are made to be used and a reclining chair is made to be relaxed in. The last thing you want to do is worry about frequent cleaning, the best recliners are easy to keep clean and maintain.
RELATED: The Best Massage Chair
Extra Features
Rocker base – a reclining chair that can be gently rocked is one of the best options for mothers with young children or people that have trouble sleeping.
Swivel base – a swivel recliner has a base that allows you to easily change the direction you're facing.
Lay flat reclining – some recliners offer a greater range of motion allowing users to lay all the way back to enjoy a flat position. This is perfect for those who would like to comfortably sleep on the reclining chair.
Massage recliner – a massage recliner chair is best for people with muscle aches and pains. They offer another level of luxury and relaxation and some even offer a heat option too.