The cushiest way to combine comfort and style, armchairs are simultaneously functional and decorative! Whether you want to curl up with a good book, entertain guests, or simply sit back and relax, the right armchair can dramatically improve a range of spaces in the home.
With so many new styles and designs to sort through, finding the perfect armchair can be a challenge. That's why we've put together this in-depth list of some of the best armchairs available in Australia! Take a look for some comfy and creative inspiration.
---
1. Hyde Park Home Stone Cumulus Linen Armchair
Masterfully blending style and comfort, the plush and accommodating Hyde Park Home Stone Cumulus Armchair gives off an elegant yet relaxed vibe. With its deep recessed seat and feather-filled cushions, you can settle in and unwind in total comfort. This chair also comes in a range of attractive neutral colours. Its narrow flange trims provide a luxurious European feel while its feather wrapped foam seat cushion makes it easy to relax.
Constructed of fine materials like linen, cotton, and Birchwood, this chair comes with two feather-stuffed side cushions, one feather-stuffed padded seat cushion, and a removable linen/cotton cover. Since the linen fabric cover is removable, you can clean it whenever you need to and maintain a fresh look. All in all, this is one of the best chairs for a range of homes in Australia!
---
2. Resort Living Seydour Armchair & Ottoman Set
Kick back and relax with the Seydour Armchair and Ottoman Set! This set can enhance a range of living spaces in all manner of homes.
It has a vintage-modern new-age look and a contoured shape that pairs beautifully with an included matching ottoman. Available in two different shades of grey, this set's fabric upholstery is button-tufted for a composed finish.
This chair has natural rubberwood legs that add beauty and organic strength. It also has a tall back and petite armrests that let you enjoy a relaxed and comfortable seating position. This is easily one of the best armchair sets for offices, sitting rooms, reading nooks, and more!
---
3. Fantastic Furniture Ruby Armchair
From Fantastic Furniture, the Ruby Armchair offers loads of classy and comfortable design features. It's perfect for any lounge, living room, bedroom, or reading room.
With its fixed back cushion, tapered legs, and piping details, it has an elegant and classy look. The wide gently curved arms provide natural limb resting positions so that you can settle in comfortably. With premium foam cushions, this charming chair is also quite supportive.
Available over 50 different colours ranging from dark blue Coco Denim to light pink, it's not hard to find armchairs in this collection to match your existing furniture and interior decorative themes. Plus, the tight back cushions hold their shape nicely, meaning that this chair will look like new for a long time. You'll also love how the tapered wooden legs add elegance and make vacuuming easier!
---
4. Artiss Anne Armchair
The perfect statement piece for any den, library, reading room, or office, this retro chair has loads of vintage appeal. Plus, it comes at a great price.
The Anne Armchair is a bold trendsetter with its quality linen fabric, tufted backrest, and tapered rubberwood legs. Also, Artiss Anne Armchairs come in three colours: beige, charcoal, and grey.
With its extra-thick foam padding, you'll love the exceptional support and comfort it offers. Plus, luxurious highlights and a reinforced wooden framework blend to make this armchair a really durable choice. This chair measures 58cm x 68cm x 80cm. Moreover, it's easily one of the best options available for the price.
---
5. Ken Fabric Lounge Chair
Sometimes, the best things in life are simple. This understated chair has a deep seat and nicely cushioned padding to provide exceptional comfort and support. It has thick arms that keep its new-age profile minimalistic and make standing and sitting easier.
This armchair's dark monochrome colour palette will match a range of modern themes while its strong steel frame makes it a durable choice.
Tubular curved armrests enhance the rounded lines, adding convenience and appeal. This is the perfect choice for office spaces, living rooms, or anywhere else in the home.
---
6. Jacob Faux Leather Wingback Armchair
Combining classic design features and contemporary style, this top-notch faux leather wingback armchair is rugged, elegant, and stunning from every angle.
This chair could be used as a fantastic statement piece in any rustic themed home. Its low and slender armrests provide comfort while also allowing you to maintain the flow and sightlines within your space.
Made with premium materials like faux leather and naturally finished solid rubberwood, this is a durable and top-notch choice. You'll love the way it enhances the elegance of any bedroom, living room, den, or home office.
Plus, this chair has tapered legs that are just high enough that you can sit down and stand up effortlessly. Finally, its high-density foam padding offers plenty of comfy support.
---
7. ELiving First Class Recliner Chair
Why sacrifice comfortable relaxation for style? This comfy recliner allows you to enjoy both. So, if you want the plush comfort of a reclining lounge chair with the style of a trendy armchair, the ELiving First Class Recliner might just be right for you. This is the perfect choice for those who love modern contemporary designs but aren't willing to give up cushioned back or neck support.
This top-rated chair is extraordinarily relaxing to sit in. With its high-density foam cushioning and a 3-layer support system, you can relax for hours without getting uncomfortable. As such, this attractive lounge chair is ideal for reading, napping, or simply watching your favourite programs. It also comes in neutral interior design-friendly upholstery colour options.
---
8. Brosa Nottage Armchair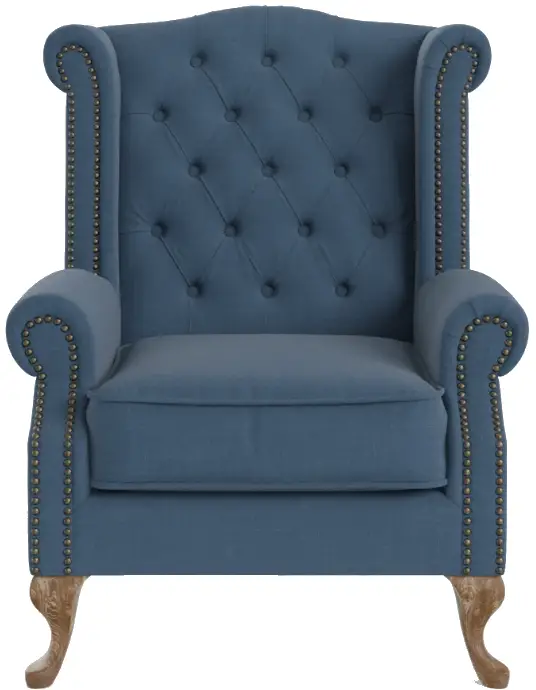 We absolutely love the designs, style, and quality of these Brosa Nottage Armchairs. With their regal silhouettes and wide range of colour choices, you can easily find an armchair from this collection to fit with your home's interior design themes. These chairs also offer just the right balance of support and comfort. Any of these colourful and classic yet modern chairs could work for reading, guest seating, or for adding a decorative and chic touch to any space in your home.
Brosa Nottage chairs come with different upholstery choices as well. Choose from premium linen blends or luxurious Signature Premium Velvet fabrics. Then, these beautiful Nottage chairs showcase stunning details like diamond tufting, intricate brass studding, hand-carved legs, and carefully composed edges. All in all, if you've been looking for a chic and charming armchair for your living room, reading room, or bedroom, these Nottage chairs are well worth considering.
---
9. Freedom Maddox Armchair
Slim sloping arms, tapered timber legs, and an iconic mid-century design theme make this Maddox armchair a timeless and iconic choice. As such, the Freedom Maddox chair would be a good piece for homes with modern, Scandi vintage, or mid-century interior designs.  
With premium upholstery, cushioned support, tapered wooden legs, and a laid-back look, this is one of the best chairs for those who want something simple yet stylish. The foam and fibre-filled cushions wonderfully retain their shape, so this chair always looks fresh. This attractive mid-century modern armchair measures 81cm W x 94cm D x 92cm H.  
---
10. Naturally Provincial Modern Classic Leisure Armchair
Perfect for provincial relaxation, this weathered oak armchair is ready for reading, sipping tea, or relaxing on a lazy afternoon. The soothing soft foam and down cushions will cradle you in style! Get this chair to enhance your living room, bedroom, office, and more. 
This Modern Classic Leisure Armchair is ideal for those who like easy to care for pieces with laid-back designs. Made with quality weathered Canadian oak, soft foam, feather down, and premium 99% linen upholstery, this is a durable furniture choice that will last for years to come. It has a country-style aesthetic that could fit right in with any Scandi or rustic interior design theme.
---
11. Fantastic Furniture Queenie Armchair
The Fantastic Furniture Queenie Armchair is the perfect option to get for all sorts of homes! It can add calming elegance to any bedroom, reading space, or living room. Furthermore, this luxe armchair features a panelled design and contrasting gold tipped legs for stylish flair. Then, its fabric has a velvet-soft feel and comes in dark black for a touch of upscale style.
Since the armchairs from Fantastic Furniture are designed for quick assembly, all you have to do is attach the legs and enjoy! This is one of the most glamorous and effortless armchairs available in Australia. It would be an attractive addition to a range of homes!
---
12. Skyblue Camden Armchair
Perfect for bedrooms, living spaces, or offices, the Skyblue Camden Armchair radiates relaxed style. Its versatile good looks and dark grey colour accentuate the designs of homes with modern, retro-chic, or vintage interior themes. The pure polyester upholstery is resistant to stains, tears, and colour fading. As such, this sturdy chair will look and feel great for a long time to come!
This chair is also simple to assemble and has a frame made from solid wood. Plus, its long armrests curve elegantly down from the top and showcase metal stud details for a modern touch. The seat is well-padded and supportive with a high back to enhance your relaxation and minimize stiffness!
---
13. Ikea Armchair – POÄNG
With layered oak for long-lasting resilience and a supportive design, this chair would be perfect for a range of homes. Plus, since it's from Ikea, you'll get it at a fair price. This chair would fit well in homes with modern, vintage, or mid-century themes.
With 10-year furniture guarantee, you can rest assured knowing that this chair from Ikea's POÄNG collection will last for a long time. We also love that it comes available with a matching ottoman sold separately at a low price.
---
14. Hyde Park Home Malawi Rattan Club Chair
This Hyde Park Home Malawi Rattan Club Chair would fit well in homes with bohemian, rustic, Scandi, or coastal themes! Made with premium hand-woven rattan and cedar, this is a great option for adding a feeling of light and airy comfort to your sunroom, patio, or covered porch.
The durable design of the Hyde Park Home Malawi Rattan Club Chair makes it suitable for indoor and light outdoor use! Its cushion is removable, and everything is effortless to assemble. It has a stylish curved shape that showcases the latest Indonesian rattan weaving style and comes with a 12-month product warranty.
---
15. Harvey Norman Labo Fabric Armchair
The Labo Fabric Armchair showcases the latest take on the classic wingback chair. Constructed of top-quality materials, you can relax comfortably in style! It has fabric tufted buttons, a supportive cushioned seat, and a pine frame with contoured feet. Assembly of this chair is effortless, and the premium Dacron foam padded seat and springs make this chair feel as cozy and supportive as it looks.
This is easily one of the best wingback armchairs that you can find for sale in Australia this year!  If you want to get an attractive and trendy classic armchair that implements neutral colours, this might just be one of the best chairs to purchase!  
---
Armchair FAQs
Are you searching for a new armchair to enhance the look of your home? If you need some help, check out our FAQ section!
What era are wingback chairs from?
It's easy to fall in love with the charm and vintage appeal of a classic Wingback armchair! Wingback armchairs were first introduced in England sometime during the 1600s. Over the years, the basic wingback design has remained for the most part unchanged. These chairs gained mainstream popularity in the mid-1720s. Today, the latest new wingback chairs often showcase either a flat wing or scroll wing style.
Wingback armchairs are perfect for adding classic elegance to virtually any space. With their tall designs and supportive backs, they're versatile, attractive, and effortlessly draw the eye. This can help to instantly enhance the aesthetic of an entire room!
What makes a comfortable reading chair?
For reading, the best armchairs will be supportive, nicely cushioned, and upholstered in materials that are soft to the touch. Solid and durable frames are important too. This will help to improve support and longevity if you use your chair frequently.
For upholstery materials, velvet, suede, leather, faux leather, cotton, polyester, and linen are good options to consider. The best reading armchairs will also provide you with a comfortable and relaxed position to settle into. A plush seat will help to prevent stiffness and discomfort. As far as cushions go, feather down cushions or cushions with foam and down blends are highly recommended.
What is the best chair for elderly users?
For the elderly, the best armchairs will be supportive, promote independence, prioritize health, and create an environment of relaxation. Relatively high armrests can also be helpful if standing up is difficult after prolonged periods of sitting. Proper alignment and optimal height will help to ensure that upon standing, stiffness and aches are minimized. Also, for those who need greater mobility, adjustable, rolling, and swivel designs can be helpful.
Improving Independence
When searching for a chair that will promote independence, try to find chairs that make sitting down and standing up without assistance easier. Chairs with solid arms that can be held for support help elderly users sit down and stand up with less hassle. Also, swivel chairs or chairs with adjustable height settings can enhance mobility.
Joint Pain and Health
Joint pain and stiffness are common as the body ages. Supportive chairs with orthopedic designs can really help to minimize stiffness and joint pain. Keep an eye out for firm cushions, straight designs, and neck support. Comfortably designed chairs with plenty of supportive padding can also help to promote relaxation.
Upholstery and Material Construction
Finally, material construction and upholstery should be taken into consideration. Removable covers can be really useful if the need for cleaning arises. Chairs made with materials like suede, leather, and velvet will work for some applications, although removable linen or cotton covers are best for those who prefer something easy to clean. Solid timber or metal frame materials are also smart choices. These frame materials will improve a chair's stability, safety, longevity, and supportiveness.