A great suitcase can make all the difference when you are travelling.
Antler and Samsonite are two of the leading brands when it comes to luggage. They both offer some of the best hardcase, softcase and casual bags to suit all trips.
Whether you are going on a business trip, a weekend away or a long holiday you can find a sturdy, stylish case from either brand, so which one should you choose?
If you aren't familiar with luggage, both Antler and Samsonite are big names in the business. They have each been innovating travel cases for over 100 years so are both reliable brands that have truly stood the test of time.
Antler is a British company that has been manufacturing luggage since 1914. They have a reputation for producing high-quality products and they were at the forefront of much of the evolution of luggage.
Samsonite was founded in 1910 in Denver, United States. They are known for being innovative and creating strong, lightweight suitcases. Samsonite likes to combine smart features with luggage to give you the ultimate bag for your trip.
---
Popular Samsonite and Antler Luggage
Samsonite OC2Lite Spinner Suitcase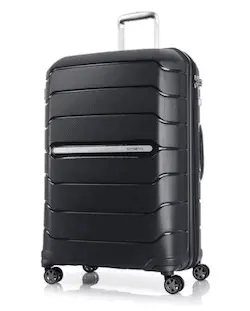 Antler Juno 2 Roller Suitcase
---
Key similarities
Product Range
Both brands offer a wide range of luggage options to suit all travellers. They each offer everything from backpacks to cabin bags to large hard-cased suitcases.
With each brand, you have around 20 products to choose from when looking at softside suitcases alone so there is plenty of choices.
Both websites let you shop by size so you can look through suitable options with ease.
Samsonite also lets you shop by travel type or trip duration too so it's easy to find the best case for your trip.
Lightweight
Weight is one of the key factors when it comes to luggage.
It's best to have a strong suitcase that is lightweight and easy to move. This is something both brands pride themselves in.
They each offer cases made from impact-resistant, lightweight material. For example, the Antler Clifton Cabin bag weighs 2.9KG while the Samsonite OC2LITE cabin bag weighs 2.6KG.
Both also come with wheels so they are easy to manoeuvre.
Hard Shell and Soft Shell Options
Both offer travel options with hard shells or soft shells so you can choose whatever suits your needs and budget.
The Samsonite OC2LITE and Cosmolite are two of their best cabin luggage options, these hard cases have wheels as well as anti-theft features.
There is also the Base Boost 2 which is a more affordable, soft case ideal for the cabin.
Antler offers the Juno 2 Hardcase, Juno Metallic Hardcase, the Clarendon Softcase and the Portland Softcase for the cabin.
Spinner Wheels
Wheels are essential to moving your luggage around. High-quality spinner wheels help the suitcase glide along the floor.
Spinner wheels let you move the bag in any direction. The bag stands upright and there are 4 wheels to make manoeuvring easier.
This means you don't need to tilt the bag and hold the weight of it when you pull it along.
All of the Antler suitcases have spinner wheels and most of the Samsonite suitcases also have spinner wheels but they also have a couple of smaller option that have roller wheels.
Expandable Design
Each brand offers an expandable design on some of their cases. This can help increase capacity when you need it.
The feature works by simply unzipping the expansion zip so you can instantly get more space in the main compartment.
This is an innovative, convenient and versatile option that makes it easier to pack your clothing away for an extended trip.
Safety Features
In addition to offering excellent durability, both brands also include key safety features on their bags such as a TSA lock and anti-theft zips.
A TSA combination lock is a simple way both Antler and Samsonite help protect your luggage during flights and travel.
These features make sure your bag can withstand rough airline baggage handlers and go through the journey securely closed to keep your belongings safe.
---
Key differences
Smart Features
In addition to the basic features you expect to see on high-quality luggage, Samsonite offers smart features too.
Innovative locks, fingerprint touch locks, integrated USB ports and built-in scales are just a few of the tech features you can enjoy with the higher price premium bags from Samsonite.
A case with a built-in USB port could be the best luggage carry on for a young backpacker or a busy business person.
Colour Collection
Antler offers a more vibrant selection of colour choices so if you want bright luggage that you will spot on the bag carousel go for Antler.
For example, their Juno 2 Hardcase is available in black, white, charcoal, navy, red, teal, aubergine, blue and yellow.
The Juno Camber range is more of a pastel collection and there is a Juno metallic collection too.
Most of the Samsonite range is available in two or three colours such as black, navy and off-white.
The Samsonite Cosmolite is available in a range of colours but these are darker tones including blues, off-white, ivory gold, silver and black.
Warranty Period
Antler offers a 10 year warranty on all of their suitcases.
Samsonite suitcases also come with a warranty but the length depends on the product.
For example, the Cosmolite comes with a limited 10 year warranty while the TOIIS C comes with a limited 3 year guarantee.
All of the warranties are international so your luggage can keep up with your travel.
Price
Overall, we think Antler offers better value for money. Samsonite products are more expensive with the most expensive piece of luggage costing over $1,000 more than Antler's most expensive.
At the time of writing, Samsonite luggage prices range from $129.50 – $1,499 depending on the size, materials and security features.
Antler luggage prices range from $119.50 – $399 depending on the model and size.
As a direct comparison, the OC2LITE cabin hardcase from Samsonite (view at Amazon) is available for $189 (RRP $315) and the Juno 2 Cabin Hardcase from Antler (view at Amazon) is available for $129.50 (RRP $259).
Both of these are currently on offer and each is expandable, has a tough outer shell and a TSA lock. They both weigh 2.5-2.6kg and come with a 10 year warranty.
Samsonite OC2Lite Spinner Suitcase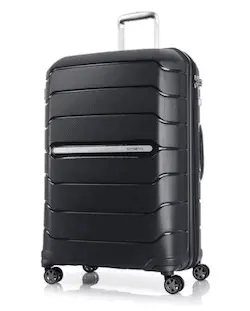 Antler Juno 2 Roller Suitcase
---
Making your selection
Selecting between a case from Antler vs Samsonite is not easy. Each brand offers some of the best quality luggage available.
There are only a couple of key differences that may sway your decision:
We would choose a case from Antler as these are high-quality, well-priced and come with an excellent warranty.
Whether you are looking for carry-on bags or large hard case suitcases, Antler offers a wide range of great options that will last.
They are available for less than Samsonite but they are still premium cases that you can rely on.
However, if you are looking for a premium case with the latest high-tech features built in then take a look at Samsonite.
These features can be useful for years to come and will help keep your belongings safe.
If you will use smart features such as the integrated USB port then they could be worth the additional cost.
There is no denying that Samsonite offers well-designed luggage but if you won't use the extra features they may not be worth the price.