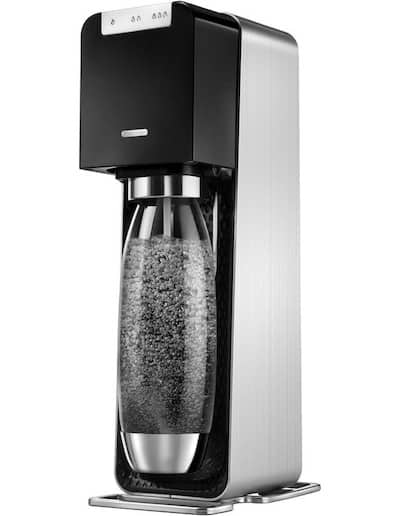 A good sparkling water machine is easy to use and can instantly transform tap water into delicious soda water.
These clever appliances can save you money, limit the use of plastic bottles and allow you to make a range of sparkling drinks in a simple, fun way.
If you have heard about home sparkling water machines before you will have heard of SodaStream, but they aren't the only premium machine manufacturers out there.
This guide takes a closer look at two very popular sparkling water makers: SodaStream and SodaKing.
SodaStream has been the leader in sparkling water machines for a long time but Australian company SodaKing is becoming an increasingly popular option too.
SodaKing might be the new kids on the block (SodaStream started back in 1903) but they are certainly a worthy competitor.
Both brands offer sleek, stylish and user-friendly machines that will look great on any kitchen worktop.
You can rely on either of these brands to give you high quality carbonated water but this comparison will help you decide which one is best suited to you.
---
Popular SodaStream and SodaKing models
SodaKing Classic
SodaStream Power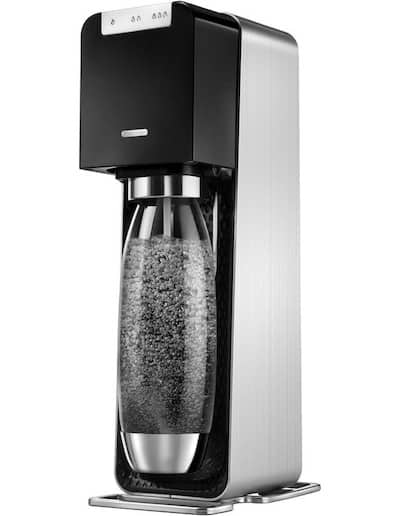 ---
Key similarities
A Range of Models
Both brands offer several sparkling water makers of different sizes, designs and colours to suit a variety of needs. They are all stylish, modern and are similar in appearance.
The gas cylinder for each model is hidden at the back of the machine and covered with a panel so they look neat, slim and well-contained.
Soda Stream offers a couple of electric sparkling water makers as well as models powered by a CO2 cylinder while none of the SodaKing models require electricity as they all work with CO2 gas bottles.
RELATED: The Best Sodastream
Syrups and Flavours
Both brands sell a range of syrups and flavours that can be added to the sparkling water.
SodaStream offers 9 flavours while SodaKing is not far behind with 8.
SodaKing seems to offer more of the classic flavours which some users may find more appealing.
Finding flavours you like and enjoy will be easy no matter which brand you choose.
Reusable Bottles
Models from both brands come with 1L reusable bottles. The SodaStream models also come with a 500ml reusable bottle.
You can also buy replacement bottles from the website shops, the prices for a 1L bottle aren't much different.
A 1L bottle twin pack costs $19.95 from SodaKing while a twin pack will cost $21.95 from SodaStream.
The bottles are reusable so you can use them time and time again.
60L Gas Bottles
All of the sparkling water machines work with 60L CO2 cylinders.
This means you will get the same amount of carbonation from each cylinder of each machine so your choice will be based on ease of use and style rather than cylinder size.
2 Year Warranty
Both Soda Stream Australia and Soda King offer a 2 year warranty with their sparkling water makers.
This can provide some peace of mind when you buy one of these machines.
Gas Cylinder Exchange
Both companies offer a gas cylinder exchange where you can take your empty gas cylinder and switch it for a new one at selected stores.
---
Key differences
Portable Option
SodaKing offers a portable model with a handle that can go with you wherever you go.
This is great for picnics and days out when you want to enjoy sparkling water.
As the SodaKing models do not require power they can be moved around freely and offer a level of portability you do not get with the SodaStream models.
Size
While they all use 60L gas bottles, the SodaStream models are sleeker and more minimalistic. They have a modern design that suits any kitchen.
Automatic System
One of the big benefits of SodaStream models is that many of them are either automatic or use a backlit system to indicate how much fizz you have added.
This helps to take the guesswork out of preparing sparkling water and also makes it easier to produce consistent results.
SodaKing does not have this which means it requires manual operation.
You will need to be the judge of how long to press the carbonator down and how many times you need to do it to get the water as fizzy as you like it to be.
This can take some trial and error to get right.
You will be able to make the perfect drink at the touch of a button with both but SodaStream just makes this a bit more easily achieved with their automation and indication system.
Price
Price is one of the big factors to consider when shopping for one of these machines.
At the time of writing, SodaKing offers more affordable options with each model costing less than $100 whereas to buy a SodaStream model you can pay as much as $249.
The amount you will pay depends on the product you choose but the cheapest option from SodaStream is $79.95 for the Jet Black Metallic model while the most expensive is the Power model at $249.00.
The cheapest option from SodaKing is the Adventurer which costs $69.95 and the most expensive is the Classic which costs $99.00.
---
Making your selection
When choosing between SodaStream and SodaKing there are a few factors that might sway it one way or the other for you.
We think it comes down to three factors when deciding between these products:
1) Ease of Use
SodaStream is easier to use. The models are either automated or let you know how carbonated the beverage is using indication lights.
The SodaKing products do not have any indicators or labelled buttons aside from the one that will carbonate the drink as you hold it down.
2) Portability
If you are planning to take your maker with you either to a friends party, out for picnics or days out or you just want the freedom to move it around the kitchen with ease then go for a SodaKing model.
None of the SodaKing models need to be connected to a power source and they even have an Adventure model that is designed with a handle so you can move it around with ease.
3) Cost
The SodaKing models cost less to buy.
The accessories cost less too (a 1L bottle twin pack costs $19.95 from SodaKing and $21.95 from SodaStream and a spare gas cylinder costs $39 from SodaKing and $45 (on offer down from $51.95) from SodaStream).
However, the SodaKing models are manually operated so if you want an automatic electric model you can expect to pay more for these features.
If you have a limited budget and you don't mind manually making soda water then SodaKing can save you money.
---
Wrap Up
With these 3 factors in mind, it should be clear which make is going to be best for you to make soda water you love at home.
If you are looking for a sparkling water maker that is low-cost, manually operated and does not require connection to a power source then go for a SodaKing.
If you would prefer a model that is higher tech, sleeker and offers automated controls then go for a SodaStream.
Ultimately, both offer stylish, high-value products that come with reusable bottles.
Each also sells a range of flavour options for adding familiar taste to your cold water drinks.
Both brands work with the same gas bottle size and are operated in the same way. You can't go wrong with either of these options, and you get a 2 year warranty with both as well.