Both Daikin and Fujitsu are popular brands in the Australian air conditioning market. However, there are some key differences between them that consumers should keep in mind when choosing.
This article will outline the things consumers should consider when deciding on a split system from either of these two popular brands and compare some of the top-rated Daikin and Fujitsu split systems currently on the market.
RELATED: The Best Split Systems in Australia
Daikin Vs Fujitsu: Which is Best?
Allergy Friendly
Daikin manufactures allergy-friendly split systems and their air filtration and purification technology has been approved by the National Asthma Council Sensitive Choice Program.
When considering a new air conditioner, ask yourself what you will be primarily using it for. If you live in a home with pets and/or children, you may want to consider an air purifying system. These units clean your air as they cool your home and remove nearly 100% of particles that cause allergies.
RELATED: The Best Air Purifiers
Smart Features
Fujitsu and Daikin split systems both feature a human sensor system that can detect when someone is actually occupying the room and save on energy costs when no one is present.
Once 20 minutes have passed with no activity in the room, Daikin's 2-Area Intelligent Eye technology adjusts to an energy-saving setting, and then returns to its original setting when activity resumes.
Similarly, Fujitsu's Human Sensor function automatically turns the air conditioning unit off when no one is in the room to prevent electricity from being wasted. If no one enters the room for 20 minutes, the air conditioning unit will automatically revert to an energy saving mode based on the temperature of the room when you left it. It also detects if someone has returned to the room and will revert to pre-set temperature settings.
Price
There is not a significant difference in price between these two brands.
For example, at the time of writing, the popular Fujitsu Lifestyle Range C5.0kW H6.0kW is available for $1,799 (view at The Good Guys), while the Daikin Alira X is available for $1,750.
Reliability
These are two of the most popular and trusted brands of split systems in Australia. While neither comes without some problems these two manufacturers are recommended by professional installers nationwide and continue to be amongst the top rated in various brand surveys.
One thing to keep in mind is that some issues are brand specific while others will relate to a specific unit, so it's important to read as many reviews as you can by people who have used the exact unit you're looking at.
Warranty
Fujitsu and Daikin split systems both come with a 5 year parts and labour warranty which covers the compressor, indoor unit, outdoor unit and all internal components.
Verdict
Should you purchase Daikin or Fujitsu split system? Both are very reputable and reliable, so we don't think you can go wrong with either of them.
We advise simply choosing one that you can get a good deal on and has good reviews for the specific product. We also recommend finding a trustworthy installer that is familiar with the brand you choose.
Top rated Daikin and Fujitsu Split Systems
This Fujitsu Lifestyle Split System is a wall-mounted reverse cycle air conditioning unit that delivers energy-efficient heating and cooling for medium-sized spaces. It receives 4 Stars on its energy rating in cooling mode and a 5 Star energy rating in heating mode.
With a 5.0kW cooling capacity and 6.0kW heating capacity, this split system has Economy Mode programs that limit power consumption and output as well as V-PAM and i-PAM inverter technology to provide high output, high-efficiency performance.
It also features Fujitsu's Human Sensor technology to detect whether there are people in the room and adjusts the temperature accordingly for energy-efficient performance.
Daikin Alura X is a split-system air conditioner that makes it possible for you to enjoy fresh, clean air in your home. The Daikin Streamer Technology that is used in this air conditioner removes pollen, bacteria and mould particles from the indoor air.
The Daikin Alira X comes in a range of sizes with varying power outputs so is suitable for heating or cooling small, medium and large spaces.
In addition to switching into Eco mode when the room is unoccupied, the 2-Area Intelligent Eye technology means it can also either direct airflow towards you or away from you for extra comfort.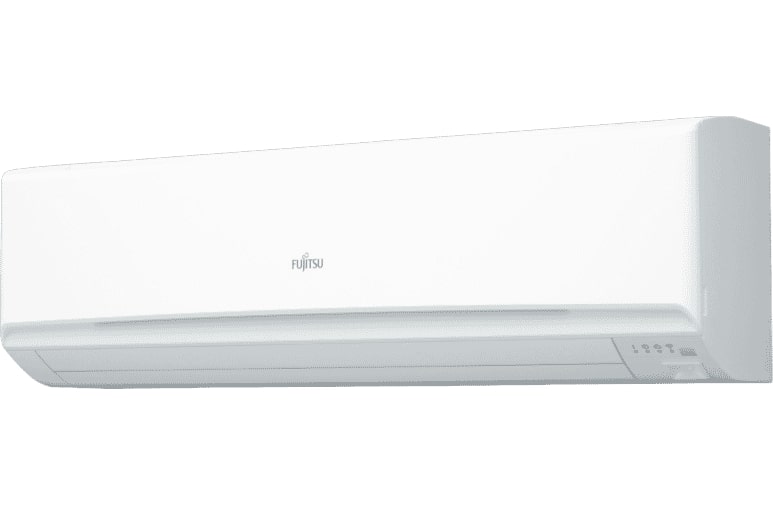 This Fujitsu air conditioner is ideal for cooling and heating larger rooms. You can be confident it will keep areas up to 70m2 cool in the summer or warm in the winter with its increased capacity. The eco mode is gentle on the environment while a super quiet mode lets you comfortably enjoy your home. Inverter technology keeps temperature fluctuations low.
This unit offers a variety of timer options, including sleep mode, weekly and program. It also includes a deodorisation filter for extra odour control, combined with the standard air filter. This unit has been upgraded with an extra star rating for its heating mode and now has a slimmer design.
What to keep in mind when buying a split system
A split system air conditioning unit is the most common type of air conditioner available. These wall mounted air conditioners are the best option for cooling (and heating, if you choose a reverse cycle split system) individual rooms in your home. They are compact and easy to use.
The indoor unit extracts heat from a room and passes it to the outdoor unit. Heat is released outside while the air cooled by a refrigerant returns to the indoor unit, creating a continuous cycle.
RELATED: Panasonic vs Fujitsu Split System
Cooling Only or Reverse Cycle
Reverse cycle split system air conditioners can cool as well as heat. If you live in a climate that has both hot summers and cold winters, then one of these models can be a great solution for your home.
Even on the coldest winter day, there is some heat in the environment that the outdoor unit can gather. When choosing a reverse cycle split system air conditioner you will notice it has two kW values: one for cooling and one for heating.
If, however, you only want to cool your home in summer, then you'll save money by looking at cooling-only models.
Room Size
Split systems are great for areas of up to 60 square metres. Below is a rough size guide to help you figure out the capacity of the air conditioning system you require.
40 to 60 square metres – 4 kW to 6kW
20 to 40 square metres – 2. 5kW to 5kW
20 square metres or less – 2 kW to 2. 5kW
While it is important to have enough power to heat or cool in extreme conditions, you also don't want a unit that is significantly too large for the room as this can be inefficient and use too much energy. Similarly, a unit that is too small for the room can regularly run at peak capacity which may degrade the efficiency of the equipment and lead to excessive wear.
Installation
A standard installation of a split system, including wiring and appropriate permits, will cost approximately $700 to $900. A non-standard installation will obviously cost more.
In most states, installers must be licensed by the Australian Refrigeration Council and they need to hold a restricted electrical licence. Make sure you get a certificate of compliance for any electrical work.
Split System FAQ
Which Is Quieter Fujistu Or Daikin?
When comparing two similar units (the Daikin Alira X C5.0kW H6.0kW and the Fujistu Lifestyle range C5.0kW H6.0kW), the noise output of the indoor units is very similar. According to the manufacturers, the Daikin unit produces noise levels of 45 decibels (dBA) on high and 28dBA on low in both cool and heat modes. The Fujitsu unit produces 46dBA on high and 29dBA on low in both modes. These differences are so subtle, they wouldn't be noticeable. The noise level of the outdoor units is also very similar, at around 48dBA.