OLED TVs are widely considered the best option for providing amazing contrast, colour and motion handling. Although previously expensive, there are now great deals and several affordable OLED TVs on the market.
To help you in your search, we've rounded up the cheapest OLED TVs in Australia and ranked them based on quality and value for money.
---
LG OLED55CXPTA LG 55 INCH Smart OLED TV
The OLED55CXPTA offers a better picture processor and stronger AI upscaling so if you're looking for superior image quality in your OLED TV then choose this model.
Key features of this OLED TV include 4K resolution, HDR support and Dolby Vision IQ which automatically adjusts the colour, contrast and brightness to give you the best viewing experience.
There is also a Filmmaker Mode for movie lovers and Nvidia G-Sync for gamers.
This TV has 4 HDMI inputs, all of which can handle 4K and one that is eARC enabled too.
ThinQ AI means Google Assistant and Amazon Alexa are conveniently built-in to the OLED TV allowing you to control your smart home system with ease.
With this Smart TV, you can easily access a wide variety of content including Netflix, Apple TV, Amazon Prime, Disney+ and so much more.
What We Like:
Amazing picture quality
Dolby Vision IQ
Great upscaling
---
Sony KD55A8G 55″ OLED HD TV
This 4K Ultra HD OLED TV from Sony is a very slim and lightweight model that is packed with great features. It has a minimalist frame with a stand that blends in and conceals the cables to keep the area around the TV organised.
The KD55A8G uses Dolby Vision to create an immersive cinematic experience. You can access all of the popular apps with the easy to use Android interface. This OLED TV uses Acoustic Audio Surface technology which means the sound comes from the entire screen rather than just from the sides.
There are 4 HDMI inputs, 2 USB inputs and this TV also works with Alexa enabled devices to give you hands-free control. The controls are user-friendly but the remote is a bit on the bulky side. This is one of the best OLED TVs when it comes to upscaling and motion processing.
What We Like:
Amazing picture quality and upscaling
Easy to use 
Minimalist design
---
LG 65″ OLED65B9PTA 4K OLED Smart LED TV
This large 65″ OLED TV from LG offers incredible clarity, detail and contrast. The OLED 4K panel reveals detail in the darkest scenes and ensures each colour is true to life to give a realistic, authentic experience.
The Alpha 7 Gen 2 Intelligent Processor works with Dolby Vision to produce a cinematic experience. This OLED TV has built-in Wi-Fi to make it easy to access your favourite apps and shows.
It also has LG ThinQ AI with Google Assistant and Amazon Alexa and this TV works with Apple AirPlay 2 and Apple HomeKit too.
The display supports all HDR formats so you can enjoy excellent quality with all content.
The Dolby Atmos three-dimensional sound makes sure the audio is clear and enhances the overall viewing experience.
What We Like:
Amazing clarity
Low price
Great Smart TV system
What We Don't Like:
Not the latest processing
---
LG OLED55BXPTA BX 55″ 4K Smart OLED TV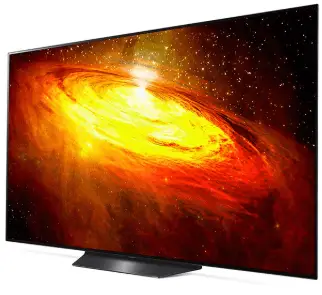 This is the best OLED TV for anyone on a budget, it offers all of the impressive OLED features in an entry-level package. T
his TV delivers amazing viewing experiences no matter what you are watching. It has an HDMI 2.1 port, HGiG and a fast response time making it a great choice for gamers too.
Dolby Vision IQ helps enhance your experience by automatically adapting the screen settings to suit the content and lighting conditions. This OLED TV also has a Dolby Atmos sound system that makes sure the sound quality keeps up with the image quality to fully immerse you in the entertainment.
The settings include a UHD Filmmaker Mode that turns off motion smoothing and adjusts the picture so you can view the film exactly as it was intended.
This 4K TV can be used with Amazon Alexa, Google Assistant, Apple Airplay 2 and Apple HomeKit.
This is one of the cheapest OLED TV sets available and is a stylish, immersive and user-friendly option great for any home.
What We Like:
Best value for money
Easy to adjust settings and modes
Great for movies and games
What We Don't Like:
The user interface can be slow between menus
---
LG 55″ OLED55GXPTA 4K GALLERY OLED TV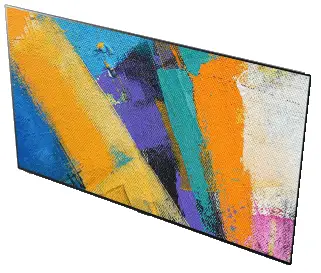 The OLED55GXPTA is definitely in the running for the best OLED TV when it comes to style and all-round performance.
It sports the LG gallery design meaning it is created to be mounted flush with the wall. It has over 8 million self-lighting pixels that ensure colours are rich and shadows are detailed.
This OLED TV has the a9 Gen3 AI Processor 4K that automatically adjusts and enhances the picture and sound to deliver the best, most immersive experience for you. The GXPTA also features Dolby Vision IQ which adapts the screen brightness, contrast and colour to suit the content and lighting.
The sound quality isn't left behind either, the Dolby Atmos sound system ensures the audio is high quality and immersive.
As with the other LG X OLED TV's, this model also has ThinQ AI to turn your TV into a central hub that works with home assistants such as Alexa and Google Assistant.
What We Like:
Incredible wall-mounted style
Fantastic features
Impressive upscaling
What We Don't Like:
Not as bright as an LCD screen
---
6. Sony 55″ A8H 4K UHD ANDROID BRAVIA OLED TV
This 55″ OLED TV from Sony boasts impressive 4K Ultra HD video quality. It offers amazing colour detail with TRILUMINOS, Pixel Contrast Booster and Super Bit Mapping HDR all working to deliver real-world colours in stunning depth and detail.
The OLED panel keeps the screen consistent so you can watch it comfortably from any angle. The A8H features X-Motion Clarity to make sure high-speed scenes and fast action is smooth and clear while also minimising blue light and reducing brightness loss.
The Acoustic Surface Audio means the screen is the speaker, this makes the viewing experience even more innovative and immersive. You can also adjust the modes on this OLED TV so you can enjoy virtual surround sound when watching your favourite films or enhance human speech with VoiceZoom when watching the news or a documentary.
What We Like:
Best out of the box accuracy
Excellent image quality
Smooth interface operation
---
OLED TV Buyer's Guide
OLED TVs are becoming increasingly popular. This is especially true now you can find a relatively cheap OLED TV packed with amazing features. This buyer's guide can help you find the best OLED TV for your budget.
What Is An OLED TV?
OLED stands for Organic Light Emitting Diode. Rather than the TV having a backlight that shines on the pixels, an OLED TV has pixels that are individually controlled. This results in darker blacks, richer colours and thinner screens.
As each pixel can switch off completely an OLED TV is able to display true black while also reducing power consumption. The pixels can display millions of colours and the colour reproduction is impressively accurate and life-like.
OLED vs QLED vs LED TV
LED is the most common type of TV and is also the most affordable. It has a backlight that is used to light up liquid crystals that create the image.
QLED TVs use a backlight to light up quantum dots rather than liquid crystals. This is supposed to create more vibrant colours than LEDs.
OLED uses self-emitting bulbs so does not need a backlight. This produces the best contrast and motion as well as vibrant, true-to-life colours.
Why Buy An OLED TV?
Amazing Colour
An OLED TV is truly the best option when it comes to colour accuracy. They can achieve deep blacks with amazing shadow detail and contrast so you don't miss a single thing.
Impressive Viewing Angles
The viewing angle of an OLED television is brilliant, you can enjoy almost unlimited viewing angles. This means you can still see the same accurate colours and contrast even if you are watching the TV set from a wide-angle.
Smooth Motion
The best OLED TV is perfect for all entertainment including films, TV and gaming. You can enjoy fast-paced action or gameplay without any motion blur impacting the experience.
Size & Weight
OLED TVs look better than most LCD screens. As they don't need a backlight they are super thin. The slimmer, lighter design makes OLED TVs stylish and easy to mount onto the wall.
Lower Blue Light
OLED TV screens even have lower blue light levels which reduces eye strain so you can comfortably binge on your favourite series.
RELATED:
Downsides To An OLED TV
Price
One of the biggest downside to these amazing TVs is the cost. As this is a relatively new technology it means there is less choice and the available OLED TVs are more expensive to buy than LCD TVs.
There is quite a difference between the prices of an LCD TV and a cheap OLED.
With that said, more affordable options like the ones reviewed above are becoming increasingly common.
A cheap OLED may cost more than an LCD TV but you get so much more with OLED TVs.
Lower Brightness
As these TVs are not back-lit even the best OLED TV is likely to have a slightly lower peak brightness than many LCD displays.
Key Features To Look Out For
Screen Size
The screen size is measured diagonally and newer TVs have a smaller bezel (the border around the screen).
This means you can enjoy more screen in the same space. When choosing the best screen size for your new TV think about the viewing distance too.
It is best to have a viewing distance of 1.5 times the size of the screen. You will find most OLED TVs are 55″ – 65″.
Resolution
The best resolution is 4K Ultra HD, this offers 4 times the quality of Full HD. You can find relative cheap OLED TVs that offer 4K as this resolution is far more affordable now than it used to be.
While there are 8K options available and 8K is the best resolution, these TVs come at a far higher price. At the moment 8K content is not widely available so it just isn't worth the extra expense unless you really want to be ahead of the game.
Smart TV
Many of us now stream our favourite content from different apps and subscription services.
Many new TVs offer smart features including catch-up TV, streaming services and a collection of apps.
There are different smart operating systems that work with different TV brands so the interface and available apps may vary depending on the brand you choose.
If there is a particular app you use, check the product information to make sure the app is available on that OLED TV.
HDR
High Dynamic Range goes hand in hand with providing excellent picture quality. HDR helps to make colours more vibrant and blacks darker.
Some TVs offer HDR upscaling which allows you to enjoy high-quality images even if the content is non-HDR.
This upscaling is commonly either Dolby Vision, HDR10, HDR10+ or HLG (Hybrid Logic Gamma).
Connection Ports
The best OLED TVs will have at least 4 HDMI ports and these should be HDMI 2.0 or higher with at least one of them being the newer 2.1 format.
The HDMI 2.1 port offers a faster standard and improvements on the variable refresh rate.
Refresh Rate
The refresh rate refers to how many times the picture is refreshed per second, it is measured in Hertz (Hz). The standard refresh rate for most TVs is 60Hz.
Voice Control
The best OLED TV will also come with some sort of voice control or built-in Alexa, Google Assistant or similar.
This allows you to control your OLED TV as well as other smart products without needing to use the remote control.