If you're wrestling with stubborn weeds, it can be tempting to grab the first weed killer you see. But not all weed killers are created equal!
To kill weeds for good, you need a high-quality product with a proven track record.
Today, we're going to cover some of the best weed and grass killer products on the market.
We'll also talk about some options for people who want to steer clear of chemicals and herbicides.
Below, the top 9 best weed killers to help you conquer existing weeds, avoid future weeds and compare and save on the best products available.
---
1. Slasher Organic Weedkiller (Top Pick)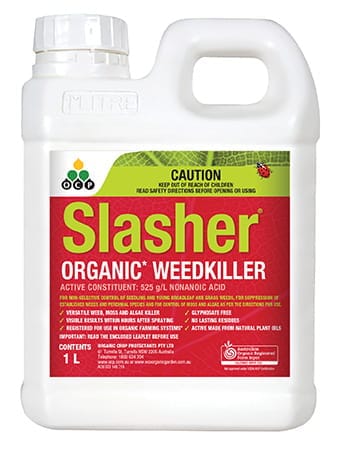 If you're looking for an organic option that controls weeds, moss, and algae, this popular weed killer might be the product for you.
This organic herbicide kills lichen, algae, moss, and weeds. It's safe to use in your garden, driveway, around buildings, or as a spot-spray on your lawn.
This is a non-selective contact weed killer. With this kind of spray, you want to make sure you're thorough with your application. Any parts not sprayed won't be killed.
There are no lasting spray residues with this product and it's known for its rapid action when killing weeds.
The organic label and absence of residue make this a good choice if you're concerned for the safety of children or pets.
What We Like:
Controls weeds, moss, and algae
Visible results within hours
Organic
Made from natural plant oils 
---
2. Hortico All Purpose Weed Killer 360
This is another all-purpose, non selective weed killer. It kills weeds and grass by destroying both foliage and roots.
It's easy to use and consistently reliable as a grass killer or to get rid of the most stubborn weeds.
If you're looking for a wallet-friendly option, this is one of the more affordable products on our list.
For your convenience, this item is non residual and comes ready to use.
What We Like:
Kills weeds and grasses
Destroys foliage and roots
Non-residual
Affordable
What We Don't Like:
Dispensing mechanism could be better
---
3. Butane Gas Torch Weed Killer
If you want to kill weeds without chemicals, this might be your best bet. Gas torch weed killers are a more environmentally-friendly way to go and they can be just as effective.
This kind of device works by burning the cell of grass or weeds to stop them from growing.
The lightweight body and ergonomic handle make this product easy and convenient to use. You just want to make sure you follow the instructions on these kinds of weed killers carefully.
They can be a little tricky for the uninitiated. This torch comes with three different nozzles for versatility and improved accuracy.
What We Like:
Treats weeds without chemicals
Convenient to use
Time-saving
Ergonomic
---
4. Glyphosate 360 Weed Kill Professional Grade Herbicide
This professional-grade herbicide has the same strength as Roundup at a fraction of the cost.
It's easy to use and can be applied through a sprayer or water can. When stored correctly, this herbicide is good for several years.
Whether you're battling pests of the Spring or Summer variety, this weeds killer works on shrubs, roots, grasses, and annual and perennial species.
Today, it's one of the best weed killer options thanks to its strength, ease-of-use, and consistent results.
What We Like:
Annual and perennial weed and grass killer
Commercial strength
Dilutes with tap water
Easy to use
---
5. Dicamba M Selective Herbicide Weed Killer
This is a low toxicity weed killer and herbicide. It's good for garden beds, lawns, and pathways.
Although it's not suitable for Buffalo lawns, it destroys selected weeds like pesky clover Bindii and other intrusive weeds found among grasses and turf.
This one litre bottle makes enough herbicide to treat up to 1500 square metres.
Because it's selective, you can use it on your lawn. It's ready to use, and it kills weeds while leaving your Couch grass healthy.
What We Like:
Low toxicity weed killer and herbicide
Treats up to 1500 square metres
Selective weed killer
Allows grass to stay healthy
What We Don't Like:
Not suitable for use on Buffalo lawns
---
6. Yates Buffalo Pro Broadleaf Weed Killer
This product can is safe for Buffalo, Couch, and Kikuyu lawns to kill weeds like Bindii, Clover, Catsear, Dandelion, and more.
It selectively controls weeds and the 250ml plastic bottle comes with a child-proof cap for safety.
This concentrate can treat up to 415m2, making it a good choice for an extensive problem.
This is another weedkiller Bunnings keeps stocked on its shelves if you'd prefer to shop in store.
What We Like:
Suitable for use on Buffalo lawns
Selectively controls weeds
Bottle has child-resistant cap
Affordable
What We Don't Like:
Some users have found it damages buffalo lawn
---
7. Weed Killer Hot Devil Weed Killer
If you'd rather go after a stubborn weed with a torch, the Hot Devil might be your best bet. This fire kit with butane gas torch targets unwanted growth in your garden or lawn. When using a gas torch, place it over the top of the weed to dehydrate and destroy it.
For convenience and accuracy, the flame intensity is easily adjustable. And you don't have to worry about harmful residue posing a threat to children or pets after use.
What We Like:
Butane gas torch
Kills garden weeds and grass without chemicals
Economical
Ideal for driveway, garden, rockery, pathway 
---
8. Butane Gas Weed Burner
Another popular weed burner, this product is well-made and lightweight. For people opposed to the use of chemicals and herbicides, this is an excellent, effective option. This is a lightweight, relatively easy-to-use device.
One reason these items are growing in popularity is they're more environmentally friendly than chemical solutions. Another benefit is that they're ideal for small, stubborn weed patches. Suppose you've got a limited weed problem, and you're concerned about residue or chemicals. In that case, a butane gas weed burner might be your best option.
What We Like:
Kill weeds without chemicals
Easy to handle
Lightweight
Well-made
What We Don't Like:
Not as fool-proof as traditional weed killer
---
9. RichGro Beat A Weed Natural Weedkiller
If you're wondering which Bunnings weed killer is best, you won't be disappointed with RichGro Beat A Weed.
This weed killer is unique in that it works by suffocating the plant. Because it's not reliant on chemicals, it's more environmentally-friendly than traditional weed killers.
Feel free to use it on your lawn without worrying whether it poses a risk to kids or pets.
Whether you need to get rid of weeds, moss, or algae, this product quickly gets results without toxic ingredients.
You can use it in your garden, driveway, flower bed, or anywhere you've located unwanted weeds.
What We Like:
Natural weed killer
Results within hours
Dehydrates the plant
Works on moss and algae
What We Don't Like:
Needs several applications to be completely effective
---
Weed Killer Buyer's Guide
Shopping for the best weed killers might not be as straightforward as you'd hoped. To help you decide which option is best for you, let's go over what to look for before you buy.
Selective Or Non Selective
A selective weed killer is specially formulated to target specific weeds or categories of weeds. In other words, it's harmful to some species and not to others. These weed killers will not harm the lawn where they're applied.
Non-selective weed killers control both grass weeds and broadleaf. With this option, you have to be careful where you apply it because it will harm your lawn or anything else it touches.
Fire vs Chemicals
Each of these options has benefits and drawbacks. Chemical solutions are effective on large infestations, and fire is not. Chemicals leave behind residue that can be harmful to pets and children as well as the environment. And, of course, torches can pose a fire hazard.
Depending on what kind of infestation you're facing, the improper use of either method can damage the lawn or garden you're attempting to protect. If you're targeting a small area and you're opposed to chemicals, a gas torch will probably serve you well. For a more significant infestation, you'll probably fare better with an herbicide.
Coverage
With weed killing products, you can't judge by the size of the package. You can dilute pure concentrate down to provide quite a bit of coverage. Details about coverage are usually located on the packaging. In most cases, coverage is described in terms of square metres.
But most weed killers are designed for spot usage. Unless you're covering a massive amount of acreage, you probably don't need to think too seriously about coverage.
---
Weed Killer FAQs
Is weed killer safe around pets?
One reason people prefer killing weeds with heat is to avoid chemical residue. But you can also find all-natural or organic products that won't harm your pets. Just look for labelling that specifically mentions safe use around children and pets.
How long before my weed killer works?
This depends primarily on what method you use. You'll notice that many products claim to show effects within a few hours. And this is usually true. It's best to go by the directions included with your product or device. Remember, just because you don't see immediate results doesn't mean your product isn't working.
Does herbicide expire?
When stored properly, most weed killers can last for years. For optimal results, store your product in a dry, cool location. While nothing dramatic will happen to an improperly stored product, it might become less potent.