A water flosser offers an effective alternative solution to tedious traditional flossing.
Flossing with water removes plaque, bacteria and food from your mouth in an easy and comfortable way.
As each water flosser has different features and options, check out the reviews and buyers guide below to help you find the best product for your needs.
---
1. Waterpik WP-660 Water Flosser (Top Pick)
The top pick is the WP-660 from Waterpik, this unit offers a range of features so can be tailored to the individual needs of the user.
It's easy to use and is clinically proven to be effective at removing plaque from teeth and improving gum health.
The WP-660 uses a combination of water pressure and pulsations (1400 pulses per minute) to improve oral hygiene by cleaning the hard-to-reach areas of your mouth.
There are 10 pressure settings that can be selected easily using the turn dial and the large reservoir allows you to floss for 90 seconds before needing to refill.
This set comes with a 7 colour-coded tips so if more than one person is using it you won't get mixed up. There is a massage mode and a timer that pauses at 30 seconds and at 60 seconds.
With this model you can get the best flossing experience for you at a good price.
What We Like:
Selection of tips
Different pressure settings
Effective at removing plaque and improving gum health
---
2. Waterpik WP-100A Oral Irrigation System Ultra Water Flosser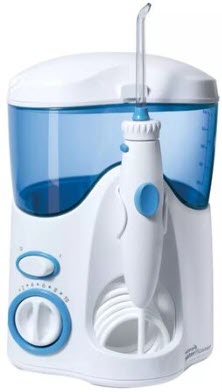 The Waterpik WP-100A is a more affordable option, it is slightly older than the WP-660 but still gives an effective and thorough clean.
At the front of the unit is the power switch and the pressure mode dial with 10 settings. There are 6 different tips to choose from and you can store the water picks in the lid of the unit between uses. There's a convenient button on the handle that lets you pause the flow as required.
The large removable reservoir holds enough water for 90 seconds of flossing and the measurement marks on the side make it easier to accurately add medicine or other solutions to the mix. The rubber feet under the WP-100A provide additional support and stability.
What We Like:
Affordable
Simple and convenient
Reliable
---
3. Panasonic All in One Oral Irrigation System Water Flosser
The Panasonic All in One is a convenient, compact and cordless water flosser. It is a great option if you are looking for something lightweight and portable.
There are 3 pressure settings and the gentle technique of air and water mixed together is ideal for people with sensitive gums. There is a jet mode for high pressure cleaning and the flosser remembers the last setting used for added convenience.
It's 100% waterproof so can be rinsed clean after use, it is also quiet and has an easy grip design. The 130ml reservoir is on the small side but that can be expected with a compact, portable model.
What We Like:
Cordless
Great for sensitive gums
100% waterproof
What We Don't Like:
First charge takes 15 hours
---
4. Waterpik WP-450 Oral Irrigation System Water Flosser
The WP-450 is portable and rechargeable, it is an ideal option for people who travel a lot. The basic design and features give you what you need without the frills, making this one of the more affordable flossers from this brand.
The set comes with 4 tips, a charger and an instruction manual. This water flosser has a smart appearance with a simple slide power button on the front and a high/ low pressure slide button just below it. The two settings can easily be switched between using this slider.
As expected with a portable option, the reservoir is small but it holds enough for 45 seconds of use.
What We Like:
Trusted brand
Portable
Ease of use
---
5. DentJet Oral Irrigator Multifunctional Water Flosser
This DentJet is a great set for the whole family to make use of. This flosser is quick and effective and it comes with 7 replacement nozzles including a tongue cleaner. It combines water pressure and pulsations to provide a better clean than string floss while also being gentle on your gums.
When it comes to pressure there are 10 settings that you can set using the dial and the wand has a handy on/ off power switch. For convenience, you can store the tips in the top of the unit.
The unit is quiet to use, is 100% waterproof and has a generous 600ml capacity. The DentJet water flossers also come with a travel bag.
What We Like:
Quick and effective
Quiet
Variety of settings and attachments
---
Water Flosser Buyer's Guide
Flossing is important for oral health but it can be tedious and difficult. Water flossers help to make flossing less of a chore; they are quick, simple to use and are gentle while also incredibly effective.
Types of Water Flosser
Countertop – needs to be plugged in, countertops tend to be very feature-rich with lots of options and settings.
Cordless – portable and compact, great for travel and use on the go.
RELATED: The Best Electric Toothbrush
Key Features
Adjustable pressure – being able to adjust the pressure is important, you need to have control over the force of the water so you can alter it based on your gum sensitivity and requirements. People who are new to using a water flosser should start at a lower pressure and work up.
Reservoir/water tank – this is the part that holds the water, they come in various sizes depending on the type and design. Cordless options have much smaller reservoirs.
Water tip selection – water flossers have removable tips, most sets come with 2 or more tips. There are many different types of tip available so this is something to keep in mind. Your tip requirements will depend on your needs and how many people will be using the flosser.
Tip eject button – an eject button makes it quick and easy to change the tip heads.
RELATED: Oral B Toothbrush Comparison
Extras:
Massage mode – this mode can help stimulate blood flow in gums.
Timer/pacer – units with a timer or pacer let you know when you have reached the recommended flossing time.
In-handle control – advanced units let you control the flow from the flosser handle.
---
Water Flosser FAQs
Is a water flosser as good as regular flossing?
They are both a great way to care for teeth and gums. In some ways water flossers can be better than regular flossing; water flossing is quicker, easier and more convenient particularly for people with braces, crowns or dental implants and people with dexterity issues.
Is water flossing good for braces?
Yes, water flossing is great for cleaning around braces. It is very difficult to use dental floss when you have braces but water can reach those difficult places regardless of the brackets.