Vacuum bag sealers help you to preserve food, sucking the oxygen from around it, which then prevents mould and bacteria growth. External vacuum sealers also have many additional benefits like helping you to fit more food into your freezer (great for batch cooking), protecting the food from freezer burn, and helping to effectively marinate meal ingredients like meat.
If you're thinking of adding a vacuum sealer to your kitchen, you'll want to ensure you choose one that is both high-quality and also meets your specific needs. We're here to help. In this article, you'll find everything you need to know about vacuum sealers. But first, an overview of the best vacuum sealers currently available to buy in Australia, along with their pros and cons.
Here are the best vacuum sealers in Australia:
---
1. Luvele LSVS130G Supreme Vacuum Sealer (Top Pick)
The smartly designed 130w motor Supreme Vacuum Sealer from Luvele is designed to do everything you want a vacuum seal product to do, and more. With bag roll storage and cutting, it is compact and yet, that doesn't restrict what it is able to do. The system has an ample 30 cm sealing strip and a pressure button giving you ultimate control over the vacuum pressure your filling needs.
Those looking to get started vacuum sealing right away will love that the product comes with 20 metres in total of different sized bag rolls. There's also a special FOOD button to use. It matches the seal time to the item being sealed, so there's no research needed to help you get started In keeping your produce fresher for 5 times longer than non-vacuum packed food.
What We Like:
Can be used to pack food and non-food items
Wide variety of sealing options for different foods
Highly effective bag cutter
Convenient FOOD button presets
What We Don't Like:
A little bit noisy
Lots of additional features may not be required by some customers
---
2. Sunbeam FoodSaver Controlled Seal Vacuum Sealer
If you don't have a lot of kitchen space, the Sunbeam FoodSaver is a really great choice because it is compact and can easily fit on top of a microwave. Don't let the small size fool you into thinking it doesn't have plenty to offer though. The FoodSaver holds the roll until you need it, then you simply seal, pull to the length you need, then seal again. The precise cutter then cuts the bag ready for filling and vacuum sealing.
If you want to be able to use your vacuum sealer in lots of ways you will love that the product comes with an accessory attachment on top for extra versatility. This attachment enables you to use the pump to remove air from any ziplock bag. You can also use it in combination with the Sunbeam FoodSaver containers, with the FoodSaver bottle stoppers, and to marinate foods with a marination container.
What We Like:
Inbuilt accessory enabling extra versatility
Commercial quality vacuum
Marinate function
Handy bag storage and accurate bag cutter
What We Don't Like:
Instructions could be more detailed
Replacement bag roll could be costly
---
3. GERYON Automatic Vacuum Food Sealer Machine
The Geryon Automatic sealer is designed to be incredibly quick and efficient so that vacuum sealing is not time-consuming. With two simple and effective sealing modes, you can easily seal specially designed bags quickly and effectively. The product is also compact enough to fit easily inside your cupboards without taking up lots of room.
Customers will love how easy the product is to use. It has soft-touch buttons, LED indicator lights and a central top control panel for your convenience. Even better, when you are done sealing you can take the upper lid off for extremely easy cleaning.
What We Like:
Very easy to use
Compact
Two sealing modes
Easy to clean
What We Don't Like:
Vacuuming not as powerful as more premium machines
Loading vacuum sleeve properly takes some practice
---
4. Sunbeam FoodSaver Lock & Seal Vacuum Sealer
If you are looking for a simple and easy-to-use vacuum sealer then the FoodSaver Lock&Seal might just be the right product for you. There aren't any frills with the sealer vacuum, which for some customers might be exactly what they want. Instead, you get a solid product that effectively locks and seals any bag you want to help the contents maintain freshness for longer.
Customers will love that the product is so simple and easy to use, and is especially well-suited to beginners to vacuum sealing.
What We Like:
Very easy to use
Accessory adaptor hose
Comes with pre-cut bags and vacuum zipper bags
What We Don't Like:
Compa containers have to be bought separately
Those with hand or wrist issues may not find the product suitable
---
5. Sunbeam FoodSaver Fresh Vacuum Sealer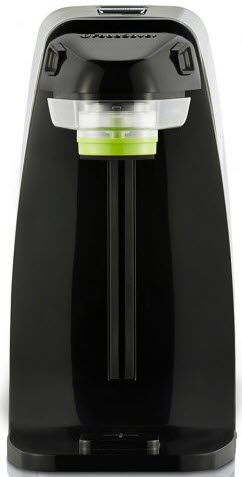 Even though most food vacuum sealers aren't particularly large, the FoodSaver Fresh is very compact making it the ideal accessory for smaller kitchens, and even well kitted-out camper vans and caravans.
Using the reusable zipper bags and containers you can successfully take the oxygen out from around the produce you want to last longer. Customers will love how easy this is with the chamber vacuum only taking 3 easy steps to use. You simply put veggies or meat (or anything you want to preserve) in your vacuum seal bags or container, set it up on the machine and then start removing the air. You even get accessories with the chamber vacuum so you can get started right away.
What We Like:
Extremely compact
Very easy to use
Attractive design
Accessories includes
What We Don't Like:
Buying extra compatible accessories can be expensive
No specific vacuum settings for different foods
---
Vacuum Sealer Buyers Guide
If you have decided to invest in a sealing and vacuuming device, you likely feel a bit overwhelmed by the vast amount of products available, and the differences between them. Do you need a bag roll holder and cutter? Does it need to fit in your cupboard? Does it need an external vacuum accessory?
If you are feeling a little confused by the vast selection on offer, take a look at these handy tips to help you gain a better understanding of what to look for:
How Many Bells And Whistles Do You Need?
Some chamber vacuum sealers have a drip tray, they hold a bag roll, they cut the bag roll, they have a sous vide or marination option, external vacuum sealers and more. They literally have all of the bells and whistles.
If you are a beginner, you could benefit from all of these things and never need another product again. However, you may find it so much that you use it once then it never sees the light of day again.
Think carefully about your likelihood of using the product a lot. If you're not the dedicated gadget user, then start with a simple product that locks and seals. If you know you will get heavily involved in using your gadget a lot and you have a lot of need for something that preserves your meats, cheese and more, then get something with extra features like external sealers, sous vide settings and more, because they'll likely be of use to you.
Use With Accessories
Certain brands ensure their products are only compatible with their own brand of accessories. Be careful to check the price of accessories to check if you are OK with being limited to a certain brand. Sometimes you may pay more for a more expensive model, but you save on the price of accessories overall.
RELATED:
Does Size Matter?
Vacuum sealers don't tend to be very large in general, but some are smaller than others. Do check the size of the product before buying it if you are limited on space in your kitchen. Certain models are more compact and suitable for smaller kitchens.
Is Dexterity An Issue?
Certain lock features can be challenging to use, especially if you have to apply pressure, or the product is fiddly overall. Check the mechanism description to ensure it will be easy for you to use. If you do struggle with dexterity this is a worthwhile feature to check.
Specificity Of Vacuuming
The best products have very specific vacuuming features that ensure the most accurate oxygen removal and speed for the product you are sealing. This is an innovative feature you may pay more for, but if you really do expect to use the product regularly and want the very latest in vacuuming technology then these kinds of features are very useful.
By using the tips above you will be able to keep your meats, cheeses, fish and more at their best, for longer. Soon enough your family will benefit from the food sealer, with perfect sous vide dishes, convenient frozen dishes and more.
---
Vacuum Sealer FAQs
How does a vacuum sealer work?
A vacuum sealer removes the oxygen from a bag or container in order to prolong the shelf life of the food. A common use for a vacuum sealer is batch cooking and freezing of portions.
Can you vacuum seal soup?
You can, but some vacuum sealing products are not designed for liquids so you should check the manufacturer's guidelines before purchasing the product to be sure that you can use the food vacuum in this way.