For many years, treadmills have been used to bring about significant changes in cardiovascular fitness, physical health, and body composition and they are still one of the most popular pieces of gym equipment around.
Whether you are a runner or a walker, a treadmill may be a worthwhile addition to a home gym.
This first section will highlight a number of the best treadmills to buy for home training.
---
1. Proform Pro 2000 Treadmill – Top Pick
The Proform Pro 2000 is a high-tech, functional treadmill that will ensure exercise safety and efficiency.
The treadmill has an innovative one-touch speed control system allowing you to adjust speed quickly meaning you can stay focused on your performance.
The same technology is also used for incline control and allows for up to a 15-degree incline and 3-degree decline.
Finally, the treadmill is equipped with a Bluetooth cardio belt, heart rate monitoring, music port, CoolAire fan, and an integrated accessory tray.
What We Like:
One-Touch Control Technology
Foldable and Space Efficient
Large Incline / Decline Angles
Bluetooth Belt Included
---
2. Everfit Folding Treadmill – Best Value
Although Everfit Treadmills tend to be cheaper than many of its competitors, it is still a high-quality machine that can cater for your cardio needs.
The 3.5HP motor is energy-efficient and ensures that the treadmill stays smooth, quiet, and stable at all times.
What We Like:
Affordable
Powerful And Energy-Efficient
Highly Functional
A Great Choice For HIIT Training
What We Don't Like:
Build Quality May Be Inferior to High-End Options
---
3. Endurance Spirit Treadmill
A first-rate medium size treadmill that fits really well into any home gym, the Endurance Spirit is one of the best treadmills on the market and is excellent for those with a limited price range.
It is foldable and contains a hydraulic lift that allows safe lowering and raising of the deck.
The treadmill contains a number of simple controls making it possible to quickly adjust the speed and incline where necessary.
In addition, the belt can speed up to a maximum of twenty km/h and there are fifteen levels of incline to select from.
What We Like:
Space-Efficient
Max Speed Of 20 km/h (12 mph)
15 Incline Levels
Good Price
---
4. Freeform Cardio F2000 Commercial Treadmill
The Freeform F2000 is one of the best treadmills for both commercial gym use and use at home.
The hi-tech motor used to power the treadmill provides speed up to 22 km/h.
The running deck is supported with Freeflex Precision Cushioning to facilitate performance, comfort, and safety at all times.
Furthermore, the treadmill contains Belt Protect and Ezycare which prolongs the life of the belt and allows the treadmill to self-lubricate as you run.
What We Like:
Powerful, High-Quality Motor
Top Speed Of 22 km/h
Freeflex Precision Cushioning
Reduced Risk Of Mechanical Issues
---
5. NordicTrack C700 Treadmill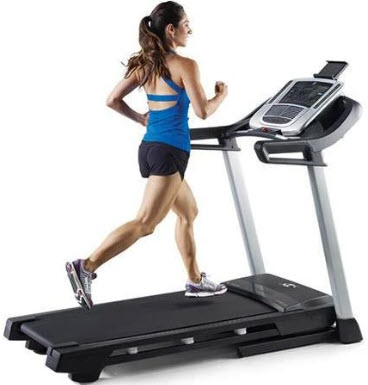 The NordicTrack C 700 treadmill has a wide belt which provides plenty of room for walking and running.
The treadmill allows you to adjust the cushioning system of the treadmill.
Turning the cushioning on will provide a softer landing to protect the joints, whereas, switching it off will replicate running on hard surfaces, like the road.
The equipment also has a multi-window LED Display, two digitally amplified speakers, heart rate monitoring handles, and is Bluetooth enabled.
What We Like:
Wide Belt
Adjustable Cushioning
Media System and Bluetooth
Long WarrantyPro 3
What We Don't Like:
Lower Max Weight Capacity Than Competitors
---
6. Sole F63 Treadmill
The F63 treadmill is another foldable piece of cardio equipment manufactured by Sole. It is an affordable machine for home use that provides a great running experience.
It contains a durable 3.0 motor, a track measuring 60 inches, and user-friendly controls.
As with many other modern treadmills, the Sole F63 has Bluetooth compatibility, audio speakers, and a USB charging port.
What We Like:
Space-Efficient
High-Quality Motor
Long Track
User-Friendly Controls
---
7. Lifespan Apex Treadmill
This award-winning treadmill makes a great choice for those who are looking to get the most bang for their buck.
The machine has a large running surface which is the perfect size for walking and running.
The treadmill contains Shockcontrol cushioning built in which gives you greater comfort at high speeds.
In addition, speakers are built into the treadmill and a USB port will allow you to play your own music, films, or TV shows.
What We Like:
Wide Running Belt
Advanced Cushioning Technology
Built-in Speaker For Entertainment
Great Value
---
Treadmill Buyer's Guide
There are a number of key considerations that must be made before purchasing a treadmill.
However, before discussing these points, we'll briefly consider the many benefits of cardiovascular training.
Cardiovascular Training Benefits
Any exercise that places a demand on the heart and lungs for a prolonged period of time can be considered cardiovascular exercise.
For example, walking, running, cycling, rowing, and swimming are all great examples of cardiovascular training.
Research has shown that performing regular cardio can have a range of positive effects that can positively influence our health and wellbeing.
The most evident change experienced through cardio training is an improvement in something known as your VO2 max.
This term simply refers to your maximal aerobic capacity, or in simpler terms, the greatest amount of oxygen that can be used by the body.
Research on cardiovascular training has highlighted a number of other benefits including improving heart health and function, reducing cardiovascular disease risk, and facilitating weight loss.
Types of Cardiovascular Training
There are two main types of cardio that can be performed:
High-Intensity Interval Training (HIIT)
Low-Intensity Steady State (LISS)
With HIIT, as the name suggests, the exercise is extremely high in intensity but short in duration. LISS is the opposite of HITT and involves a low intensity but a long duration. While both of these methods are effective methods of cardio training, they do have their specific benefits.
A number of studies have suggested that HIIT is equally effective than as LISS for causing improvements in VO2 max.
Furthermore, HIIT allows for a large number of calories to be expended in a short period of time. and may, therefore, be highly valuable for onsetting weight loss.
Finally, research has suggested that HIIT may effectively reduce both blood pressure and blood sugar levels.
LISS is the conventional cardio training method that has consistently been found to improve VO2 max and general health.
While HIIT is highly demanding, LISS is a lot gentler on the body and may be more suitable for beginners and those with health or movement issues.
Furthermore, considering that LISS places less stress on the body than HIIT, the body can recover more quickly from bouts of LISS and it can even be used as a recovery tool.
When using the treadmill, a LISS session would involve maintaining a steady run or walk for a prolonged period of time, typically for around thirty to sixty minutes. There are a number of ways to perform a HIIT session on a treadmill.
An example of a HIIT treadmill session would be performing six to ten sets of sprints or fast-paced runs with short rests incorporated in between each sprint.
RELATED:
Treadmill Design
When it comes to buying a treadmill, there are a number of considerations that must be made.
This section will cover a number of key treadmill features that all good treadmills have.
Running Surface Area
The first consideration to be made is the running surface area as the width and length of the deck will vary from treadmill to treadmill.
You will want to get a home treadmill that provides enough room to run freely without being concerned about safety.
Shorter and narrower decks may increase the risk of falling while longer and wider decks will provide a great deal more room and reduce this risk.
It is also important that you check the treadmill belt and ensure that it is non-slip and provides plenty of grip when running.
Programs and Settings
Having a range of fitness programs and workouts in-built tends to come as standard for most modern-day treadmills.
The best treadmills will have an array of different workout programs that will cater to a range of different fitness goals and requirements.
In addition, make sure to purchase a treadmill that is easy to operate.
Many treadmills now have one-touch controls that allow you to quickly and safely adjust the speed and incline of the machine.
Motor Size/Horsepower
The motor is a key component of all treadmills as ultimately, the motor is what powers the belt and carries most of the mechanical weight.
The best treadmills with high-quality motors positively impact the feel of the run. In terms of motor size or horsepower, your weight and treadmill usage will determine the horsepower requirement.
For heavier individuals, a great amount of horsepower may be required whereas lighter individuals may not need such a high powered running machine.
Considering the large number of forces generated during running, higher horsepower machines are also recommended for running.
RELATED:
Size and Portability
When it comes to selecting a treadmill for your home gym, size and portability are both important considerations.
Treadmills that are large, heavy, and difficult to handle, may not be ideal for home training.
The best treadmill for home use will be one that is light, takes up the least amount of space, and is easy to store.
A number of treadmills are now foldable and contain hydraulic lifts which helps to save space and allows for simple storage.
Cushioning
Proper cushioning is important for shock absorption and promoting joint health.
The best treadmills have thick cushioning systems built into the deck to provide this support.
Some more advanced treadmills even allow you to adjust the amount of cushioning received from the deck.
Load
It is vitally important to check the max load of the machine as surpassing this weight limit will likely cause damage to the machine and potentially risk injury.
The best treadmill will be capable of taking a great deal of load and most modern machines now surpass the 130 kg mark.
Construction Quality
When it comes to construction quality, there are two areas to specifically focus on – stability and durability.
It is vastly important the treadmill remains stable as you run as shaking or rocking will only impede your running and increase injury risk.
It is also crucial that the product is highly durable as mechanical breakdowns can be costly to fix and time-consuming.
Noise
Generally speaking, the best treadmill will provide excellent performance without generating excessive noise.
While noise tends not to be hugely concerning, it can be distracting.
Poorly constructed treadmills may cause screeching, whining, and squeaking – particularly from the belt as it revolves.
In addition, the fans built into the user interface have a reputation for being noisy.
Safety
With most treadmill belts begin capable of revolving at 15 km/h or more, safety is paramount.
Look to buy a treadmill that has a safety cord and clip that can be attached to the user.
If the user was to fall, the safety cord will be pulled and the belt will immediately stop. This may help to prevent injury or reduce the severity of an injury.
Most treadmills also have an emergency stop button that can be activated to stop the belt quickly.
Features
There are a number of features that the best treadmills tend to have.
Adjustable Incline
Adjusting the position of the deck can add a new dimension to your training session.
While most machines will allow you to adjust the treadmill incline, some treadmills have a decline setting too.
The best treadmill will have a large number of incline increments and allow you to add intensity to your workout.
Display Panels And Screens
Most treadmills will come with some form of screen to display workout data.
More advanced machines will have an LCD screen that will provide entertainment as well as data.
Depending on the make and model, the screen size and functions vary.
Hand Rails And Foot Panels
Handrails tend to run down the side of the treadmill while the foot panels run to either side of the belt.
These are simple structures that are essential for promoting safety when operating the treadmill.
By supporting the bodyweight on the hand rails and jumping the feet from the belt onto the foot panels, you can quickly move off the belt.
Heart Rate Monitoring
Monitoring your heart rate is an effective way of understanding how intense your workout is.
As a result, many treadmills have a heart rate monitor built-in which is typically found in the handgrips.
For a better, more accurate reading, some treadmills can automatically detect and display heart rate through belts or fitness trackers.