Steam mops can be the best way to clean tile and other hard floors quickly. However, with so many options on the market, it can be difficult to find the right mop for you.
In this article, we break down everything from tank size to overall weight to help you find the mop that best meets your needs.
---
Our top choice for steam mops is the very impressive SC60 from Euroflex. Easy to use and efficient on a range of surfaces, this steam mop will be a welcome addition to your home cleaning arsenal.
While very effective on hard floors such as wood or tiles, the design of the SC60, with the water tank in the base unit, means that you can also access surfaces that you can't with other steam cleaners. This includes tiled walls in bathrooms and kitchens.
It has a large water tank that does more cleaning per fill (up to 40min) and a long hose for hard to reach spots. This model also comes with essential accessories, including microfiber cleaning pads, brushes and extension tubes.
---
For a deeper clean, this steam mop from Bissell is a great option. It has a slim design that reduces the overall weight to let you clean longer and features both high and low steam settings. With the long power cord, you can clean a whole room. It also comes with an extension tube that extends the length of the mop to reach other spots.
---
Easy to use and efficient on a range of floor types, the Steam Fresh Combi from Vax is an Australian household favourite.
The large mop head and ergonomic construction mean you can easily cover large areas quickly, while the triangle shaped mop head makes getting into tight corners a breeze. Perfect for hard wood floors or tiles, this steam mop uses both detergent and steam to offer cleaning power that few others can replicate. It also gets up to temperature in only 20 seconds, meaning less waiting around.
An attachment makes the Steam Fresh Combi suitable for refreshing carpets and rugs, while other attachments allow cleaning of your oven, windows, and other kitchen and bathroom surfaces. This is a truely versatile machine.
---
Similar to the buffers used in commercial floor cleaning, this Karcher model features a child lock that keeps kids from suffering burns when they pull on the steam gun. With a parking option, you can leave the mop running when you prepare the floors or take a phone call. It has loads of space for accessory and tool storage. Those tools include microfiber cleaning pads and brushes for upholstery cleaning.
---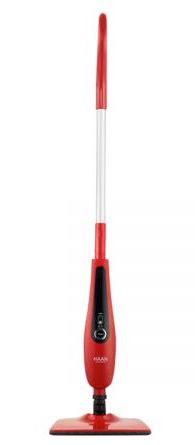 With the turbo mode on this mop, you clean faster and get all the deep cleaning power that you need. There is also a normal mode that is suitable for lighter cleaning. The mop comes with two microfiber cleaning pads that you can reuse. Not only does it include Smart Steam Technology, but it can remove buildup from lime and scale.
---
This Bissell cleaner checks the temperature of the water that you use and will regulate and maintain that temperature. As one of the only models designed for carpets, it can remove the deep stains and odours that your pets leave behind. It offers both wet and dry cleaning and has a removable tool that you can use on upholstery.
RELATED: The Best Carpet Cleaners
---
Steam Mop Buyers Guide
Flooring Type
The most important thing to consider when buying one of these mops is the type of flooring that you have in your home. There are some models for tile floors and laminate floors, however not all models will work on hardwood floors. Even those designed for home use often only work on sealed hardwood floors so be sure to check manufacturer specifications before you buy.
Design
A handheld floor steam cleaner is small and suitable for holding in just one hand. These models are often inexpensive and easy to use. They are great for cleaning up after pets or kids but not suitable for cleaning your whole home. Cylinder cleaners have a small cylinder with wheels and a hose that attaches to the top. You can usually use these to clean an entire room. There are also carpet cleaners that use steam power.
Water Tank Size
It's helpful to look at the size of the water tank, especially for deep cleaning. Buffers with large water tanks let you clean one or more rooms before you need to add more water. If the tank is too small, you'll find yourself moving to the faucet more than you would like for more water.
Cord Length
Whether you buy a mop for laminate floors or other surfaces in your home, you need to check out the cord length. This is especially important if you have a large home or rooms with fewer outlets. The longer the cord is, the further it will reach from an outlet.
RELATED:
Other Things to Consider
Flexible hoses: A floor steam cleaner that comes with a flexible hose is easier to use. These hoses bend and flex to fit under your furniture and around any other obstacles between you and the floor.
Variable control: The best steam mops come with a variable control that lets you adjust the heat or level of the steam. This lets you start at a lower temperature and slowly increase the heat as you clean.
Microfiber pads: The top scrubbers for laminate floors come with microfiber pads or pads made from another soft material. This lets you clean all debris from the floors without damaging them.
Heating time: Make sure that you see how long it takes for the mop to come up to temperature. With a model designed for commercial floor cleaning, the mop reaches the maximum temperature in seconds to help cleaners save time. Those designed for home use might take a few minutes to heat up.
---
Related Posts: