Steam mops can be the best way to clean tile and other hard floors quickly. They offer a chemical-free and detergent-free way of sanitising your home and they are one of the best options for people who suffer from allergies and sensitivities. You may have noticed that there are a lot of steam mop options available on the market. With so many to choose from, it can be difficult to figure out which is the best steam mop for you.
Use the reviews and buyers guide below to help you find the mop that best meets your needs.
---
1. Bissell PowerFresh Slim Steam Mop (Top Pick)
For a deeper clean, this steam mop from Bissell is a great option. It has a slim design that reduces the overall weight to let you clean longer and features both high and low steam settings. With the long power cord, you can clean a whole room. It also comes with an extension tube that extends the length of the mop to reach other spots.
What We Like:
Functions as a steam cleaner and mop
High and low steam settings
Built-in storage for all tools
Bonus tools included
What We Don't Like:
Not as powerful as other mops
Small tank
---
2. Vax Steam Fresh Combi Steam Cleaner
Easy to use and efficient on a range of floor types, the Steam Fresh Combi from Vax is an Australian household favourite.
The large mop head and ergonomic construction mean you can easily cover large areas quickly, while the triangle-shaped mop head makes getting into tight corners a breeze. Perfect for hardwood floors or tiles, this steam mop uses both detergent and steam to offer cleaning power that few others can replicate. It also gets up to temperature in only 20 seconds, meaning less waiting around.
An attachment makes the Steam Fresh Combi suitable for refreshing carpets and rugs, while other attachments allow cleaning of your oven, windows, and other kitchen and bathroom surfaces. This is a truly versatile machine.
What We Like:
Efficient and easy to use
Suitable for a wide range of cleaning tasks
Combines steam and detergent for deep cleaning
20 second heat up time
8m power cord
What We Don't Like:
Range of accessories and functionality may be overkill for some people
---
3. Karcher SC5 easyFix Steam Cleaner
Similar to the buffers used in commercial floor cleaning, this Karcher model features a child lock that keeps kids from suffering burns when they pull on the steam gun. With a parking option, you can leave the mop running when you prepare the floors or take a phone call. It has loads of space for accessory and tool storage. Those tools include microfiber cleaning pads and brushes for upholstery cleaning.
What We Like:
Child lock
Four-stage regulation system
Onboard storage
Weighs only six kilograms 
What We Don't Like:
Very expensive
Doesn't work on all surfaces
---
4. Haan Slim & Light Pro Steam Mop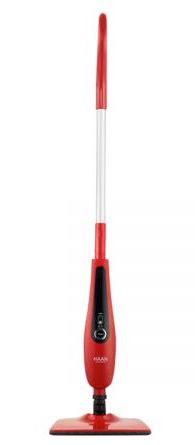 With the turbo mode on this mop, you clean faster and get all the deep cleaning power that you need. There is also a normal mode that is suitable for lighter cleaning. The mop comes with two microfiber cleaning pads that you can reuse. Not only does it include Smart Steam Technology, but it can remove buildup from lime and scale.
What We Like:
Works on all types of sealed flooring
Smart Steam Technology
Reusable microfiber cleaning pads
Removes lime and scale
What We Don't Like:
Does not work on all hardwoods
Less powerful than other models
---
5. Bissell Revolution Pet Carpet Cleaner
This Bissell cleaner checks the temperature of the water that you use and will regulate and maintain that temperature. As one of the only models designed for carpets, it can remove the deep stains and odours that your pets leave behind. It offers both wet and dry cleaning and has a removable tool that you can use on upholstery.
RELATED: The Best Carpet Cleaners
What We Like:
Works well on pet odours and stains
Designed for carpets
3.78-litre water tank
Suitable for wet and dry cleaning
What We Don't Like:
Expensive
Heavy
Carpets only
---
Steam Mop Buyer's Guide
The best steam mops make light work of cleaning hard floors, leaving them hygienic and sanitised. The high temperature of the steam helps to get rid of bacteria and can also eliminate dust mites without the need for harsh chemicals. This ability to effectively eliminate dust mites is one of the key reasons steam mops are a popular option for people with asthma and allergies. As there are lots of steam mop brands and products available, this guide will help you find the best option for your needs:
Flooring Type
The most important thing to consider when buying one of these mops is the type of flooring that you have in your home. Some steam mops are designed for use on tile floors and laminate floors, some can also handle hardwood floors but not all models are able to be used on hardwood.
Even steam mops that are designed for home use often only work on sealed hardwood floors so be sure to check manufacturer specifications before you buy. Make sure the mop you buy is suitable as using a steam mop on a floor type that it is not suitable for may cause damage to the flooring.
Design
There are a couple of different types of steam cleaner:
Steam Mops
These look a bit like stick vacuum cleaners, they are usually lightweight and easy to manoeuvre. Each model offers different accessories and features but overall they are affordable, efficient and are good for use in spaces of all sizes.
Handheld Steam Mops
A handheld floor steam cleaner is small and suitable for holding in just one hand. These models are often inexpensive and easy to use. They often come with a few different attachments and release a concentrated burst of steam through the nozzle.
Handheld steam cleaners are great for cleaning up after pets or kids but are not the best option for cleaning your whole home. Handheld steam mops offer value for money but are best for small areas.
Cylinder Steam Mops
Cylinder cleaners have a small cylinder with wheels and a hose that attaches to the top. These are bulkier than the other types but you can usually use them to clean an entire room. The larger water tank makes it easier to get larger jobs done without needing to refill too often.
A cylinder cleaner is a versatile option and you can use different attachments for different surfaces. These tend to be a bit more expensive than the other steam mop types. There are also carpet cleaners that use steam power.
Water Tank Size
It's helpful to look at the size of the water tank, especially for deep cleaning. A steam mop will only be able to produce steam when there is water in the tank, buffers with large water tanks let you clean one or more rooms before you need to add more water. If the tank is too small, you'll find yourself moving to the faucet more than you would like for more water. Smaller tanks have quicker heat up times but if you have a lot of rooms you will want to have enough steam for cleaning a reasonable area in one go. Consider the size of the space you will be mopping and compare the options to find the best size for your needs.
Cord Length
Whether you buy a mop for laminate floors or other surfaces in your home, you need to check out the cord length. This is especially important if you have a large home or rooms with fewer outlets. A short cord can be restricting which will quickly become frustrating if you using the steam mop in a larger space. The longer the cord is, the further it will reach from an outlet.
Accessories
It is very common for steam mops to work with a range of accessories and attachments. These will allow you to tackle a range of cleaning jobs around the home so in addition to clean floors you can refresh carpets and even clean streaks from windows. Common handy attachments include:
Scrubbing brushes – helps to get dirty tiles sparkling clean with ease, the steam scrubbing brush is ideal for removing grime and dirt that often gets embedded in grout and tiles.
Carpet glider – a carpet glider is designed for use on carpets so you can get them clean and fresh in no time.
Squeegee – a squeegee is designed for cleaning glass, making it quick and easy to get quality results.
Upholstery tool – if you have tired fabric, a steam mop with an upholstery tool can treat strain and bring the fabric back to life.
Scrubbing pad – a scrubbing pad is best for getting rid of grease from appliances such as ovens. Grease build-up can be tough to tackle but a steam mop with a scrubbing pad attachment is an effective method.
Other Things To Consider
Flexible hoses: A floor steam cleaner that comes with a flexible hose is easier to use. These hoses bend and flex to fit under your furniture and around any other obstacles between you and the floor.
Variable control: The best steam mops come with a variable control that lets you adjust the heat or level of the steam. This means you can start at a lower temperature and slowly increase the heat as you clean.
Microfiber pads: The top scrubbers for laminate floors come with microfiber pads or pads made from another soft material. This is gentler on floors while still being effective meaning you can clean all debris without damaging the floor.
Heating time: Make sure that you know how long it takes for the mop steamer to come up to temperature. With a model designed for commercial floor cleaning, the mop reaches the maximum temperature in seconds to help cleaners save time. Those designed for home use might take a few minutes to heat up. The size of the water container will have an impact on the heating time.
Steaming time: Take a look at the amount of time you can use the steamer for cleaning in one go before it needs to be refilled.
Water type: Finally, check if the steam mop can be used with regular tap water. Some manufacturers recommend using distilled water only which can become expensive and it will impact your warranty if you use tap water on these models.
---
Steam Mop FAQs
Which is better: mop or steam?
Steam mops are the better option as they are safe, effective against tough dirt and grime and they kill harmful bacteria without the need for harsh chemicals.