A set of quality steak knives is an investment that will dress up your dinner table and allow you to enjoy eating delicious cuts of meat without having the struggle of trying to slice it with a dull, inadequate knife.
There are countless options available but there are some key differences between a quality knife that will last many years and a knife that will become blunt and ineffective after just a short amount of time.
The reviews below take a look at the best steak knives available in australia and the accompanying buyer's guide outlines some of the features you will notice when shopping for steak knives.
Here are the best steak knives in Australia:
---
1. Messermeister Avanta 4-Piece Fine Edge Steak Knife Set (Top Pick)
This 4-piece set offers sharp, fine-edged steak knives that feel sturdy and balanced in your hand.
The 5″ edge slices and carves with ease. The upward curved tip is great for deboning while the long blade is perfect for cutting through meat.
The German high carbon stainless steel blade is high quality and stays sharp for a long time. The pakkawood handle looks great, is durable and comfortable to hold.
What We Like:
Sturdy
High quality
Blades stay sharp
What We Don't Like:
Cannot be cleaned in the dishwasher
---
2. Victorinox Swiss Classic 6-Piece Steak Knife Set
These high-quality knives are contemporary, ergonomic and hand-made in Switzerland. They are made to a professional level and boast rounded tips and very sharp edges.
The ergonomic fibrox handles are comfortable to hold, hygienic and are slip-resistant. The knife feels light in your hand and cutting through meat is effortless.
For ease of cleaning, this set of steak knives is dishwasher safe.
What We Like:
Excellent value
Very sharp blades
Comfortable handle
What We Don't Like:
Not the most attractive knife set (best for daily use rather than dinner parties)
---
3. Tramontina Traditional Jumbo Rounded Steak Knife
This box of 12 steak knives is a versatile option that offers great value for money. These knives look rustic with their double-riveted wooden handles and their serrated edges.
The 5″ blades are micro-serrated and make cutting easy. They are made from durable stainless steel so you can rely on them for years to come.
The handles not only look smart, but they are also strong and allow you to have a good grip while cutting. These steak knives would be well-suited to day-to-day use.
What We Like:
Rustic look
Box of 12 knives
Micro-serrated for ease of use
---
4. WÜSTHOF Gourmet Four Piece Steak Knife Set
These razor-sharp steak knives offer easy maintenance, long-lasting sharpness and high-quality.
The handles are triple-riveted synthetic polypropylene, they are resistant to heat, discolouration, fading and corrosion.
The blades are precisely cut high carbon stainless steel, they are extremely sharp and should be washed by hand.
What We Like:
Low maintenance
Durable
Precisely cut
What We Don't Like:
Hand washing is recommended
---
5. Scanpan 6-Piece Spectrum Steak Knife Set
This 6 pack of steak knives is a low-cost option that is well-suited for everyday use.
The knives feature an ergonomic black soft-touch grip making the knife comfortable to hold and easy to handle.
The full tang construction is sturdy and the serrated blade is non-stick coated making it easy to clean. The Scanpan knives can be washed in the dishwasher too.
What We Like:
Low cost
Non-stick coated
Dishwasher safe
What We Don't Like:
Some users may find these knives lose sharpness quicker than competitors
---
6. Wiltshire 6 Piece Laser Edge Stainless Steel Steak Knife Set
These Wiltshire steak knives are modern, elegant and high-quality. They are ideal for smooth cutting and will look great set out on the dinner table.
The stainless steel knives have a laser edge that does not lose its sharpness and makes light work of cutting through meat.
This set is good for everyday use, they can be washed in the dishwasher and require minimal maintenance.
What We Like:
Does not require sharpening
Low price
Elegant design 
What We Don't Like:
Not as durable as other options
---
7. Ortega Kitchen 8pc Stainless Steel Serrated Steak Knife Set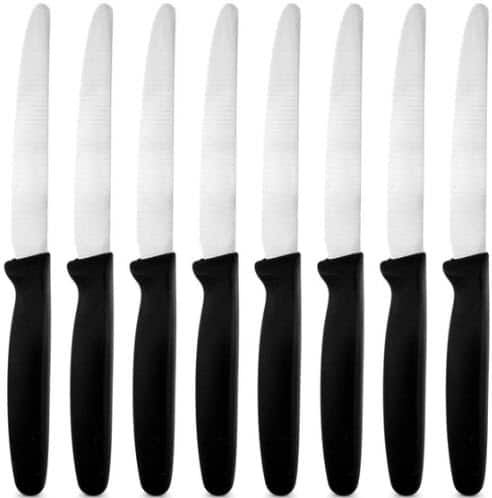 This 8 piece set of steak knives is an ideal option for a family home. They can handle daily use and feature a serrated edge to make slicing food simple.
The ergonomic handle is easy to hold and the lightweight and rounded tip ensure you have full control as you cut.
The blade is corrosion resistant and the knives can be washed in the dishwasher making maintenance even easier.
What We Like:
Great for daily use
Serrated blade
Corrosion-resistant
What We Don't Like:
The design is not as stylish as other options
---
Steak Knife Buyers' Guide
A quality steak knife not only looks great but also feels comfortable to hold and cuts through meat effortlessly. A bad knife can ruin the experience of eating a perfectly cooked steak so it is important to find an option that is high quality and sturdy. This guide can help you find the best steak knives for your preferences.
Types of Steak Knives
There are three main blade types you will see when comparing steak knives, these are:
Straight edged – a straight-edged, or plain blade, is considered a less traditional option but is a style that is increasing in popularity. The straight-edged knives are completely smooth and extremely sharp but they can become blunt with regular use, fortunately, they can be sharpened with ease.
Serrated – a serrated knife is a very common option that features small teeth that remain sharp over a long period of time. These are very popular as the knives are effective, low maintenance and easy to use.
Micro-serrated – a micro-serrated knife tends to be the lower-cost option. It is good for producing reasonable results but is better for short-term use as they cannot be sharpened when blunt.
Handle Types
The traditional handle on kitchen knives is ergonomically shaped with rivets (three rivets is most common) to hold the handle in place. They tend to be slim, comfortable to hold and feature a bolster as a buffer between the blade and handle.
There are now more contemporary options available too. These alternative styles can vary in appearance but the handles tend to be narrower and smoother than traditional options. They look smart but they are not as ergonomically designed and rely more on balance to provide a good grip and cutting motion.
RELATED:
Key Considerations
Safety
It is important the steak knife set you choose is sturdy and made from high-quality materials. Lower quality knives may wobble and loosen over time. The stronger knives have a full tang which is when the blade and handle are made from the same piece of metal meaning the blade is not able to come loose from the handle. The handle should be ergonomic and fit well in your hand to ensure proper control and prevent slipping when cutting.
Comfort
A good steak knife is not only sharp, it is comfortable to hold and easy to control. The knife should be well-proportioned and well-balanced, it should feel natural to use.
Material
The blades of steak knives are made from stainless steel but there are many types of stainless steel that offer different qualities. Higher quality steel steak knives tend to be branded and offer longer-lasting strength and durability. Stainless steel with a high carbon content is popular for its weight and ease of sharpening.
The handles can be made from wood, plastic, steel and chrome. The material chosen will affect the overall look of the knife and how it feels to hold.
RELATED:
Other Considerations
The number of knives in a set – steak knife sets tend to offer 4-6 knives which is great for a family home but you can also get larger sets which are best suited to larger families and regular entertaining.
Maintenance – serrated knives require very little maintenance while straight-edge knives will need regular sharpening. Not all steak knives are dishwasher safe and it can cause rust if you put knives that are supposed to be hand washed in the dishwasher.
Balance – the knife should feel well-balanced when you hold it. A well-balanced knife offers greater performance and is easier to use.
---
Steak Knife FAQs
Are serrated steak knives better?
Serrated knives are the best option as they stay sharper for longer, are very low maintenance and can handle cutting down into steaks and tough foods easily. Serrated blades also offer versatility allowing you to slice other foods with ease too.