Buying a spice grinder is a great idea if you want to create your own fresh herb and spice powders to use in the kitchen.
To help you find a fantastic product that gives you the best possible results for your budget, we've reviewed the best spice grinders available in Australia.
---
1. Breville The Coffee & Spice Grinder, Brushed Stainless Steel (Top Pick)
The smart-looking Breville spice grinder is designed to quickly and conveniently grind spices, herbs and even coffee beans.
Although the product only runs at one speed, it is so powerful it effectively turns the contents into a fine powder in seconds. This means that the functionality is perfect for any budding chef or convenience-loving homeowner looking to get usable spices or coffee at speed.
The strong steel blades used to crush the spices are rust resistant for longevity so you shouldn't need to replace your Breville sooner rather than later. Further, the grinding compartment is made from glass to minimise different flavours being absorbed and contaminating different ground spices. 
What We Like:
Compact
Powerful
Glass grinding compartment
Easy-clean removable bowl and lid
What We Don't Like:
No coarseness control
Design could mean emptying is a little messy
---
2. Cuisinart Grinder Nut and Spice Grinder
This compact grinder from Cuisinart holds up to 90 grams of ingredients. The powerful motor can quickly turn your choice of spice, herb and food ingredients like cinnamon sticks, pepper corns or even linseed and nuts into finely ground powder, in seconds.
If you love a product that is easy to use, you'll appreciate the nifty off and on push control feature. Even better, you don't have to worry about safety as the product won't be usable unless the lid clicks into place. Once you're done, the bowl and lid are removable and dishwasher safe, for convenient cleaning.
What We Like:
Detachable lid and bowls
Secure lid safety feature
Able to hold 90 grams of food
Push on and off control 
What We Don't Like:
Compact design may mean you can't subscribe to making larger batches of food
May not be powerful enough to grind coffee beans
---
3. Uncle Herbs Spice Grinder
If you prefer a product that doesn't require electricity for power, then Uncle Herbs might be the best option for you. It is incredibly light and compact, so you can take it camping, use it in different rooms in the house or even in the garden at the grill.
If you're hoping to grind finer ingredients like pollen, Uncle Herbs has you covered and is mainly designed for these kinds of foods. It uses four separate chambers including a mesh chamber to catch the finest powder. The sharp grinding teeth and easy to use grinding mechanism mean you can easily grind your spices and herbs to a fine power really quickly.
Worried about how you'll get your ground spices out of the device? Don't fret, you get a free compact scraper with the grinder which helps you easily remove your ground ingredients.  
What We Like:
Light
Compact
Suitable for very fine powders
Comes with compact scraper

 
What We Don't Like:
Very compact at 40-60mm
Unsuitable for harder ingredients like nuts
---
4. Sunbeam Coffee and Spice Grinder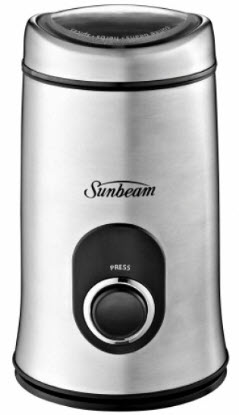 This spice grinder is a fantastic choice for customers who are a little more serious about grinding ingredients for various recipes in their kitchen.
With a see-through lid you can watch the contents as they grind to check the coarseness and stop grinding when the desired consistency is reached. The strong wing blades are extremely strong so you can easily grind softer spices, as well as harder products like coffee beans and peppercorns. The product is so strong you can easily use the Sunbeam as a nut grinder.
Looking for an easy clean spice grinder? Although this grinder does not have removable parts, it is easy to wipe inside once you've used it.  
What We Like:
Powerful
Transparent lid
Easy to clean grinding bowl
Ample sized grinding cup
What We Don't Like:
Lacking removable bowls and lid
Product build may not offer as much durability as comparable products
---
5. Created Eco Herb Grinder
The Created Eco grinder is the perfect product for eco-conscious homeowners looking for kitchen gadgets that are good for their meals and good for the planet. The product has a plastic-free construction so you can purchase it free from guilt, knowing that it doesn't contribute to the 130 kg of single-use plastic used per Australian resident every single year.
Luckily, the product isn't just eco-credentials and it actually works very well. It is extremely compact at just 60mm and requires no power to work so you can take it camping or, in the garden by the BBQ.
You simply place the food you want to grind inside the bottom compartment and then put the lid on, and grind. You may have to be careful about using very hard spices in the product, but for softer herbs like basil or soaked pine nuts, you're unlikely to have any issues grinding them at all.
What We Like:
Extremely compact
Extremely light
Plastic-free
Requires no batteries or power to use
What We Don't Like:
Not best for harder spices
Unable to fit in lots of ingredients
---
Spice Grinder Buyers Guide
Buying a spice grinder is a great idea if you want to grind all kinds of herbs, spices, foods and coffee beans in your kitchen. However, there are some vast differences between grinders so purchasing the right product can be tricky.
Which grinder is strong enough to grind nuts? Do you need a portable grinder? How easy to clean does a grinder need to be?
To help you get the most efficient grinder for your needs, read our list of the best tips :
How Do You Want It To Work?
If you need your grinder to be extremely easy to use, then look for one that uses power to do all the work. An electric grinder will work best for you, especially if you have dexterity issues. If you don't mind putting some effort in yourself, then power-free grinders use no power or batteries, have no cord, are small in size and tend to be cheaper to run.
Knowing how much capacity you need, how many options you want, the ability of the grinder, the space it takes up and other details like that will help you shop with also help you shop with ease.
What Do You Want To Grind?
If you only want to grind softer products like pollen and fresh herbs then you will have no issues using a grinder that you twist yourself. However, if you want freshly ground harder foods like coffee beans, nuts and harder dried herbs, then a durable electric spice machine with stainless steel blades is the best thing to search for.
RELATED:
Look For Strong Construction
Generally, a manual cooking grinder will not be as tough and sturdy as something like a fully-fledged electric coffee grinder spice machine. So, if you know you will be using the unit a lot and you don't want to have to double up and replace it quickly, look for a sturdy build and a good warranty too.
How Easily Do You Want It To Be Cleaned?
Some grinders are equipped well to provide you with easy navigation and quality features, but they may not be that easy to clean. Ideally, if the product includes a removable bowl and lid your life will be so much easier. Check the updated reviews to see if the product is a bit fiddly and move on to another design if it is, because it will take up a lot of time to clean.
Grinding spices at home is a great idea, but only if you get the best product for the price, and for your needs. With the right grinder, you'll be able to cook and create tasty recipes for the whole family using delicious freshly ground ingredients you've prepared in your own kitchen with ease.