Having a pool is great but keeping it clean all the time can be a pain. The last thing you want to see when you're about to go for a refreshing dip is a build-up of dirt or algae.
Fortunately, robotic pool cleaners take all of the time and effort out of keeping the pool clean.
You simply need to turn the cleaner on and it filters and scrubs the pool so you don't have to worry about it.
In just a couple of hours, your entire pool can be scrubbed and ready to use.
As robotic pool cleaners do not come cheap, the following reviews and buyer's guide will help you make sure you find the best cleaner for your specific needs.
---
1. Dolphin S200 Robotic Pool Cleaner – Best Overall
One of the most popular cleaners on the market, the Dolphin S200 is a lightweight, ergonomic pool cleaner that effectively cleans the floor, walls and waterline of above ground and in-ground pools.
This model is best suited to pools sized up to 12m.
The unit is light so moving it around, placing it in or removing it from the pool is easy.
This device uses a multilayer net basket to catch larger debris and ultra-fine filters to deal with smaller dirt particles to ensure no debris will be missed.
As this cleaner is Climate Care Certified it helps save energy usage and water.
The Dolphin S200 uses a PowerStream Mobility System so it constantly grips to vertical and horizontal surfaces making it easy to climb walls.
This system also improves navigation and cleaning capacity to give maximum pool coverage.
What We Like:
Lightweight
Cleans swimming pool floor and walls
Precise pool navigation
---
2. Zodiac Tornax TX20 Robotic Pool Cleaner – Best Value
The Zodiac Tornax TX20 is a great hassle-free cleaner for smaller pools sized up to 8m x 4m. It can be used with all pool types and shapes including free-form pools.
The brush function helps to remove debris as the cleaner vacuums, this makes it more efficient and it doesn't lose suction power even when removing larger items such as leaves.
The TX20 is controlled by an eBox control panel that is user-friendly and offers one-button start and pre-programming so you can set the unit to clean as needed.
When it comes to cleaning the filter, the canister can simply be removed and emptied without you needing to even touch the debris.
One cycle lasts 2 hours and this robot is designed to only cleans floors.
What We Like:
User-friendly
Lightweight
One button start
---
3. Zodiac OT15 Robotic Pool Cleaner
The Zodiac OT15 is simple to use and it cleans the pool floor and walls during its 2.5 hour cleaning cycle.
To operate, you simply plug it in and switch it on. This model is suitable for most in-ground pools up to 8m x 4m. The filter handles debris of all sizes and the canister can be emptied without you needing to touch the debris and dirt.
The large handle makes sure it is easy to remove the cleaner from the water and it weighs 7kg so is easy to lift and manoeuvre.
The cable is 14m and does not get tangled so you can leave the robot to clean while you do other things. The OT15 is also certified to Australian safety standards.
What We Like:
Lightweight with a large handle
User-friendly
Handles all dirt and debris
What We Don't Like:
Only 1 cleaning cycle option
---
4. Zodiac VX55 4WD Robotic Pool Cleaner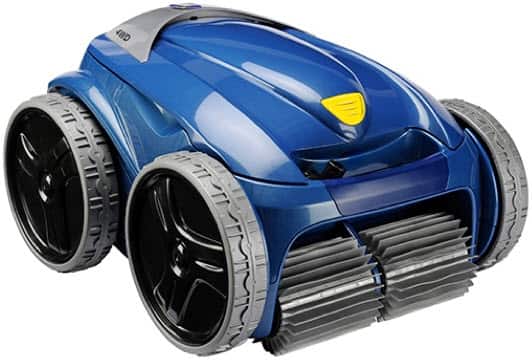 The VX55 4WD from Zodiac is a powerful and easy to use pool cleaner that offers a 7-day cleaning program and can be remote-controlled too.
It is powered by an electronic control box which means programming and running the cleaner is available at the touch of a button.
The kinetic remote is waterproof, buoyant and allows you to control the cleaner to ensure no spots are missed.
The brushes and wide suction mouth can handle all kinds of dirt and debris and the unit cleans walls, floor and the waterline. Thanks to its 4 wheel drive abilities it can also handle steps and obstacles with ease.
The cleaner has a 21m floating swivel cable to prevent tangling. The lift system makes it easy to remove the cleaner from the pool and the filter canister ensures cleaning and removing debris is straightforward too.
What We Like:
Remote control option
Alerts you when the canister is full
4 wheel drive so can handle obstacles in the pool
---
5. Zodiac CX35 Robotic Pool Cleaner
The Zodiac CX35 is a practical and powerful cleaner that you can rely on. It works intelligently and operates independently from your pools filtration system helping to save on electricity and deliver the best results.
Zodiacs e-Box makes the unit easy to control and there are 6 cleaning cycles as well as customizable timer options available.
The scrubbing brushes on the CX35 help to reduce algae and bacteria, reducing the need for chemicals.
The high grip tracks allow this robot to easily climb pool walls meaning you can rely on it to clean your pools floor, walls and waterline with ease.
It has a long 18m power cord so can handle larger pools too.
What We Like:
6 cleaning cycles and customizable options
Great for larger pools
Convenient
What We Don't Like:
Not suitable for tiled pools
---
6. Dolphin S100 Robotic Pool Cleaner
The Dolphin S100 is an automatic pool cleaner that is best for pools up to 10m in size. The cleaning cycle is 2 hours and it effectively cleans dirt and debris from the floor and walls.
This unit features a rotating brush and an easy to clean ultra-fine filtration basket so your pool remains sparkling clean at all times.
The Dolphin S100 is Climate Care Certified which helps you save on energy, water and pool chemicals.
This robot automatically adapts to the pool shape and surface to provide the best cleaning results. It is lightweight, ergonomic and easy to handle.
The unit's handle and fast water release feature means it is easy to remove the cleaner from the pool as needed.
What We Like:
Automatically adapts to the pool
Easy to handle
2 hour cleaning cycle
---
7. Kreepy Krauly K-Bot RX-2 Robotic Pool Cleaner
This set and forget robotic pool cleaner is a quick, easy and safe option that you can simply plug in and leave to work. The automatic timer switches the unit off when it's finished.
The Kreepy Krauly has two high speed motors for cleaning power and manoeuvrability and a filter vacuum to remove dirt and debris from the pool.
The auto scan system scans your pool size and shape to give the most efficient clean and the power cable never tangles.
You can set the cleaner to manual operation, floor only, walls only or turbo clean.
There is also a system to ensure the robot does not get caught on any obstacles so you can walk away and forget about it until its time to remove it from the pool.
After the unit has cleaned the pool walls, floor and waterline you can simply lift it out and empty the filter bag so it is ready for use next time it is needed.
What We Like:
Automatic timer
Auto-scan system
Cleans walls, floor and waterline
---
8. Zodiac CX20 Robotic Pool Cleaner
The Zodiax CX20 is a hygienic, powerful and intelligent pool cleaner that can simply be plugged in and switched on.
This model uses CyclonX technology to provide suction power and it has the capability to remove all debris types.
The cleaner has brushes as well as filters to help remove dirt, prevent algae and reduce the need for chemicals.
The high grip tracks mean this robot can climb up pool walls and the surface control system lets you adjust the settings to suit the wall surface.
The CX20 is powered by Zodiac's e-Box which allows you to set the floor and wall settings to get the most efficient clean for your pool.
What We Like:
Plug and play
Surface control system
Brushes and filters
What We Don't Like:
This version is not suitable for tiled pools
---
Robotic Pool Cleaner Buyer's Guide
Robotic pool cleaners are great because they don't require any installation, you can just plug them in and turn them on.
Most are able to scrub and vacuum your pool efficiently and they require very little maintenance aside from emptying or replacing the filters.
There are lots of options available so this guide will help you choose the best robotic cleaner for your pool.
Pool Type
The first thing to consider is your pool size, shape and type. Different pool cleaners are suited to different pool types.
Keep in mind your pools lining material, whether it is in-ground or above ground and the size when you are choosing a robotic cleaner.
Features To Consider
When you are comparing robots to clean pools, keep in mind the following factors and features.
As you can see from the above reviews, robotic cleaners vary greatly in price and abilities.
The best robotic pool cleaners are the ones that are user-friendly and efficient for your specific pool and requirements.
Robot Size and Weight
The size and weight of the unit can vary greatly and while larger pools may need a larger pool cleaner, you should keep a close eye on the weight of the unit.
A unit that is too heavy will be far more difficult to pull out of the pool after the cleaning cycle is complete.
Make sure you also check the length of the cord as you'll want the cord to be long enough for the pool size but not too long that the cable will get tangled up.
Filtration Type
The most common types of filtration are cartridges and bags.
The cartridges are replaceable so need to be changed once they are full of dirt whereas bags just need to be emptied and can sometimes be washed between uses too.
The rate of filtration differs between robotic pool cleaners too, the rate is measured in gallons per hour (GPH) and will give you an idea of how fast the unit can clean your pool.
Tracks or Wheels?
Pool robot cleaners can move around the pool and they either have tracks or wheels.
Tracks tend to be better for providing traction which is great for climbing but 4-wheel drive is also quite an effective option for navigating a pool.
Make sure you choose an option that provides traction and can overcome obstacles to avoid getting stuck.
Climbing Ability
Some robotic pool cleaners are only designed to clean the floor while others can climb the sides of your pool to clean the walls and waterline too.
The size, shape and obstacles such as steps will determine whether the robotic cleaner you choose needs to be a good climber.
A robot with a good climbing ability will be able to clean the sides and stairs of the pool more effectively.
Cleaning Cycles
The cleaning cycle gives you an indication of how efficiently the robotic cleaners work.
The amount of time a cycle lasts varies from model to model so keep this in mind as you choose an option.
Some models offer different cycles depending on whether you require a quick or thorough pool cleaning.
Programmable Timer
A programmable timer is a key feature as it gives you control over the cleaner even when you're not at home.
A programmable timer will let you schedule cleaning ahead of time so you can make sure your pool is clean when you want to use it.
RELATED:
Other Important Factors
Durability – the best robotic pool cleaners are durable and last a long time. Look for models with long warranties.
Energy Efficiency – the amount of energy the pool cleaner uses will impact your power bill so look for an energy-efficient option. The good news is that robotic pool cleaners tend to be more energy-efficient than other types of pool cleaners.
Sensors – deflecting sensors can be helpful as some robotic cleaners get stuck so features such as sensors can prevent this from happening.
Warranty – repairing robotic pool cleaners can be expensive so make sure the model you choose is covered by a warranty to save you money and hassle further down the line.
Remote-controlled – some cleaners come with a remote that allows you to control the direction of the cleaner. This is great for cleaning a certain spot or getting the robot out of a corner if it gets stuck.