Your bed is the centrepiece of your bedroom, so a quality bedding set is essential to complete your interior aesthetic.
Premium quilt covers can enhance the look and feel of your bed instantly with their soft, breathable, and easy to wash designs! The best quilt covers will keep you swaddled in effortlessly stylish comfort all night long.
As you shop for quilt or duvet covers, there are various factors to consider. Whether you prefer cotton, linen, sateen, or flannel, there's likely a gorgeous doona cover that will align with your personal preferences and budget.
To help you narrow down your options, here are the best quilt covers available in Australia! We've also added some helpful shopping information in a FAQ section at the bottom.
---
Bianca Soft Blue Linen-Blend Quilt Cover Set
With a quaint and subtle design, this premium cover is made using a quality 50% cotton 50% linen blend. This attractive set is also machine washable and showcases a lovely blue colour. Each bed linen set includes an accommodating quilt cover and two matching standard size linen and cotton blend pillowcases.
The quilt cover comes available in double, queen, king, and super king sizes, while the included standard-size pillowcases measure 48 x 74cm. As one of the best-reviewed quilt cover sets in its price range, you'll get more and pay less. All in all, this quality quilt cover set is a great choice for anyone who wants to instantly make their bed more comfortable and stylish.
---
Home Republic Vintage Washed Linen White Quilt Cover
Timeless, sophisticated, and stylish, this Vintage Washed Linen Quilt Cover is smooth and cool to the touch. It has been pre-washed to create a relaxed, lived-in feel and has a lightweight texture with a premium bacterial-resistant linen weave. Since linen is more durable than cotton, this pure white cover will keep you cozy and comfortable for years to come.
Plus, you'll love how it gets softer with each use. Additionally, this linen cover naturally wicks away moisture and regulates your body temperature, so it's a fantastic all-season solution. Matching pillowcases in various sizes are sold separately for a composed bed linen look.
---
Dreamaker White Cotton Waffle Quilt Cover Set
Textured quilt cover sets like this can instantly refresh the look of your bed. On the front, this quilt cover uses 100% pure cotton with a white raised waffle weave. On the underside, you'll enjoy the smooth feel of soft cotton sateen. This charming set will help you stay comfortable and warm while adding textural notes to your bedroom.
Cotton is known for its inherently breathable and moisture-wicking nature, so you won't have to worry about shivering or sweating through the night. Mildew and water-resistant, this attractive set is easy to care for and implements Purafresh treated materials with fibres that are bacterial, microbial, and dust mite resistant!
---
Sheridan 1200tc Palais Quilt Cover
Brilliantly white with a premium 100% cotton spun 1200 thread count, this quilt cover from Sheridan is a high-quality choice that would be a great addition to any home. It has a superior sateen weave that's luxuriously smooth to the touch. If premium style is what you're after, this quilt cover might be for you. What's more, you can match this doona cover with Sheridan's 1200tc Palais Sheet Set to complete the look.
With thick 5cm borders that showcase trademark Palais brand triple stitching, it adds a stunning tailored look to your entire bed. This cover is a great option for anyone who likes traditional design themes. It comes in two colours besides white; Midnight and Silver. This quilt cover also comes in many sizes including queen and super king.
---
Cotton House Organic Quilt Cover
Enjoy the luxuriously soft feel of pure organic cotton with this stylish quilt cover. Available in a range of chic colours, you can mix and match linen set items to get an effortless custom interior look. Plus, organic cotton is one of the softest and most breathable materials to choose for your bed.
The pure organic cotton of this cover meets all Global Organic Textile Standard (GOTS) certification requirements. A sustainable solution for any home, Organic Cotton is grown without the use of harmful pesticides or chemicals. As such, this super-soft quilt cover is stylish, safe, hypoallergenic, and environmentally friendly!
---
Ettitude Bamboo Lyocell Duvet Cover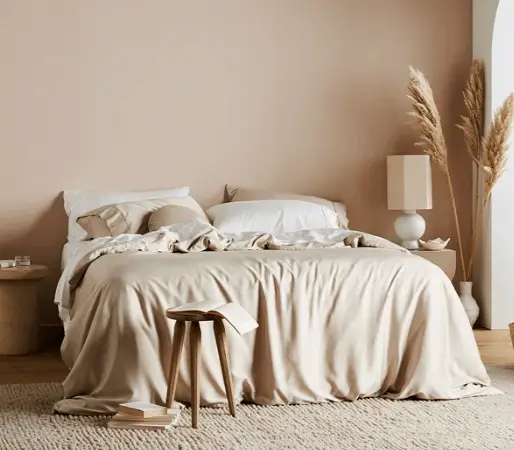 Stylishly protect your quilt with this silky-smooth sateen weave cover. Made with an exclusive blend of 100% organic CleanBamboo fibre, you'll love the way it feels all night long. Bamboo fabrics are known for their softness and temperature regulation. The cooling effects of bamboo make it one of the most impressive bedding materials you'll find in Australia!
This cover feels as smooth as silk and is comparable in texture to a 1,000 thread count cotton weave product. Additionally, bamboo is environmentally friendly, environmentally sustainable, and hypoallergenic. So, it's an amazing choice for those with sensitive skin. This stylish and accommodating cover comes in four colour choices and single, double, queen, king, and super king sizes. For a composed look, matching bamboo fibre standard and European sized pillowcases are sold separately.
---
Accessorize Boho Tassel Quilt Cover Set
Classy, charming, and stylish, this quilt cover set showcases two rows of adorable tassels with crochet weaving to add a casual touch of boho-chic design to your bedroom.
On the reverse side, the cover uses pure cotton that's lovely to sleep under. The set comes in three different colours and includes two standard-sized pillowcases with matching crochet tassel detailing.
Intricate and beautiful, this quilt cover has been crafted with a luxurious linen-cotton blend. This product implements natural textile strength for long-lasting durability. It's also lightweight, with premium fabric that's breathable and moisture-wicking. This set is machine washable and easy to maintain. One of the best options around, it comes in double, queen, and king sizes.
---
Vintage Design Mossy Road Cotton Velvet Quilt Cover
Durable, luxurious, and super soft, this set makes a beautiful tactile addition to any bedroom. It's extremely cozy and warm with a velvet top and smooth cotton on the reverse side. This is a wonderful option for anyone who wants a quilt cover that will keep them snuggly and warm throughout the night.
This quality set is made of 100% cotton and velvet and includes two standard-sized matching pillowcases. With its colourful style, you can instantly create a fresh new look in your bedroom. This particular set comes in a natural-coloured mossy green shade to match a range of modern design themes.
---
Bambury Ashcroft Quilt Cover Set
Bambury bedding sets are praised for their quality, durability, and inspiring designs! This Bambury quilt cover set from the Ashcroft collection is a versatile choice that will beautifully match a range of home decor themes, sheets, throw pillows, and more.
With this quilt cover set, a chic and subtle Aztec inspired geometric pattern has been woven into the soft fabric to create stylish detailing. On the reverse side, you'll love the smooth 100% cotton feel. Two matching pillowcases are included in the set to help you create a composed designer look!
---
Australian House & Garden Iluka Yarn-Dye Stripe Quilt Cover
Add coastal style to your bedroom with this stunning Australian House & Garden brand set from the Iluka collection. Australian House & Garden quilt cover sets are made to the highest standards of quality and design. With indigo yarn-dyed cotton, this Iluka set has been crafted to offer you unparalleled comfort.
The Iluka Yarn-Dye Stripe Quilt Cover showcases irregular horizontal stripes that add depth and aesthetic beauty. The pillowcases included in this set have a matching vertical indigo stripe design. Beneath the textured surface of the quilt cover and on the backs of the pillowcases, you'll enjoy the feel of smooth cool woven sateen cotton. Select from a range of set sizes including king, queen, or single.
---
Home Republic Parker Chambray Quilt Cover Set
Home Republic brand quilt cover sets come in an array of styles, textures, and designs. This premium set from the Home Republic Parker Chambray collection has a raised grid pattern on top and a smooth cotton underside.
It comes in a range of sizes and is made of quality loomed cotton Matelasse. This Chambray cotton Matelasse set features a raised pattern with distinguished textural notes. It's a beautiful set that would be a great choice for essentially any home!
---
Bed Threads 100% Flax Linen Duvet Cover
Your bed will look as lovely as it feels with this stylish and soft duvet cover from Bed Threads. Made of 100% French flax linen, it's available in a range of stunning colours, sizes, and patterns to match the interior design of your home. This premium duvet cover is one of the softest and most comfortable options you'll find for sale in Australia. You'll love how it feels beneath your fingertips!
The wonderful thing about French Flax Linen is that it softens over time and naturally regulates your body temperature. So, the more you use this luxurious duvet cover, the softer it'll get. Breathable and well-made, this linen quilt cover can add notes of high-end design to any bedroom. So, if you've been looking for a versatile quality bed linen solution, this French flax linen duvet cover is worth considering!
---
quilt cover Buying Tips
With a range of quilt covers to choose from, your choices can seem overwhelming. The right information can help you find a new quilt cover that you're more likely to love. Here, we'll go over some of the most frequently asked questions about these bedding items.
What should I look for when buying a duvet cover?
When you're looking for a great duvet cover to buy, there are a lot of factors to take into consideration. Price, brand, material, and size, to name a few. Here, we will go over some of the most important things to keep in mind as you shop.
Find Covers That Match the Size of Your Bedding
You'll need to be sure that you choose the right quilt cover size. If you have a king-size duvet, you'll need a king size duvet cover. If you have a queen size quilt, you'll need a queen size quilt cover. Duvet cover sets are also available with matching sheets and pillowcases. Most sets only include standard-sized pillowcases. So, if you need larger European-sized pillowcases, you'll probably need to buy them separately.
Decide Which Materials You Like
Next, you'll need to decide which materials you like most. Linen and cotton are hands down the most popular materials to go with. Both cotton and linen are durable, moisture-resistant, and offer breathable durability. Sateen, bamboo, velvet, flannel, and woven blends can also work well depending on how warm or cold you get when you're asleep. A breathable sheet set may be worth looking into as well. That way, you can simply fold over your duvet cover and sleep under the sheets on hot nights.
Think About How Much You Want to Pay
Duvet cover prices can vary depending on their brand, material, and size. If you want to pay less, search for lower thread counts or inexpensive materials like cotton. If you're ready to pay more for a duvet cover, you can opt for higher thread counts, name brand designers, or premium sateen weaves.
What is the most comfortable duvet cover material?
Comfort is a big deal when it comes to sheets, duvet covers, and pillowcases. If you really want to stay comfortable all night, sateen weaves, Egyptian cotton, and silk provide unparalleled comfort. Bamboo fibre weaves and other premium cotton or linen products are usually extremely comfortable choices as well.
What is a good thread count for quilt covers?
Some people feel that products with higher thread counts offer more durability and comfort. While this is true to some extent, thread counts exceeding 1200 can feel a bit heavy and hot at night. Look for thread counts between 150 and 1200 to be safe. For products with high thread counts, be prepared to pay a higher price. Remember that the more you wash certain products, especially those made of cotton and linen, the softer they will become.