The best pool pump is reliable, efficient and easy to use. It is a vital part of your pool system as it pulls water from the pool and into the filtration system so you can always enjoy clean, clear water.
With so many pool pumps on the market, choosing one can be a tough task.
The reviews and buyer's guide below should help highlight the key features to look out for.
---
1. Onga Leisuretime 1.0HP Pool Pump (Top Pick)
The Onga pool pump combines high quality with a good price. The pump is ideal for domestic swimming pools (including in-ground pools) from 20,000 litres to 90,000 litres in size and can be used as a solar heating pump.
The self-aligning barrel unions make connecting pipes easy so you can have the unit up and running in no time. The elevated mount helps to keep moisture away from the motor and the corrosion-resistant shield is designed to extend the life of the motor.
The hair and lint pot has a convenient clear lid so you don't have to open it to see whether or not it needs emptying. Another great feature of the lint pot is that you don't need to use tools to tighten or remove the lid.
What We Like:
Easy to set up
Sturdy and high quality
Great value for money
What We Don't Like:
There are cheaper options
---
2. Giantz Swimming Pool Pump Water 2000W 2.7HP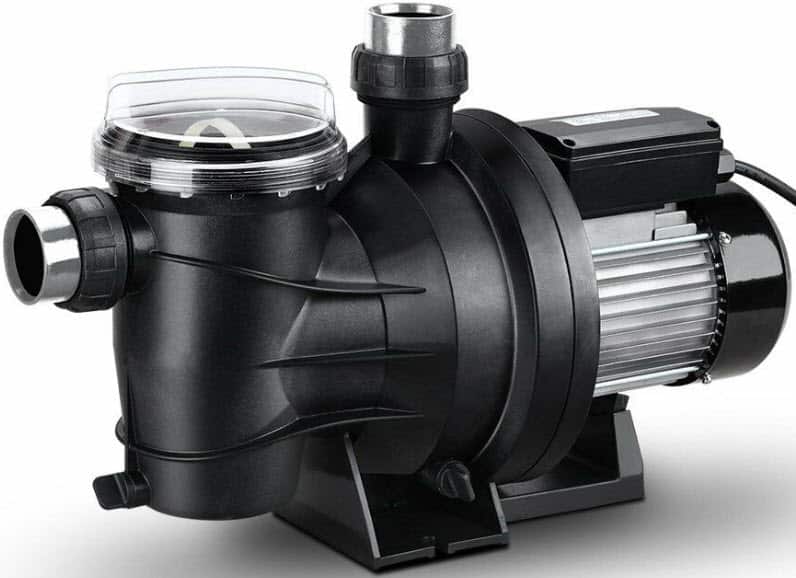 The Giantz pump is compatible with salt and chlorine water as well as in-ground and above-ground pools. It is a great all-around pump that is durable, efficient and offers value for money.
Easy to install, it cleans the pool as it pumps and has a powerful flow rate which means a 60,000L pool will be refreshed in just 3 hours.
The removable filter has large object separation and will keep your pool water clean and clear at all times.
This pump uses a copper motor which has high conductivity so it's low heat, energy-efficient and very quiet. The housing is leak-proof, corrosion-resistant and has a convenient quick drain plug too.
What We Like:
Suitable for salt and chlorine water
Durable
Removable filter
What We Don't Like:
Warranty coverage is only one year
---
3. Astral Viron P320XT Variable Speed Pool Pump (Upgrade Pick)
The Viron XT allows you to program the speed to suit what the pump is being used for, there are three programmed speeds that suit most pools and they can be easily adjusted as needed.
If you want the pump to be really quiet late at night or early in the morning the low-speed setting is the best choice.
High performance and energy-efficient, the pump can save you over $1,000 a year in operating costs as it has a 9-star energy rating.
For additional convenience, there is an inbuilt timer that allows you to set up to four time periods each day with different speed settings.
The strainer basket has a see-through lid so you can easily know when it needs to be emptied. The display clearly shows the RPM and allows you to make adjustments as necessary.
What We Like:
Programmable speed
Energy efficient
Built-in timer
What We Don't Like:
Expensive but high tech and should save you on operating costs
---
4. Onga SuperFlo VS 800 Energy Efficient Pool Pump
The Onga SuperFlo is a quiet, efficient and reliable pump that is easy to operate. You can adjust the settings to suit your filtration and cleaning needs.
The variable speed pump offers three settings and an override capability so you can choose the speed that is most efficient for your requirements. The interface is user-friendly and intuitive.
The plumbing unions are quick-disconnect and the lid is easy to remove when cleaning.
The motor is fault protected to prevent damage and the hydraulic design ensures high performance, energy efficiency and extended pump life.
The construction is durable and built to withstand all conditions and the filter trap is large meaning you will have to empty it less often.
What We Like:
Quiet operation
Fault protected motor
Durable and long-lasting
What We Don't Like:
Limited information/ reviews available online
---
5. Davey Powermaster PMECO 3 Speed Pool Pump
The Davey Powermaster is a compact, variable three-speed pump that allows you to switch between filtering, cleaning and sanitising your pool.
The three modes are; eco flow, mid-flow and high flow. Eco flow provides the lowest speed and is the most energy-efficient option. Eco flow is ideal for pool filtration, mid-flow is best for pool cleaning and high flow is for pool sanitisation and heating your pool.
The pump is quiet when running so it can be used day and night without causing any disturbance. It is fully programmable and provides low energy costs and low emissions.
The see-through lid and extra large leaf basket mean it's easy to see when you need to clean the filter and you can wait longer intervals between emptying.
What We Like:
Three speed options
Energy efficient
Low on emissions
What We Don't Like:
Some users may find the non-return valve to be less durable than it could be
---
Pool Pump Buyer's Guide
The buyer's guide below looks at types of pool pumps and what features to look out for when choosing the best option for your pool.
Types of Pump
Above-ground pool pumps generally cost less as they are simpler than in-ground pumps. They also usually require manual priming (sucking water and forcing out air). The above-ground system relies on gravity and uses a flooding suction and pressure system to pump the water. Because these pumps rely on gravity, they need to be installed below the waterline in order to be effective.
In-ground pool pumps are self-priming and can therefore be installed above the waterline. They tend to be larger and are built to handle larger volumes of water and higher flow rates.
Speed Options
Single speed
Single-speed pumps will basically pump the water at one constant speed. They are not very efficient but they are an inexpensive option this means people may pay a low upfront price but they will likely have high running costs.
Double speed
These pumps offer a high and low speed. As you have two speeds to choose from, one is a lower energy option which can save you money.
Variable speed
Some pumps offer the option to adjust the speed, this tends to be more expensive but also more energy-efficient and functional. They allow you to set the flow rate depending on your usage and needs.
Key Features
Size – the volume of your pool and the compatibility of the pool pump are very important. The pump needs to be able to handle the size of your pool. Take a look at the flow rate per hour and calculate how long it would take the pump to clean all the pool water.
Timer – a timer is worth considering as it is a simple addition that can save you time, energy and money.
Efficiency – unfortunately, there are some inefficient pump options out there and you want to avoid these otherwise they are going to end up costing you more money over time. Look at pool pumps with good energy star ratings as these are energy efficient and will help you save on your pools running costs.
Plumbing – before choosing pool pumps it is important to know how your pools plumbing works so you know the distances and the other equipment installed. This will make it easier for you to fit the selected pump and will help with future adaptations.
Noise – some pumps produce a loud whirring noise which can be annoying during the night while others are whisper quiet. Look for a pump that is quiet to keep peace with your family and the neighbours too.
Compatability – consider how your pump will connect with other devices such as a sand filter. Sand filters are a key component of your pool system and are responsible for keeping the water free from debris.
---
Pool Pump FAQs
When should I replace my pool pump?
Most pool pumps last 8-12 years of regular use before needing to be replaced. Look to replace your pump if it is coming to the end of its useful life or is showing signs or wear and tear.
How many horsepower pool pump do I need?
It's better to look at the pumps water flow (gallons per minute) rather than horsepower but as a general guide, a 1HP pump is suitable for a round pool (above-ground) with up to 15,300 gallons of water and a 1.5HP pump would be suited for over 15,300 gallons of water.