Playpens provide a safe space for babies and young toddlers to play, move about, and spend time throughout the day. They're a great way to keep very young children protected and comfortable as they grow and learn.
This comprehensive list features some of the best playpens currently available in Australia. You can check out these top-rated playpens to decide for yourself which options will best meet your criteria. We've also included a helpful buyer's guide to further simplify your search.
---
1. Dreambaby Royale 3-in-1 Converta Play-Pen Gate (Top Pick)
This versatile playpen is perfect for parents and caretakers who would value the 3-in-1 convertible design allowing it to work as a gate, room guard, and playpen. It's durable, lightweight, and easy to set-up. Plus, it folds away for quick storage.
The Dreambaby Royale convertible playpen has six modular panels that can be extended to create an extra-long baby gate or hexagonal pen. It also can be configured to stand alone, meaning that it will work as a protective guard for the areas in the home that you don't want your baby to crawl or roll near. All in all, this is a sturdy and convenient playpen that comes at a good price.
What We Like:
Versatile 3-in-1 convertible design
Tall bars and sturdy construction for child safety
Easy to assemble, open, and store
Good value
What We Don't Like:
Minimal crawling and exploration space
---
2. Tikk Tokk Kids' Square Little Playpen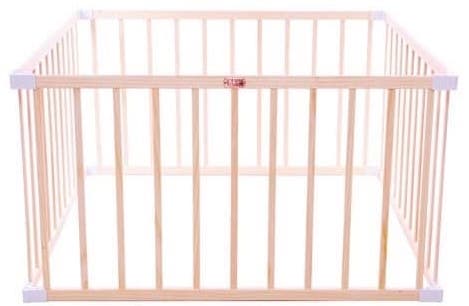 The Tikk Tokk Kids' Square is a handy playpen that's made of lightweight wood. It can be set up essentially anywhere and comes at a decent price. You can choose from three colour styles to match your home's aesthetic. This playpen offers babies plenty of room to roll, crawl, and play.
It's important to note that while this playpen is great for babies, it's not ideal for young toddlers. Its lightweight design makes it easy to lift and escape from. However, if you need a safe and easy to use baby playpen that will keep little ones from rolling or crawling away this is a great choice. It's the best compact and good value playpen for babies.
What We Like:
Simple and effective design
Its size and material make it easy to store
Good value
Perfect for young babies learning to roll
What We Don't Like:
If your child is older, this pen is not ideal
---
3. Kidbot 8 Panel Wooden Baby and Kids Playpen
The Kidbot wooden 8-panel play yard is constructed from New Zealand pine wood and features a smooth sanded surface that's both ergonomic and eco-friendly. It utilizes designated connectors that enhance its stability and standing panel function. It's easy to set up and take down and can be reconfigured in a range of shapes. 
Perhaps the two most impressive features of this playpen are its shape-shifting design and large play area. You can configure it into shapes like square, long rectangle, regular rectangle, and more. This makes it a great option for any home space. Plus, since there are eight panels, this playpen provides plenty of room for your little one to play and explore.
What We Like:
Large play area with eight-panel design
New Zealand pine construction
Best playpen for matching home decor
Comes at a great price considering its size
---
4. Premium Quality Kids & Baby Playpen
This playpen is made of sturdy BPA-free plastic. It features an array of coloured panels that click together meaning that this baby playpen is adjustable and easy to put together. This is a very durable option and it has a rubber bottom which prevents it from slipping, tipping, or sliding around.
Available in two colour combinations, you can choose from a dark blue and grey variant or a light pink and grey style. This playpen is also scalable, can be reconfigured to fit in most rooms, and includes a set of additional height guards. The only downside is that its thick plastic construction limits visibility. However, if your child has a playroom, this is a great place for them to play and explore.
What We Like:
Innovative buildable panel design
Comes in two colour choices
Sturdy BPA-free material construction
Rubber base design can keep your child safe
What We Don't Like:
Limited visibility for babies inside
---
5. Tikk Tokk Kids' Grey Pokano Playpen
Another great playpen option, the Tikk Tokk Kids' Grey Pokano pen is perfect for babies and even toddlers. It has a canvas and net design and includes a bottom so that babies can't lift it up to roll out. This canvas bottom also keeps babies protected from flooring and is sanitary. It's easy to assemble, clean and wash as well. In addition to this, it provides babies with plenty of room to roll, crawl, and explore in comfort and safety.
Since this playpen has a mesh panel design, babies can easily look out at the world around them. This is a safe and long-lasting option. It's got a versatile design that will continue to work for babies into their toddler stages. This playpen's only downside is its somewhat elevated price. Still, for the quality and long-lasting design features, this is one of the best playpens to consider.
What We Like:
Protects babies from flooring surfaces
Versatile and long-lasting design
Easy to assemble, disassemble, store, and clean
Great visibility for children
---
6. Gupamiga Baby Playpen and Activity Centre
This is a multi-functional playpen that can keep your baby safely entertained. Its safety locks make it very secure and it's high enough that babies can stand up to see what's going on around them. This playpen comes in bright pastel colours and would work well for a nursery or playroom.
With its wide panelled design, babies have plenty of room to move around. Keep in mind that this playpen only comes in the one multi-colour pastel design and is not ideal for toddlers. However, for babies who love to roll, play with toys, and crawl, this may be one of the best options.
What We Like:
Durable non-toxic plastic panels
Spacious and wide interior 
Multi-functional child-friendly design
Easy to set up and use
What We Don't Like:
Low height means that it's not ideal for toddlers
---
7. Cuddly Baby Playpen with Interactive Safety Gate
This 19-panel baby playpen has been constructed using durable and easy to clean non-toxic plastic. It has narrow gaps and safety joints to prevent babies from getting their fingers pinched or stuck. It also has a safety door lock and offers a lot of interior space for babies to crawl, play, move, and explore.
This is a colourful playpen with a uniquely rounded circular design. It may just be one of the biggest playpen options available in its price range. Make sure that you're ready for bright pastels though, as this playpen only comes in one colour scheme. However, the colourful design is great for child development and gives your baby an interesting view.
What We Like:
One of the most spacious products in its category
Circular styled configuration
Easy to clean and disassemble
Great for babies learning to stand
What We Don't Like:
Only comes in one colour pattern
---
playpen Buyer's Guide
Play pens for babies come in all shapes and sizes. Before you pick the perfect playpen for your little one, you'll want to make sure that it can meet your needs adequately. This buyer's guide is here to help you find the best baby playpens for your individual applications.
Baby Pen Styles
Baby playpens can be configured in various ways, come in a range of colours and shapes, and are made using various materials. Here are some of the most common playpen styles.
Panel PlayPens
Panelled playpens implement individual panels that click or hook together. They're handy because they can be easily sized to meet your specifications and disassembled for storage. However, if you select a panelled playpen, you'll need to make sure that it has been designed to protect your baby's fingers from getting stuck or pinched.
Bar and Gate Style Playpens
These playpens often double as baby gates or guards. They have a bar design that lets your baby grasp the bars so that they can pull themself into a standing position. Bar and gate pens are handy for rooms where you want to keep your baby secure and easy to see. They also are great for keeping free-roaming pets out of your baby's space.
RELATED:
Mesh and Canvas Playpens
These are the best baby playpens to keep your baby protected from flooring surfaces. They are often easy to assemble and use. Plus, they offer your child a more hygienic environment. If you want to set your baby down in a safe space that's easy to clean, this is a great place for them to nap, play, and move around.
Convertible Playpens
Many playpens can be converted to provide adequate space, depending on how you want to use them. You can use products of this type for play, exploration, or as a safe place for your little one to take supervised naps.
RELATED:
Additional Playpen Features to Look for:
Easy to assembly and storage
Safe and secure design
Durable material construction
The right amount of space for your baby to play
Versatility and scalability as your child grows
Simple to clean