Over 10% of the world's population currently suffers from neck and/or shoulder pain in one form or another. Neck massagers work to relieve shoulder, upper back, and neck pain on-the-go. They come in all shapes and sizes and with an extensive range of user-friendly convenience features.
So what's the best neck massager? Below, we have listed some of the best neck massagers currently for sale. We've also created an in-depth neck massager buyer's guide so that you can find the best neck massager for your specific needs.
---
1. Renpho Back and Neck Massager with Heat (Top Pick)
First, let's take a look at one of the most convenient and effective Shiatsu massager options out there, the Renpho Heated Back and Neck Massager. It's top on the list because it's very easy to use, comes with plenty of features, and offers buyers a great overall value. This particular massager for neck pain relief lets you choose from three different massage intensity levels and also to apply heat. It's powerful, versatile, and great value.
What really makes this massager stand out is that doesn't have to be propped up against a chair or held in place. It has a set of arm slings that hold it securely against your neck as it works. It's one of the best priced hands-free neck and shoulder massager options available. It can be worn and pulled in a downward direction for more intensity as well. It also offers multi-directional massage features and heats up. This is a great deep tissue massager for removing knots and relieving pain. Finally, it can also be used for other areas of your body such as your back and legs. The only downside is its medium-grade material construction, which may feel less premium than more expensive alternatives. 
What We Like:
Quiet and effective operation
Easy to use and wear
Deep penetrating
Heat and directional settings
What We Don't Like:
Not as durable as we'd like
---
2. Homedics Shiatsu Neck & Shoulder Massager
This is a great neck massager for use in the home or at the office. It can effectively be used to relieve tension, neck pain, shoulder pain, and works well on the arms and legs. With a deep kneading heat, flex handles, and a quality premium massager Shiatsu design, this is a durable and well-made option. It also has a professional and minimalistic aesthetic appearance and offers deep tissue penetration.
On the downside, this neck and shoulder massager doesn't come cheap. Still, if you need a powerful Shiatsu neck massager that's durable, reliable, and effective, it's definitely worth considering.
What We Like:
Aesthetically appealing
Works for neck and shoulder pain
Premium materials and design
Deep penetrating and heated 
---
3. Resteck Back and Neck Massager
Another impressive hands-free Shiatsu neck massager, the Resteck Back and Neck Massager can be used all over your body for relaxation and pain relief. It comes with arm slings that allow you to relax while you're wearing it. These slings can also be used to pull it in a downward motion for deep tissue muscle penetration. It provides long-lasting massage motion that gives you the best possible deep tissue penetration for as long as you need it.
This massager is well made and has been designed to last. It also offers multidirectional massage motion and heating. It also comes with a travelling case, making it a great option for anyone on-the-go. On the other hand, this massager only comes with a US plug, so to use it in Australia, you'll need an adapter.
What We Like:
Includes travelling case
Breathable and comfortable
Deep penetrating and heated
Multipurpose
What We Don't Like:
Needs an Australian plug adaptor
---
4. Beurer Deluxe 3D Shiatsu Back and Neck Massager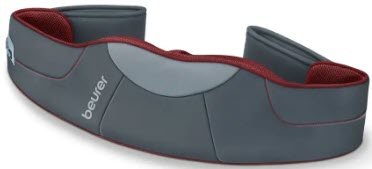 This massager offers dualistic 8 x 3D massage heads for a more intense muscle penetration experience. This means that its massage heads rotate simultaneously in pairs. You can choose the massage direction as well, which helps remove knots in your shoulders, neck, and upper back. This massager also comes with a remote, features automatic switch-off, and has been constructed using premium materials.
On the downside, the automatic 15-minute shut-off can be frustrating if you want a neck and back massager that you can leave on and forget about. It's also a bit more expensive than some similar options and has to be held in place by hand.
What We Like:
Portable and compact
Includes remote 
Lots of useful features
8 x 3D dual rotation massage heads
What We Don't Like:
Must be held in place as you use it
Comparitively high price
---
5. Wahl Shiatsu Massage Neck Wrap with Heat
Wahl is a brand that has been trusted for decades and is known for providing quality and mechanically sound products. This Wahl Shiatsu Massage Neck Wrap is versatile, comes with 8 deep-kneading Shiatsu massage nodes, operates with three different speed settings, has two custom modes, and has been constructed with premium materials that are guaranteed to last.
This is an amazing option for neck, shoulder, back, lower back, thigh, and arm pain. It effectively relieves tension and has been designed to last for years. If you're looking for a durable massager that provides deep penetrating motion and heat, this is a product worth considering. With that being said, this is one of the most expensive neck massagers on this list.
What We Like:
Durable and well-made
Multifunctional handheld deep penetration
Provides heat therapy
Well cushioned
---
6. Homedics Vibration Neck Massager
The most inexpensive automatic electric massager on the list, the Homedics vibration massager can be used for neck and shoulder pain and has a comfortable design. It vibrates to provide muscle relaxation and also heats up for tension reduction. Plus, it's lightweight and completely portable so you can use it anywhere.
On the downside, this is not a Shiatsu neck and shoulder massager. It vibrates and heats up for tension relief, but it does not penetrate deeply. It also runs off of batteries that will need to be replaced, which can be frustrating.
What We Like:
Totally portable
Massager with heat and vibration
An inexpensive option 
What We Don't Like:
Battery operated
Not a Shiatsu massager
---
7. Thera Cane Neck and Back Massager
If you have been looking for an apparatus that can easily let you remove deep tissue knots on your own, this cane is definitely worth taking a look at. It's a durable multi-purpose neck and shoulder massage cane that you can use to apply as much or as little pressure as you need in places that are otherwise impossible to access. It's totally power-free, so you can take it anywhere. Plus, this cane is cheaper than any other neck and shoulder massager on this list. It has six treatment balls and works well for anyone who wants to remove kinks and knots manually and on their own terms.
With that being said, this simple device doesn't offer heat, vibration, or any kind of fancy Shiatsu neck and shoulder massager action. It isn't the best option for those who want an automatic relaxation device that they can turn on and enjoy. With that in mind, if you want to remove those hard-to-reach muscle knots in your neck and shoulders, this is a great option to take a look at.
What We Like:
Manual massage that you can control
Six tissue massage balls
No electricity needed
Inexpensive
What We Don't Like:
Simplistic plastic message cane
---
Neck Massager Buyer's Guide
Neck massagers have an extensive range of functions and many can be used to relieve all kinds of pain. They come in virtually endless configurations, shapes, sizes and styles. Here's a guide to help you select the best neck massager for your needs.
Types of Neck Massagers
The best neck massagers can be used to alleviate pain in the neck and shoulders easily and effectively. Portable massagers come in many shapes and sizes. These devices can be wrapped around the neck, worn in a draped fashion, or manually held in place. Here are a few different pain relief techniques that massagers can be differentiated by.
Shiatsu Style Massagers
In Japanese culture, Shiatsu massage is an age-old hand massage technique that has been proven to successfully aid in pain relief. Electric Shiatsu massagers use varied, rhythmic pressure on specific parts of the body to relieve pain and remove tension.
Heated Massagers
Heat can be effective for the relief of nerve-related pain, muscle tension, and more. As such, heated massagers for the neck and shoulders are one of the best options for relaxation, nerve pain, and muscle tension relief in these bodily areas.
Vibrating Massagers
Vibrating massagers do a great job of improving blood circulation to different areas of your body. Vibration can also help with tension and pain.
Manual Massagers
Manual massagers are usually powered by you or a partner and can be used to provide targeted motion in a designated area. Manual massagers may include massage canes, rolling balls, and any other manual devices that you use to relieve pain in hard to reach areas. Some manual devices will also help to improve your circulation and work out agitating muscle knots.
Combination/Multifunctional Massagers
For the best possible pain and tension relief, multifunctional massagers are best. They combine heat, vibration, Shiatsu motion, or some combination of these, to provide the best possible relief in the most efficient, effective, and compact manner.
What to Use a Neck Massager For
Most people are aware that these massagers can be used for the relief of neck, shoulder, back, and limb pain. Did you know that they can also help with things like arthritis and migraines? Here's a list of what a neck massager may be able to help you with.
Neck Pain – Obviously, these massagers can be used to alleviate neck pain. They do this by providing vibration, tissue penetration, heat, or a combination of these methods.
Shoulder Pain – Neck massage can also help with shoulder pain by relieving tension and providing deep kneading motion.
Stiff Neck – Vibration, heat, and massaging motion, are all extremely effective methods that can be used to relieve stiffness in this area.
Muscle Tension – Deep penetrating motion such as that provided by a Shiatsu massager helps to unwind knots and relieve muscle tension all over the body.
Migraine / Headache – Massage devices can be extremely useful if you suffer from headaches and migraines. In many cases, these issues are caused by strain, tension, and, poor posture. when you use a massager, neck and back muscles begin to relax, reducing and eliminating tension.
Arthritis – Massage therapy has been proven to be effective when treating arthritis. If you have stiff joints or suffer from arthritis, a gentle massager that offers heat or vibration may be worth considering.
Muscle Pain – If you suffer from muscle pain, massage and vibration may be extremely effective.
Nerve Pain – For nerve pain, heat can be effective. If you believe your pain is being caused by nerve-related issues, applying heat may be a good solution to look into.
RELATED:
Features to Consider
With so many options and styles to select from, narrowing down the best option will depend on what features are most important to you. Here are a few of the features that you may want to look for in the massager you choose.
Shape
The shape of the massager you choose is an important factor to take into consideration. Some massagers fit tightly around your next while others drape around the shoulders or over your back. Will your massager be shaped in a way that will reach the areas you need it to cover?
Size
Massagers come in many sizes. Will your massager fit your measurements? Will it cover a large enough area? Can you easily take it with you? These are important things to keep in mind.
Weight
Weight is another factor that should be considered. Will a massager be lightweight enough for you to wear? Can you take it with you? Will it weigh you down and cause additional strain or securely fit in place as you use it?
Arm Slings
Some massagers, such as the Renpho Massager and the Resteck Massager listed above, feature comfortable arm slings where you can rest your limbs as you enjoy a massage.