Whether you're moving your toddler out of their crib or redecorating a child's bedroom, buying the right bed is essential.
The best kids beds will tie together a room, match your home decor style, and safely accommodate the needs of your little one. There are endless kids bedroom furniture options to browse through.
So, we've created this comprehensive list of fantastic bed ideas for kids. That way, you can easily find a bed that everyone will love!
---
1. Mocka Single Sonata Bed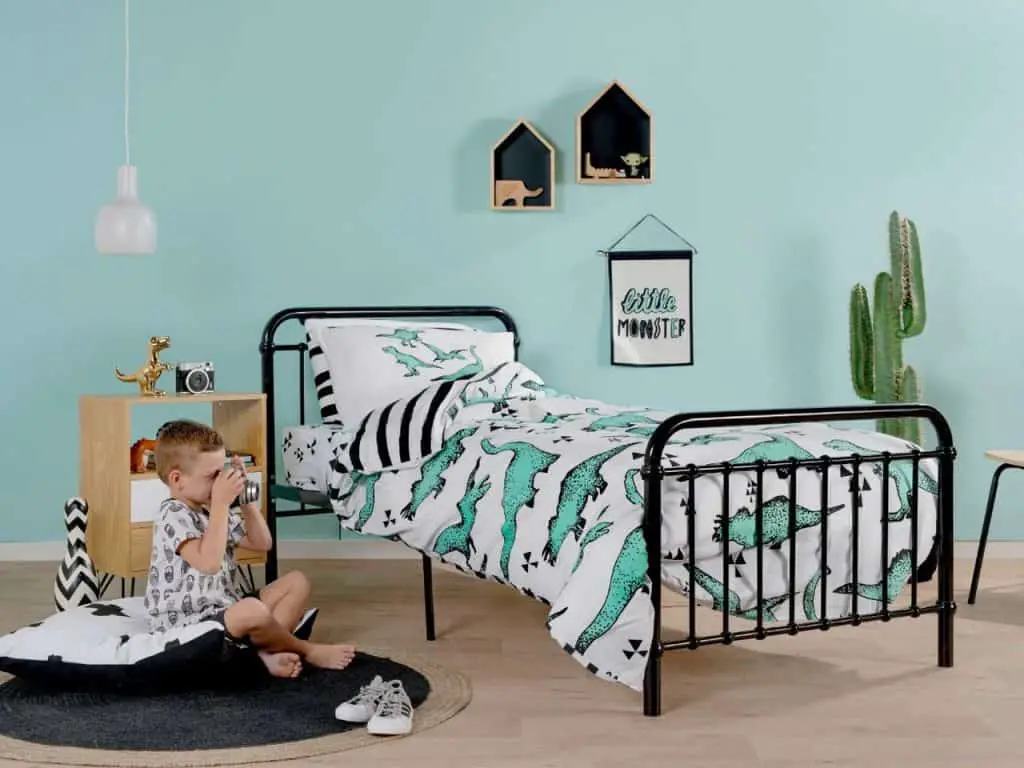 With a simple, streamlined, and elegant design, Mocka's Sonata Single Bed works wonderfully for any child's room.
It easily adds a vintage note to any modern interior home decor theme. This bed is made of durable powder-coated steel and has a supportive plywood slat base.
Children will appreciate this bed's kid-friendly size while parents will love its stylish and durable functionality. Plus, this single bed comes available in solid black and white variants.
Whether you choose black or white, this bed's colours blend nicely with various linens, accessories, and pre-existing bedroom furniture sets.
---
2. Vic Furniture Natural & Charcoal Casla Bunk Bed
This attractive bunk bed showcases a charming and stylish modern contemporary look. It comes available in single and king single size options with or without an added sliding trundle bed.
The sliding trundle addition is ideal for sleepovers, guests, and siblings. Unlike bunk beds that are stuck in one configuration, this piece of furniture splits into two separate single beds.
So, you have the option to furnish multiple rooms within your home. Crafted of natural timber with charcoal painted accents, this bunk bed lets you create more utility in a kid's room.
Children will love how much bedroom space this bunk set will free up and parents will appreciate its stylish versatility.
---
3. Slumberzone Chiro Osteo Visitor Trundle Set
A convertible lifting and lowering trundle bed, this Slumberzone set lets you create a comfortable and fully customized sleeping solution for two children at the same time!
The trundle bed portion can be configured in three different ways and has 5cm castor legs for easy rolling movement.
Available in both King and single sizes, this trundle bed comes with a 5-year manufacturer guarantee, an edge-to-edge support system, one included top mattress, one trundle mattress, and two Italian knit covers.
It's ideal for kids rooms, guest rooms, and more! Kids will love the comfortable feel of this bed while adults will like the functionality it adds within a home.
---
4. Nordic House Natural Cali Wooden Bed Base
Have you been trying to shop for beds that balance style, safety, and durability? If so, check out this Nordic House Bed! Its frame is made of high-quality, environmentally-friendly, non-toxic, odourless pine wood.
This versatile, safe, and simple bed frame would work wonderfully for toddlers, young children, or older kids.
Plus, this bed comes available in single, king single, double, queen, and standard king sizes.
It has supportive platform slats and a height of 30cm meaning that it's not too high for kids but not too low to the ground that it makes rooms feel cluttered.
Also, it has 9 sturdy round solid wood support legs and rounded edges that make it an even safer option for rambunctious little ones. 
---
5. Vic Furniture Super Speed Racing Car Single Bed
Toddlers and little kids will love the look and imaginative design of this race car shaped bed! The Super Speed Racing Car Bed is whimsical, well-made, and perfect tots. It includes accessories like 3D pop-up wheels, protective 28cm slat-to-top side railing, and a medium-firm single-sided mattress.
The "no flip" mattress measures 16 x 91 x 188cm. One of the best options for small children, this bed lets you easily turn your nursery into a themed racing room.
Plus, buying a fun and exciting bed like this can make the move from a crib to a real bed much more enjoyable for your little one.
This kids bed is available in either red or blue colour schemes that any toddler will love!
---
6. E-Living Tofi Timber Triple Bunk Bed
This is possibly the best bunk bed for families with multiple children. It has a triple-sleeping design with a large double bottom bed and standard single top bunk with safety rails.
The top single bunk sleeps one while the double bottom bed sleeps up to two. Its Scandinavian style matches a range of home living themes and it comes with a built-in ladder that meets the product safety standards of Australia.
Finally, this bunk bed has solid pine wood construction that makes it a durable and highly functional furniture choice.
---
7. Single Reversible Ikea Kids Bed
Functional, fun, and unique, this Single Reversible Ikea Kids Bed can actually be turned upside down to accommodate children as they grow!
You can choose from two different configurations; with either upper bunk or lowered sleeping positions. The low-to-the-ground sleeping layout is ideal for younger kids and toddlers.
The upper bunk layout is ideal for older kids! This bed lets you get creative with your ideas, store toys, make space in a bedroom, and more.
On the whole, it's one of the best kids beds available in Australia for parents who want to maximise their home living space while encouraging growth and creativity.
---
8. Fantastic Furniture Cooper Single Bed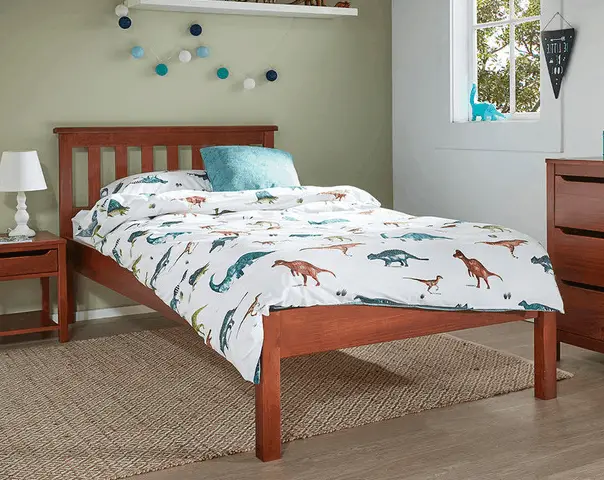 The warm tones and rich colours of this timeless Cooper Single Bed can be used to enhance a range of interior decorative themes.
This modern bed can create a composed look in your home with its high-quality design while also providing a safe and comfortable sleeping solution for children.
Made of solid timber with lovely maple tones, this stylish yet simplistic bed is perfect for kids of all ages. With its durable frame materials and timeless style, it's the kind of bed that will last in your house for years to come.
When assembled, it measures L 197cm x D 102cm x H 93cm and is 28cm off of the ground, meaning it's easy for kids to climb into at night.
---
9. Mocka King Single Dani Bed
Charming, sturdy, practical, and chic, this pink fabric bed can give any room a magazine-ready look. Made of a solid pine frame covered in padded pink polyester fabric, it's a great bed for all kinds of children's rooms.
With wooden slats and sturdy legs, it's supportive and safe as well. This bed will work with single-sized mattresses and measures 101 x 114cm.
It has a footboard that's 28cm high which is ideal for toddlers and young children.
This pink fabric bed frame matches a range of neutral tones including white, beige, and cream and goes with various kid-friendly decor themes. 
---
10. Vic Furniture Light Oak Galway Bed with Storage
Available in single or King single sizes with or without an included medium-firm mattress, this is hands-down one of the best beds for kids rooms.
Its classy light-coloured MDF timber would fit well with most Coastal, Scandinavian, or Casual home interior design themes.
The large pull-out storage drawer on the side of this bed measures 89 x 48 x 12cm in the standard single size and 96 x 39 x 12cm in the King single size.
This bed can store toddler toys, blankets, and generally help you keep your living spaces clean and clutter-free.
This stylish bed would work well for a kids bedroom, guest room, and more!
---
Kids Bed FAQs
As you shop for the best beds for kids, there are a lot of factors to consider before making your selection. The best beds will have fun and safe designs that kids will love while also fitting in with the interior decor and style of your house.
RELATED: The Best Cots
Below, we've taken the time to answer some of the most frequently asked questions about kids beds. That way, you'll have an easier time sorting out which ideas will work for your home as you shop.
What kind of bed is best for a 5-year-old?
For a 5-year-old, consider buying a kid-friendly bed that will be comfortable, safe, and easy for kids to climb into.
As you shop, think about the height of the bed you choose. If the frame you buy is too high, it may make it difficult for young kids to get into bed at night.
So, look for something under 30cm tall. Usually, a single or King single bed will provide more than enough sleeping space for a child of 5-10 years old.
There are many kid-friendly beds that both you and your 5-year-old child will love. Try to find a bed that both fits well with your home's existing aesthetic and can be made up in a way that will make your child feel comfortable and safe at bedtime.
Fun throw pillows, colourful bedding, and other accessories can be added to the bed you choose to keep 5-year-olds interested in their new bed.
Finally, you may want to consider your storage needs as you shop. Some kids' beds come with included storage drawers. Beds with storage ideal for keeping living spaces free of clutter, storing unused nursery decor or baby bedding, and more.
At what age can a child sleep in a bed?
While there is no specific age recommendation for transitioning a toddler from a crib to a standard bed, generally, you can expect to start the process between 15 months and 3 years of age.
Timing will depend heavily on the physical skill level of a toddler and the judgment of parents. If your little one is constantly escaping the crib, it may be time to start making the switch.
As you begin transitioning a toddler from a baby crib to a new bed, it's a good idea to consider buying a bed that comes with side rails.
Most toddlers leaving the baby stage will sleep more comfortably and safely with raised bedsides or side rails that prevent them from rolling over and falling out of bed at night. 
Also, avoid allowing kids to use bunk beds unless they're old enough to understand how to safely climb up and down a bunk bed ladder. Bunk beds are a great solution for saving space in a home but simply aren't suitable for a toddler or baby.
What mattress firmness is best for a child?
As you transition a toddler from a standard nursery set up to a "big kids room", it's smart to choose a mattress that's still somewhat firm.
This helps to promote a healthy sleeping position for little ones. Medium-firm mattresses are usually recommended.
Select a mattress that's firm enough to support a child's weight but also soft enough that they can get comfortable at night. Mattress topper accessories can be helpful as well.
For instance, waterproof mattress covers can help you protect the mattresses in your home from nighttime accidents as you begin potty training younger kids. 
How thick should a child's mattress be?
As you look for the perfect mattress to bring home, opt for something that's between 16 and 20cm thick. This thickness strikes a good balance between comfort, functionality, and durability. Anything thinner will wear out quickly and anything thicker won't really have much of an impact on comfort or utility.