Whether you've got an expansive wardrobe or a modest one it's inevitable that it will have pieces that are prone to wrinkling and creasing.  You'll want to be sure to have the best iron available when you absolutely have to look your best.
To take some of the grind out of looking for your next iron we've provided reviews of the best steam irons on the market in Australia today. 
Whether your clothes are made from pure cotton denim or are examples of the most delicate fabrics, you'll find something on this list that will match your budget and your wardrobe.
Here are the best irons in Australia:
---
1. Tefal TurboPro AirGlid FV5605 (Top Pick)
This is the crème de la crème of the steam iron world, a high-powered beast that can be as gentle as a lamb when needed. 
Often touted as one of the best irons on the market it's hard to go wrong with this piece of precision laundry-based engineering.
What We Like:
300ml Water Tank means uninterrupted ironing
190g/min Steam Shot for the toughest wrinkles
2400w of power gives it an incredible temperature range
Quickly cools once unplugged, great for families!
What We Don't Like:
A bit on the heavy side which may make it tiring to use
Costs more than other models
High-performance irons often have shorter life-spans
---
2. Philips PowerLife Steam Iron (Best Value)
Philips is an excellent brand with a reputation for producing high-quality steam irons in a broad price range. 
This is one of their top-of-the-line models bringing a good variety of basic features to the table for the consumer looking for that little something extra.
What We Like:
Produces a continuous stream of steam at a rate of 45g/ min
Can Steam Boost up to 180g
Non-Stick Soleplate makes Starch cleanup easy 
What We Don't Like:
Auto-Temperature feature doesn't provide manual temperature control
Water-tank has a reputation for dripping, not good for delicates
Can reportedly be slow to heat up
---
3. Braun TexStyle 9 Steam Iron (Upgrade Pick)
Braun is another standard in the laundry industry, renowned for its affordable and durable irons. 
This particular steam iron comes with a hefty tank to keep you ironing uninterrupted, and has an adjustable steam output feature that makes it perfect for almost any ironing job.
What We Like:
Steam output can be adjusted from 0-50g/min
Can produce a steam shot of up to 170g/min
Eloxal soleplate makes clean-up a cinch
400mg Water Tank 
What We Don't Like:
Takes time to reach operating temperature vs other options
Can reportedly become less reliable as the water tank gets low
While easy to clean, should be cleaned frequently to prevent sticking
---
4. Sunbeam Verve 62 Urban Steam Iron
This is a simple device perfectly suited for the occasional ironer. 
If you restrain your ironing to only your most important pieces and an occasional bit of care for your drapes, then this one is a great choice.
Sunbeam has a reputation for inexpensive but reliable steam irons.
What We Like:
2400w provides it with rapid heating potential
300ml tank capacity is great for big jobs
Reputation of lasting for years
Automatic Cord Roll-Up For Ease of Storage
What We Don't Like:
Steam output set to 38g, not adjustable
Cord length is only 2.5m
Doesn't come with auto shut-off, creating a potential safety hazard
Lacks a tap on the waterfill hole, potentially making adding water difficult
---
5. Russell Hobbs Steam Glide Iron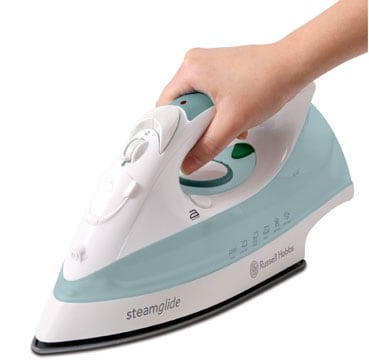 The Russell Hobs Steam Glide Iron is a great value if you know that it will suit your wardrobe, but lacking adjustments for the steam shot and output it has a limited range of fabrics for which it is appropriate.  Unexpectedly it comes with a vertical steam option, an uncommon feature on cost-saving models.
What We Like:
385ml water tank capacity is respectable
Ceramic Soleplate is easy to clean
3.3m length cord provides plenty of reach
Comes with vertical steam option
What We Don't Like:
90g/min steam shot is very weak
35g/min steam output is inferior to other models and isn't adjustable
---
How To Find The Best Iron For Your Needs
If you grew up with the hiss of steam and the scent of warm cotton in the air being a standard part of your day, then you're almost certainly familiar with steam irons.  
Steam irons provide an incredible way to tackle the wrinkles and creases found in virtually any fabric and are available in a range of prices based on the quality of the brand and the features available. 
If you're looking at buying a new steam iron be sure to look for the following features:
Spray
One of the most basic features of steam irons is the ability to emit a fine spray of water from its reservoir.  This allows you to target specific problem areas on the clothing, and is essential for dry cotton ironing.
Safety Features
The best steam irons come with an automatic shut-off feature, a must for the busy parent or worker on the go. 
When left horizontal for certain length of time the iron will automatically shut off to prevent fire or injury.
Vertical Steam
This setting isn't standard, but provides the option to steam hanging clothes and letting gravity gently pull the wrinkles out.  This is an excellent option for delicate fabrics that may not tolerate the direct touch of the iron.
Multiple Heat Settings
Different fabrics have different heat requirements, and getting an iron that can adjust to everything in your wardrobe is an essential part of getting the best value out of your iron.  Check your fabrics for temperature requirements and make sure the iron you select can accommodate them all.
Cord Swivel
This simple feature has a vital role to play inconvenience, utility, and safety.
These steam irons allow the cord to swivel freely, reducing stress on the cord (thus increasing its lifespan) and flexibility in how you use the iron as the cord can move around the ironing board to accommodate nearly any position.
RELATED: The Best Travel Iron
Steam Burst/Surge
Irons with this feature can direct an intense burst of steam at a specific portion of the garment, useful when dealing with particularly ornery wrinkles.  
There's no such thing as too much information, so be sure to research the topic thoroughly before you buy.  The right steam iron is an investment that will last you for years to come and will help keep your wardrobe looking its best throughout.
The video below provides some background on different types of irons and some more information on what to look out for during your buying process.
---
Steam Iron FAQs
What is a good wattage for an iron?
At a very minimum, you'll want an iron with at least 1000 watts to ensure it can handle basic de-wrinkling of garments. For most households, an iron in the range of 1800 – 2400 watts is a good idea if you want to be able to iron a range of materials effectively and not have to wait around while the iron heats up. Note also that higher wattage translates to better steam generation which again contributes to the effectiveness of the iron. So long you understand how to adjust the heat settings on your iron, more wattage means you can get your ironing done with less time and effort.
How do you descale a steam iron?
If your iron is starting to leave marks on your clothes it's likely time for a descale. Your first step should be to check the manufacturer's instructions as the process does differ between appliances and some do have built-in cleaning functions. If you don't have access to the user manual, try filling the water chamber with a mixture of water and vinegar while the iron is on then turn it off and allow it to drain onto a roasting pan. You can also use the same mixture to clean the steam vents with cotton buds.
Is a garment steamer better than an iron?
The main advantages of a garment steamer include the fact that it can be used without an ironing board and that it is less likely to damage soft and delicate fabrics. On the other hand, if you need to get rid of deep set creases or attain that crisp, fresh look, then you'll need a steam iron. Irons are also the preferred option for thicker materials such as cotton.